18 minutes
Published August 2020
By Alexis Shanes | 18 min read
Every summer, the natural world calls to travelers of all stripes, whether they're looking to hunt, fish, hike, camp, or just enjoy the serenity of fresh air and unspoiled landscape. Organizations like The Nature Conservancy and local governments protect vast swaths of the Sooner State, and the Oklahoma Department of Wildlife Conservation supports dozens of wildlife management areas where animal populations are controlled through hunting, fishing, and other models of conservation. Most of the Wildlife Department's wildernesses require visitors to have a valid Oklahoma Wildlife Conservation Passport or hunting or fishing license regardless of the reason for their visit. Consult Oklahoma Wildlife Department regulations before hunting or fishing at any WMA. The Oklahoma Department of Wildlife Conservation, (405) 521-3851 or wildlifedepartment.com.
Altus-Lugert
Altus-Lugert Wildlife Management Area attracts visitors hoping to bag a deer or turkey, but it offers more than hunting. "It's a good bald eagle viewing area in December and January, when we have good waterfowl," says Ron Smith, southwest region senior biologist. The north fork of the Red River winds through these 3,600 acres, and the land, thickly timbered with willows, borders the north end of Lake Altus. "It's a critical buffer for the top end of the lake," Smith says. "It provides a good cover for spawning fish." From Granite, travel three miles east on State Highway 9 to N2050, then travel 0.8 miles north, then half a mile west on E1400. (580) 471-3371.
Arcadia
The Arcadia Conservation Education Area takes a unique approach to wildlife management. "We focus on providing educational opportunities," says Daniel Griffith, Oklahoma Department of Wildlife Conservation information and education specialist. The Arcadia CEA includes a three-quarter-mile self-guided trail that allows visitors to learn about native animals and plants independently. Fishing is available year-round, and the area is used solely for game activities from October 1 to January 15. From Edmond, take Midwest Boulevard north until it dead-ends into the area. 7201 East Thirty-Third Street, (405) 521-3855 or wildlifedepartment.com.
Black Mesa
Black Mesa Nature Preserve is named for the black lava rock lying underneath its buffalo grass, shrubs, wildflowers, and cholla cactus. The area is home to antelope, bighorn sheep, and Texas horned lizards, says Tucker Heglin, Black Mesa State Park manager. Via an eight-and-a-half-mile round-trip hike, visitors can access the highest point in Oklahoma, a plateau rising 4,973 feet above sea level. The nearby state park's remote location also makes stargazing a popular spring and fall activity. "We have one of the few dark skies in the nation," Heglin says. From Boise City, travel thirty-five miles west on Highway 325, then follow colorado road north for five miles. (580) 426-2222 or travelok.com/parks.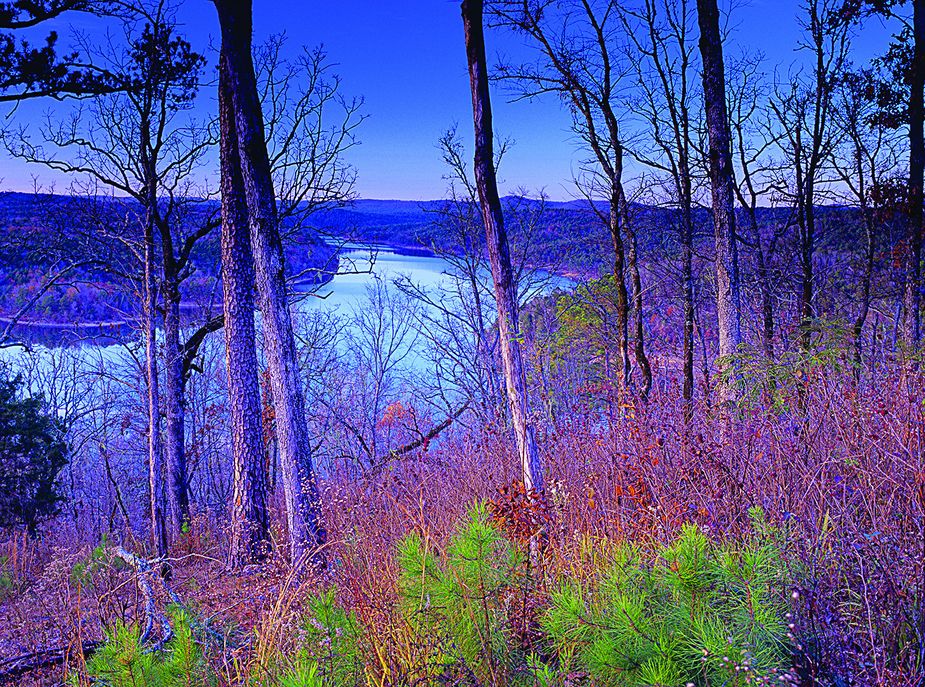 Broken Bow Wildlife Management Area in McCurtain County Photo by Kim Baker
Broken Bow
Although a small portion of the Broken Bow Wildlife Management Area connects with a road, the 5,420 acres surrounding Broken Bow Reservoir and the Mountain Fork River are primarily accessed by boating or hiking. In the water, fishing opportunities abound all year. On land, the pine, hardwood, and riparian forest with gum, red maple, and redbud trees makes the remote destination a site for some of Oklahoma's most breathtaking scenery. From Broken Bow, travel twenty miles north on U.S. Highway 259. Turn east at the Mount Herman Store and travel eight miles on Holly Creek Campground Road. Download a map from wildlifedepartment.com.
Candy Creek
Though the nearly 570-acre Candy Creek Wildlife Management Area is one of the state's smallest, it is surprisingly productive, according to wildlife biologist Matthew Mattioda. An impressive number of game animals including deer and dove are hunted here each year. Candy Creek, which flows through the main unit of this Osage County area, abounds with small largemouth bass and small catfish. From Avant, travel east on State Highway 11 for three-quarters of a mile, then turn northeast on the access road. (918) 629-4625.
Canton
The 14,877-acre Canton Wildlife Management Area is mostly lush floodplain and includes a stretch of the North Canadian River, but it's also a food crop planting site. "Agriculture is done with wildlife in mind," says Thad Potts, Canton WMA wildlife biologist. The land and its agricultural yields support deer, turkey, and quail populations. Fifteen windmills and eight solar pumps supply water to native wildlife throughout the year. Canton Lake, which occupies most of the area's eastern half, is a prime spot for walleye fishing. From Canton, travel one mile west on State Highway 51 and 1.5 miles north on State Highway 58A. (580) 541-5319.
Cedar Lake
Tucked among mountains in the Ouachita National Forest, the Cedar Lake National Recreation Area is a popular retreat for camping, hiking, fishing, and swimming. The eighty-six-acre lake is stocked with bass, catfish, and bluegill, and the forest is thick with pine and oak trees, making it an excellent site to view fall foliage. For equestrians, the area provides convenient access to more than seventy miles of marked horseback riding trails. Camping fees are $10-$25. From Talihina, travel eleven miles east on u.s. Highway 271 and fifteen miles east on Holson Valley Road, then turn left on Cedar Lake Road.
Cookson
Cookson Wildlife Management Area, used almost exclusively for controlled hunts, occupies nearly 15,000 acres in eastern Oklahoma. In addition to supporting deer, turkey, and furbearers like coyote, bobcat, and gray fox, this WMA is dotted with ponds and streams, making it a habitat rich with various turtle, snake, frog, and lizard species. The landscape spanning Cherokee and Adair County is composed of steep hills with disparate patches of meadows and stands of oak-hickory and pine forest. From Cookson, travel 5.2 miles east on Blue Top Road.
Eufaula
Some visitors come to the Eufaula Wildlife Management Area to hunt deer, turkey, waterfowl, and small game animals, or to fish Lake Eufaula or one of its supplying rivers and creeks. Others travel here for the breathtaking scenery covering the more than 40,000-acre floodplain, which includes willow and cottonwood trees as well as historic hardwoods, says J.D. Ridge, Eufaula WMA wildlife senior biologist. Eufaula WMA has six arms in east-central Oklahoma. visit wildlifedepartment.com for a map detailing specific locations.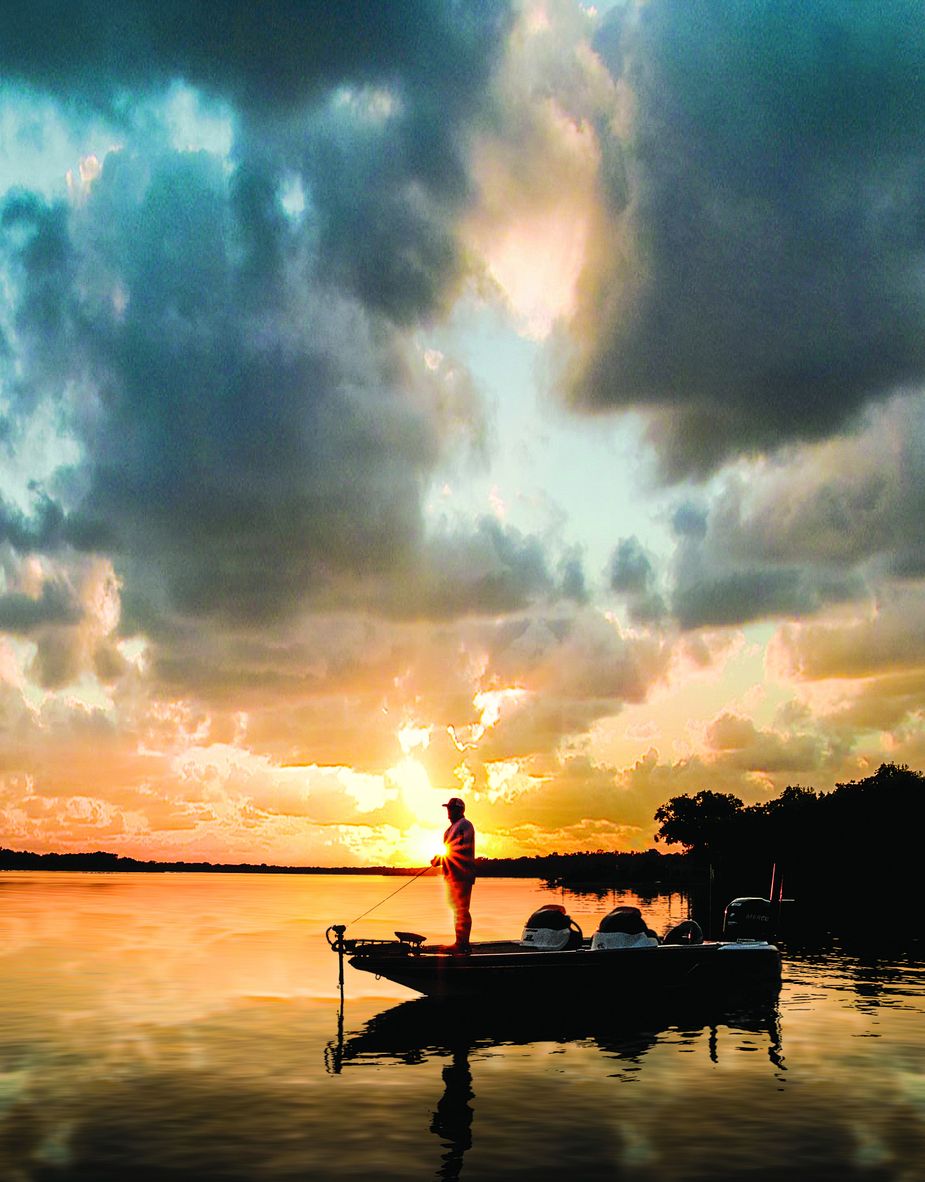 Fort Gibson Wildlife Management Area—This protected wilderness is adjacent to a lake that is popular with anglers fishing for catfish, crappie, and white and black bass. The Jackson Bay Area also is home to a 3,500-acre waterfowl refuge. Photo by Aaron Davis
Fort Gibson
Scattered around portions of its namesake lake, the Fort Gibson Wildlife Management Area is a hotspot for waterfowl. Though the 21,798-acre preserve includes a 3,500-acre waterfowl refuge, it is known for ample duck and goose hunting opportunities. Agricultural activity on the site provides sustenance for these birds as well as a population of doves. From Wagoner, travel two miles north on U.S. Highway 69 or two miles south on State Highway 16 and one and a half miles east on E0760.
Hackberry Flat
Hackberry Flat Wildlife Management Area, covering 7,120 acres in Tillman County, is a critical wetland wildlife habitat, says Kelvin Schoonover, Hackberry Flat wildlife biologist. "Hackberry's an important place for shorebirds," he says, adding that visitors can view waterfowl from their vehicles. The WMA contains around thirty-five wetland units and nearly a hundred water control structures that provide a habitat for waterfowl. More than 260 avian species, including more than thirty shorebird varieties, travel through the area annually. From Frederick, travel one mile south on U.S. Highway 183, three miles east on E1830, five miles south on N2240, then turn east on Benson Road.
Honobia Creek
Loblolly pines, a fast-growing evergreen species with light green needles and broad, paperlike bark, dominate the Honobia Creek Wildlife Management Area, which covers more than 100,000 acres of privately owned land in southeastern Oklahoma. In addition to quail, black bear, deer, rabbit, and furbearer habitats, the WMA also includes a walk-in-only turkey hunting unit. Visitors are required to purchase land access permits for hunting and fishing. Hunting and fishing permits are $40-$85. From Rattan, travel north fourteen miles on Cloudy Road. (918) 527-5308.
Kaw Lake
Kaw Wildlife Management Area is rich with avian species. The 16,000-acre tract adjacent to northeastern Oklahoma's Kaw Lake is home to songbirds like cardinals and indigo buntings, hawks, ospreys, an occasional greater prairie-chicken, and one of the state's largest wintering bald eagle populations, says biologist Joey McAllister. In addition to bird watching, visitors can hike, camp, hunt, fish, or ride horses or ATVs on area trails. From Ponca City, travel two miles north on U.S. Highway 77, six miles east on State Highway 11, two miles north on Enterprise Road, and a quarter mile east on E0150.
McCurtain County
Situated on nearly 14,000 acres of primitive, undisturbed terrain, the McCurtain County Wilderness Area contains the largest virgin continuous shortleaf-pine hardwood forest in the nation, according to the Oklahoma Department of Wildlife Conservation. The ODWC's oldest managed area also is home to the state's last known population of red-cockaded woodpeckers. Because of this, written permission is required to visit the remote, rugged area east of Broken Bow Reservoir. For directions and to arrange a visit, contact Clay Barnes at (580) 241-5631. Visit to wildlifedepartment.com download a map.
Okmulgee
Okmulgee Wildlife Management Area has a special claim to fame: Some of the land's ancient post and blackjack oaks, known as Cross Timbers, are more than 350 years old, making them some of the oldest trees east of the Rocky Mountains in North America. The dense, biologically diverse woods are home to waterfowl, flying squirrel, rabbit, and raccoon. Deep Fork River cuts through these 10,900 acres and is known for abundant flathead catfish, which grow up to three feet long and can weigh as much as forty pounds. From U.S. Highway 75 in Okmulgee, travel five miles west on State Highway 56. The entrance is on the right.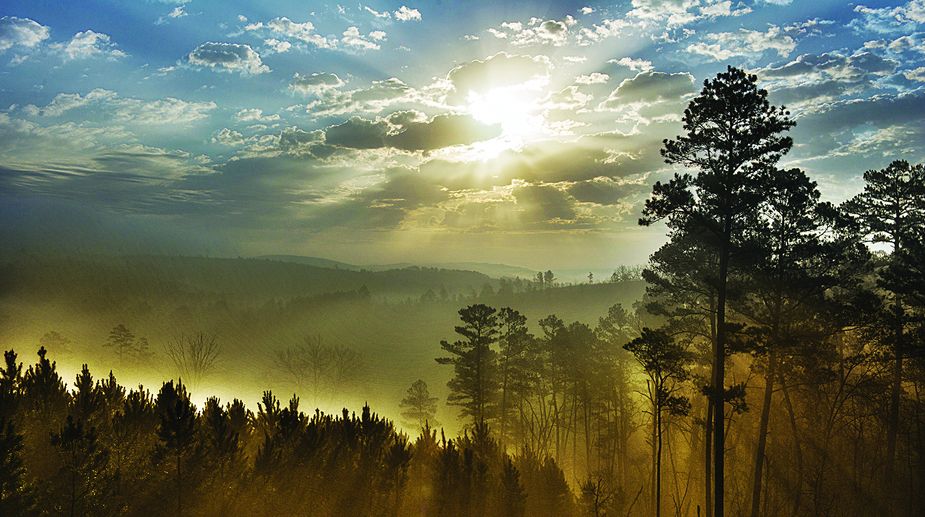 Ouachita Wildlife Management Area Leflore Unit Photo provided by Oklahoma Department of Wildlife Conservation
Ouachita-Leflore
With 225,000 acres of mountainous pine and hardwood forest, the Ouachita Wildlife Management Area-Leflore Unit showcases a unique Sooner State landscape. "It's not like the rest of Oklahoma that's pretty flat," says biologist Jeff Ford. In addition to year-round fishing opportunities, the area is bisected by the Talimena National Scenic Byway. However, travelers should educate themselves about the potentially dangerous fauna before visiting. "If it's during spring, summer, or fall, be bear aware," Ford says. From Heavener, travel seven miles south on U.S. Highway 59, then head east on Fish Hatchery Road to the WMA headquarters.
Pushmataha
With nearly 650 identified native plant species, Pushmataha Wildlife Management Area is rich in diversity. The area—which is the site of a long-running research project to study vegetation's response to fire—includes a thriving quail population, says Jack Waymire, Pushmataha WMA senior biologist. The WMA is closed to non-hunting activities during turkey and deer seasons, but hikers, backpackers, and equestrians frequent the area the rest of the year. From the intersection of State Highway 2 and U.S. Highway 271 in Clayton, travel two miles south on U.S. Highway 271. Travel a half mile west on Game Refuge Road and turn left at the T in the road. (580) 320-3177.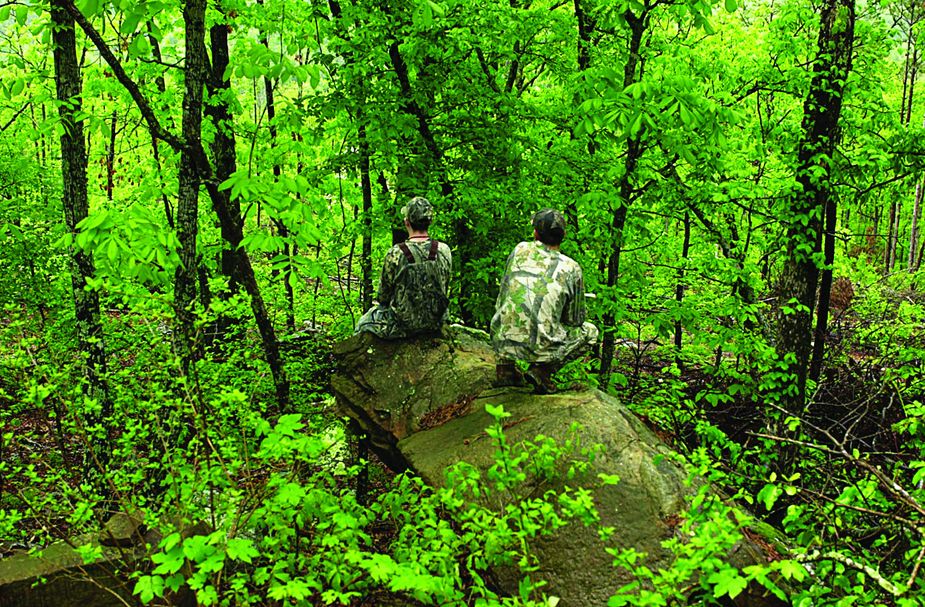 Pushmataha Wildlife Management Area near Clayton Photo by James Pratt
Red Slough
With more than 300 known bird species, Red Slough Wildlife Management Area is a nationally recognized mecca for avian diversity, according to the U.S. Forest Service. Along with at least thirty-four shorebird varieties, the 5,814-acre habitat is host to rarities like short-eared owls, bitterns, and ibis. A portion of the area is wetland habitat, and Push Creek runs through the land, making it a prime location to spot an American alligator or hunt for waterfowl. From Idabel, travel eighteen miles south on U.S. Highway 259 and three miles east on State Highway 87, then turn north on Red Slough Road. (580) 320-3176.
Rita Blanca
Moving at speeds up to fifty miles per hour, the pronghorn is North America's fastest land mammal. The species is native to the Rita Blanca Wildlife Management Area, which occupies 15,000 acres near the town of Felt in the Panhandle. Controlled lottery hunts in Cimarron County take place during pronghorn rutting season, which occurs in September and October, says wildlife biologist Weston Storer. The tan-and-white critters live at the area year-round, and their habitat extends into parts of Texas and New Mexico. The dusty terrain also is home to coyotes and prairie dogs. Most units are scattered south of U.S. Highway 56 and west of U.S. Highway 385. Visit wildlifedepartment.com to download a map of specific locations.
Sparrow Hawk
In 1963, the Fite family of Tahlequah donated the 556-acre Sparrow Hawk Wildlife Management Area to the Oklahoma Department of Wildlife Conservation, requesting the land be kept primitive. The Cherokee County forest is open for hunting, but it's also a hiking destination. "It's one of the only WMAs open year-round for non-hunting activities," says Curt Allen, Sparrow Hawk WMA wildlife biologist. The western bluffs, which rise three hundred feet above the Illinois River, are good reason to visit. "It's a spectacular view," Allen says. From Tahlequah, travel two miles east on state Highway 62 and three miles north on State Highway 10, then turn east on E730. (918) 260-8959.
Waurika
An intensive wetland management program highlights the Waurika Wildlife Management Area, which encompasses more than 10,000 acres of floodplains surrounding northern Lake Waurika. Many visitors travel from out of state to hunt waterfowl at the five-hundred-acre wetland development unit. "It's very popular there," says Kent Swanda, Waurika WMA biologist. "If we do our job right, the waterfowl will come." Waurika WMA deer hunting, which is archery-only from September to January, is some of the best in the southwest part of the state, Swanda says. From the U.S. Highway 81 intersection in Comanche, travel eleven miles west on State Highway 53. The WMA is located on both sides of the road. (580) 595-0347.