9 minutes
Published July 2019
By Jeanetta Calhoun Mish | 9 min read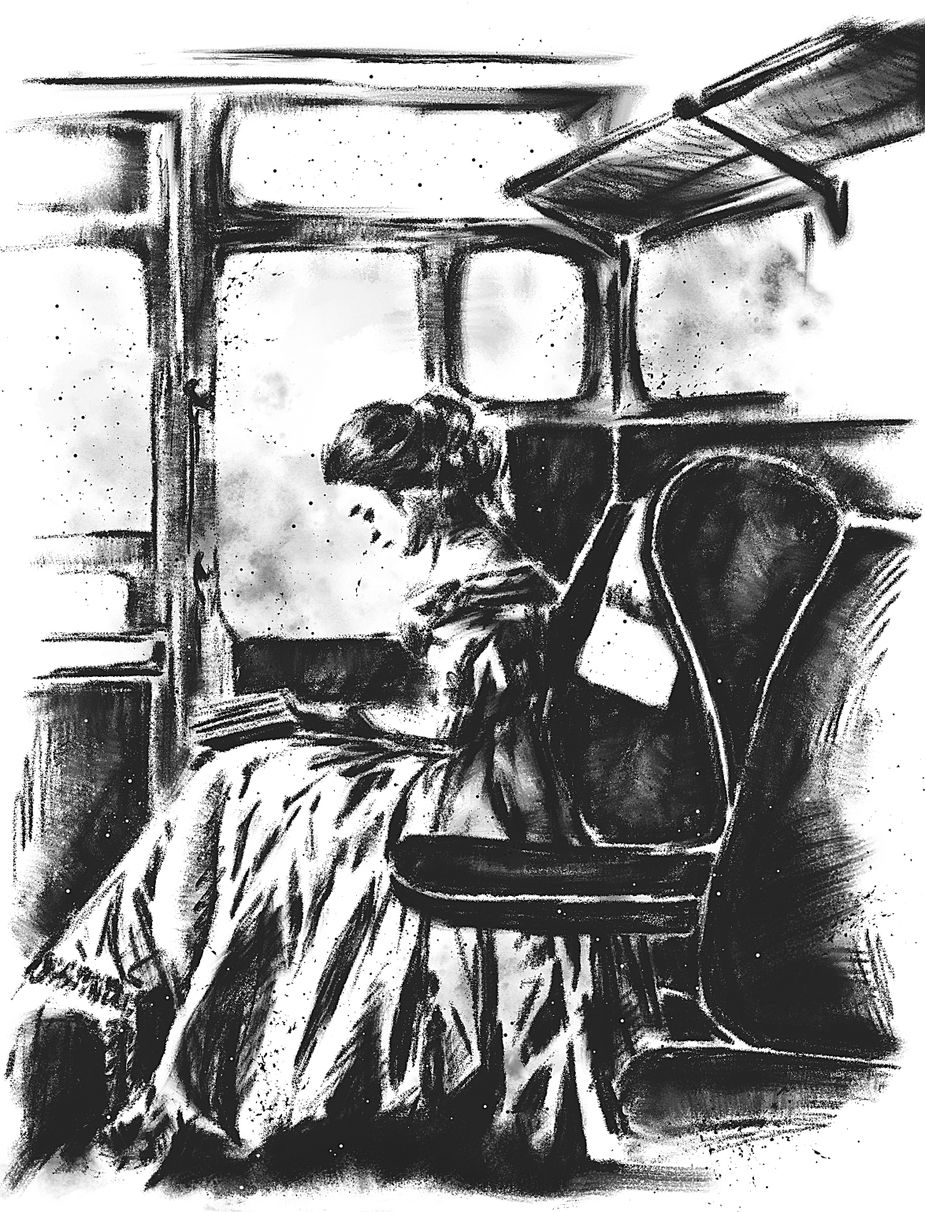 By Jeanetta Calhoun Mish | Illustration by JJ Ritchey
One day in March 1889, Martha Snodgrass boarded a passenger train to Muskogee. In her work as a book agent, she often made the sixty-five-mile trip from her home in Krebs, taking orders and delivering volumes when they arrived. But this trip was special: Snodgrass was traveling to Muskogee to arrange for the publication of her own book. The March 21 Muskogee Phoenix noted that the work contained "her poems, scenes, and sketches of Indian Territory. Quite a number have already subscribed to it."
Poems by M. Snodgrass was published in 1892 by Phoenix Printing Company of Muskogee, but the intervening three years were not easy ones for the book's author. In 1889, her son, Amzie, was away from home attending Bacone College, and Snodgrass became ill while on a trip to Denver. She and her husband Robert—a Civil War veteran who had been awarded a pension as an invalid—moved to Ogden, Utah, where he died in August 1890. In 1891, she returned to Oklahoma to care for her daughter, Olivia Clelland, who was suffering from what the Phoenix called a "protracted illness."
It is not surprising, then, that Snodgrass, whom the Muskogee Indian Journal called "the most successful book agent of the Territory" and "an elegant partner in conversation," took three years to publish her thirty-page Poems. But many readers found the book worth the wait: Snodgrass quickly published a second edition.
"Mrs. Snodgrass' poems are being received quite well, more than one edition of the pamphlet having already been exhausted," wrote the Phoenix.
What made this little book of poems so successful? The same qualities that captured me more than a century later: Snodgrass' facility with the poetic devices and style of the time, a depth of emotion and philosophical inquiry, and, perhaps most importantly for twenty-first-century Oklahomans, a keen eye and discerning mind that gave the author the ability to compose realistic, compelling poems of her home.
I also am fascinated with Snodgrass' small book because it is the earliest by a female Oklahoma poet that I've found, with the exception of Celeste Ball May's less finely wrought poems in Sounds of the Prairie, published in 1886 in Topeka, which may have been composed before May moved to Oklahoma.
Not that there weren't women poets in the Twin Territories—there were many, and they published regularly in literary magazines, journals, and newspapers. Cherokee Rose Buds, a magazine published by the Cherokee Female Seminary beginning in 1854, is a particularly rich source of early territorial women's poetry.
But one unique aspect of Poems that helped it gain attention was the Phoenix's assertion that the works described a mine disaster at Krebs, an error that persists today. No doubt the newspaper's editors were affected by an explosion in a Krebs coal mine on January 7, 1892, that left a hundred miners dead and injured even more.
Snodgrass' book, however, opens with two poems memorializing the April 1887 mine disaster in the author's hometown of Savanna, nine miles southwest of McAlester. While the Savanna accident was smaller in scope—six miners and twelve rescuers died as a result—it, too, attracted nationwide attention for the bravery of the men who volunteered to descend into the dangerous shaft to find survivors and recover bodies. In "The Explosion," Snodgrass writes:
Oh, what is to be done?
The slope is closed, to reach the men
We must go through No. 1.
Ten men, whom we should honor,
While heroes we admire;
Unheeding danger's warning
The deadly damp, and fire,
Went down the slope—but six returned
The tale of woe to tell damp
Their comrades brave, o'erpowered with
Lay dying where they fell.
In Poems' second piece, "Anniversary Savanna Explosion," Snodgrass returns to the abandoned town:
How ghostly lonely is my house,
The doors and windows broken,
No trace of all my care is shown,
In this foul yard, with weeds overgrown,
Of shrub, and flower, remains no token.
My neighbors' houses moved away,
Deserted wells and cistern,
Pitfalls, for poor unwary things.
A tottering wall, to which still clings
Signs of the life we miss here.
When Snodgrass writes, "My neighbors' houses moved away," she means that literally: After the disaster, the mining company loaded onto a train the company houses where most miners lived and moved them to a mine at Lehigh.
However, the historical significance of Snodgrass' book does not depend solely on its author's personal remembrances of the Savanna disaster. Other poems include "The Thornton Tragedy," which tells of a man who murdered his daughter and ends with a call for the father's hanging. One of my favorites is "A Day in Krebs," in which Snodgrass serves as tour guide to her bustling town, describing the merchants and their goods, the restaurants and the social hall, the baker, the butcher, and the doctors:
The day is pleasant, come with me,
I'll show you all our camp around,
Our business places you shall see,
And know what's doing in our town.
. . .
At Mrs. Green's, where you will see
Fine hats of velvet, felt, or straw,
All up to fashion's last decree,
And pretty as you ever saw.
Snodgrass also wrote philosophical poems such as "Theology," "Laughter," and "To Mrs. A.C.," allowing a rare, intimate glimpse into the heart and mind of a woman living in the Choctaw Nation mining camps of southeastern Oklahoma in the 1880s. "To Mrs. A.C." reminds me of the poems of Emily Dickinson:
You did not know that day, my friend,
When you spoke those words of kind commend,
That you'd troubled a depth, where I long had known
My soul must dwell and be alone.
Do you know what it means, "to be alone,"
To strive for bread that is harder than stone,
To strive with the herd who with bread are content,
Leaving undone your life-work, meant?
Surely, Snodgrass' life's work was her poetry, written in stolen time on whatever scraps of paper she could save. According to genealogical records, she died in March 1921, and few if any newspaper entries document her life after 1892. Martha Snodgrass left one collection to ensure her immortality and to document the lives and amplify the voices of Oklahomans readers might not have encountered otherwise.
Find Poems by M. Snodgrass at the Oklahoma Department of Libraries' Allen Wright Library Oklahoma Collection, 200 Northeast Eighteenth Street in Oklahoma City, (405) 521-2502 or libraries.ok.gov. Learn more about life in southeastern Oklahoma coal mines at the Krebs Heritage Museum, 85 South Main Street in Krebs, (918) 426-0377 or cityofkrebs.com/museum. Research for this article was funded by a grant from the Oklahoma Humanities Council, okhumanities.org.