This Grand Lake Resort is Calling Your Name this Summer
15 minutes
Published June 2019
By Nathan Gunter | 15 min read
Resurrected from the remains of a Sooner State travel legend, Shangri-La Resort on Grand Lake honors travelers' fond memories while exceeding twenty-first century expectations of luxury, dining, golf, and lakeside adventure.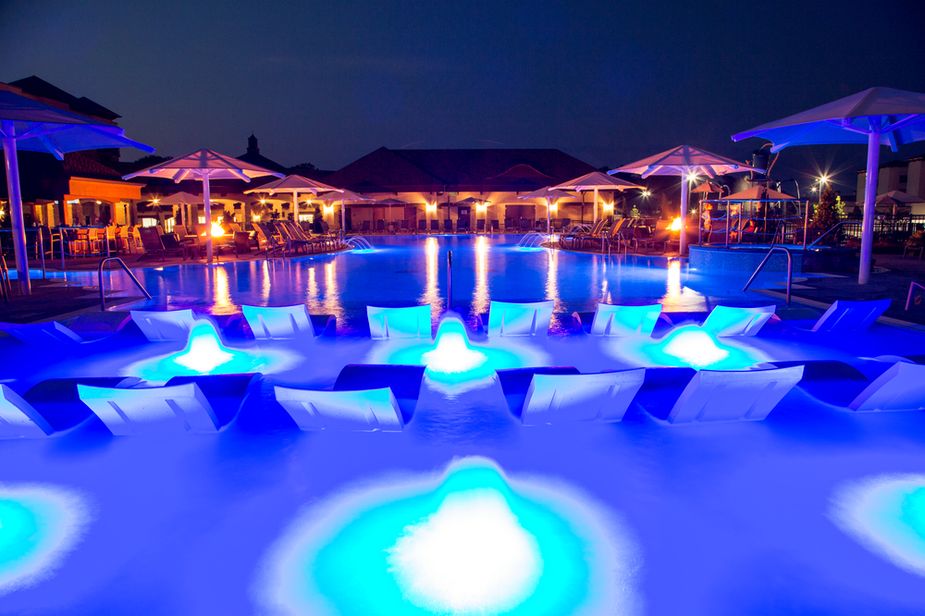 Inspiration for the pool at Shangri-La Resort on Monkey Island came from resorts in the Caribbean.
The world first heard the name Shangri-La in the 1933 James Hilton novel Lost Horizon—and its 1937 film adaptation by Frank Capra—which told of an idyllic Himalayan valley protected from the cold and possessed of mystic properties that kept its inhabitants young. For Oklahomans, the name brings to mind a similar image: Since the 1960s, Shangri-La has come to connote a Grand Lake arcadia rich in natural beauty, relaxation, and most importantly, nostalgia.
At its height in the 1970s and the early '80s, this resort on Monkey Island—a tony community of luxury homes, lakeside vacation properties, and small businesses situated on a seven-square-mile peninsula jutting into Grand Lake—was known as Oklahoma's premier vacation getaway. It hosted tens of thousands of guests each year and earned a Four Diamond hotel designation from the American Automobile Association. A thirty-six-hole golf course, airpark, and scenic lake bounded on all sides by verdant hills made Shangri-La Resort the one and only name for luxury travel in the state. In 1982, the resort's Royal Hawaiian Conference Center hosted the National Governor's Conference at the behest of governor George Nigh. The next year, the resort was valued at nearly fifty million dollars. Mickey Mantle hosted an annual tournament on the golf course. His albatross on the ninth hole was a point of local legend.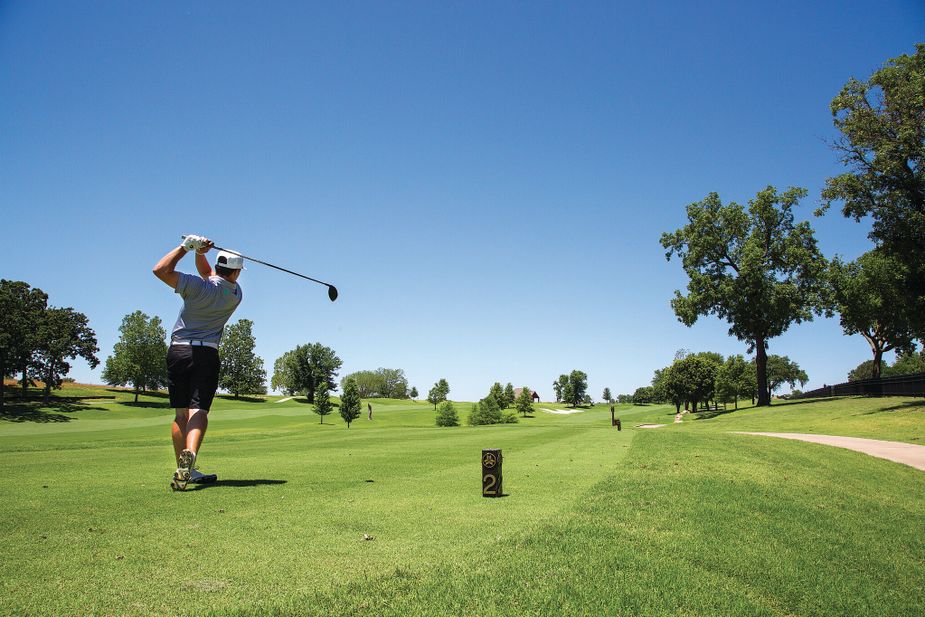 Golf is one of the main attractions at Shangri-La Resort on Grand Lake. The 27 holes are divided into 3 courses: Legends, Heritage, and Champions.
But the late 1980s and '90s weren't as kind to Shangri-La, which fell into bankruptcy in 1986 before passing through a succession of owners, none of whom was able to restore the property to its original glory despite many a grand plan. Occupancy rates dropped. At century's end, neglect had begun to take a serious toll. Shangri-La finally closed in 2007, and by 2010, membership at the country club stood at an anemic eighty-four. Goats roamed the greens, and bales of hay stood in the middle of the fairways.
For this resort that shared its name with a mystic village capable of halting the passage of time, it seemed entropy had won the day.
The course was in sad shape, but golf was the key to Shangri-La's rebirth. In 2010, one of those remaining eighty-four members of the club, Tulsa manufacturing magnate Eddy Gibbs, watched regretfully as Shangri-La's fortunes declined.
"Those last eighty-four members were hanging in there, but most of the course had gone back to pasture," says Jon Davidson, general manager of the Shangri-La Resort. "Eddy thought, 'I'd like to bring golf back.'"
So that year, Gibbs bought the property and began the process of restoring it to its former glory, pouring $33 million into the project, including $4 million for a luxurious new clubhouse and pro shop. Altus native Justin May, whose résumé boasts stints at Oak Tree Country Club in Edmond and the Dallas Country Club, came on as course superintendent.
The renovated links opened in 2011, and all twenty-seven holes were completed the following year. Soon, so many groups of golfers were booking tee times that demand for lodging on Monkey Island ballooned.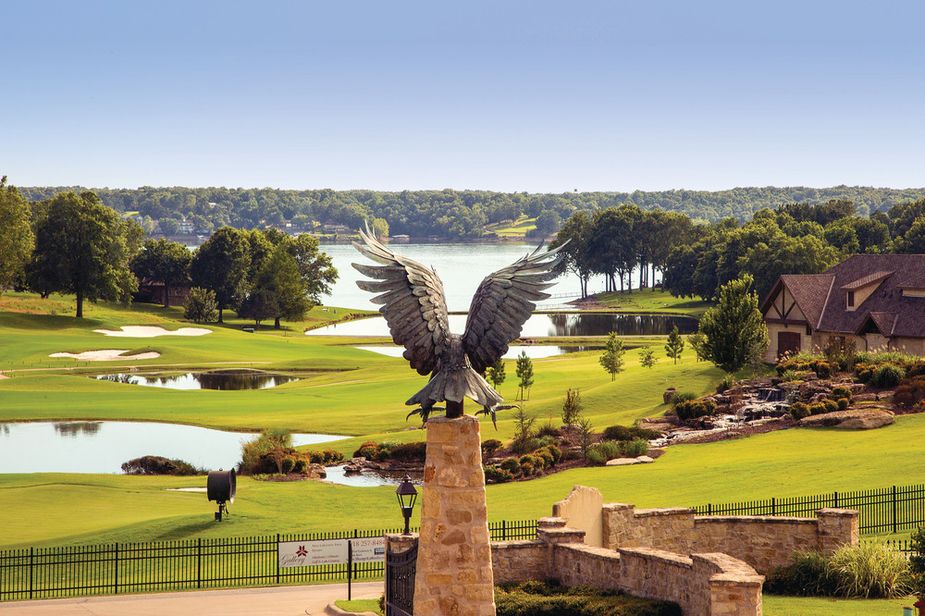 The 1,200-pound eagle outside the Shangri-La golf club memorializes the original resort.
"We needed a hotel for the golfers," says Davidson. "We were losing business at the course, because people didn't have anywhere to stay."
The original plan was for a Hampton Inn-style hotel where visitors could leave their bags and catch some shuteye before early tee times. But the first step was to raze the original hotel.
"We had to scrape off the last little bit of it," says Mike Williams, Shangri-La's director of communications and government relations. "A lot of it was already gone, but you couldn't do many repairs, because it was full of asbestos, snakes, and raccoons."
Workers broke ground in April 2016. What emerged over the next fourteen months is a grand stucco building with 119 rooms, all of which look out over Grand Lake, the pool, or the golf course and are loaded with amenities that make Shangri-La a year-round destination. After checking into their comfortable, well-appointed rooms, weekenders can relax in the onsite medical spa featuring massage, manicures and pedicures, facials, waxing, and even Botox treatments. In addition to providing boat rentals that put all of Grand Lake a quick cruise away, the adjacent Shangri-La Marina is home to Sail Grand Waterfront, which offers some of the best parasailing in the state.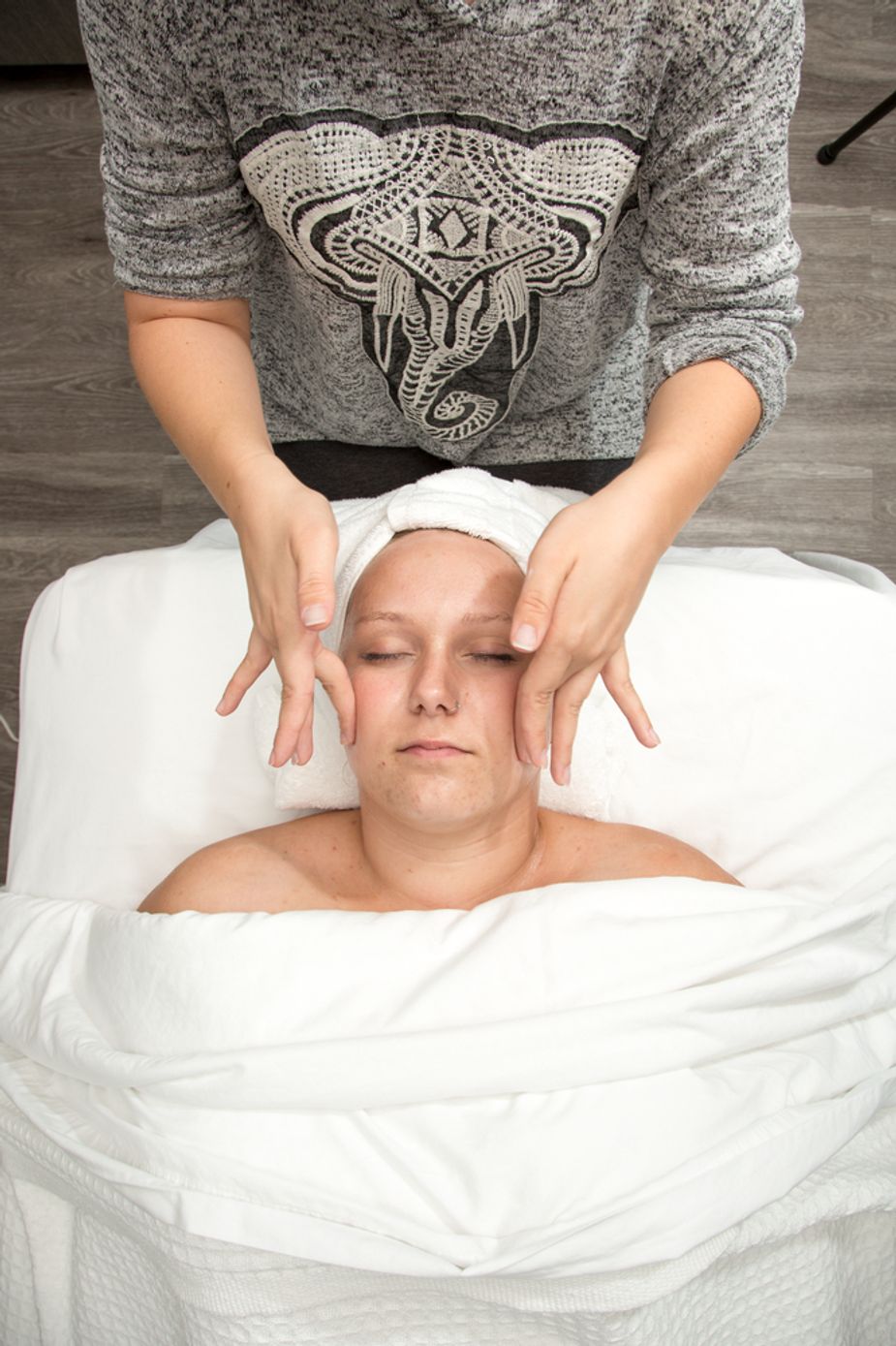 The onsite spa at Shangri-La offers a variety of services for those looking to relax.
Whether guests would come for a weekend on the links, a good time on Grand Lake, a pampered resort getaway, or the opportunity to explore the area's abundant natural beauty, the staff knew the dining experience would be integral to their new resort's success.
Many guests begin at Doc's, which overlooks the outdoor pool and the lake and offers breakfast options that range from the healthy—the Lake Light Breakfast pairs sliced seasonal fruit with granola and yogurt—to the decadent, like the brioche French toast with mixed berry cream cheese topped with syrup and powdered sugar. With spring mix, heirloom tomatoes, cucumbers, roasted red peppers, scallions, and mushrooms, all topped with goat cheese crumbles, the Shangri-La Salad is a light and delicious lunch option. The menu also includes hearty sandwiches and rich Southern favorites like chicken-fried steak, catfish, and shrimp and grits.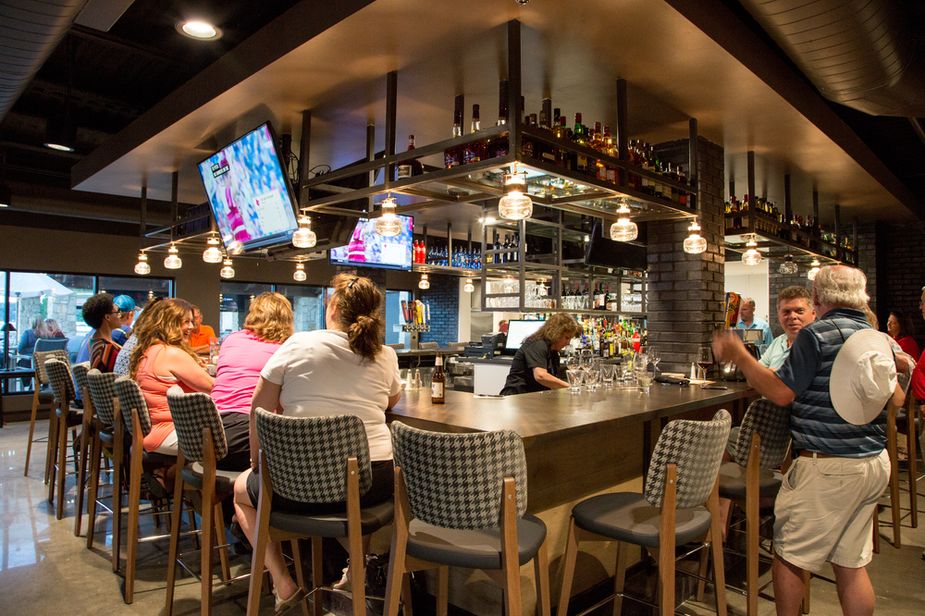 Doc's is a popular spot for a drink at the end of the day.
For a laid-back vibe, Eddy's Lakeside Bar—easily accessible to the marina for those needing a bite during a day on the water—is Shangri-La's seasonal spot for ultra-casual relaxation with burgers, fries, beer, and an outdoor patio perfect for the flip-flopped, bathing-suited, suntanned summer denizens of Grand Lake.
But for those looking for something fancier, it's all about The Summit Restaurant. Located on the second floor of the golf club—at the highest point on Monkey Island—and open only to club members and resort guests, The Summit offers the kind of cuisine worth bringing a change of clothes for. Guest favorites include appetizers like an artisanal cheese and charcuterie board or Quail Poppers, small bites of quail breast with smoked gouda cheese, jalapeños, and smoked applewood bacon with a side of honey jalapeño sauce for dipping. Prime cuts of beef, cold water Australian lobster tail, roasted truffle garlic chicken, or Asian ahi tuna—all served in a dining room with a stunning view of the golf course and lake—are ideal for winding down a vacation day.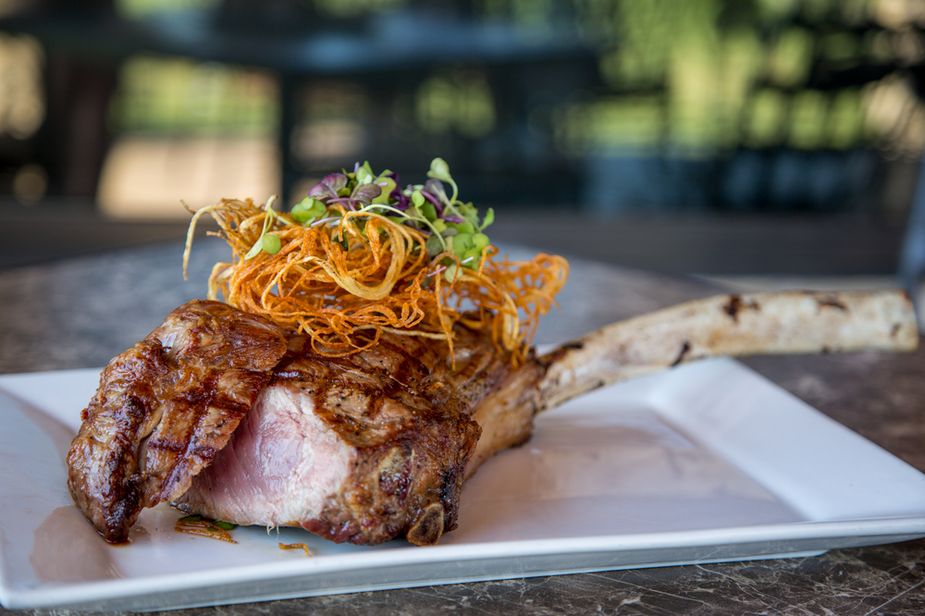 Dining is a major part of the Shangri-La experience. From poolside breakfast at Doc's to upscale dinners at The Summit, there is a bite for every occasion.
And while The Summit's delectable menu has the potential to offer diners their most extravagant meal of the year, those planning to live the luxe life at the resort will want to head straight to the pool. Originally, $500,000 of the budget had been set aside for an outdoor pool, but after construction began, Gibbs took a vacation to one of his favorite destinations, the Turks and Caicos Islands in the Caribbean.
"We always had an allowance for a pool," says Davidson. "Then Eddy came back from that trip and said, 'I want a Turks and Caicos pool."
All the work to date was scrapped, and that original half-million-dollar budget soon multiplied by a factor of six. The result is an oasis overlooking Grand Lake with a splash pad for kids, food and beverage service from Doc's, LED lighting that provides a magical nighttime glow, and futuristic lounge chairs situated in a few inches of cool water for those looking to soak up some rays while enjoying a summer page-turner. There's also an indoor pool for winter guests or those wishing to escape the intense summer sun.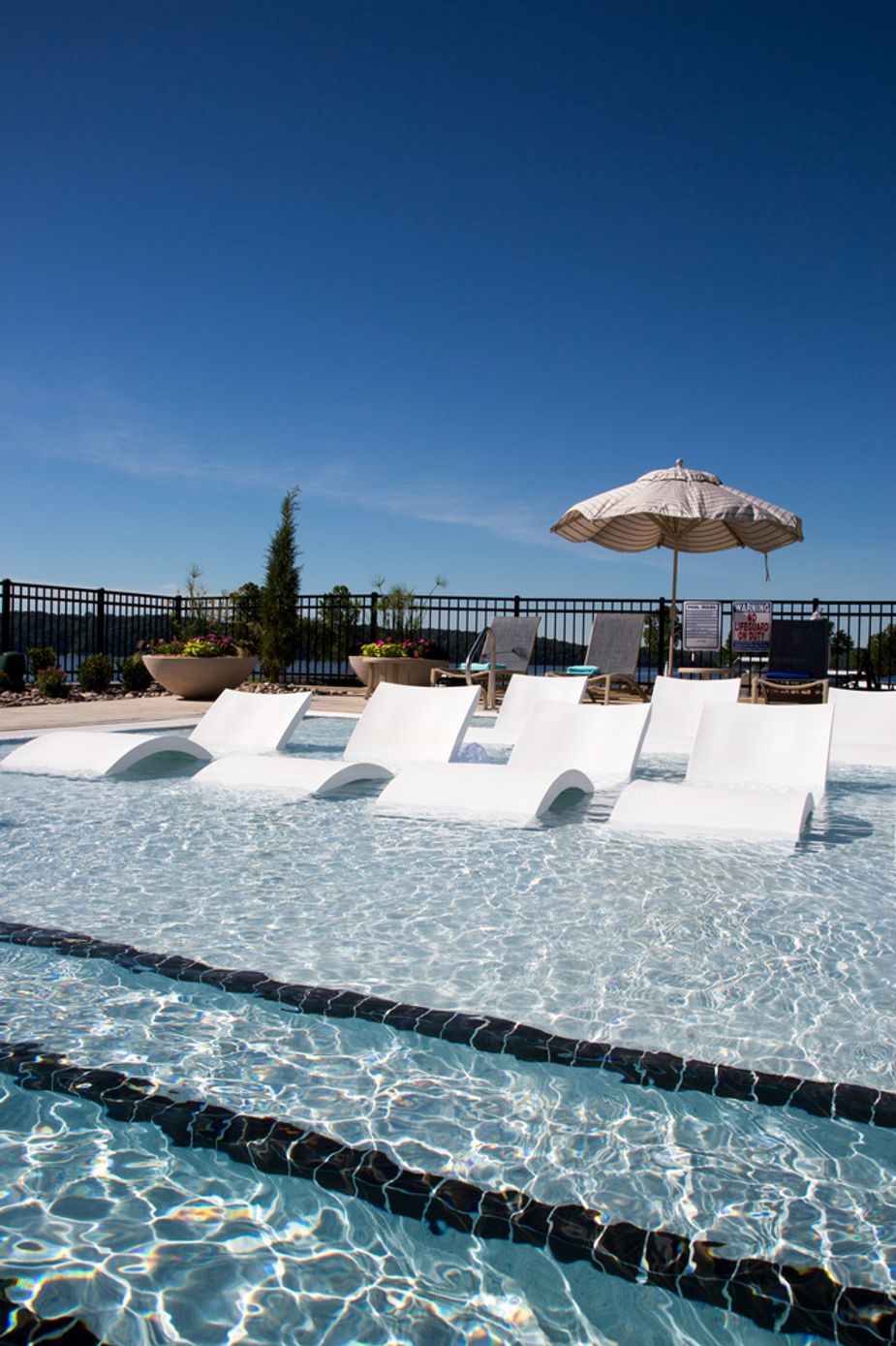 Lounge chairs in the pool's shallow end keep sunbathers cool.
Ambitious touches like these soon almost doubled the resort's build cost from its initial budget of $15 million to $27 million. With the $33 million for the clubhouse and golf course, Gibbs' investment on Monkey Island had grown to almost $60 million. In its wake, new luxury housing for weekenders and retirees began popping up all over Monkey Island with prices ranging from $250,000 to nearly a million dollars, prompting a new economic boom. Shangri-La was back.
For Oklahomans who harbor summer memories from Monkey Island, the transformation is astonishing. Before groundbreaking, rooms began to book from little more than a blueprint. Where the previous owner had rechristened the resort The Peninsula Resort & Club, Gibbs and company decided to keep the original name.
"We didn't want to spend that much money buying a property and not capitalize on forty years of marketing," says Williams. "We're very respective of the legacy of the original resort, that international destination, and that's what we wanted to create."
The response was immediate. Professional organizations—some of which had long histories of hosting corporate functions at the resort—began calling right away.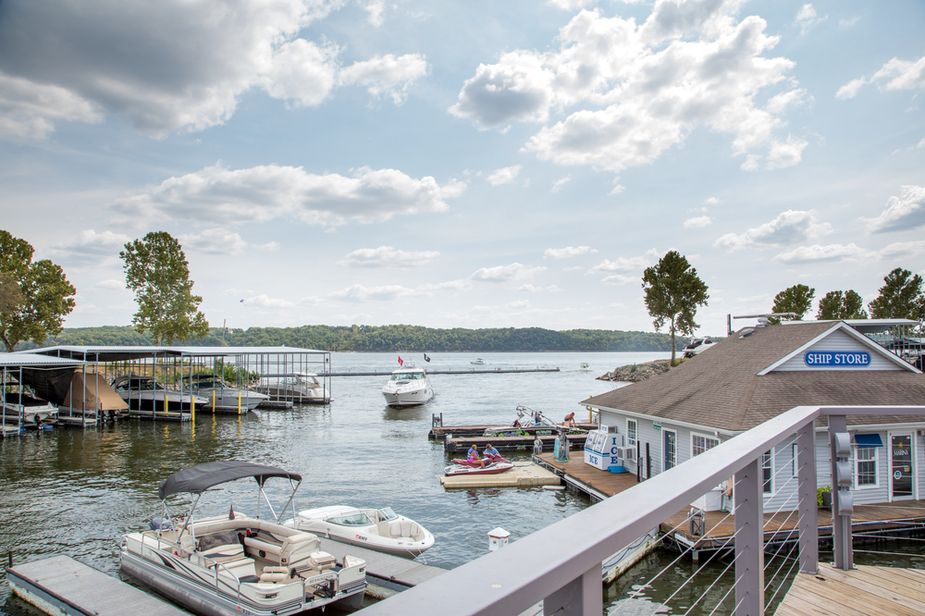 The Shangri-La Marina offers guests access to a world of adventure on Grand Lake including boat rental and parasailing.
"When we first announced, the executive director of an association of general contractors called and said, 'The day you start taking reservations, call me, and I'll give you a credit card number,'" Williams says. "He said, 'When our contractors find out we're going back to Shangri-La, they'll bring everybody in their office. Everybody's been hoping for that day.'"
Though the buildings are new, homage is paid to the old Shangri-La. The only remaining piece of the original resort, a 1,200-pound metal eagle, now stands in front of the golf club, gazing out over the course and the lake. Inside the club, a plaque is emblazoned with the names of the eighty-four members who remained before the renewal. The ninth hole of the Legends Nine Course is dedicated to Mickey Mantle, who grew up in the nearby town of Spavinaw.
These touches remind current-day visitors that Shangri-La is a place that was, for so many years, buoyed up with little more than the love of those who continued to look forward to its revival even when it seemed hope was lost. But what has grown from those remnants now rivals anything that came before. The golf club that numbered only eighty-four less than a decade ago how boasts more than five hundred members. The shattered remains of a beloved vacation icon have given rise to a glorious new travel destination that rivals Caribbean resorts in its amenities, price, cuisine, and attention to detail. And Oklahomans who treasured summer childhood memories spent on Monkey Island now can bring their own children to bask in the resurrected glory of this storied bit of paradise on the shores of Grand Lake.
Rooms at Shangri-La start at $249. Greens fees start at $39, and lessons, packages, and tournaments are available. Annual memberships range from $2,269 to $5,250. 3100 South State Highway 125 on Monkey Island, (918) 257-4204 or shangrilaok.com.