18 minutes
Published February 2021
By Karlie Ybarra | 18 min read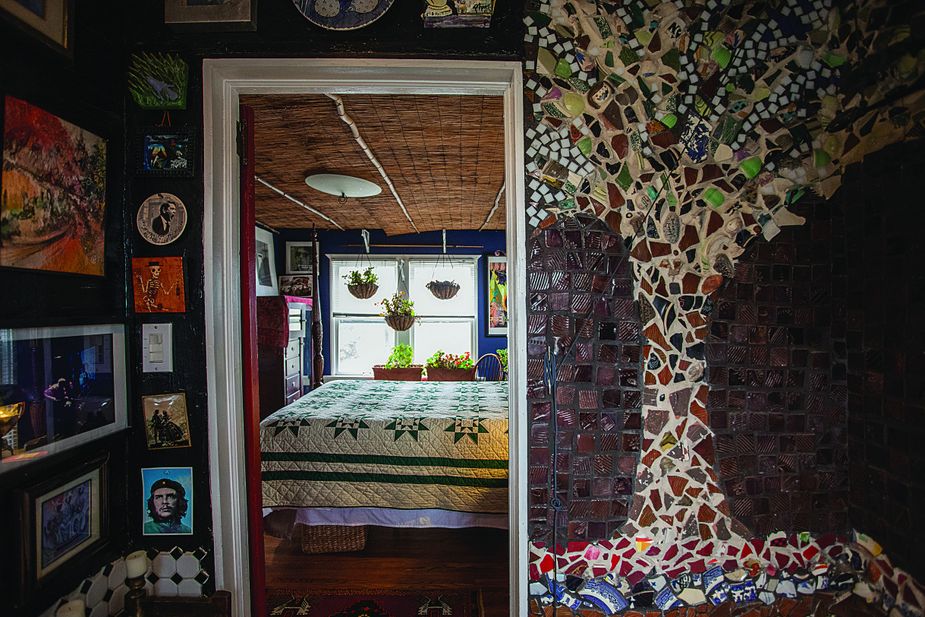 The Artist's Apartment above Liggett Pottery in Tulsa. Photo by Valerie Wei Haas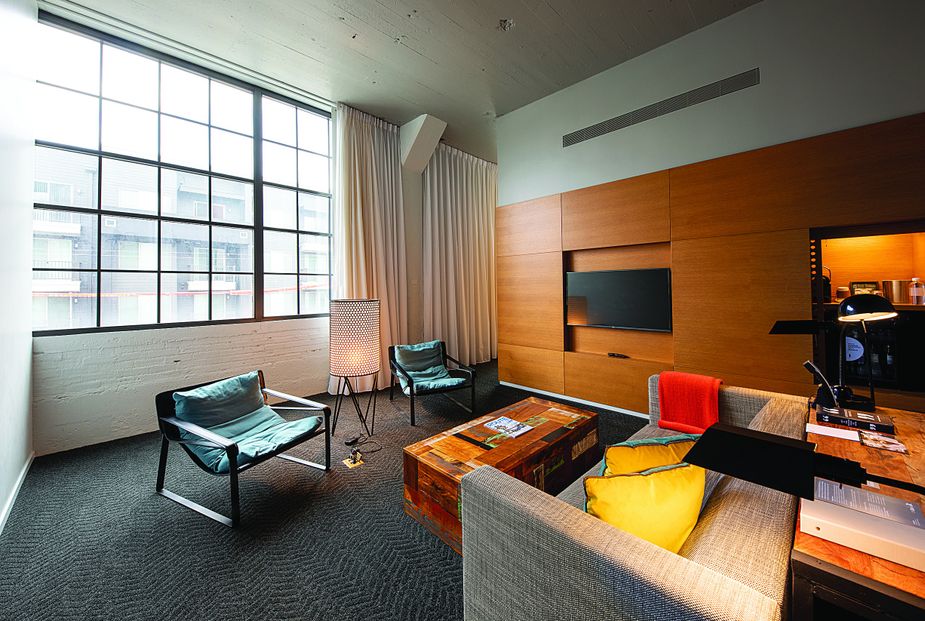 21c Museum Hotel in Oklahoma City. Photo by Lori Duckworth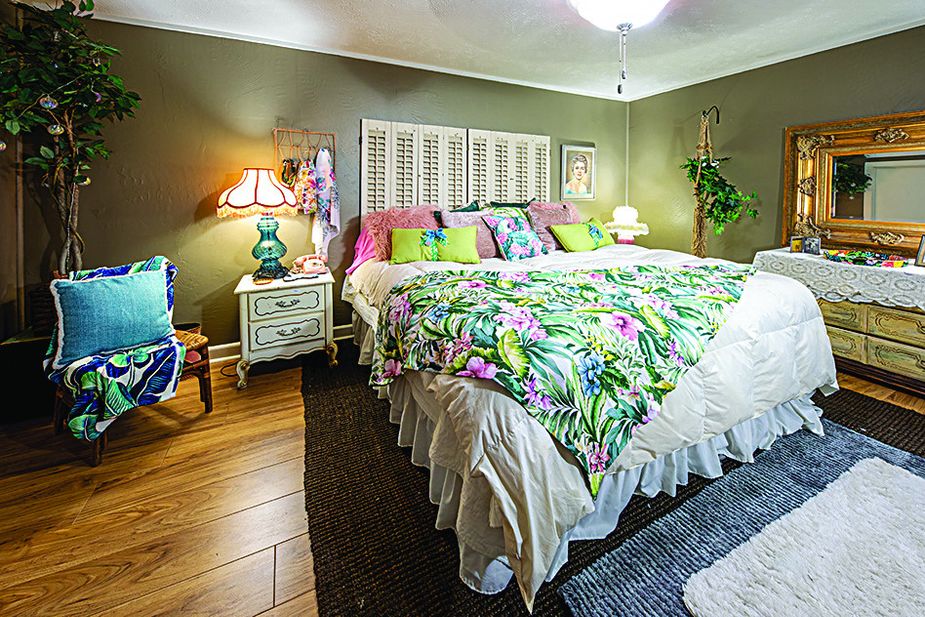 The Golden Girl Guest House in Ardmore. Photo by Lori Duckworth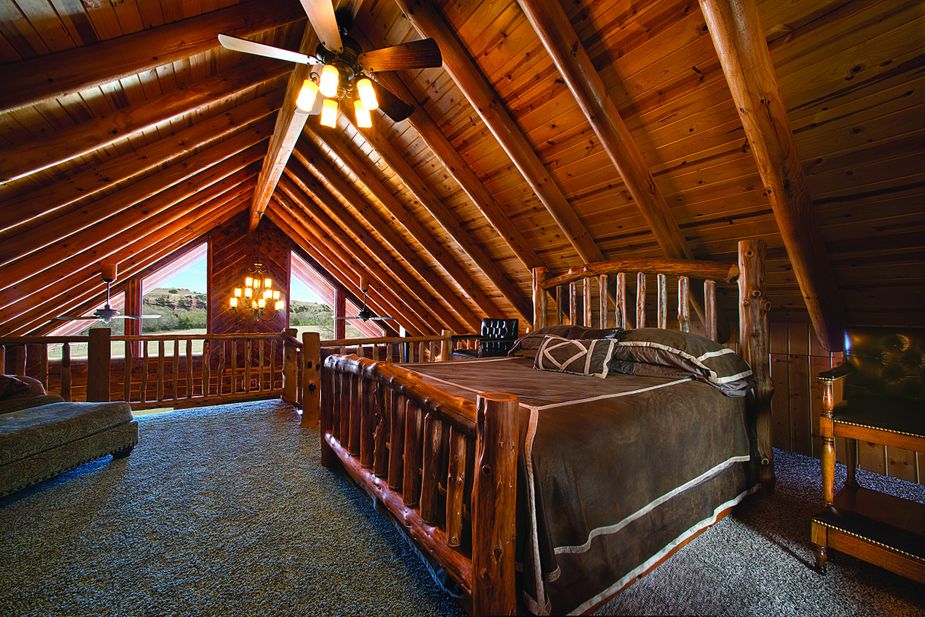 Cedar Haven Lodge near Waynoka. Photo by John Jernigan
Gallery View
World-class contemporary art, high-end cuisine, and a luxury boutique hotel experience put Oklahoma City's 21c Museum Hotel in a tier ALL its own.
By Megan Rossman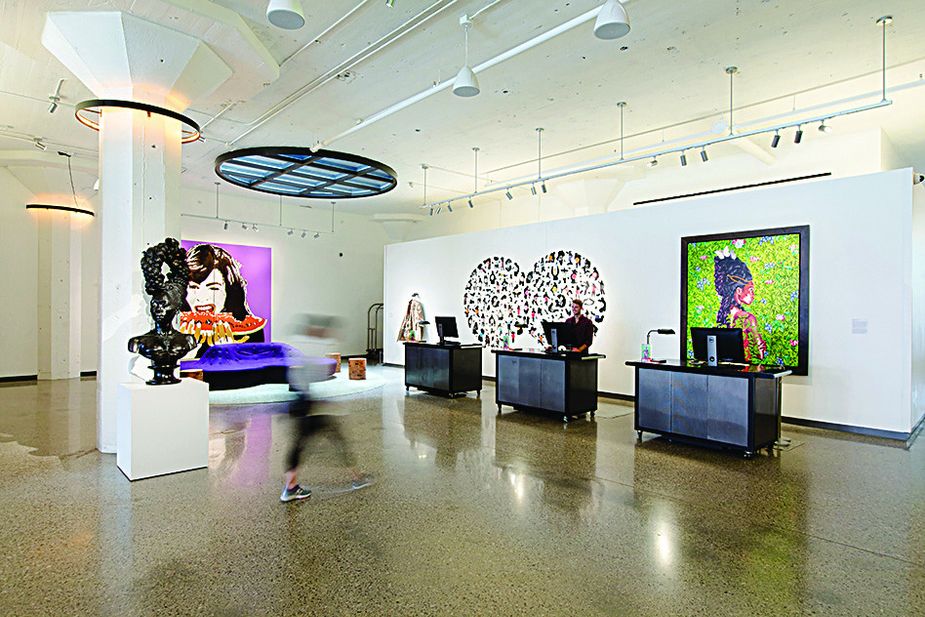 21c Museum Hotel in Oklahoma City. Photo provided by 21c Museum Hotels
As soon as you step inside, it's clear 21c Museum Hotel is much more than a place to park your bags and body for the night. For starters, it doesn't look like a hotel. The 1915 building, which occupies an entire block near downtown Oklahoma City, was one of twenty-three Model T factories built by Ford. The former province of Tin Lizzies now contains contemporary art exhibits, a restaurant and bar, and meeting rooms. It also hosts frequent parties, weddings, classes, and other events.
Founded in 2007, 21c is a Kentucky-based hotel chain born of Laura Lee Brown and Steve Wilson's desire to share their contemporary art collection with the public. Nine hotels across the country showcase an assortment so vast that a single piece has yet to repeat itself. The ground-floor exhibits rotate through each hotel every nine to twelve months.
"The art is different at each location, but it's always contemporary and forward thinking," says Melanie Bray, Oklahoma City 21c's director of sales and marketing. "At the core, you should witness a passion for what our team is doing: hospitality at its finest, delicious food, and a damn good bourbon drink."
In a nod to the building's roots as an assembly-line factory, James Clar's conveyor belt-like River of Time, a Wonka-esque permanent installation, occupies a sizeable portion of the lobby. Outside, Matthew Geller's life-sized copper tree Woozy Blossom envelops the sidewalk in an ethereal fog it emits throughout the day.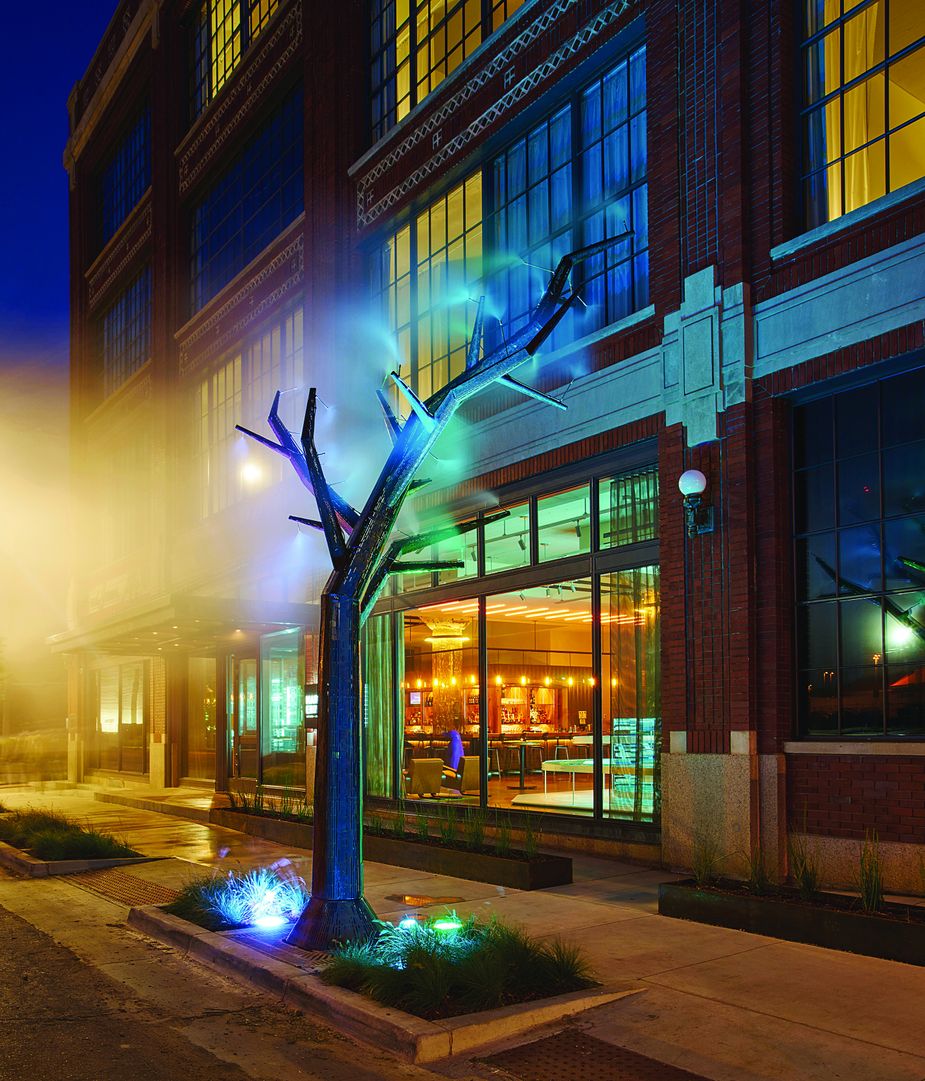 The Woozy Blossom installation gives visitors a preview of the contemporary art experience they'll have inside 21c Museum Hotel in Oklahoma City. Photo by 21c Museum Hotels
Inside, guests can slip into Mary Eddy's Kitchen and Lounge for a cocktail and then wander the galleries, which Bray says is a popular first date among visitors. Chef Jeff Patton's kitchen does a lot of butchering and curing in-house, which makes for mighty fine charcuterie, steaks, and other meats. Every dish receives a level of attention that pleases diners of all dietary inclinations, whether it's a dry-aged New York strip, buttery scallops and ravioli, or lemon bread pudding topped with pickled blueberries, mascarpone, whipped cream, and candied almond slivers.
Above all this, four floors house 135 rooms, and the hyper-posh 21c suite, which encompasses the entire fifth floor, can host up to 125 people for events. Rotating exhibits from local artists greet visitors at every elevator bank on the guest floors. Beyond them, dim wide corridors with high ceilings evoke the moody drama of an early '90s George Michael music video and lead to the hotel's well-appointed guest rooms. Details throughout—like subtle tire tread patterns in the carpet and steering wheel faucet handles—call to the building's past. Huge windows, unique wall art, sofas, and luxuriously outfitted beds give each one the feel of a uncluttered, high-end loft that you might want to fall asleep in full time. Because whatever else 21c is, it's a good place to dream.
21c Museum Hotel
› 900 West Main Street in Oklahoma City
› (405) 982-6900
› 21cmuseumhotels.com/oklahomacity
Cozy Along
When the unexpected happens, this mountain retreat is the most perfect place to cozy up to a warm fire.
By Kashea McCowan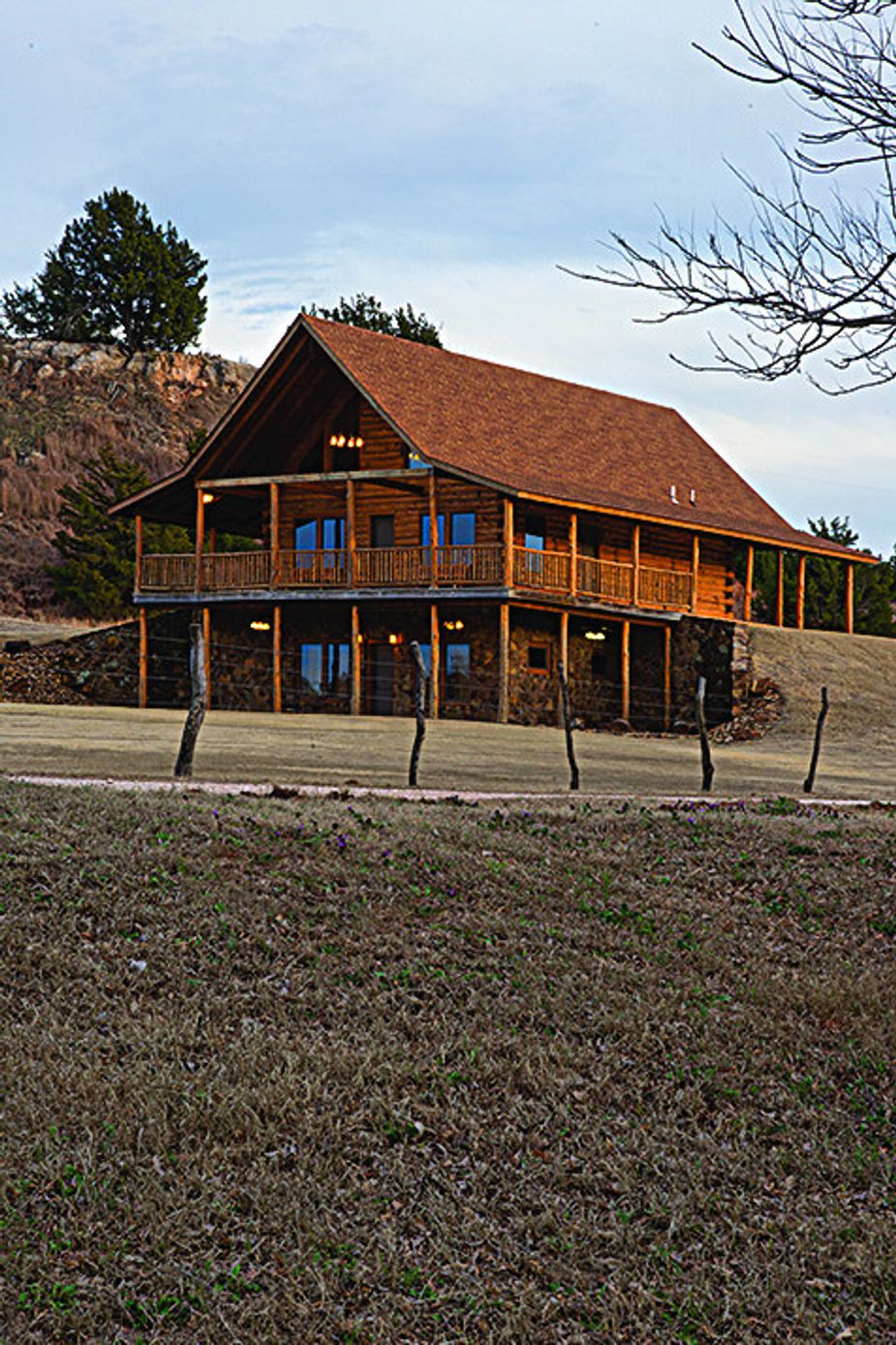 Cedar Haven Lodge near Waynoka. Photo by John Jernigan
My idea of an overnight stay in the mountains consists of a small, brown cabin in a forest of oak trees, roasted marshmallows steeped in hot chocolate, and long hikes on the terrain. But after arriving at Gloss Mountain Outfitters, I knew that my actual experience would be much better than I had envisioned.
It all began with a scenic drive to the three-story Cedar Haven Lodge on the 2,300-acre Newton Ranch near Waynoka. Surrounded by the Gloss Mountains—also known as Glass Mountains—these sparkling hills aren't mountains at all but mesas and buttes with slopes covered in shiny selenite crystals. I drove down a long, rocky, red dirt road just to find out that I was not on the correct path, and after retracing my steps, I was spotted by co-owner and operator Jacque Newton, who came to my rescue.
Though I was looking forward to enjoying an outdoor campfire, snowfall in the mesas resulted in glorious views and gave me a reason to build a fire using the 1940s wood stove in the den. Looking out through the large windows on the main floor of the 2,160-square-foot lodge, I could see fields of cows grazing the land; long, flowing, shady creeks creeping along; and a home for three white goats who'd happened to find refuge in the buttes.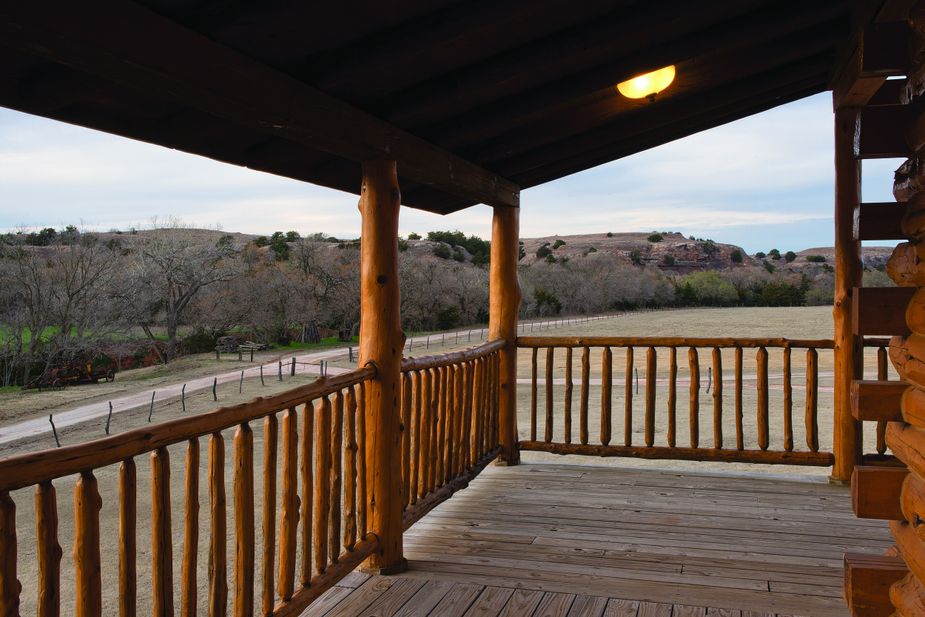 Guests at Cedar Haven Lodge near Waynoka enjoy expansive views of the selenite flecked mesas surrounding the property. Photo by John Jernigan
Groundwork for the cabin began in 2008 and was a hands-on family project that took fifteen months to build. It was completed by fall 2009 and was intended to serve as a personal retreat and gathering place for the Newton family. But today, it has become a popular vacation spot and wedding venue.
Collecting nearly four hundred cedar logs from the nearby canyons, Charles Newton—Jacque's father-in-law—measured, limbed, and hand-cut every piece of wood using an old manual saw mill. There are approximately 325 power-washed logs that make up the main floor and front porch posts alone. From the upstairs loft to the basement, every piece of furniture was hand made using small cedar logs. With a rustic, modern feel, the bathroom showcases a hand-crafted sink that resembles the lucky log sitting at the stage entrance of the Apollo Theater in New York. And the exquisite shower is equipped with an overhead and handheld shower head that serves as an adjustable massager.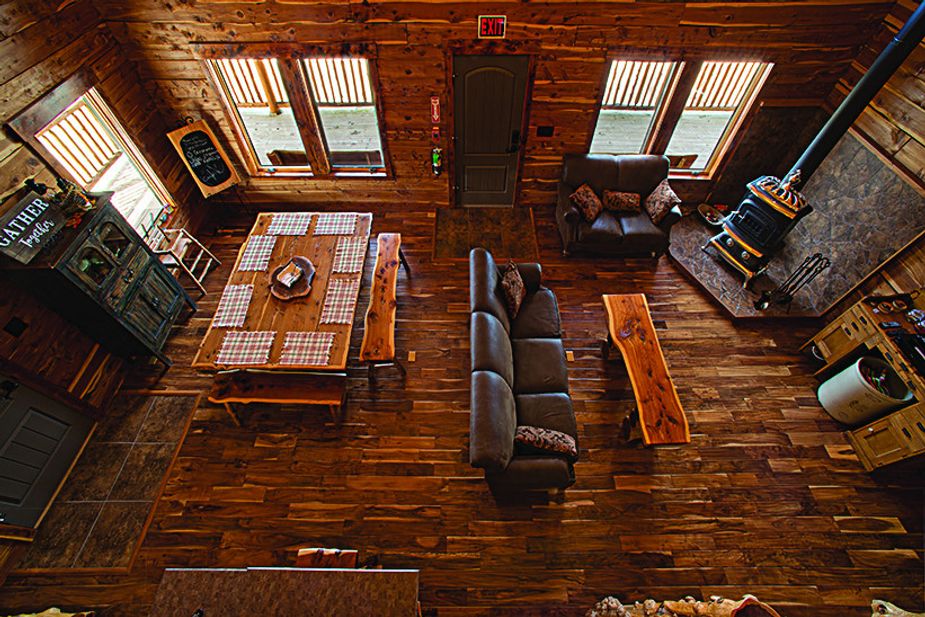 Cedar Haven Lodge near Waynoka. Photo by John Jernigan
If you are looking for a rural retreat, this is the place to be. And if you are lucky, Mother Nature may surprise you and paint the mesas in pretty, glossy-white snow.
Cedar Haven Lodge
› (580) 884-1305
› glossmountainoutfitters.com
The Friend Zone
The Golden Girl Guest House in Ardmore serves fun and friendship by the slice.
By Karlie Ybarra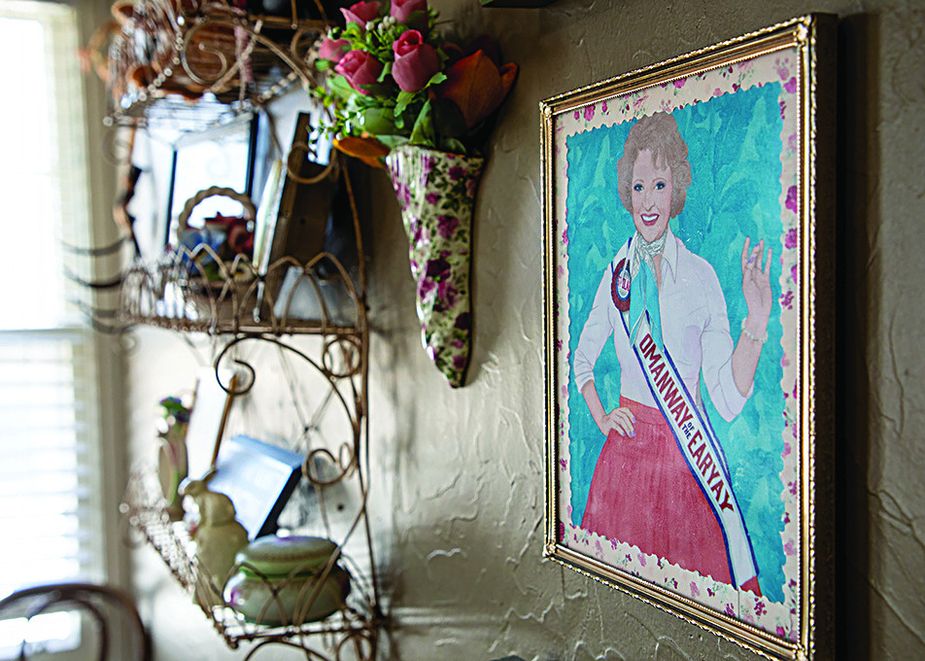 The Golden Girl Guest House in Ardmore. Photo by Lori Duckworth
If we have to watch The Golden Girls one more time, I might actually go insane," my grandmother said as that friendly refrain—"Thank you for being a friend"—rang out from the TV for the umpteenth time that day.
As a teenager, I could watch The Golden Girls for hours on end. But I didn't realize at the time that it was the female empowerment, the honesty, and the unbreakable friendships that made me want to get into hijinks with Blanche, Rose, Dorothy, and Sophia again and again. Stepping through the salmon pink door of the Golden Girl Guest House in Ardmore, I started to feel that golden glow once more. Wicker furniture, banana leaf print everything, slices of cheesecake thawing in the refrigerator: Any fan of the show would feel right at home.
That's not just because of the Miami-in-the-eighties décor. Much of the land in the area once belonged to the family of Rue McClanahan, who played Blanche Deveraux on the show from 1985 to 1992 as well as its spinoff The Golden Palace. In fact, her father Bill built the house—and many others in the area—himself. The guest house's current owner, Lori Harrison, lives across the street in the home where Rue grew up, which led to some remarkable discoveries.
"Some of the pictures you'll see of Rue when she was a child were found at our house," Harrison says.
With fiery red hair and an even brighter personality, Harrison embodies that unapologetic fabulousness that made these women such fun to watch. The Ardmore native—along with her daughter Maleah—made sure the Golden Girl Guest House is imbued with that spirit as well.
"From all of the photographs, décor, and the overall aesthetic, you feel like you are living in one of the Golden Girls' homes—which you are," read an Airbnb review from February 2020.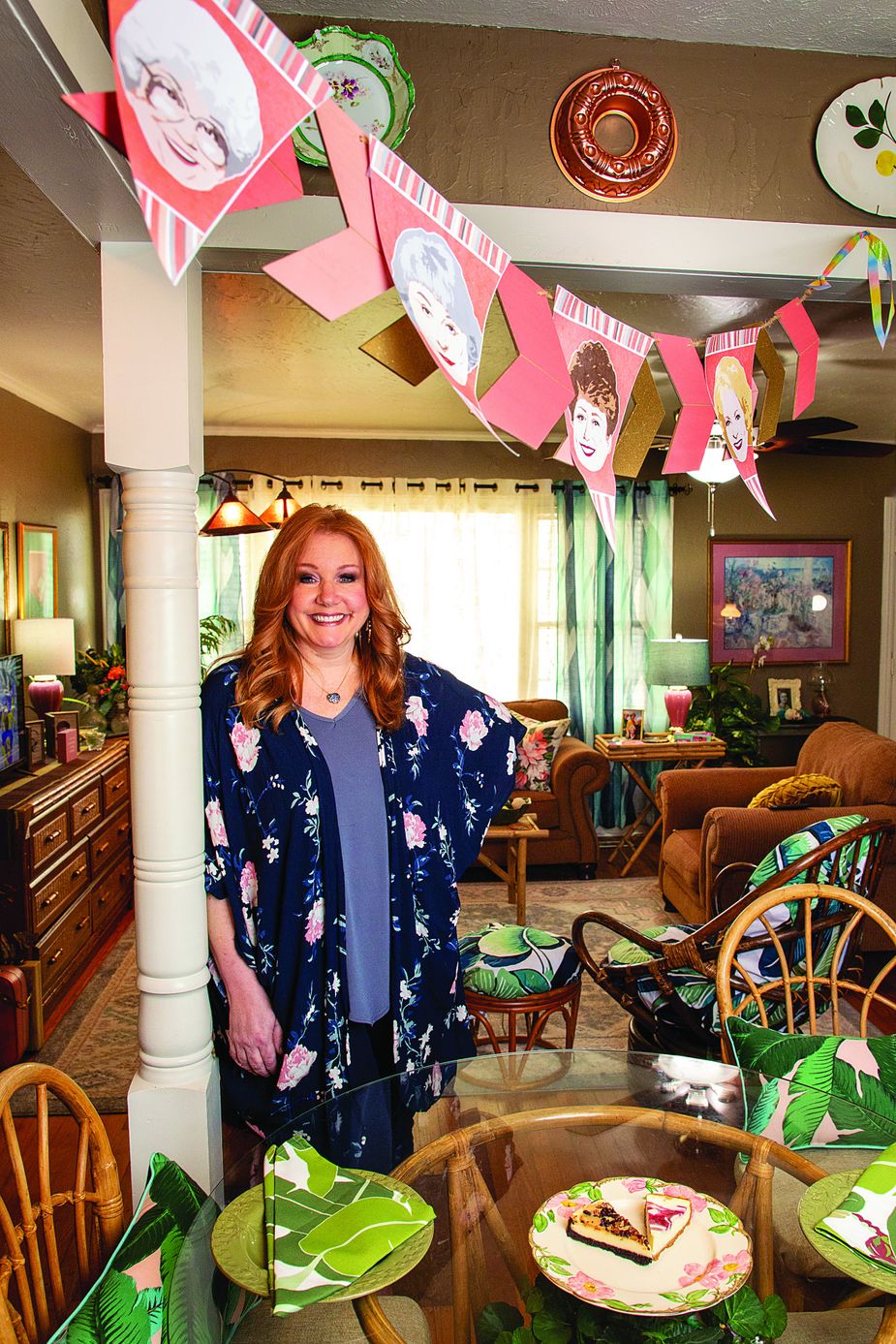 "The Golden Girls" superfan Lori Harrison owns the Golden Girl Guest House in Ardmore. Photo by Lori Duckworth
Throughout the three-bedroom house, guests will find artifacts that reference or were inspired by the hallowed quartet. In Sophia and Dorothy's room, a "Shady Pines Retirement Home" sign hangs near a wicker purse; Rose's room features some of St. Olaf's finest wisdom; and Blanche's room—the biggest and most luxurious, of course—is outfitted with a fluffy white comforter for guests who want to recreate that famous bedroom scene.
"Sometimes, ladies will ask me to come over and take a picture of them with the blanket pulled up to their chins. It's a fun reason to get to meet people," Harrison says.
Making new friendships and reigniting well-used ones: The Golden Girl Guest House stays true to the show in aesthetic and spirit. I hope to travel down the road and back again before my slice of cheesecake thaws.
The Golden Girl Guest House
› Starts at $215 a night and is located in Ardmore. Check the Airbnb listing for booking information. airbnb.com
Create Space
This Tulsa apartment is the ideal overnight spot for those who are rejuvenated by all things artistic. It's also a great place to ride out a storm.
By Greg Elwell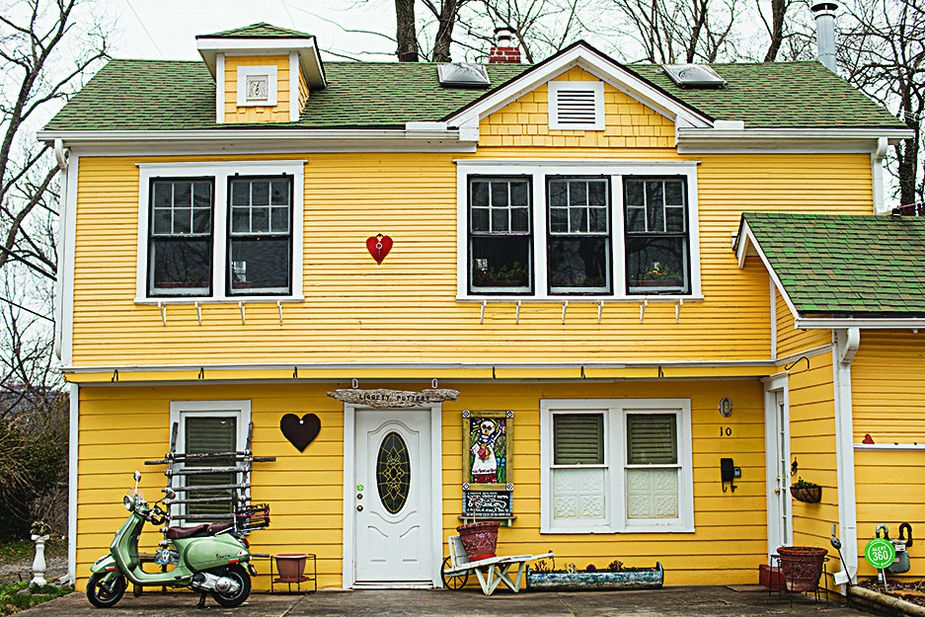 The Artist's Apartment above Liggett Pottery in Tulsa. Photo by Valerie Wei Haas
The best place to experience a tornado is far, far away from the tornado. But The Artist's Apartment Above Liggett Pottery in Tulsa's historic Heights District might be a close second.
After studiously ignoring the weather reports, I spent a tornadic evening in the fun-and-funky second-floor apartment trying to calm my companion, who was new to the state's windy ways. It's Oklahoma, after all. If we stayed inside every time the forecast predicted inclement weather, we'd never go out. At least there was plenty to distract us from atmospheric chaos. Even the staircase we huddled on and the bannister we held onto were equal parts artistic and functional.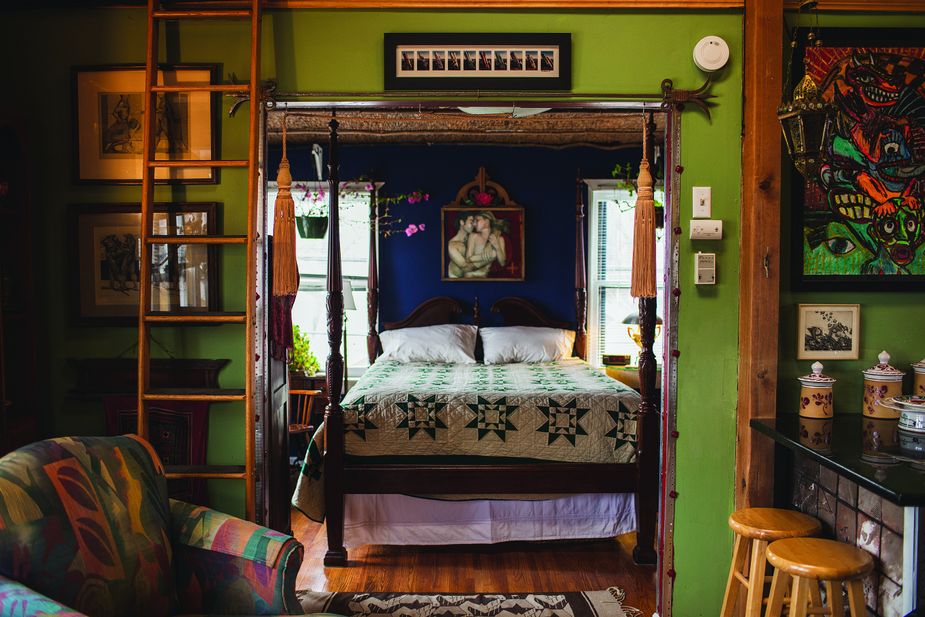 The Artist's Apartment above Liggett Pottery is a cozy and intricately decorated space near Tulsa's Greenwood District. Photo by Valerie Wei Haas
Located on the second floor of Liggett Pottery, the apartment is a visual feast. The bathroom includes a pottery shard tree built into the wall. Look for the dated stones incorporated into the mosaic for the artist's personal travel history. The den is decorated with puppets, sculptures, hubcaps, and other ephemera. Forget the TV; there's enough art here to keep your eyes occupied for the entire stay. (Though there's a streaming box and WiFi, if you'd rather not forget the TV.) And while the art is all-encompassing, visitors never feel as if they're in a gallery. This is a comfortable base for resting, relaxing, and planning excursions into the surrounding city.
The property needed heavy renovations when owner Steve Liggett purchased it in 1992, but that gave him free rein to put his artistic stamp on the place. Tin tiles from Carthage, Missouri, line the front room, bamboo mats cover the bedroom ceiling, and the window shutters on the bathroom ceiling were reclaimed during a renovation at the Philbrook Museum.
If you'd rather make your own art, Liggett even offers private pottery lessons for two if you schedule in advance. He mails visitors their final results after they're fired in the kiln. It's a good memento of the visit and, perhaps, a reminder to return to that artsy overnight spot regardless of what the weather is doing.
The Artist's Apartment
› 10 West King Street in Tulsa
› liggettstudio.com