Seven Kid-Approved Summer Destinations
23 minutes
Published May 2019
By Brooke Adcox | 23 min read
Photo by Lori Duckworth
School's out, and it's time to get on the road and have some fun. These seven kid-approved destinations are sure to get the YouTube generation (and their parents) to turn off digital devices in favor of more powerful connections —the kind provided by real-world immersive adventures with nature, animals, minerals, water slides, and more.
1. Dino-Mite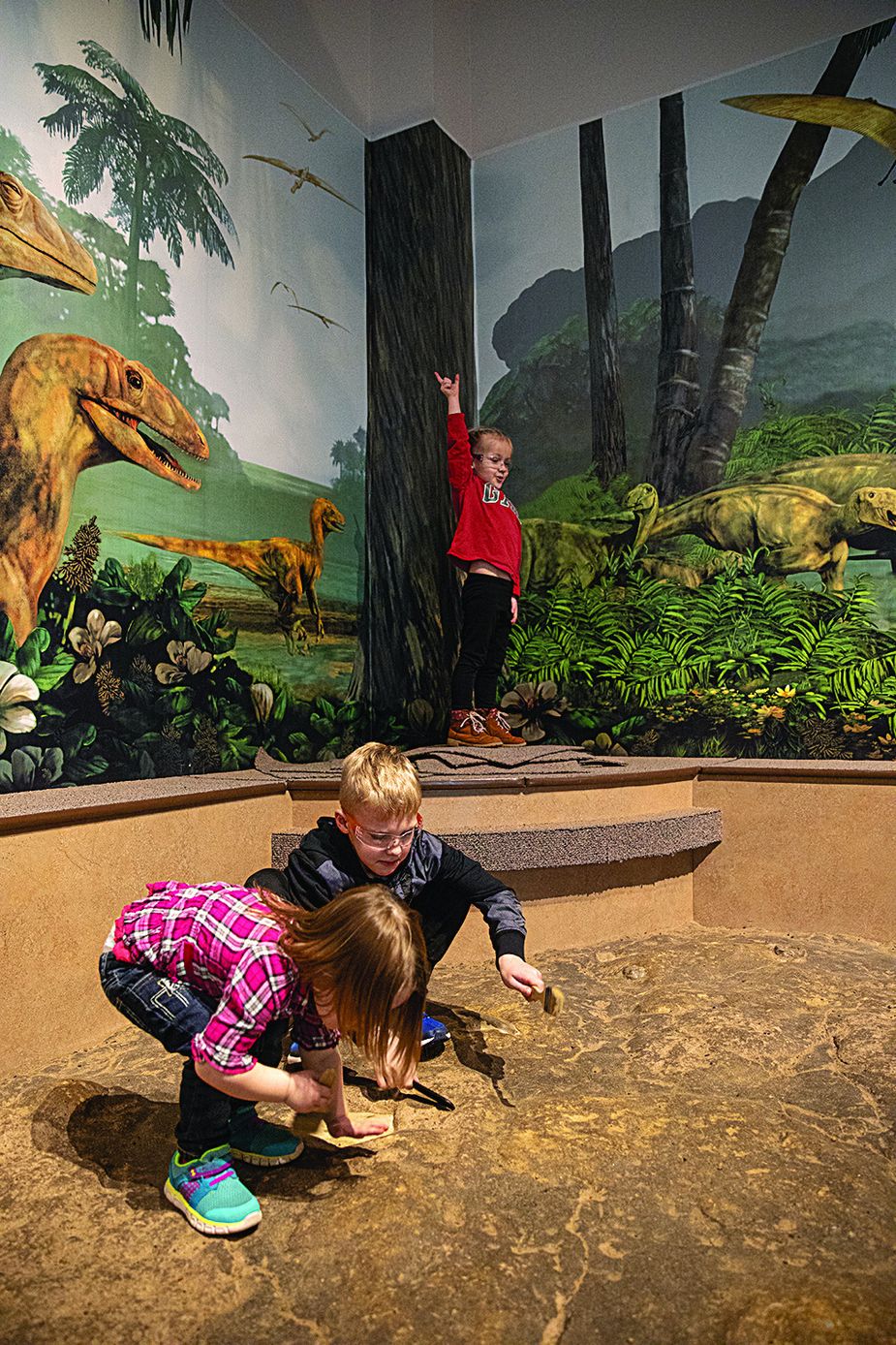 Kids have plenty to touch and take in at the Sam Noble Oklahoma Museum of Natural History in Norman. Photo by Lori Duckworth
Touch a meteorite; listen to a bird sing; get eye-to-eye with a dinosaur; feel real buffalo fur; ask questions. The Sam Noble Oklahoma Museum of Natural History in Norman celebrates exploratory learning with 50,000 square feet of public galleries designed to provide children with the opportunity to learn using all of their senses.
"If we want kids to learn, it needs to be interactive," says Carrie McKenzie, Sam Noble public programs coordinator.
The Sam Noble Museum tells the history of Oklahoma's land, wildlife, and heritage through a museum-wide narrative that translates the state's natural world into sensory activities designed to inspire young minds.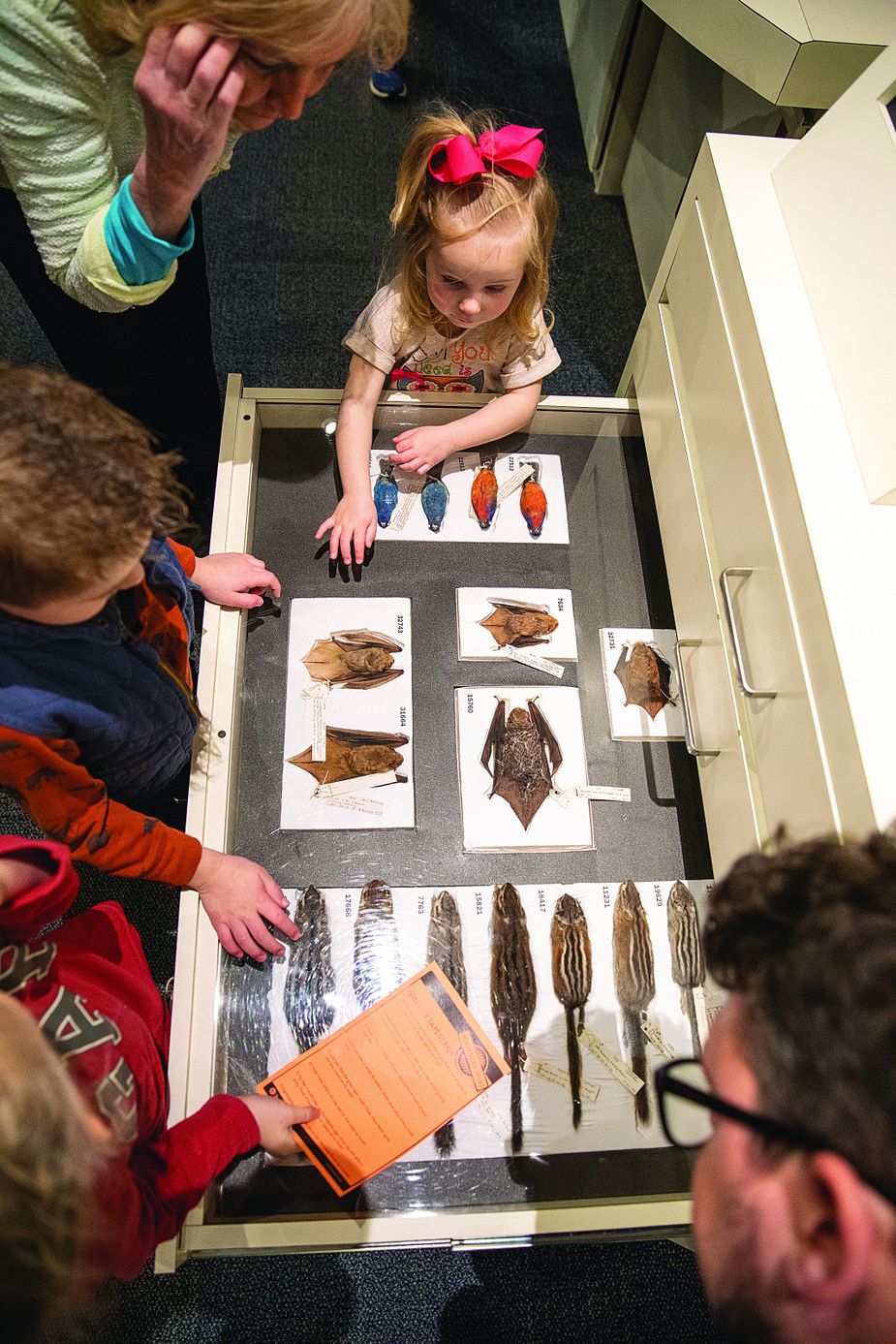 Photo by Lori Duckworth
"It's a controlled environment, and the kids can touch things," says Kayla Haswell-Lee of Oklahoma City, who regularly visits with her children. "You don't have to worry about things being broken, and you don't have to keep the kids corralled."
Experiences range from animal specimens organized in Plexiglas-topped pull-out drawers in the Orientation Gallery to ogling the Pentaceratops bones located in the Hall of Ancient Life (the museum's specimen features the largest land animal skull ever found). Amateur spelunkers can spend time in the Hall of Natural Wonders exploring a limestone cave adorned with dioramas of stalagmites, stalactites, bats, and other cave dwellers. Little artists can appreciate the artifacts and the replica of a cypress canoe in the People of Oklahoma exhibit.
"It's not every day you get to hold a piece of pyrite as big as your hand or feel a hawk's talons to understand why they are such good predators," says McKenzie of the diversity and accessibility of the museum's collections.
There's one kid-friendly space that's not to be missed—the Discovery Room. The space features hands-on activities including a simulated dinosaur dig, microscopes, live salamanders and other animals, specimen catalog, and educational activities.
"The girls love to put on the safety glasses and dig through the dinosaur area," says Haswell-Lee. "They also love the puppet show."
Enthusiastic explorers also can participate in the museum's camps and programs. And for the frugal, the museum offers free admission on the first Monday of the month for visitors seventeen and younger.
2401 Chautauqua Avenue in Norman, (405) 325-4712 or samnoblemuseum.ou.edu
2. Tales from the Deep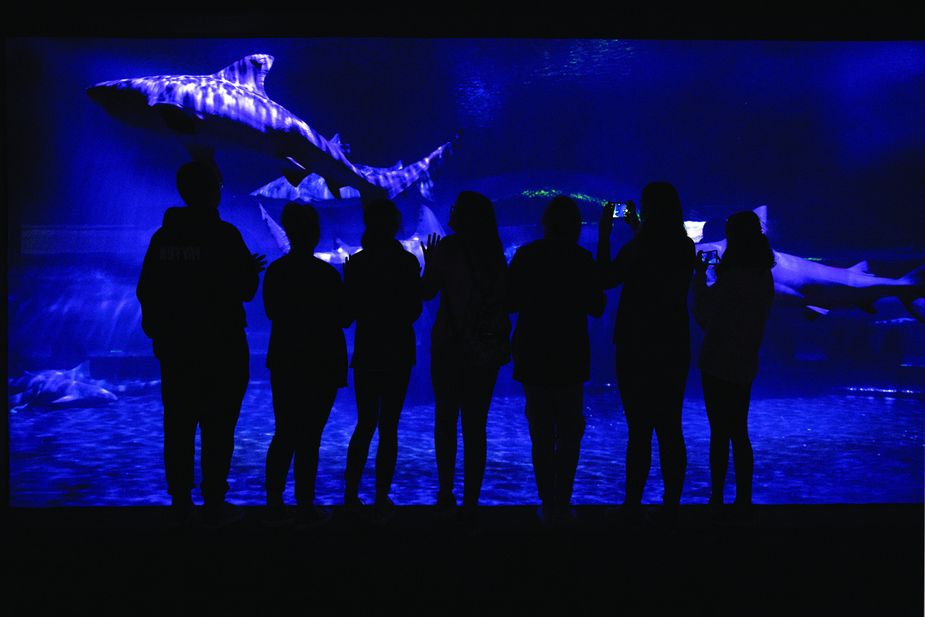 In addition to arguably being the main attraction at the Oklahoma Aquarium in Jenks, the Shark Adventure exhibit features the world's largest collection of bull sharks, who share their tank with nurse sharks. Photo by Lori Duckworth
Bull and nurse sharks glide through the 400,000-gallon tank at The Siegfried Family Shark Adventure at the Oklahoma Aquarium in Jenks. Their movements bounce blue and violet light through the tunnels and the observation dome on the tank floor. The dancing waves illuminate the faces of children who are face-to-face, often for the first time, with live sharks.
The 85,000-square-foot Oklahoma Aquarium provides a unique environment for kids to take the plunge into learning about more than 8,000 aquatic animals. The aquarium is stocked with areas specifically designed for junior explorers including kid-sized tunnels and observation windows built directly into the Amazon River and Sea Turtle Island tanks, in addition to steps, ledges, and pathways that allow children to clearly reach and see every tank.
The aquarium also offers several touch pools where visitors can run their fingers along sea stars, shrimp, bamboo sharks, abalone, and horseshoe crabs. Guides stationed at the touch pools answer questions and educate little ones about what they are experiencing. Visitors also may participate in live feeding sessions for turtles and stingrays.
"I really like to feed the stingrays," says eight-year-old Mia Ferraro of Tulsa, who visits the aquarium with her dad Jay.
The Aquatic Oklahoma exhibit spotlights the state's gar, bass, and catfish, and the Hayes Family Ozark Stream is complete with river otters, waterfall, and a beaver den with a camera for around-the-clock viewing. Jellyfish, seahorses, puffer fish, and other exotic sea creatures round out the must-sees. Interactive experiences can be tailored for each age group, says Ann Money, the aquarium's director of education programs and research.
"For younger ages, go through and talk about what they are seeing," says Money, who also recommends picking up scavenger hunt learning guides. "For tweens and teens, give them free time. Allow them to have free-choice learning."
For Jay Ferraro of Tulsa and Miami, Florida, the aquarium is a top destination for father-daughter adventures.
"I like that we can learn about things you don't normally encounter," he says. "It lets parents and kids interact and do something other than be on their electronic devices."
300 S Aquarium Drive in Jenks, 918-296-3474 or okaquarium.org
3. Fun's Afoot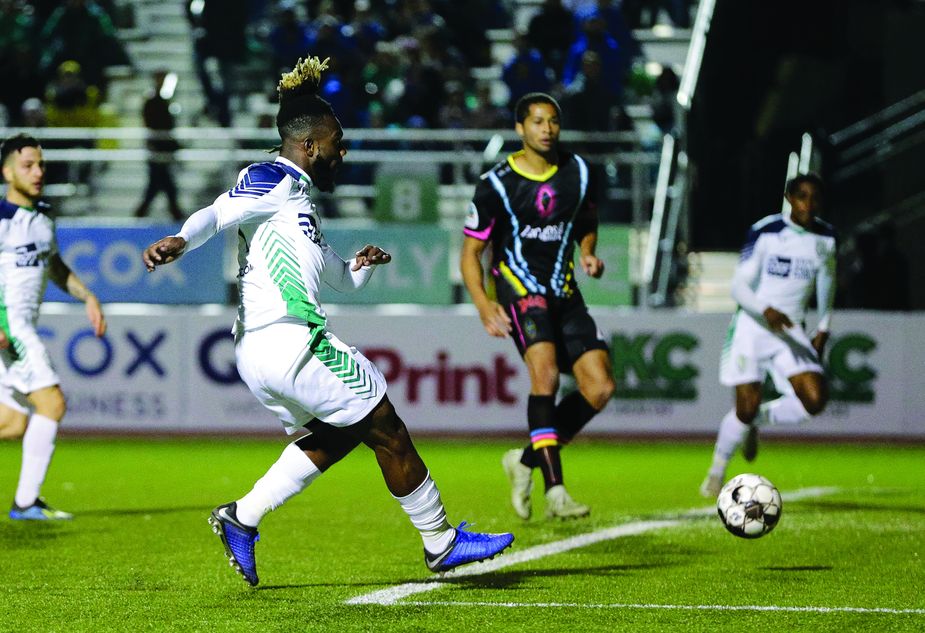 Oklahoma City Energy games are a premier destination for soccer fans from across the state. Photo by Steven Christy
Great family connections are made through sports, nowhere more so than at an Oklahoma City Energy Football Club game. The Energy, a United Soccer League team, offers fast-paced games, affordable tickets, and kid-friendly amenities.
"Kids get sucked into the matches," says Midwest City resident Brian Perceful, a season ticket holder who attends games with his two children. "It's fast, easy to follow, and there are no long delays. It's exciting to go see the sport at a high level."
Home games are at Taft Stadium, a historic WPA-built high school football field in northwest Oklahoma City. The stadium is transformed by a crowd of emerald green-clad soccer fans, many of whom are members of local supporter groups. La Furia Verde is one of the most recognizable, their loud and spirited fans providing never-ending chants, cheers, and music throughout the entire game.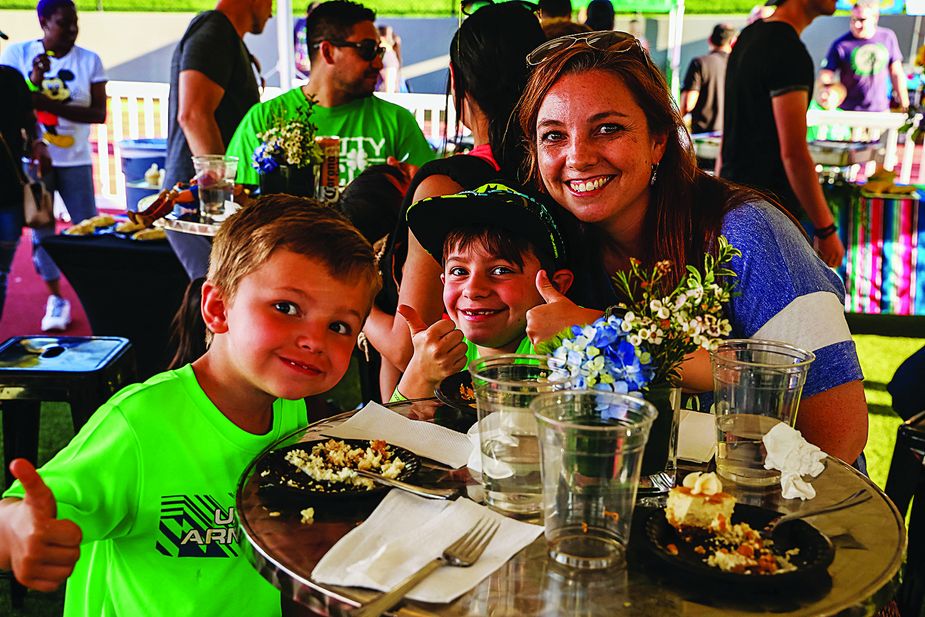 Photo by Steven Christy
"My kids know a lot of the players by name," says Perceful, who has been involved with The Grid fan group. "They are some of the rowdiest fans out there."
The venue ensures that most seats offer close and clear views of the game.
"We pride ourselves on having great seats," says Tyler Vaughn, communications and public relations manager for the Energy. "We have seats where you can be right in front of the action."
Energy games also offer professional-level amenities and activities. The track around the field provides space for vendors, food trucks, and other activities, and kids twelve and under get a free hot dog, snack, and water with their ticket.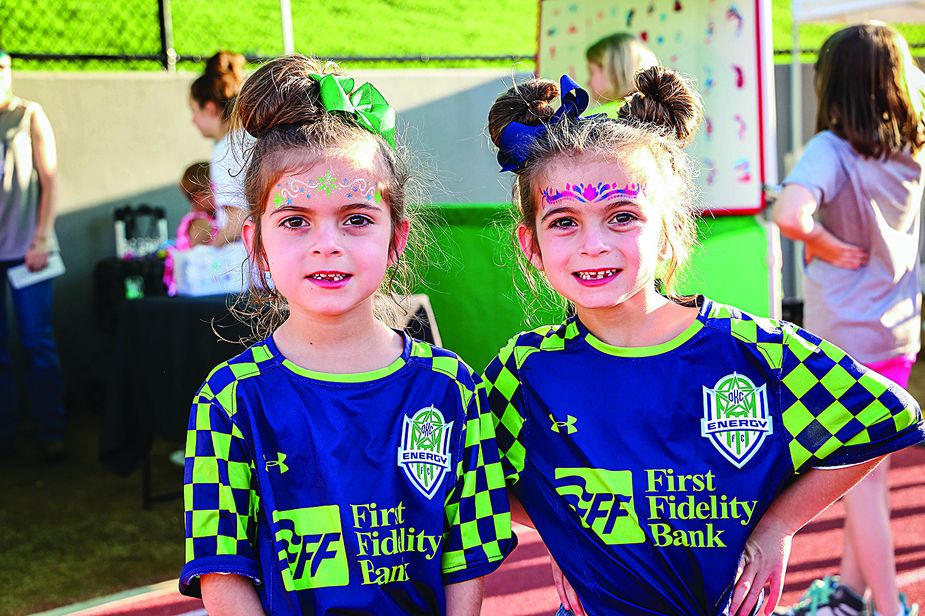 Photo by Steven Christy
And if that's not enough, Energy players sign autographs after games and regularly participate in community programs, camps, and workshops to promote youth soccer, among other things.
"Soccer is a communal game; it's a very inclusive sport," says Perceful. "I go because I want to see my friends. We are more like a family."
OKC Energy FC regular season games run March through October with individual tickets priced from ten to one hundred twenty-five dollars. Taft Stadium, 2501 North May Avenue in Oklahoma City, (405) 235-5425 or energyfc.com.
4. Joy Ride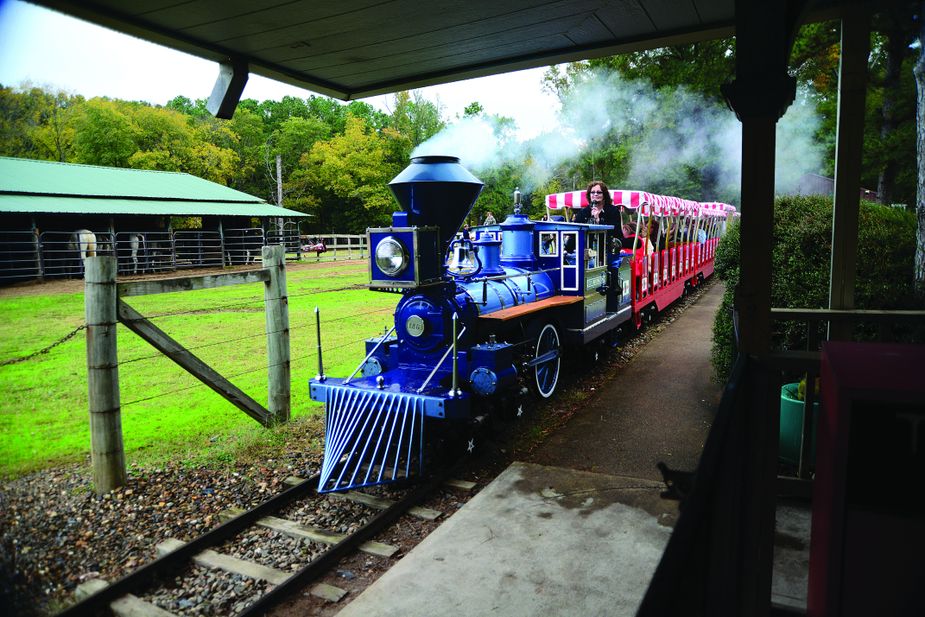 The train leaves the station about every half hour at Beavers Bend Depot and Trail Rides. Photo by Kim Baker
"Chug chug, toot toot, off we go!" roars Conductor Eugene Cofer as the bright blue C.P. Huntington replica locomotive whistles and pulls away from Beavers Bend Depot and Trail Rides in Broken Bow. The train disappears into the forest for a twenty-minute ride that winds visitors along the Mountain Fork River Bend area of Beavers Bend State Park.
Children and families ride on vintage wooden benches shaded by red and white candy-striped awnings perched over the cars. Deer, possums, and squirrels venture out from the forest to the surprise and delight of pint-sized patrons. The conductor prepares riders for Wahoo Hill, an area where the train picks up a little speed while children are encouraged to yell out, "Wahoo!"
"I love the expression of joy on the kids' faces when they see the train," says Gayla Hardaway, who has owned the depot with her husband Randy since 2016. "The younger they are, the better."
Individual train tickets are seven dollars or less, and trains depart continuously during business hours. Before or after a ride, the depot offers kid-friendly eats including funnel cakes, cotton candy, pizza, and hand-dipped ice cream. Visitors taking in a snack are sure to meet Lonesome, the friendly depot cat, who greets all guests and may sneak in a nap on willing laps.
For adventuresome cowboys and cowgirls, at least one ranch hand guides horseback tours. The crew ensures a smooth journey by handpicking a horse with the right temperament for each rider, making it an ideal outing to introduce kids of all ages to horses—even kids up to five years old can ride with an adult.
The forty-five-minute trip crisscrosses forest paths with the horses traveling in line formation at a gentle pace. Each trek has a guide stationed at the front and back offering advice on steering and navigating through the woods.
Gayla Hardaway says horseback riding appeals to tweens and teens, while the train ride delights preschool and school-age children. But, she says, the area's breathtaking natural surroundings are the real stars of the show.
"You can experience nature at its finest," says Hardaway. "You can't imagine how beautiful it is until you visit."
Beavers Bend Depot and Trail Rides, 290 Beavers Bend Loop in Broken Bow, (580) 494-6613 or on Facebook.
5. Dig Dug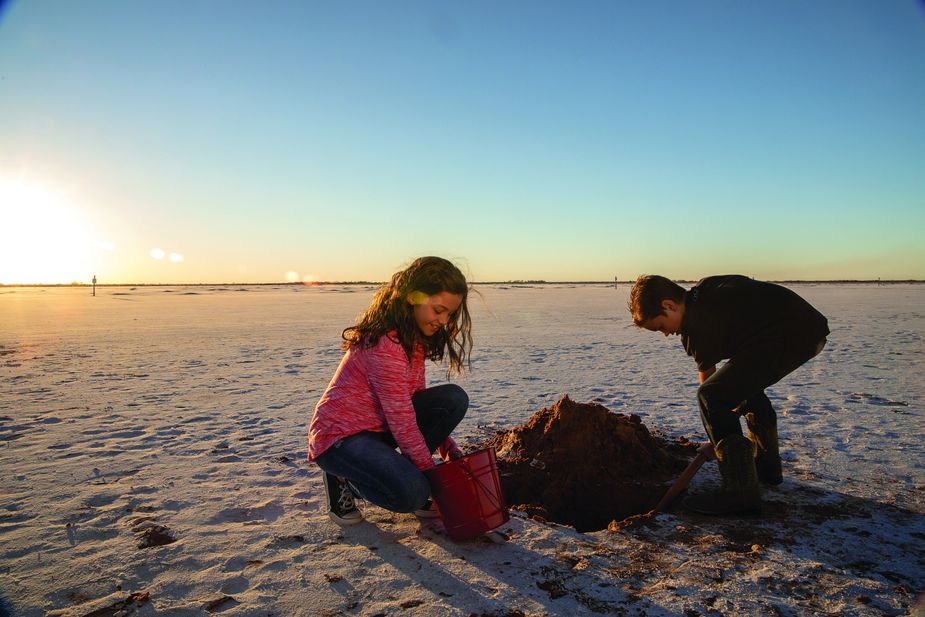 Crystal digging is permitted at the Salt Plains National Wildlife Refuge near Cherokee through October 15. Photo by Lori Duckworth
Flat, vast, and glimmering white, the Great Salt Plains in northwest Oklahoma are a stark environment so foreign that it's the ideal scenery to spark kids' imaginations.
"I love walking on the flats," says Russell Nickel, park manager for Great Salt Plains State Park. "You feel like you are on a different planet."
The Great Salt Plains are about discovery, and it starts with the one-of-a-kind experience of digging in the sandy salt flats in search of rare hourglass-shaped selenite crystals. Visitors bring shovels, find a spot, and start digging. It's basically real-life Minecraft.
Once visitors dig a hole at least two feet deep, it fills with groundwater that washes away sediment to uncover the crystals. This process is a wet and gritty experience that can entertain mess-loving kids for hours.
"Make sure to bring extra clothes," says Lynette Freeman of Pratt, Kansas. "The saltwater dried on our clothes almost instantly. We were white from head to toe."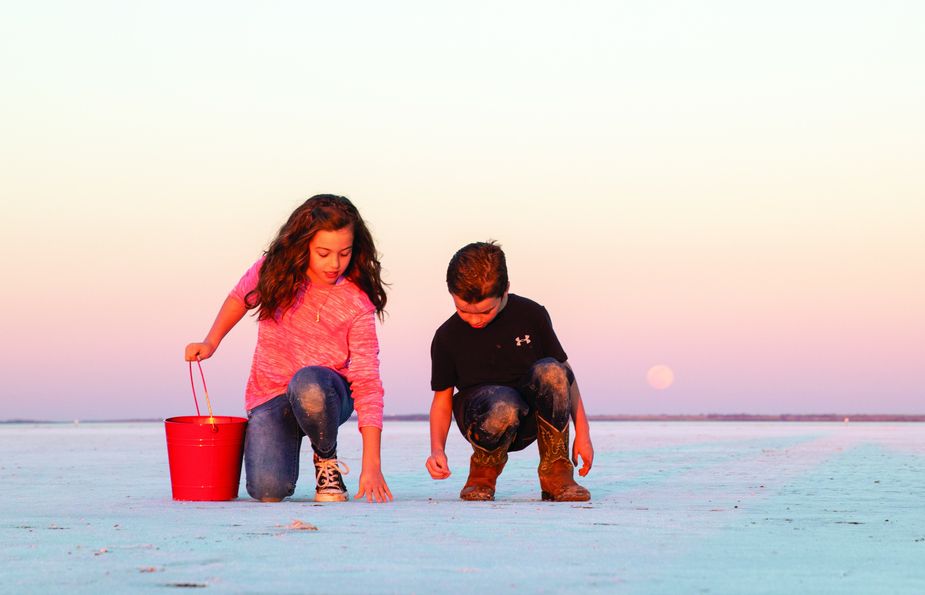 Photo by Lori Duckworth
The Freeman family spent more than four hours digging with few crystal finds. On the last hole, however, they uncovered a two-foot cluster so large that they had to excavate it in several pieces.
"It's an experience every kid should have," says Freeman.
The area is comprised of the crystal digging area, the Salt Plains National Wildlife Refuge, and Great Salt Plains State Park, located around the nearly 9,000-acre Great Salt Plains Lake. The wildlife refuge also offers hiking trails, a visitor center, and a kids' fishing pond. The State Park provides cabins, campsites, a lakeside beach, and trails ideal for hiking, fishing, and bird-watching.
"We do have the best-tasting catfish," says Nickel, who also notes that freshwater fish can thrive in Great Salt Plains Lake. "They are already salted before you cook them."
The crystal diffing area is at 66003 Garvin Road in Cherokee. The Salt Plains National Widlife Refuge, 71189 Harper Road in Jet, (580) 626-4794 or fws.gov/refuge/salt_plains. Great Salt Plains State Park, 23280 South Spillway Drive in Jet, (580) 626-4731 or TravelOK.com/parks.
6. Water Babies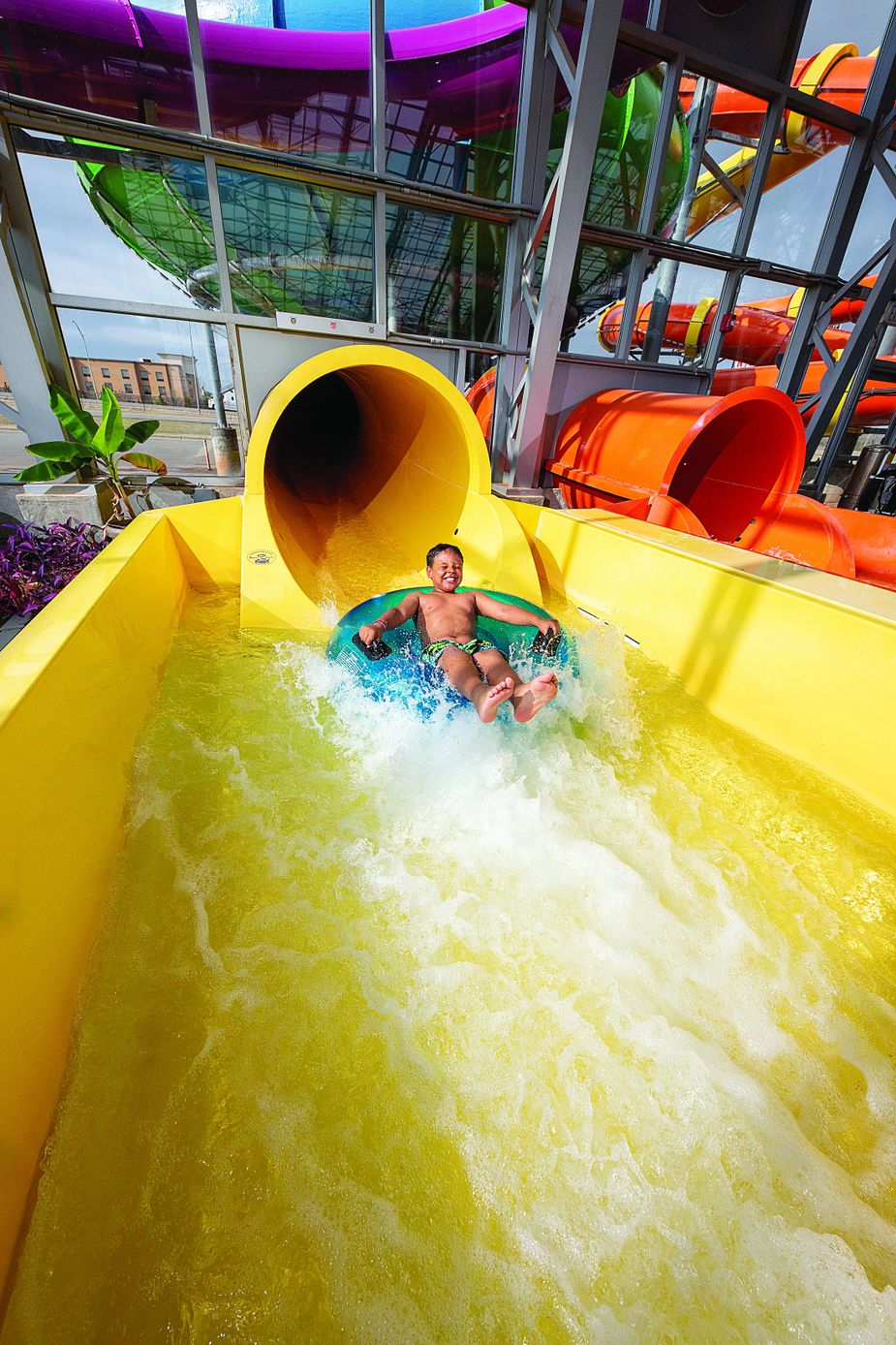 The Water-Zoo.com Indoor Water Park in Clinton is the state's only indoor water park. At less than an hour and a half from the Oklahoma City metro area, this swim spot makes an ideal day trip for many families in the state. Photo by Lori Duckworth
As travelers Drive down Interstate 40, the four-story Water-Zoo.com Indoor Water Park in Clinton appears like a mirage—a towering glass structure with brightly colored slides that abruptly and almost magically alters the grassy western Oklahoma plains. The park radiates good time vibes—thrills, warmth, play, togetherness—and the promise of a proper kid-friendly summer vacation no matter the weather or time of year.
The Water-Zoo offers 28,000 square feet of aquatic fun set in a temperature-controlled environment that's advertised as a balmy eighty-three degrees year-round. Visitors are given color-coded, scannable wristbands that allow them to enter the pool area and provide a quick visual reference for height limits needed for safety.
Guests are greeted with warm air, jungle-themed decorations, and a view to the multilayered, elevated park. The ground level features a beach entry wave pool that's connected to the four-hundred-foot lazy river. The base level also features Cub's Cove, a shallow water splash pool for the littles, and a basketball activity pool surrounded by chaise lounges for relaxing adults.
The mezzanine features a playground with tipping buckets, sprayers, and small-to-midsize slides. Thrill seekers will need to make the four-story climb to the park's three large slides: the purple body slide, which picks up some exciting speed; the yellow tornado that swirls riders around a completely dark basin; and the orange slide that offers an interactive game when paired with a digital body board.
"We come here all the time," says Brandy Loyd of Canute. "Our kids are around thirteen years old. I like it here, because you can cut them loose, and they can do their thing."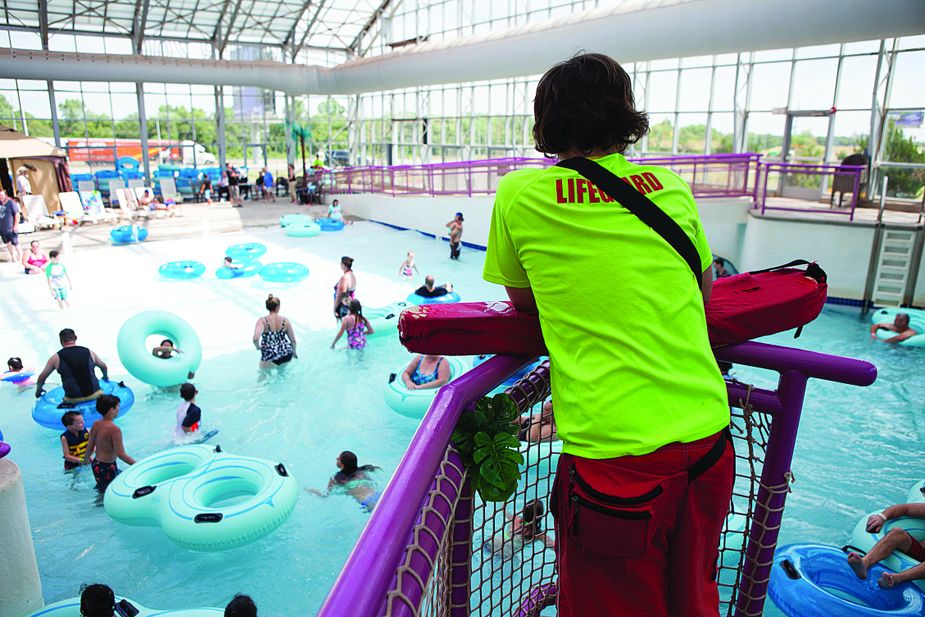 Image provided
Safety is key for Walt Schumacher, the CEO, operator, and visionary behind this experience.
"It's a safe environment, and parents realize it," says Schumacher. "We have well-trained lifeguards and pool attendants and a highly friendly staff."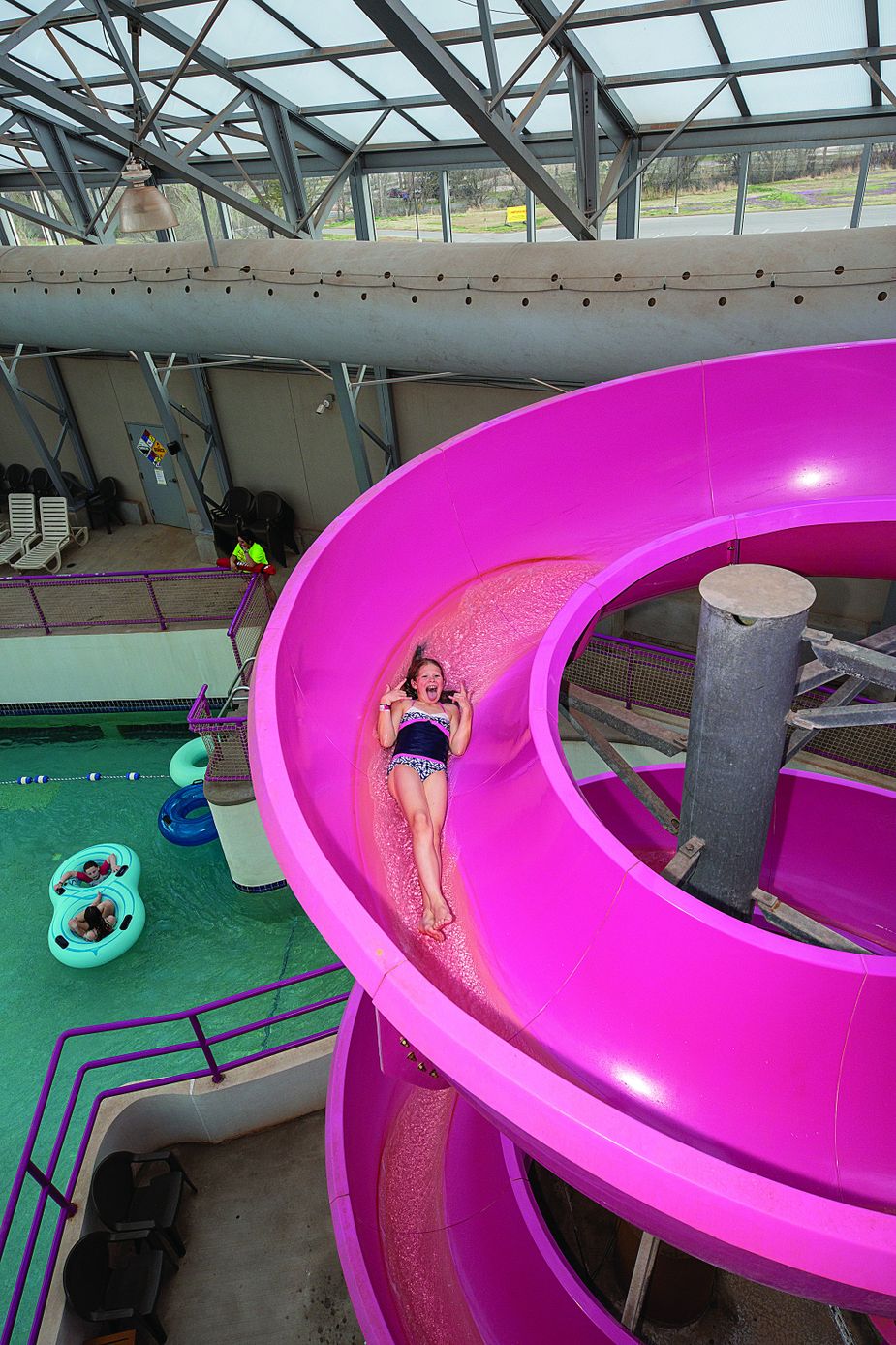 Photo by Lori Duckworth
Visitors may purchase day passes for twenty-six to thirty-eight dollars or enjoy the park as part of a package when booking accommodations at the adjoining Holiday Inn Express, on-property campground, or Hampton Inn located on the north side of I-40.
The Water-Zoo.com Indoor Water Park, 1900 Boulevard of Champions in Clinton, (580) 323-9966 or water-zoo.com.
7. Fiber-Optic Friends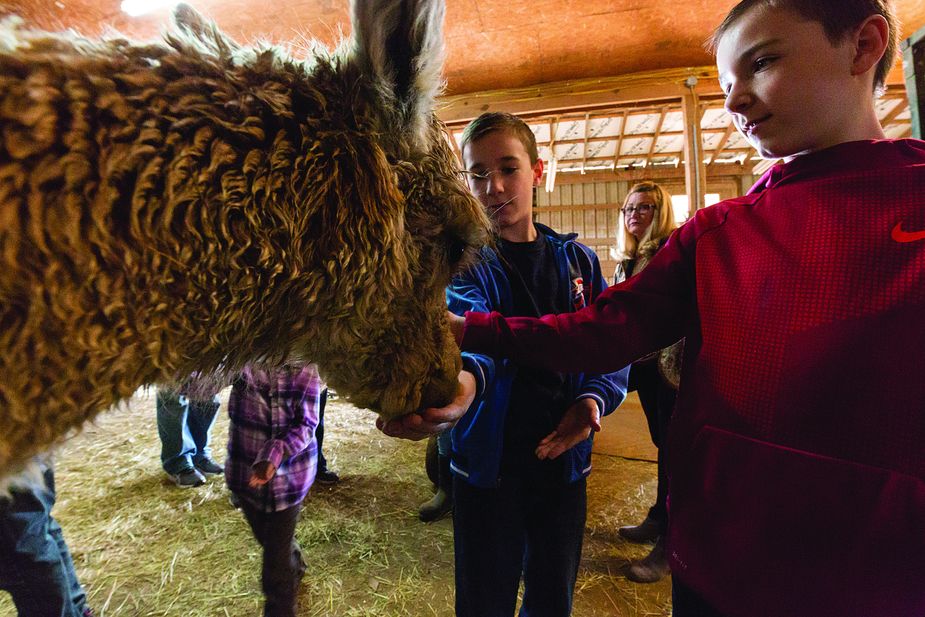 Along with tours, Zena Suri Alpacas in Jay offers crafting classes, where guests can learn to make everything from clothes to felted soaps. Photo by Lori Duckworth
Kids ask a lot of questions. But that doesn't frazzle Kathleen Callan. In fact, she uses them to direct her tours at Zena Suri Alpacas, a ranch in Jay she owns with her husband Tom. The seventy-eight-acre ranch houses a herd of forty to fifty alpacas and one llama and includes a feeding barn, fiber workshop, and gift shop that she opens for free—as long as visitors call ahead first.
"The tours developed as I went along," says Callan, who opened the ranch in 2009. "Then we had a weird discovery: The alpacas loved it when we had visitors."
Callan sometimes starts tours with a visit to the female herd, who often roam the property near the home. The ladies allow visitors to get up close to observe and pet them, and guests may get to meet favorites including Betty Boop, Caramel Sundae, or Zsa Zsa.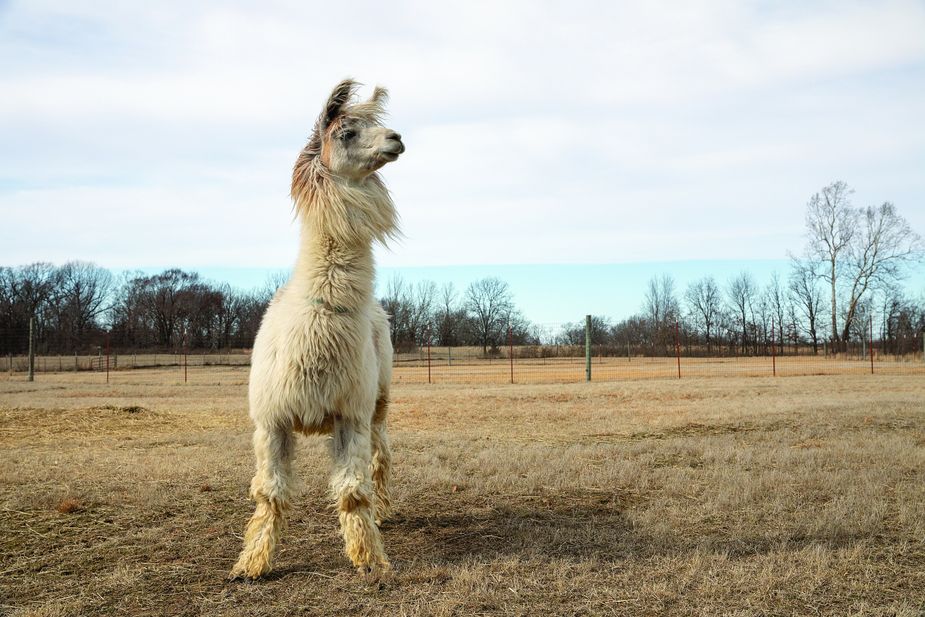 Photo by Lori Duckworth
At the barn area, guests meet Stiggy, the ranch llama, and the male alpaca herd, who accept feeding by hand. Callan says alpacas can't bite because they don't have a top set of teeth, and even the most hesitant of kiddos can be guided to hand-feed the wide-eyed and long-haired camelids.
"I like to take kids out to the big fields and tell them if they are very quiet and gentle, the alpacas will come to them," Callan says. "But if they are loud, they'll never catch one."
The tour ends with a fiber education. Alpaca fleece typically is softer than wool and ranges in quality. Callan shears the herd each April, and some of her fibers rate at a zero, which is the highest quality. The gift shop provides all things alpaca including yarn, felts, clothing, and rugs. The store also features toys, craft sets, and alpaca fan gear.
*Zena Suri Alpacas, 35401 South 580 Road in Jay, (804) 389-2579 or zenasurialpacas.com. *