6 minutes
Published July 2023
By Whitney Bryen | 6 min read
Once stuffed with cow feed, two grain silos at a family-run farm near Blanchard now are filled with peacock- and chicken-themed decor. At least twenty-five chickens don the pillows, wall art, and dishes in a bedroom known affectionately as the chicken coop, which looks nothing like the actual chicken coop outside. Dozens of peacock feathers spray the walls of the abutting silo outside where Dwayne, the resident peacock and inspiration for the room, can often be found flashing his vibrant eyespots.
About an hour south of Oklahoma City, these graindominiums are one family's effort to bring the best of farm life to city folks and suburbanites, weary travelers and students, the curious and the exhausted.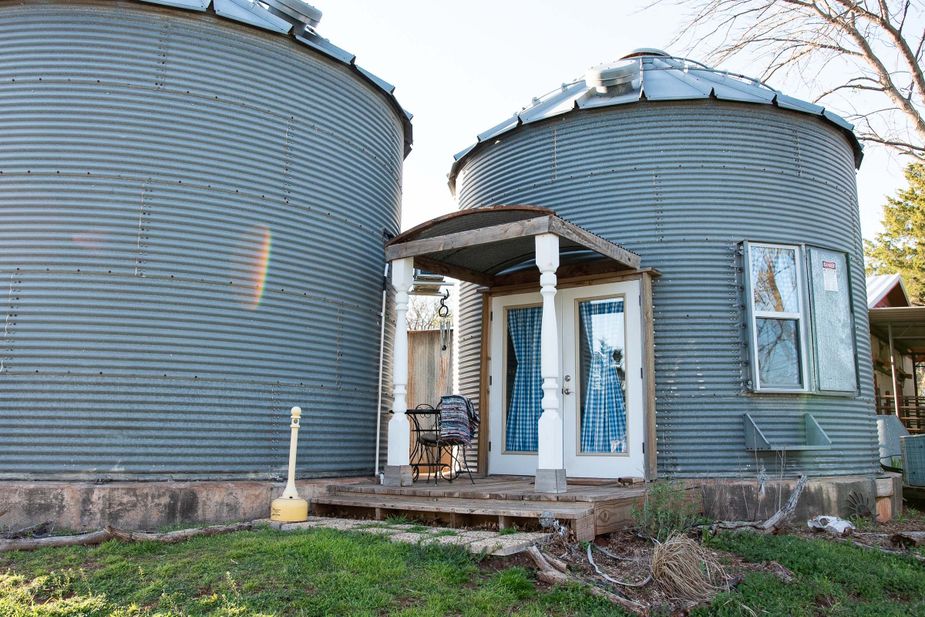 3J Farms rehabbed grain silos into "graindominiums" for weary visitors Photo by Whitney Bryen
"The goal is to offer something unique, fun, and peaceful," says Jennifer Hernandez, who grew up at 3J Farms and now runs it with her husband Luis. "It's not about luxury. That's not what farm life is about. It's about getting your hands dirty and taking in the fresh air, and that's what we're offering people."
The farm's large metal bins offer cozy beds, heat and air conditioning, and a wet room complete with a shower and toilet in the former dairy barn next door, which also boasts a community kitchen.
Hernandez is one of the three Js—along with her younger brother Jesse and sister Jillian—who grew up working on the dairy farm. Hernandez's father left in 1988, leaving her mom in charge. A woman-run agricultural operation was almost unheard-of back then, Hernandez says. Her mom struggled to find workers willing to take her direction. She began hiring women who turned out to be gentler with the cows, which led to increased milk production.
That progress wasn't enough to sustain the single mom of three. In 1992, she sold the milk cows and took up ranching and truck driving and rented land to local farmers to make ends meet.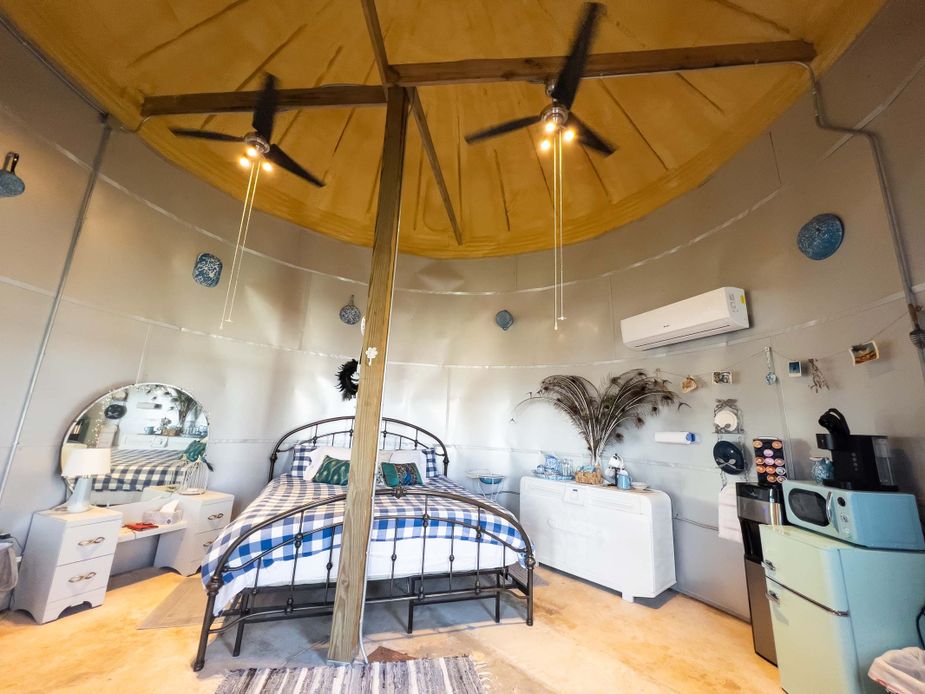 Inside the silos at 3J Farms guests will find a quirky design and a pleasant stay. Photo by Whitney Bryen
But that pivot would set the tone for the farm's future ingenuity. Hernandez took over the farm in 2016 shortly after Jesse died suddenly in a car crash.
"My brother and I, we made plans for this utopian version of the farm that would sustain us when Mom was gone, and I realized if I was going to get any of that done, I'd better start now," Hernandez says.
She grows seedlings in greenhouses where patrons shop each spring, tends to nearly a hundred head of cattle, and sells grassfed ground beef at farmers' markets. During the pandemic, Hernandez brought community to her neighbors and fellow farmers who gathered at 3J Farms for themed dinners, miniature farmers' markets that were more like trading booths, and holiday celebrations. Change became the new normal, and creative solutions became the sustenance on which the family would survive. So when her sister suggested turning the old grain silos into overnight rentals, Hernandez didn't think twice. They cleaned and insulated the metal cylinders, furnished them with antiques inherited from their grandparents and mom, and opened the first room to guests in September 2021.
Hernandez's mom Rita Estes, the farm's matriarch, lives on the hill near where guests arrive at the silos. She can be found driving an all-terrain vehicle checking up on things when the weather's nice. Hernandez's sister Jillian Estes visits often, usually leaving a colorfully painted gnome sign or other artful contribution to her former home. Hernandez and her husband are at the farm most days and love greeting guests between chores.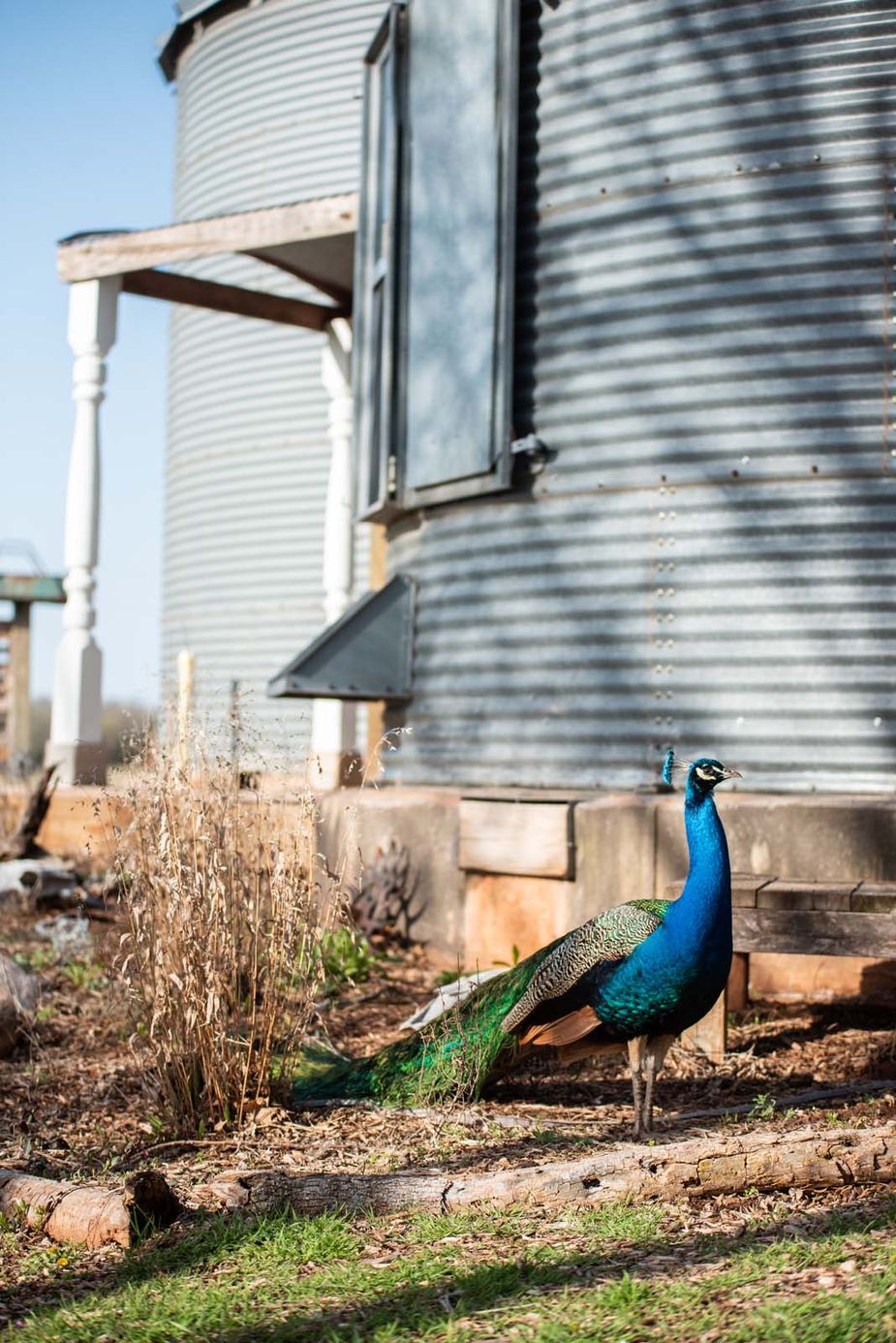 Wildlife makes a frequent appearance to the 3J Farms silos. Photo by Whitney Bryen
"I like growing food, but I love growing people," Hernandez says.
All of them occasionally can be found talking to Jesse in a phone booth placed along the main drive, just a short walk from the silos. It's dedicated to the grieving and the lost—a place where the two can reunite for a few minutes, overlooking 3J Farms. A binder under the nonworking rotary phone includes handwritten messages to loved ones from guests of the farm.
"Grieving people seem to be drawn here for some reason, drawn to me, or to this place, or I don't know what," Hernandez says. "It's amazing what people tell me when they see the booth and hear about my brother. I think we're all looking for calm, for peace, and that's what draws us together, this peaceful place."
3J Farms
(405) 596-0492
3jfarmsok.com