6 minutes
Published July 2019
By Lenora LaVictoire | 6 min read
Skip the brick-and-mortar spots and hit the road for some of the best food trucks in Oklahoma.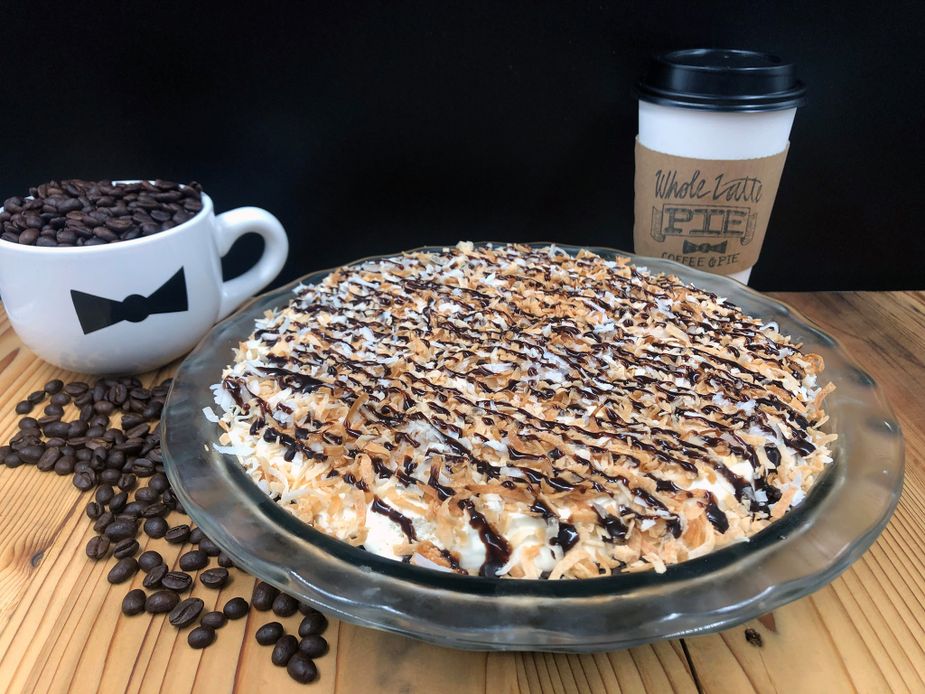 Samoa pie from Whole Latte Pie
Ben Hornbacher first started making pies to raise money for his church's mission trips. He was successful enough that in late 2018, he took his pies—and a lot of locally roasted coffee—on the road, accompanied by his wife and co-owner Audrey. Whole Latte Pies' best-seller is the Samoa Pie, which is set on a graham cracker crust with layers of caramel crème filling, toasted coconut, caramel, and chocolate. You usually can catch them in Moore and Norman. (405) 679-8313 or wholelattepie.com.
Tulsans may find MASA owner Robert Carnoske serving palm-sized empanadas that are the perfect accompaniment to a couple of beers at Fuel 66, a beer garden and food truck park he owns off the Mother Road in Tulsa. Try the pabellon empanada stuffed with shredded beef, black beans, mozzarella, and ripened plantains. Carnoske's Columbian roots influence his South American fusion cooking and come out in each bite. 2439 East Eleventh Street, (918) 606-8664 or masatulsa.com.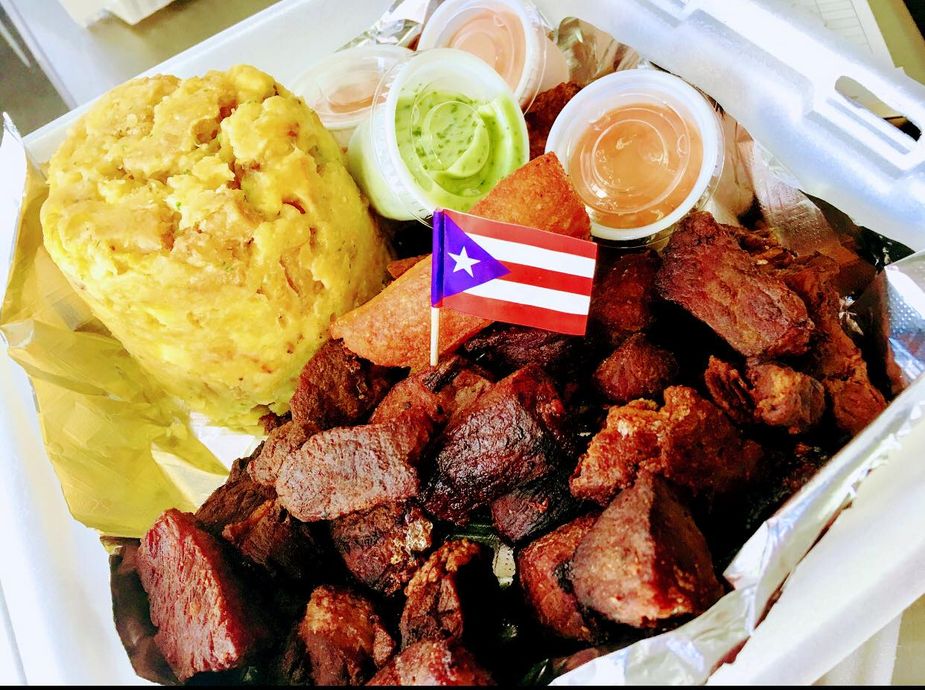 Fried pork mofongo from Puerto Rico To-Go
Off a nondescript boulevard in Lawton, a Puerto Rican flag hangs off the side of a clean white trailer. Inside is Carmen Serrano, the owner of Puerto Rico To-Go. She and her well-used spice rack—mounted across the entire back door—make some of the best Puerto Rican food in the state. With the help of her oldest daughter, she sells out of her tasty food almost every day. Serrano's pigeon pea rice is served with slow-cooked steak or chicken cooked with sofrito, adobo, green olives, and achiote topped with plantain chips. Customers usually order, eat in their car, and then order again. 1301 Northwest Cache Road, (580) 583-3070 or facebook.com/FamilyMS.
At Northeast Twenty-third Street and North Missouri Avenue in Oklahoma City sits an East Side institution: Bobo's Chicken. The bright red food truck hauling a smoker trailer has a fog light mounted to the roof, which lights a parking lot full of cars and a line of customers patiently waiting. Bobo's chicken is smoked, breaded, fried, smothered in honey, and finally served with fries and fried biscuits. The Oklahoma City staple is open Friday and Saturday nights until three in the morning. 1429 Northeast Twenty-third Street, (405) 474-5776.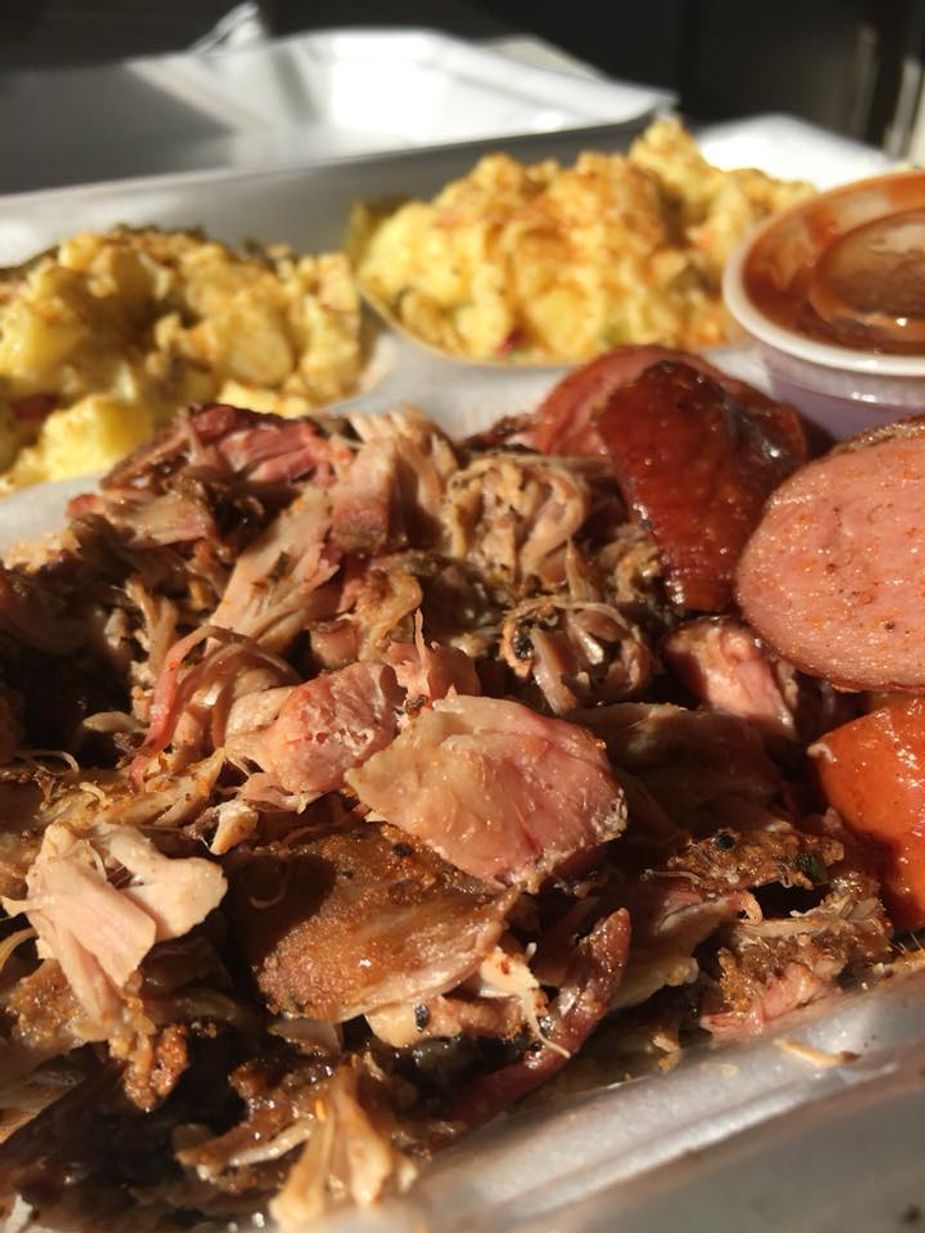 Two-meat plate with pulled pork, sausage, and potato salad from Blue Mountain Smoke.
Darren Dupree worked in computer finance before he started winning barbecue competitions on the weekend. Now, he's happy to wake up at three in the morning every day to put his ribs over a pecan wood flame. Blue Mountain Smoke is a barbecue purveyor based out of Elk City, but it's not uncommon to find their trailers in Clinton or Weatherford. Smoked jalapeño poppers are a customer favorite, and no wonder: They're stuffed with cream cheese and pulled pork, wrapped in bacon, and smoked. (580) 821-2978 or facebook.com/BlueMountainSmoke.
After five years on the road, Ada's first food truck still is rolling. Nacho Biznez owners Will and Carrie Martin serve fresh food—except, as they joke, the irreplaceable canned Ro-tel in the nacho cheese. Nacho Biznez's street tacos are a tasty staple served on corn tortillas with chopped steak, salsa verde, cilantro, onion, feta, and lime. Customers usually can find them in Ada on Fridays. (580) 665-6582 or twitter.com/nacho_biznez.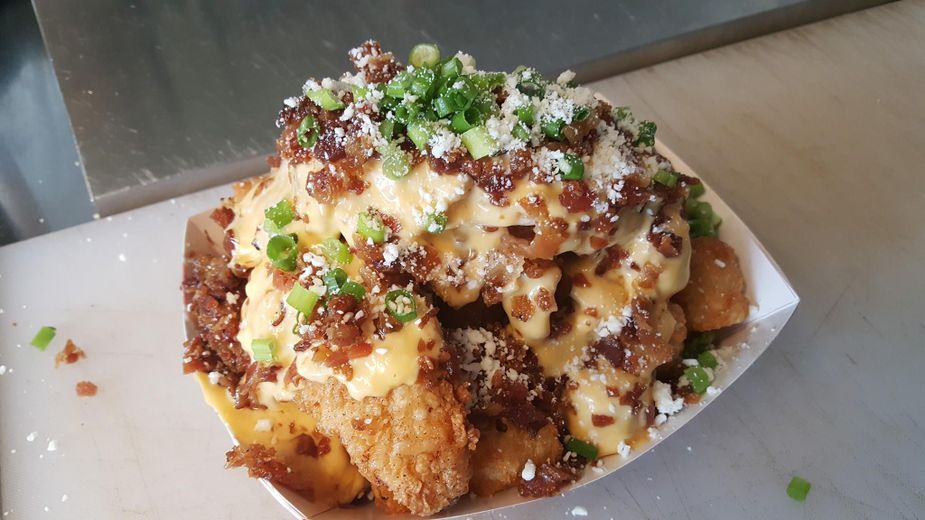 I Don't Know & I Don't Care's Bird Nest is a pair of chicken tenders in cheese sauce with a blend of crumbled bacon, scallions, and cotija cheese on hand-cut potato chips.
What started as a joke about indecisive friends is now Mary Coffin's Guthrie-based I Don't Know & I Don't Care. From mac and cheese wontons to banh mi sandwiches, the truck's menu defies categories. A favorite of many customers is the chicken sandwich marinated in sweet tea, topped with sharp cheddar cheese and jalapeño corn slaw on a homemade white bun. (405) 699-1960 or idontknowidontcare.com.