6 minutes
Published April 2022
By Ben Luschen | 6 min read
It was not always David Pfau's dream to cook dinner and breakfast for more than a dozen guests every day of the week, but Oklahomans would be hard pressed to find anyone doing it better.
When he purchased the Ardmore- area bed and breakfast Shiloh Morning Inn with his wife Jessica on New Year's Eve 2009, Pfau's only previous culinary experience had been cooking for friends and family. Though he'd often been complimented on his talents in the kitchen, he decided to take his skills to the professional level by enrolling in the prestigious culinary school at The Art Institute of Dallas.
"Your grandma doesn't teach you what the proper times and temperatures are," Pfau says. "She doesn't teach you how to hold food like they do in a restaurant. So safety and volume-—stuff like that—that's what I learned in culinary school."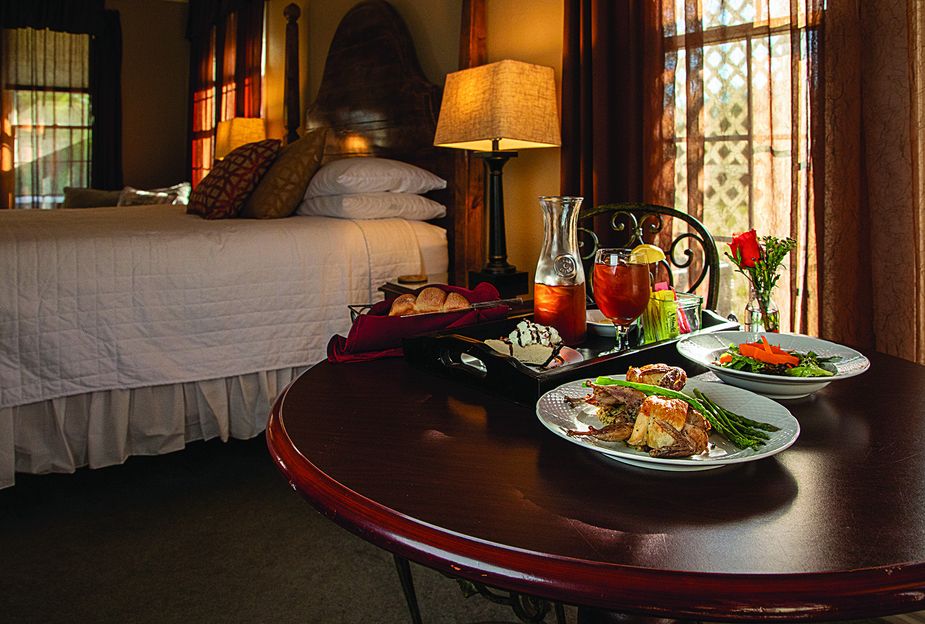 Guests staying in one of Shiloh's 5 suites and 4 cottages get gourmet meals delivered right to their door. Photo by Lori Duckworth
He spent his first year as Shiloh Morning Inn owner commuting back and forth from Dallas, waking up at 3 a.m. to attend lectures and kitchen labs for a couple of days before driving back to Ardmore and immediately applying what he'd just learned at his own business. He had to drop out of culinary school just shy of graduation but for a good reason: New guest reservations were flooding into the nine-room inn. Folks were discovering the decadent deliciousness in south-central Oklahoma.
One bite into Pfau's bacon and almond stuffed quail, and it's easy to see why. A lightly salted, golden-brown puff pastry fits like a sweater over the mostly deboned bird. Thankfully the little drumsticks still come attached, at least until the diner pulls them away to enjoy poultry in miniature. The entrée sits in an elegant display over a bed of wild rice and a side of fresh asparagus.
The stuffed quail is one of seven dinner options at Shiloh Morning Inn, including the pan-seared strip loin steak with blue cheese-chive butter; a seared and slowly roasted pork tenderloin in vermouth sauce; and the vegetarian pasta primavera with asparagus, carrots, and tomatoes tossed in a creamy Parmesan sauce. A garden salad with house vinaigrette, a freshly baked loaf of bread, and dessert—along with the guest's choice of wine or iced tea—come with every dinner. It's a small but refined menu, perfectly suited for Shiloh Morning Inn's niche as a romantic couples' getaway.
A three-course breakfast is served every morning from 8:30 to 9:30 a.m. in the main dining room. Specific courses vary by day, but Pfau vows no guest will experience the same breakfast twice over the length of their stay. Morning selections may include a freshly blended fruit smoothie, flaky blueberry biscuits with butter, or a savory breakfast tart with eggs, bacon, and a chunky, house-made pico de gallo.
Once it's time to walk off all that eating, guests can head out onto the mile and a half of scenic on-property walking trails. The path includes some light hills as it winds around a small pond with plenty of benches and private hammocks for relishing nature.
Still, when each suite comes with a king-size bed and either a private hot tub or whirlpool tub for two, no one would blame guests for barricading themselves indoors. The spacious suites-—all decorated by Jessica—feature original works of art and shelves stocked with books for a peaceful, homey feel. If guests can't find their preferred reading materials in the room, they can try the main house's guest library—stocked not only with hundreds of books but also puzzles, board games, and an impressive selection of DVDs that can be played in-suite. Each room also comes with a mini-fridge filled with bottles of water and a Keurig with coffee pods, both complimentary. Before calling it a night, everyone should be sure to grab a few of Shiloh's signature cookies, found in the glass jar in the main dining room, for a late-night snack. The inn's staff works all day to keep the jar stocked around the clock.
Shiloh allows no more than two people per suite, including the four cottages off the side of the main house, and no more than eighteen guests can stay at the inn at any one time. The goal here is not to pack in as many customers as space will allow. Rather, the intimate seclusion is part of the draw for many couples. The result is an experience in which guests feel well cared for, and well cooked for, in a setting that can truly be called an escape.
Get There
Shiloh Morning Inn, 2179 Ponderosa Rd Ardmore, OK 73401 or
TravelOK.com