Your Kids Will Love a Trip to this Enid Museum
5 minutes
Published May 2019
By Sara Cowan | 5 min read
Leonardo's Children's Museum in Enid offers unexpected opportunities for enriching revelry.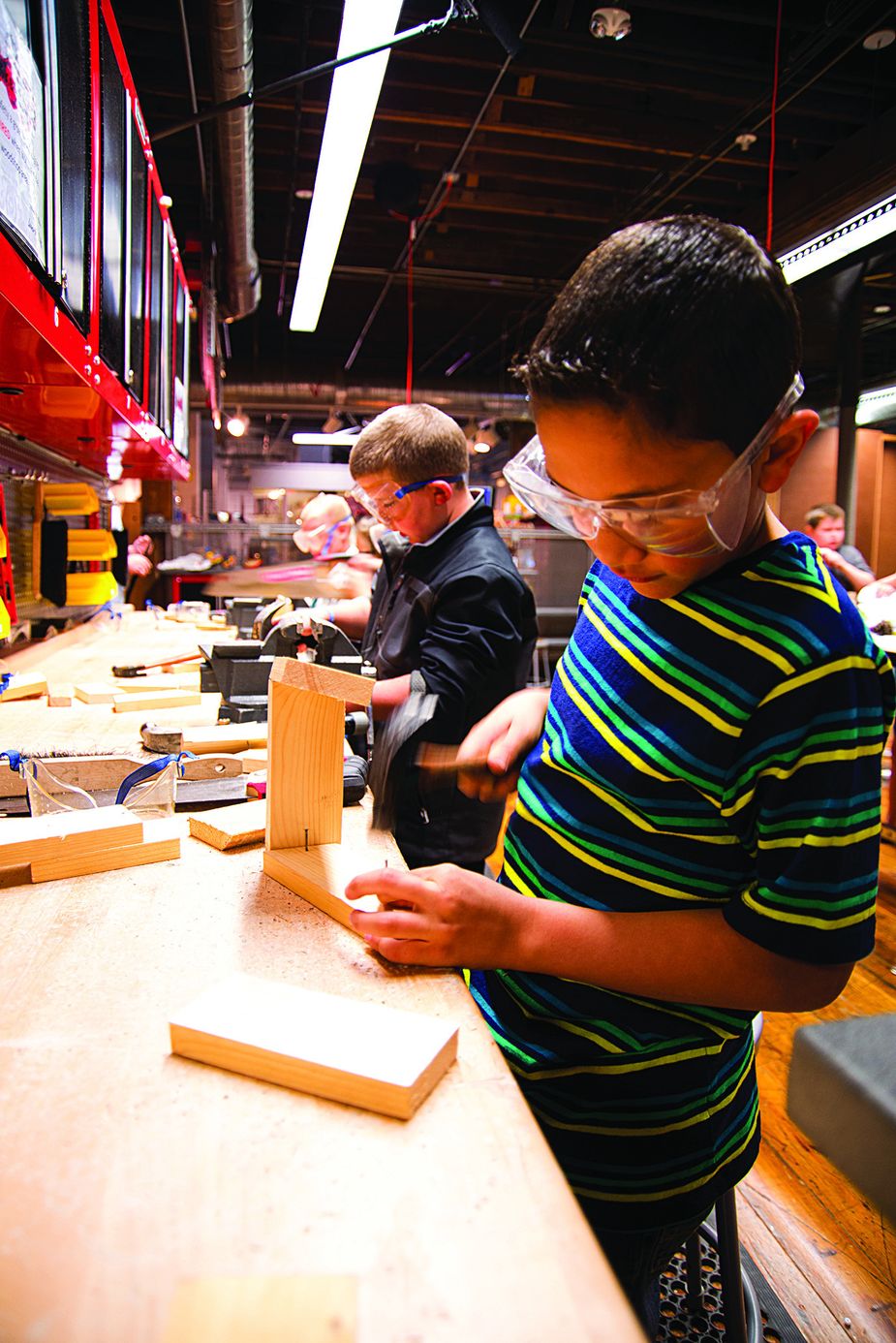 Future carpenters can practice woodworking in safety at Leonardo's Tinkering exhibit. Photo by Kim Baker
In Enid, there's only one place where kids can practice dentistry on a dummy, pet four chinchillas—Padro, Truffle Jr., Chika-Chu, and Gizmo—and create an illuminated masterpiece on a giant Lite-Brite all in one afternoon. At 26,000 square feet, Leonardo's Children's Museum has enough interactive play areas and truly captivating exhibits for seemingly endless entertainment and educational opportunities.
Founded by Helen Mary Walker Garriott and her husband Owen in the early 1990s, Leonardo's Arts & Science Academy offered educational summer camps at various sites around Enid.
"She was a teacher and an artist, and Dr. Garriott was an astronaut," says executive director Tracy Bittle. "After a few years of the camps, they worked with volunteers to develop their ideas into exhibits for a children's museum, which opened in 1995."
Before guests even park across the street, they can't help but notice the massive outdoor science playground called Adventure Quest. Completed in 1996, the three-story, castle-style wooden structure was built over eighteen months by 12,000 community volunteers—approximately a quarter of Enid's population—making it the world's largest outdoor community-built playground. A maze of bridges, swings, a water table, toddler activities, and an area to dig for dinosaur bones provides enough physical activity to wear children out so they nap on the way home.
Christopher Maupin—who grew up in Enid and now lives in Salt Lake City, Utah—was one of the volunteers who helped build Adventure Quest back when he was a high school student. He recently brought his six-year-old twin sons to visit the museum and was struck by the growth at Leonardo's over the past two decades.
"I went back last year, and it kind of blew my mind to see my own kids playing on the wooden castle and telling me all about it as if they had discovered it," Maupin says. "I loved watching them make it their own, as I'm sure myriad kids have done over the years."
Inside, children can touch, climb on, and play with more than one hundred hands-on exhibits, enjoying access to real tools, technology, kid-sized equipment, and plenty of room for imaginative exploration.
The visual focal point of the museum's interior is a twenty-four-foot climbing structure called the Power Tower, which is meant to illustrate concepts related to the state's petroleum industry. A real tinkering workshop with hammers, saws, clamps, and safety goggles is a surprise for many kids. Shelves and bins full of craft and building supplies allow users to invent and build according to their whims.
Staff members are available to assist when needed, but children are encouraged to come up with their own plans and experiment with assembly methods—a rare and empowering treat.
The historic building's layout was designed with low divider walls to allow adults to see across the rooms and easily locate their small charges, a unique and calming detail that parents of fast-moving preschoolers can appreciate. There also are hands-on scientific displays, a pint-sized medical clinic, a well-stocked grocery store with tiny carts, and even an ATM that generously spits out play cash for kids to spend in the market. In this bright, thoughtfully designed area, children can choose to work in the bakery, stock the shelves, operate the cash register and conveyor belt, or fill their carts with colorful plastic food.
Across the room, an art studio outfitted with easels, abundant art supplies, smocks, and a sink provides both guided and freestyle opportunities for visitors to express their creativity. More than a thousand classes are held both on- and off-site each year, ranging from pottery to fashion design to nanotechnology. Weekly homeschool classes taught by state-certified teachers also are offered during the school year, and eight weeks of educational summer camps address a wide range of topics.
No matter their ages, interests, or attention spans, children will leave Leonardo's a little happier—and smarter—than when they walked in.
Get There:
Leonardo's Children's Museum & Adventure Quest 200 E Maple Ave Enid, OK 73701 or
TravelOK.com