5 minutes
Published October 2021
By Karlie Ybarra | Photos by Lori Duckworth | 5 min read
It's no surprise that the southeastern corner of Oklahoma is the birthplace of many legends. Driving into Broken Bow is like crossing the veil into a more ancient, more mysterious world. It's not hard to imagine fairies dancing within dense thickets of towering cedars or Bigfoot stopping to drink from the cool waters of the Mountain Fork River.
While cryptozoological sightings are unlikely, travelers staying at the Rustic Luxury Cabins are sure to encounter a different kind of magic. Here, city dwellers can escape without feeling isolated, families can immerse themselves within nature in comfort akin to a luxury hotel, and those who want to lose themselves may just find their wilder side.
This was exactly what Kevin and Micah Rust were looking for when they first visited Broken Bow four years ago.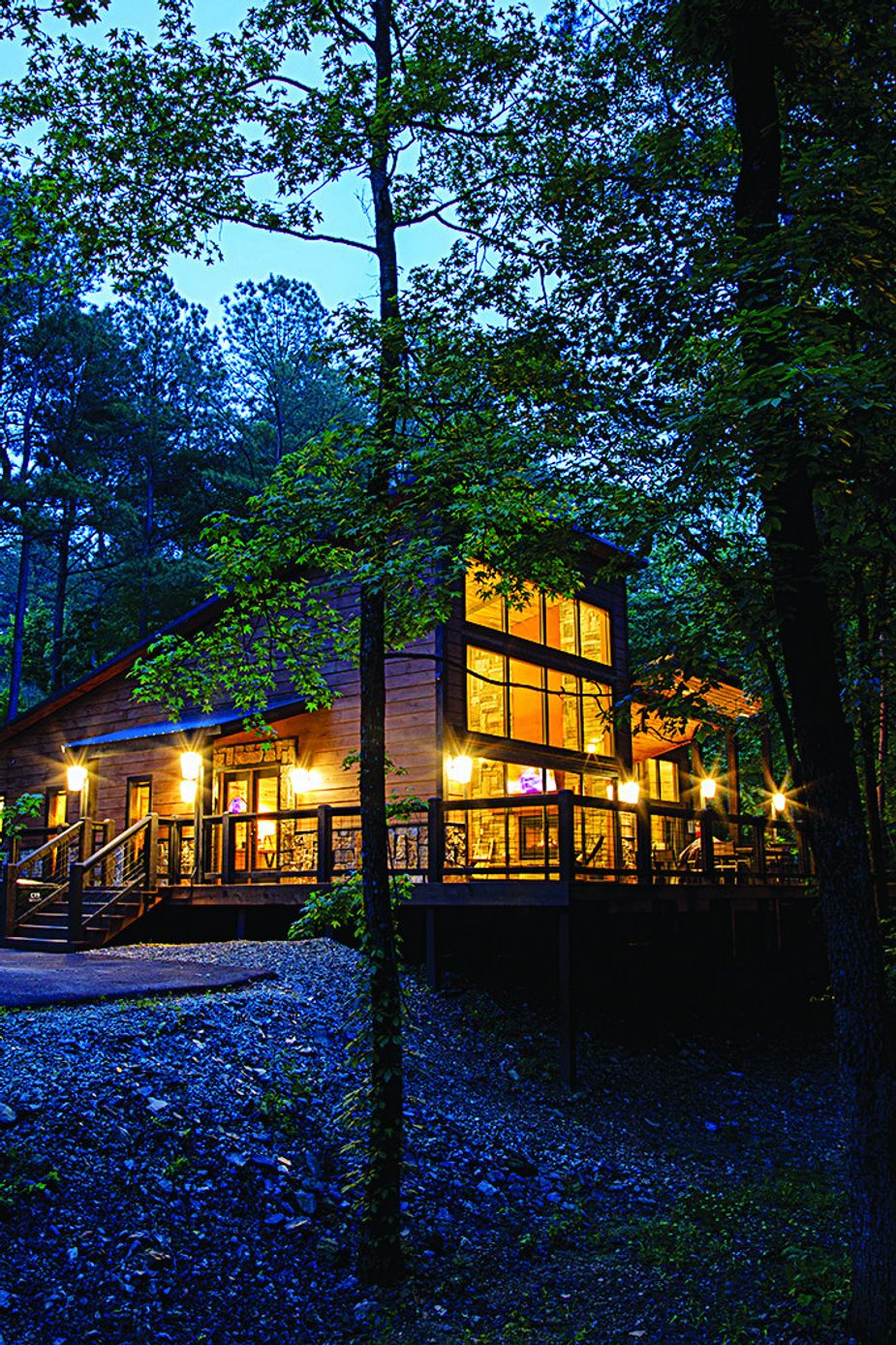 Rustic Hollow is just as inviting during the nighttime. Photo by Lori Duckworth
"We fell in love with everything about it: the trees, the mountains, the river," Kevin says. "It was everything we wanted."
Just a three-hour drive from their north Texas home, the Rusts' first cabin in the woods was completed in 2016. Except that the term cabin is a bit misleading. Rustic Retreat ostensibly is a high-end, modern home-away-from-home with two king master suites, Wi-Fi, a hot tub, fire pit, covered deck, and many more amenities. The Rusts then designed Rustic Mountain Lodge—a pine mansion that sleeps fourteen, is built into the side of a mountain, and has walk-in rain showers and 2,700 square feet of decks that span three levels. Rustic Hollow, with its stunning floor-to-ceiling windows, came next, followed by Rustic Heights, which is outfitted with a fireplace in each bedroom.
Though each vacation property is a little different, the Rusts' cozy chic style is reflected everywhere. Rose gold accents, quartz countertops, geometric wall hangings, a plethora of throw blankets, and plush bedding are a serious upgrade from quilts and antler chandeliers.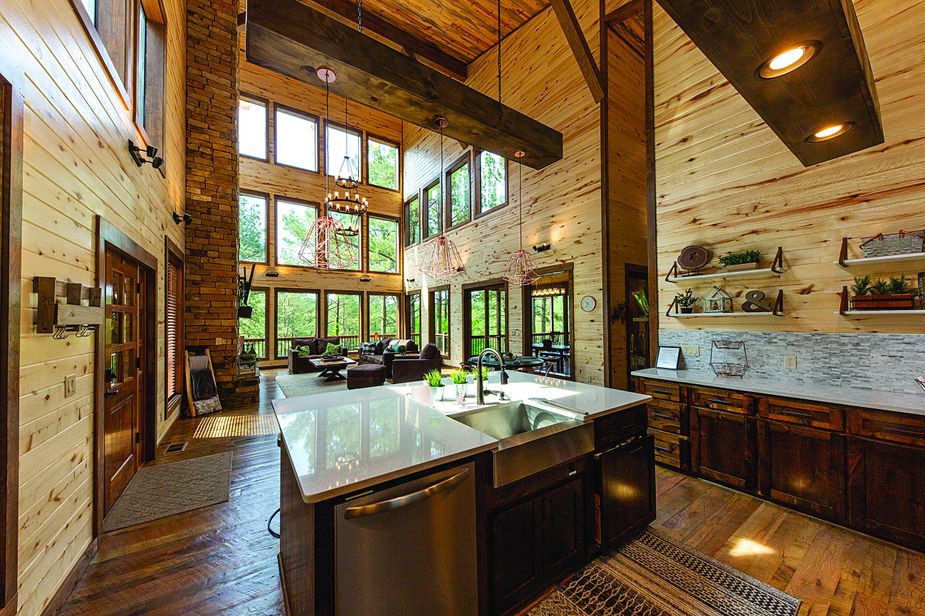 Natural light plays a starring role in all four of Rustic Luxury's cabins, especially Rustic Heights. Photo by Lori Duckworth
"I really love the owners' architectural flair, the way they designed everything with high ceilings, lots of windows, and natural light," says Kevin Mullen, an Austin, Texas, resident. "It feels like a cabin but also updated and modern, not like a place your eighty-year-old aunt May would stay."
But the Rusts don't want guests to spend their whole vacation inside. They compiled a "Top Twenty-Five Things to Do in Broken Bow" list with activities for people of all ages, from ziplining at Rugaru Adventures to meeting friendly critters at the Hochatown Petting Zoo. They also provide an extensive map of the hiking trails around the area. But as Mullen, his wife, and their two kids have discovered during their handful of Rustic Luxury retreats, it's not necessary to leave the house to have fun.
"My kids just enjoyed being outside," Mullen says. "There's a little creek that runs behind Rustic Hollow, and they played down there for half a day and then 'swam' in the hot tub."
Transforming rural charm, modern comfort, and the beauty of nature into memories that will last a lifetime: That's the alchemy of Rustic Luxury Cabins. Cabins typically are booked months ahead of time, so it's a good idea to make reservations as early as possible.
Rustic Luxury Cabins
(580) 306-2282
rusticluxurycabins.com