Five Dog Nights: High Life
4 minutes
Published November 2022
By Ben Luschen | 4 min read
The phrase urban lifestyle conjures images of sleekly designed high-rises with plush interiors, walkable streets facilitating the practical and social movements of all types of people, and the lively hum of activity reminding us we're a part of something greater than ourselves. Pets are not usually considered a part of this picture, but Wade Scaramucci, a director of the international design firm AHMM, believes they absolutely should be.
"Pets are one of those things designers don't really think through," he says.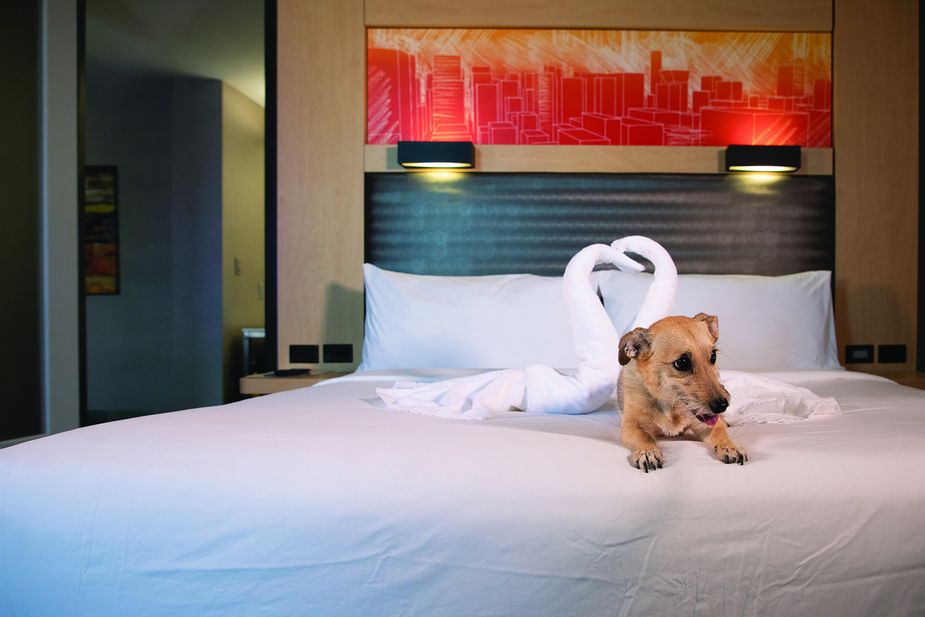 The dogs don't have to stay at home when visitors book a room at Aloft in Oklahoma City. Photo by Lori Duckworth
On the corner of Northeast Second Street and North Walnut Avenue in Oklahoma City's historic Deep Deuce neighborhood—just a short walk to Bricktown—sits Aloft Oklahoma City Downtown, the bright, modern hotel anchoring one of the city's most dog-friendly intersections.
There is plenty at Aloft for human guests, of course. The hotel's capacious accommodations include a mini-fridge, pillow-top mattresses, and special plug-and-play charging stations that allow guests to stream media onto the flat-screen television. Tourists and business travelers alike can enjoy a casual night in with a cocktail or subtly spiced Korean barbecue pork taco at the hotel's W XYZ Bar & Grille. Best of all, though, is that there is no need for guests to board their canine somewhere strange while they're away: A maximum of two dogs are welcome to stay in the room for no additional pet fee.
With a long list of dog-friendly places to visit outside the hotel, there are plenty of opportunities to get out and about. This is thanks in large part to the vision of Scaramucci and AHMM, designers of both the pet- and community-centric Level Urban Apartments across from Aloft and the OKSea mixed-use shipping-container development and Deep Deuce Dog Park just west of the hotel. Scaramucci says these spaces were designed specifically with community in mind—and that includes dogs.
Forgot Busy Bee at home? Attached to Oklahoma City's Aloft is Bone Dog Boutique and Self-Serve Dog Wash with plenty of treats and toys. Photo by Lori Duckworth
After play time and some burned calories at the dog park, a visit to the Bone Dog Boutique in Aloft's retail space is a must. The shop's self-service pet wash is a great way to cool down and includes shampoos, conditioners, brushes, hair dryers, wash cloths, and crates. After bath time, dog-specific treats like duck feet and Chickasha-made Earthborn holistic pet food are among the many specialty items on shelves. Justin Thomas, owner of the boutique, says his shop gets frequent visitors from Aloft.
"We have people come from far and wide," he says. "They want to live the urban life, and this is a good way to do it for a day."
To cap off a day of play, bathing, and neighborhood exploration, leashed dogs are free to relax on the pet-welcoming patios of the nearby vegan-friendly Blok Bar or the regionally sourced and internationally inspired Bar Cicchetti. Chances are, there will be smiles and happy panting across the board.
Get There
Aloft Oklahoma City Downtown, 209 N Walnut Ave Oklahoma City, OK 73104 or
TravelOK.com