5 minutes
Published July 2022
By Kim Baker | 5 min read
Photographer Kim Baker criss-crossed the state with an eye for architecture that enraptures the eye and moves the spirit.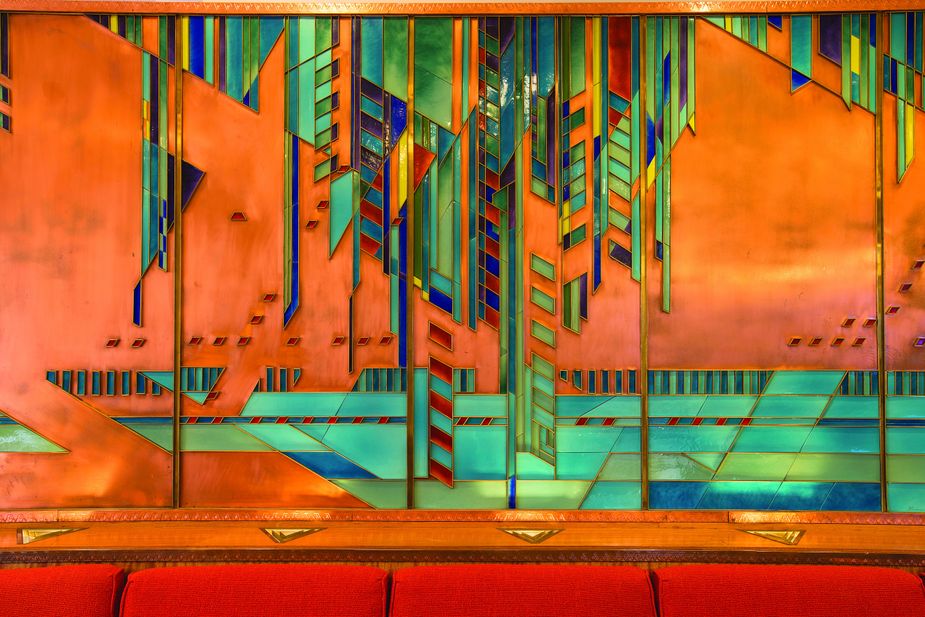 Photo by Kim Baker
Willows and Reflections, a twenty-five-foot enamel-on-copper mural by John DeKoven Hill, has adorned the lobby of the Price Tower Arts Center in Bartlesville since 1979. The iconic Price Tower building was completed in 1956. Known by its architect Frank Lloyd Wright as the "tree that escaped the crowded forest," the skyscraper originally was designed to be an apartment tower in New York City, but the financial effects of the Great Depression prevented its construction there. **510 Dewey Avenue, (918) 336-4949 or pricetower.org. **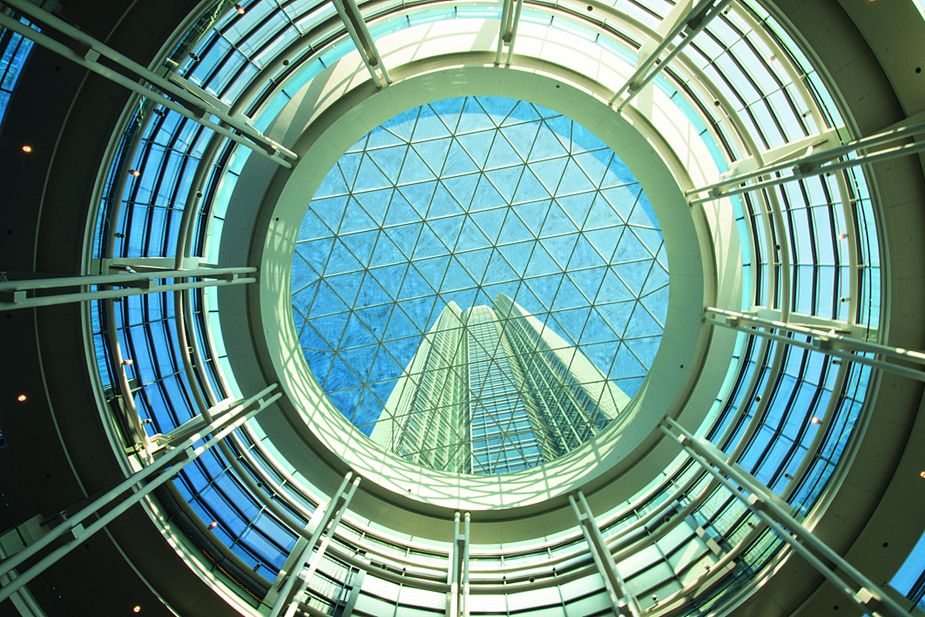 Photo by Kim Baker
The view of the 844-foot, fifty-story Devon Energy Center from the complex's rotunda lobby has become a popular photo spot for downtown Oklahoma City visitors. The 1.8-million square-foot building was designed by Jon Pickard of Pickard Chilton and currently is the tenth-tallest building west of the Mississippi River. 333 West Sheridan Avenue, (405) 228-2400 or devonenergycenter.net.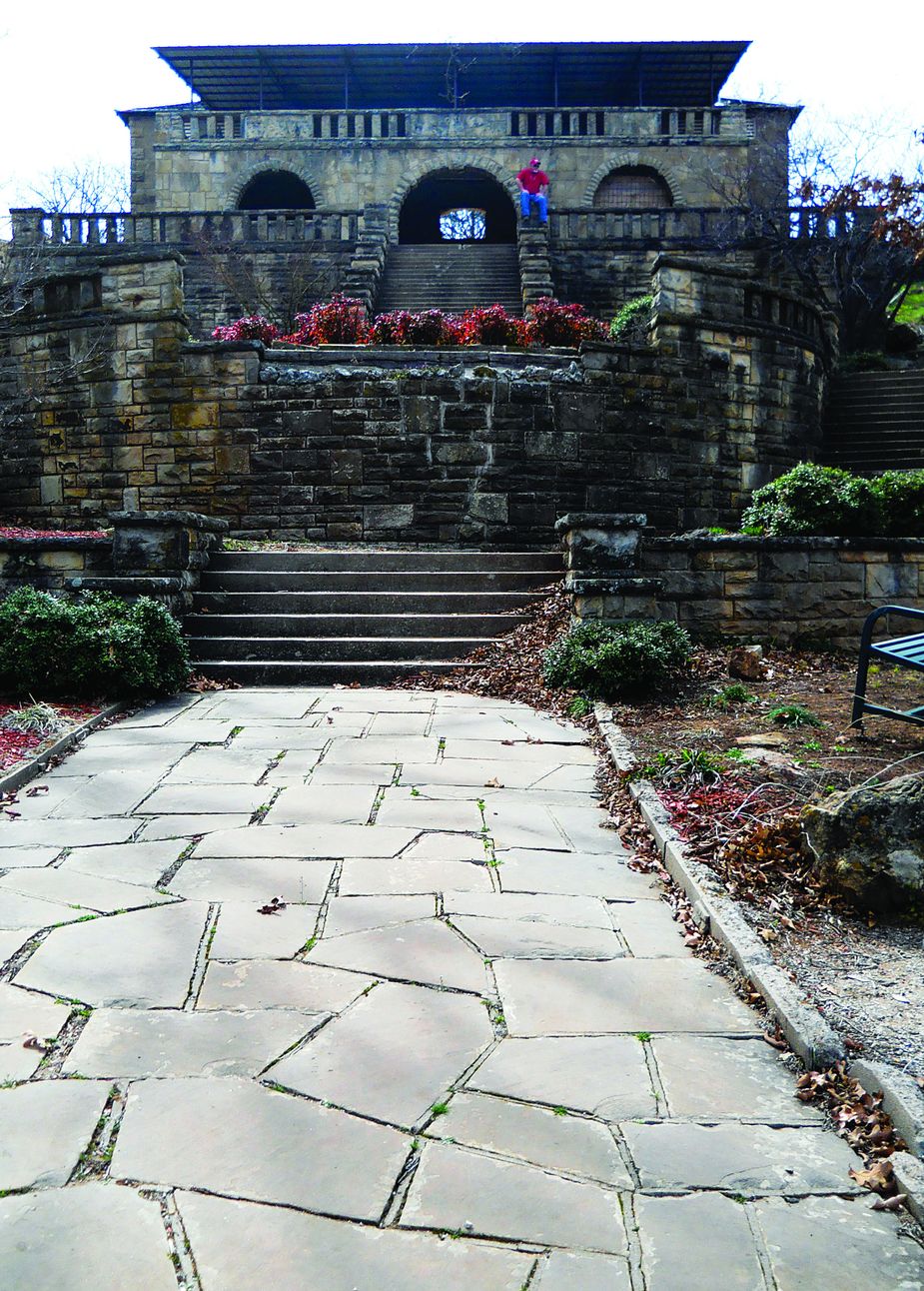 Photo by Kim Baker
The Pawnee Bathhouse was a Works Progress Administration project finished in 1939. Constructed from local sandstone, it overlooks a freshwater pool that will open on Memorial Day weekend this year. Pawnee Lake Road, (918) 762-2658 or cityofpawnee.com/pawnee-bathhouse.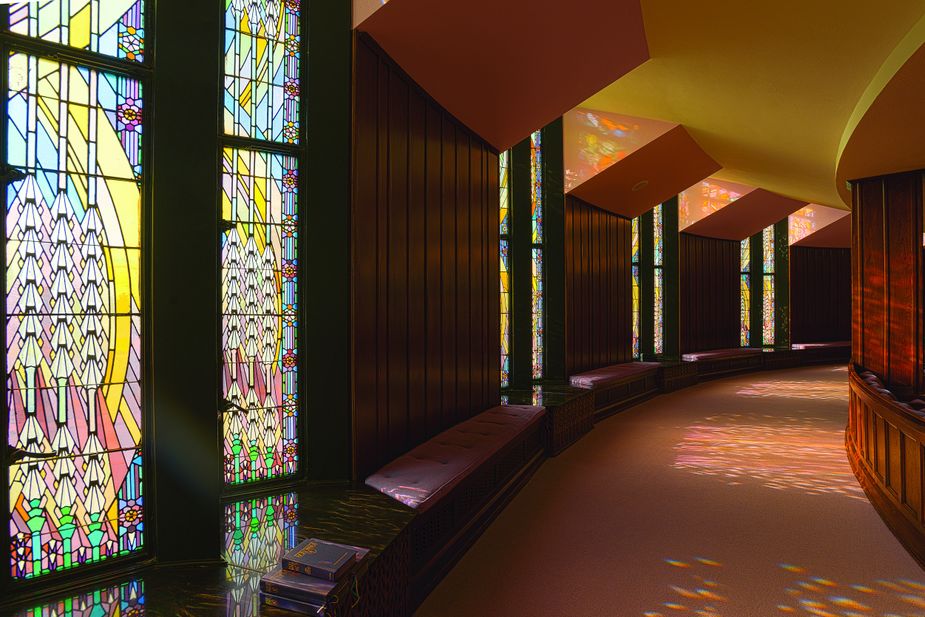 Photo by Kim Baker
Art deco melds with a higher power at the Boston Avenue Methodist Church in Tulsa. The structure's initial designs were created by Adah Robinson, an art instructor at the University of Tulsa, who worked with now-famous Oklahoma native Bruce Goff and others at the architectural firm Rush, Endacott, & Rush to complete the designs, which are interwoven with symbolism. The incoming light and downward flowing lines in the stained glass windows represent the outpouring of God's divine light and love, while tritoma blooms denote the growth of Christianity. 1301 South Boston Avenue, (918) 583-5181 or bostonavenue.org.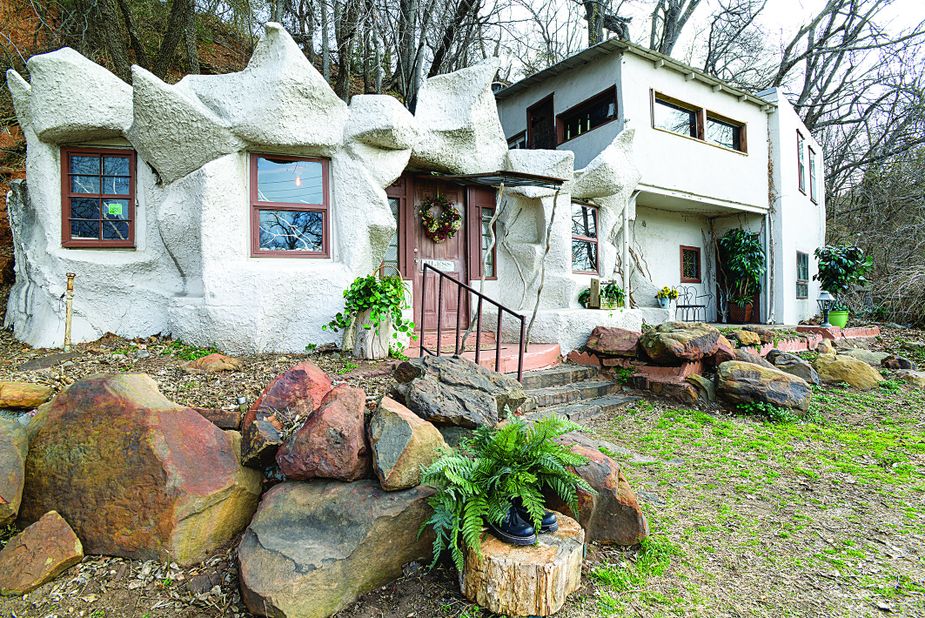 Photo by Kim Baker
The Flintstonian abode on Charles Page Boulevard in Tulsa began as a chicken shack in the 1920s. After its tenure as a restaurant and rumored speakeasy ended after Prohibition, it housed a variety of residents until Linda Collier, her husband Jim, and her daughter Kate purchased it in 1997 and started hosting tours. Today, its only occupants are rumored ghosts and a variety of offbeat furniture and art pieces. 1623 Charles Page Boulevard, (918) 378-1952 or cavehousetulsa.com.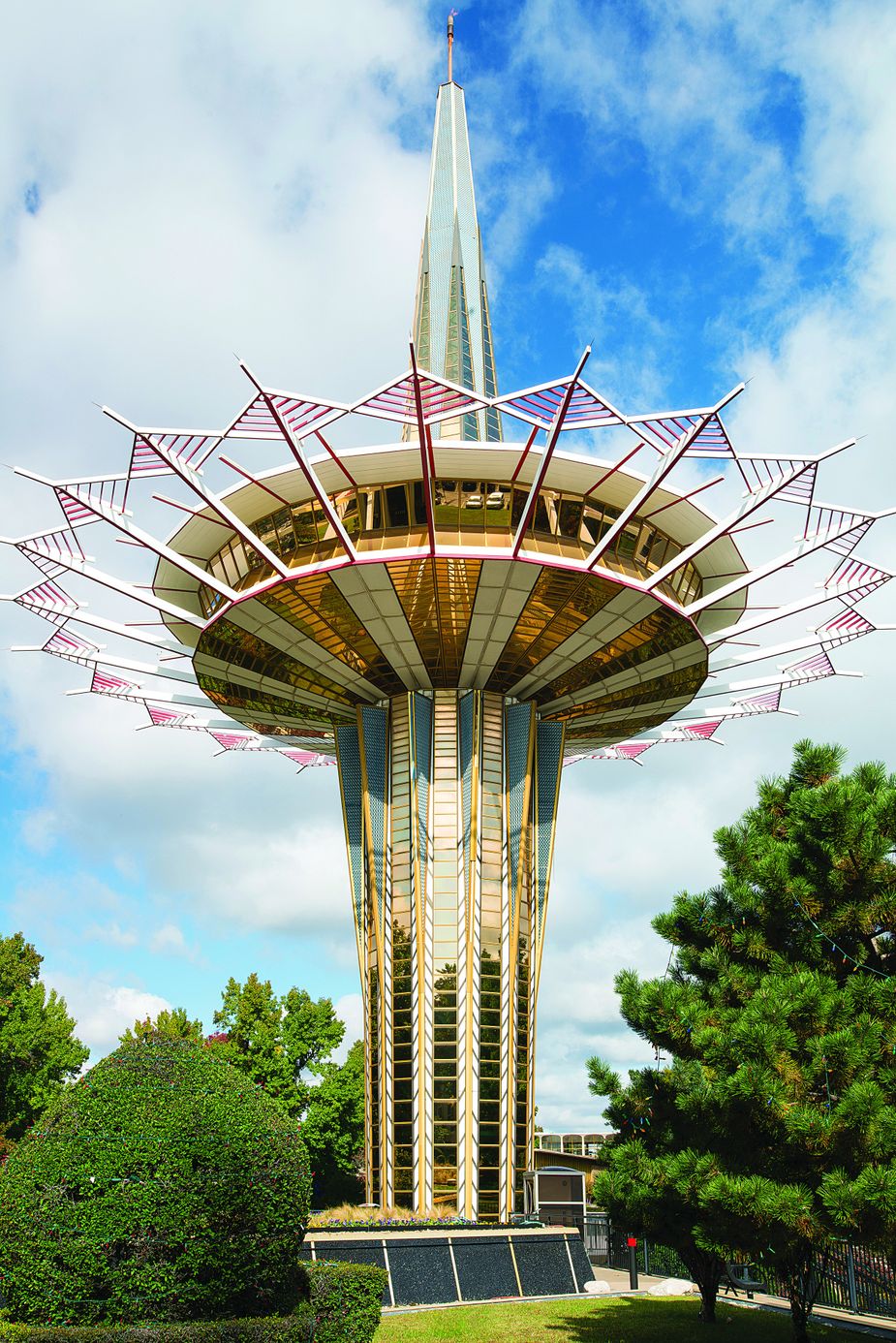 Photo by Kim Baker
Built in 1967 and designed by Tulsa architect Frank Wallace in atomic-age Googie style, the 200-foot Prayer Tower at Oral Roberts University in Tulsa is an unconventional homage to Christianity. The structure symbolizes a cross bearing Jesus's bloody crown of thorns, while a flame at its peak burns twenty-four hours a day in salute to the Holy Spirit. Situated at the center of the campus, it includes an observation deck, prayer rooms, and chaplains' offices. 7777 South Lewis Avenue, (918) 495-7910 or oru.edu.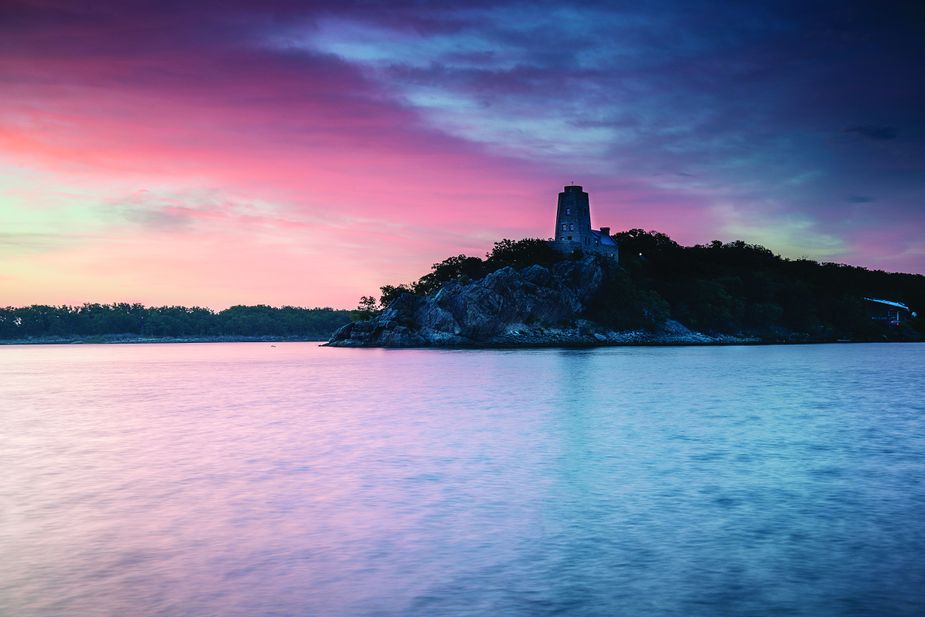 Photo by Kim Baker
Located in oklahoma's first state park—Lake Murray State Park in Ardmore—Tucker Tower originally was intended to be a summer home for Oklahoma governors starting with William "Alfalfa Bill" Murray, who was in office when the Civilian Conservation Corps began constructing it. The limestone building was modeled after a European castle senator Fred Tucker had photographed. Construction stopped in 1935, three years before the surrounding park opened, and it never was used as a home. Eventually, it opened as a museum in 1954, was renovated in 2013, and now serves as a nature center. 3323 Lodge Road, (580) 223-4044 or travelok.com/state-parks.