4 minutes
Published July 2021
By Greg Elwell | 4 min read
I have some good news and some bad news about World Snake Day at the Oklahoma City Zoo.
Good news: World Snake Day is going to be very cool, with all sorts of activities for kids, some live chats via Facebook to see the zoo's green anaconda get a wellness exam and a chat with a herpetologist (snake expert) about their collective breeding programs.
Bad news: My girlfriend will absolutely not be attending.
See this green anaconda get its routine wellness exam at the Oklahoma City Zoo during a Facebook livestream Thursday. Photo by Rae Karpinski
A few weeks ago, we ran into a rattlesnake by a pond out near Gore.
"What's that sound?" she asked, as we walked past the pond.
"I think it's that rattlesnake," I said, pointing at the coiled mass or reptile a few yards away.
Every conversation for the rest of that weekend, and probably quite a few the next week, started with the story of that snake. And it wasn't a great story, either. We heard it. We saw it. We backed off for a while to give it time to skedaddle. The end.
According to Seamus Ehrhard, the Oklahoma City Zoo's assistant curator of reptiles and amphibians, most of the people who hate snakes do so because they're afraid of them. Fear is an acceptable response, but likely not a warranted one, he says.
"I've caught probably a hundred snakes from the wild and you have to chase them down," he says. "They can't run away like you or me."
So the fact that the rattlesnake we saw was rattling proves it didn't want to hurt anyone. It was a warning to give it space. Snakes are not the apex predators people often assume, Ehrhard says. If anything, they're often being hunted by larger mammals and birds.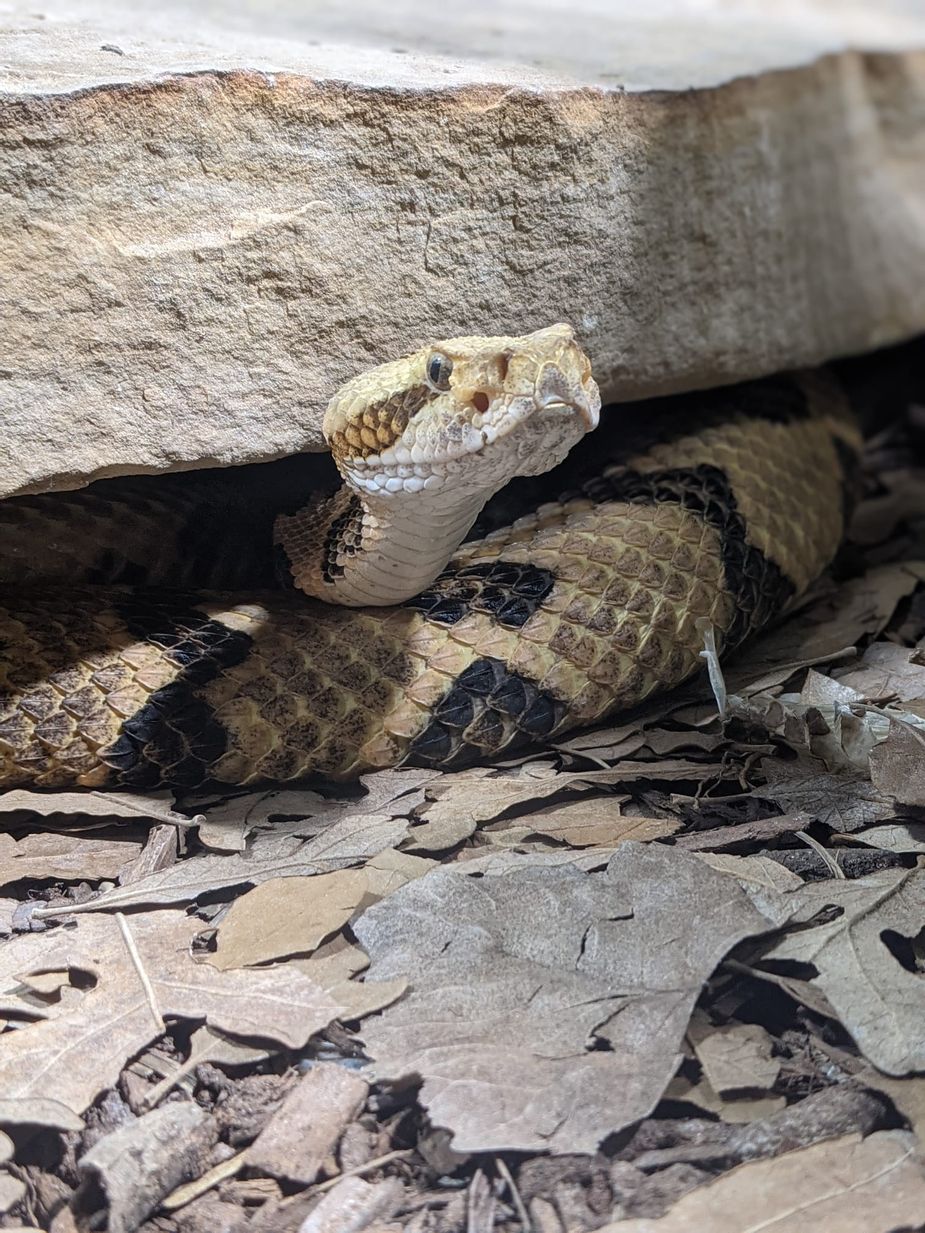 Just to be clear, this was not the rattlesnake we saw. This is the Oklahoma City Zoo's timber rattlesnake. Photo by Rae Karpinski
In truth, of the forty-six species of snakes native to Oklahoma, only seven are venomous. And while they will attack humans if provoked, snakes are far more interested in a) escaping predators, and b) chasing after the kind of pests we'd rather do without.
"The best thing snakes do is take down rodents," Ehrhard says. "Rodents carry a lot of diseases and the insects on rodents carry a lot of diseases. Snakes also eat snails, bugs, and gophers that would tear up the yard."
While my girlfriend will be giving World Snake Day a miss, it sounds pretty awesome for anyone interested in the world of serpents. Erhhard said the zoo is home to a king cobra, the world's largest venomous snake, and a reticulated python, the longest snake. Some are particularly beautiful, like the eyelash viper, bright red spitting cobras, and a gorgeous green mamba.
Since it's summer, the Oklahoma City Zoo is open at 8 a.m. and closes at 5 p.m., with the last tickets for entry sold at 4 p.m. To cut down on lines, be sure to get your tickets in advance here.
Get There
Oklahoma City Zoo & Botanical Garden, 2000 Remington Pl Oklahoma City, OK 73111 or
TravelOK.com