5 minutes
Published June 2021
By Chad Crow | Photos by Lori Duckworth | 5 min read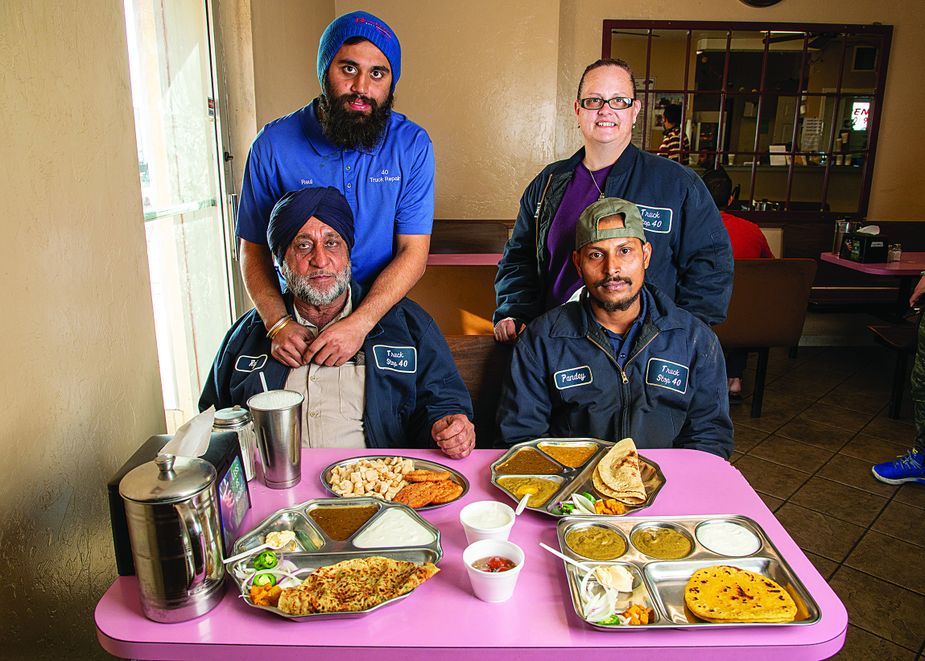 Clockwise, from top left: manager Rahul Singh, assistant manager Shannon Sexton, senior mechanic Parbhaker Pandey, and owner Raj Singh help their customers with more than hunger.
Just off exit twenty-six on Interstate 40 between Elk City and Sayre, customers arrive by the truckload to savor the taste of homestyle Punjabi cooking. Sure, they could turn south on Cemetery Road and settle for chain fast food, but why do that when the gurmukhi-scripted sign promises taji roti—or fresh food in Punjabi—north at Truck Stop 40, also known as Chhoker Family Travel Center?
Founded by husband and wife Raj and Harpreet Singh in 2005—and named for Raj's father—the truck stop is virtually unknown to locals but is considered a must-stop in the thriving Punjabi truck-driving community.
"I saw that people have trouble, break down, don't speak much English, and they need help," says Raj, who found the abandoned truck stop while out on a delivery one day. "So I bought it and built it up."
More than a decade later, the travel center has expanded into a thriving complex—convenience store, deli, mechanic shop, restaurant, and gurdwara (a Sikh place of worship)—dedicated to servicing the large number of over-the-road truckers hailing from the Punjab region of northern India.
After fueling up beneath the eighty-foot American flag, customers follow the sweet smell of slow-simmered onions and turmeric across the parking lot to the dhaba, or Indian version of a roadhouse café. Through the double doors to the cozy dining room, they're greeted with the latest satellite news and Bhangra music hits from the flat screen. And there's typically a handful of tired truckers on Bluetooth headsets catching up with their loved ones over trays of home-cooked food and fragrant cups of dudh patti chai tea.
Though there is no table service at the truck stop, the compact menu taped next to the order window spells out the restaurant's choice of Punjabi vegetarian delights including roti (flatbread), paraanthay (wheat loaves stuffed with potato and vegetables), and samosas (fried pastries filled with potato and peas). Handwritten next to the register are the day's rotating specials, featuring a range of regional cuisine like saag paneer (spinach and young cheese) or bindhi (crispy okra and tomatoes). On the weekends, the poori tray (whole wheat puff pastry served with chickpeas, yogurt, and a salad) makes a filling and delicious meal. Patrons with a low tolerance for heat can curb the spice of this authentic Punjabi cuisine with an order of shakkar-paaray fry bread, addictively sweet gulaab jamun (think doughnut holes soaked in rose-scented syrup) for dessert, or a cooling lassi (yogurt-based shake).
"We cook right away," Raj says. "Since our truck drivers don't get much exercise, they want fresh food."
The truck stop is open twenty-four hours a day, so the Singhs live in a house onsite with their sons, while their nearly two dozen employees stay in trailers on the property.
"I work eight days a week and don't really go anywhere," Raj says with a laugh.
In addition to offering authentic, homestyle cooking to family, employees, and truckers, Chhoker Travel Plaza also serves the spiritual needs of its community with a Sikh chapel.
"All are welcome to come in and worship at the gurdwara," Raj says. "Our people, we meet once a month, then we spend maybe a half-hour or forty-five minutes, read the book, and are like, 'Hey, you, do some nice things for people.'"
Whether it's feeding the road-weary after a long drive, offering a cup of hot dudh patti chai on a blustery cold day, or providing a space for spiritual enlightenment, the Singhs and their employees work hard to make sure their small patch of western Oklahoma is a little nicer each and every day.
Truck Stop 40
› 11561 North 1900 Road in Sayre
› (580) 928-2500