Comfort Zones: Groovy Digs
4 minutes
Published October 2021
By Ben Luschen | Photos by Lori Duckworth | 4 min read
Photo by Lori Duckworth
A stroll through Oklahoma City's SoSA (South of Saint Anthony hospital) district is like enjoying a sampler of architectural styles: Boxy modern homes with large glass windows share the same streets as century-old stone cottages. The contrast is striking but not incongruous. It's that trot through time that makes the vibrant, vintage Classen Inn a perfect addition to the neighborhood.
The inn, opened in 1963, is one of only a handful of examples of the futuristic Googie architectural style left in Oklahoma City—the most prominent being the iconic Gold Dome just up the street. But the flashy and welcoming road motel from the classic Route 66 era lost its luster in the decades that followed. Its maintenance neglected by its owners, the inn grew an unsavory reputation. Still, some recognized its potential.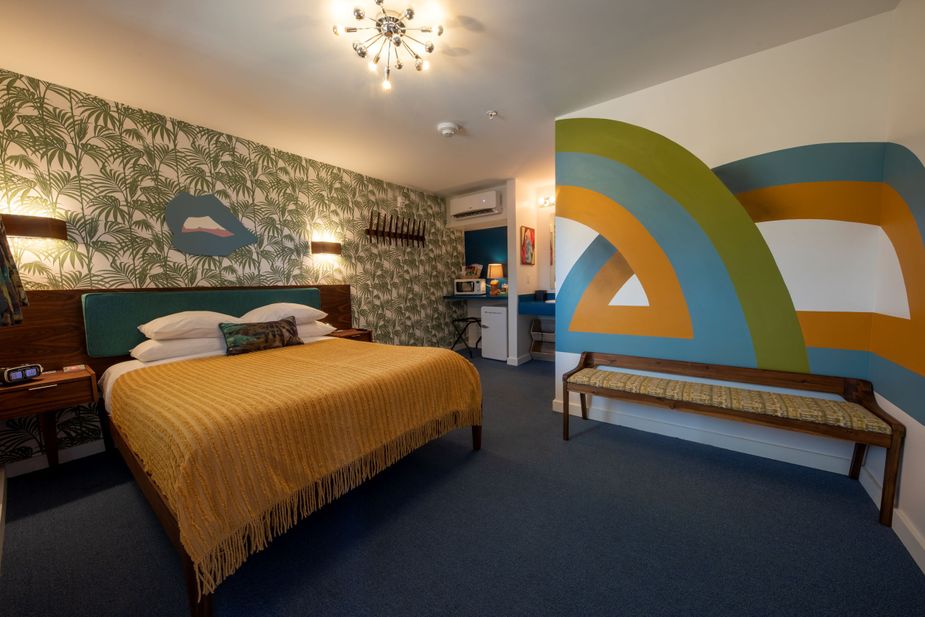 Photo by Lori Duckworth
In May 2018, developers Steve Mason and Aimee Ahpeatone purchased the site. Mason knew they had their work cut out for them, but they did not shy away from the challenge.
"It hadn't been touched on the inside maybe since it started," he says. "The sheetrock was gross and tired. We took it back to the studs."
The reborn Classen Inn opened in August 2020. The result of Mason and Ahpeatone's renovation is a new and clean stay dripping in groovy '60s flair.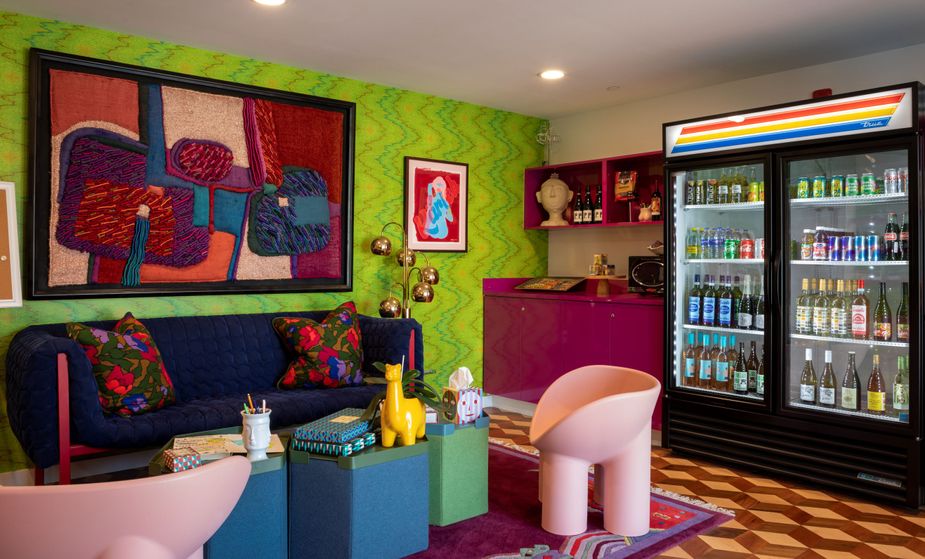 Photo by Lori Duckworth
Inside any of the seventeen rooms, the walls immediately grab guests' attention. Wallpaper with a green-and-white palm pattern adorns the far side, while a retro striped mural by Oklahoma City artist Dusty Gilpin jumps out in three dimensions from the other. The upstairs units are carpeted in deep blue, while the ground floor is done in vibrant pink. It all ties together, turning each room into a kaleidoscopic time warp.
Classen Inn's lobby doubles as a convenience store. Guests can purchase cans of beer and bottles of wine as well as sheet masks, beauty products, and a selection of collectible buttons and other mementos. Outside, a covered patio in bright pastels serves as an ideal spot for outdoor gatherings. Wicker swing chairs, tables, and ornate outdoor furnishings overlook the busy boulevard. Every inch of the property is Instagram-worthy.
"Hanging out on the patio is really popular here," says General Manager MaKaela Lee. "Photography is huge."
Photo by Lori Duckworth
Location is a major selling point. The inn is equidistant from Midtown and downtown, and both can be accessed without venturing off residential streets. The hotel rents bicycles and helmets so guests can take advantage of the proximity to dining and entertainment. Sure, Jones Assembly concertgoers or Oklahoma City Museum of Art attendees from outside the metro could drive home at evening's end, but why not make a night of it? Classen Inn makes the thrill and ease of downtown living available to anyone.
Get There
Classen Inn, 820 N Classen Blvd Oklahoma City, OK 73106 or
TravelOK.com