A space intended to connect people from all across Tulsa—and the state—Gathering Place inspires joy, wonder, exploration, and more.
13 minutes
Published October 2019
By Liz Blood | Photo by Shane Bevel | 13 min read
Muse-Ment Park
By Liz Blood
A preschool-aged girl leaps out of her swing, makes her mouth into a giant O, and toddles quickly down the wavy wooden pathway in Fairyland Forest as her mother calls after her.
"You did it this time!"
"I wasn't scared!" the child replies.
"I'm proud of you!"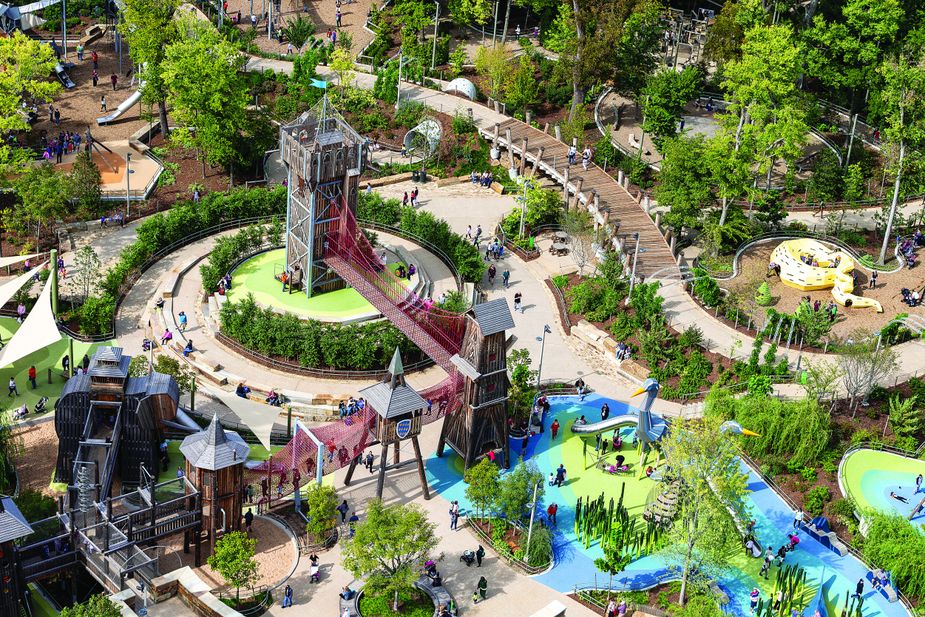 The five-acre Chapman Adventure Playground at Gathering Place includes a picnic grove, a suspension bridge, water attractions, and just about every kind of slide and swing imaginable. Photo by Shane Bevel.
The small girl hurries away to some oversized purple and yellow wooden tulips and climbs up and inside them. Nearby, hidden from sight in the sensory garden near Adventure Playground, two teenage boys shout, "We're kings!" and burst into laughter.
Effusive joy, human connection, and group play might be rare in many corners of a screen-dominated modern society, but Gathering Place—Tulsa's new sixty-six-acre public park along the Arkansas River—is chock-a-block with these experiences.
It's great to hear children laughing, playing, and having a great time. Anywhere near the playground, that's what you hear constantly. It's infectious. Kirsten Hein
"It's great to hear children laughing, playing, and having a great time," says Kirsten Hein, Gathering Place's vice president of programming. "Anywhere near the playground, that's what you hear constantly. It's infectious."
In fact, some of Gathering Place's biggest boosters are children.
"We have to physically pull our kids away from the zipline every time we go," says Tulsa Mayor G.T. Bynum. "They love playing on what is the coolest playground in the world. I love watching all those kids from different parts of our city going nuts and having fun together—and seeing the faces of their parents as they watch it all happen."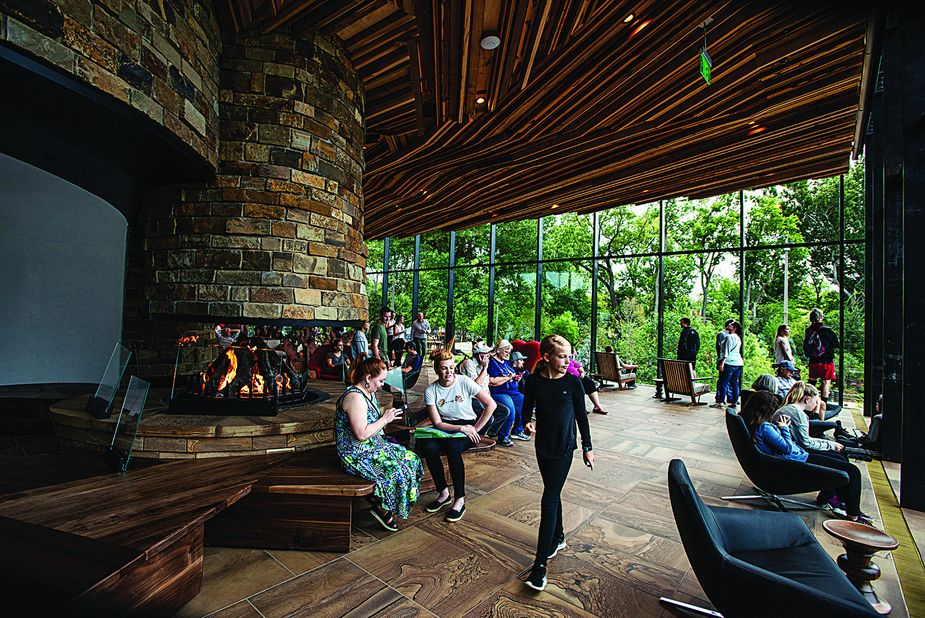 Williams Lodge houses restrooms, a cafe, activity rooms, and cozy lounge space. Photo by Melissa Lukenbaugh.
It's no wonder the playground equipment, designed by the German company Richter Spielgeräte, excites youngsters and adults alike. The twenty-two-foot Great Blue Heron slides, the zipline, the sky bridges, and wooden towers—the equipment is as interesting and varied as it is intentional. Play areas are designed to inspire self-determination in youngsters while counteracting modern problems like lack of exercise, social isolation, and lack of sensory development.
Zac King, a Tulsa-based fitness trainer and movement specialist, appreciates this learn-through-play approach.
"This park is kind of like a microcosm of what's to come for a kid," he says. "If their microcosm is their phone, their chair, and TV, and that's all they're exposed to, they won't be comfortable in a variety of other regular situations."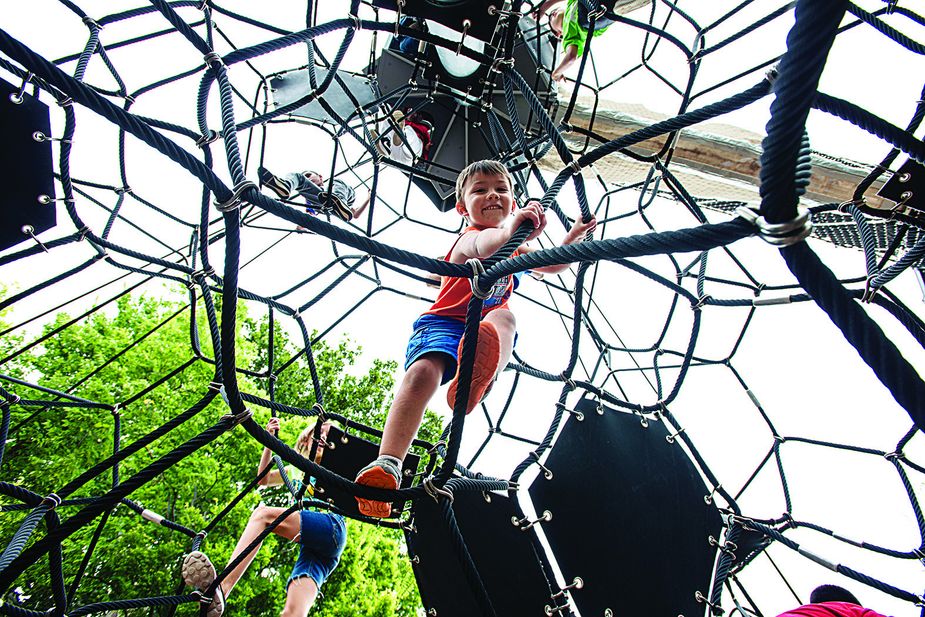 Kids hang on the Skywalk Forest. Photo by Melissa Lukenbaugh.
Gathering Place's landscape architect is Michael Van Valkenburgh Associates—who also worked on Brooklyn Bridge Park in New York City and Maggie Daley Park in Chicago. Van Valkenburgh says Tulsa's new park is a democratic space intended to bring people together. For this and many other midsize cities, places that act as social connectors and touch both the lives of children and adults across demographics often don't exist in meaningful and expansive ways.
"Lots of aspects of this park give you a diversity of age and possibility," says King. "It seems to provoke exploration, which means more possibilities of movement. And more physicality means the possibility for more mental development. Diversifying activities makes you a better problem solver, you work better with others, you're better in relationships—one-on-one and in groups."
Possibility and imagination come alive at Gathering Place—and not just in children.
"The Gathering Place ignites my wonder," says Tulsan Ivy Norris, who works as a holistic counselor and lives near the park. "I'm grateful for anything that reminds adults to live in wonder and gives us the space to do so. The park was a wise investment, because when you give people the space to be open and grateful and enjoy, creative energies can flow."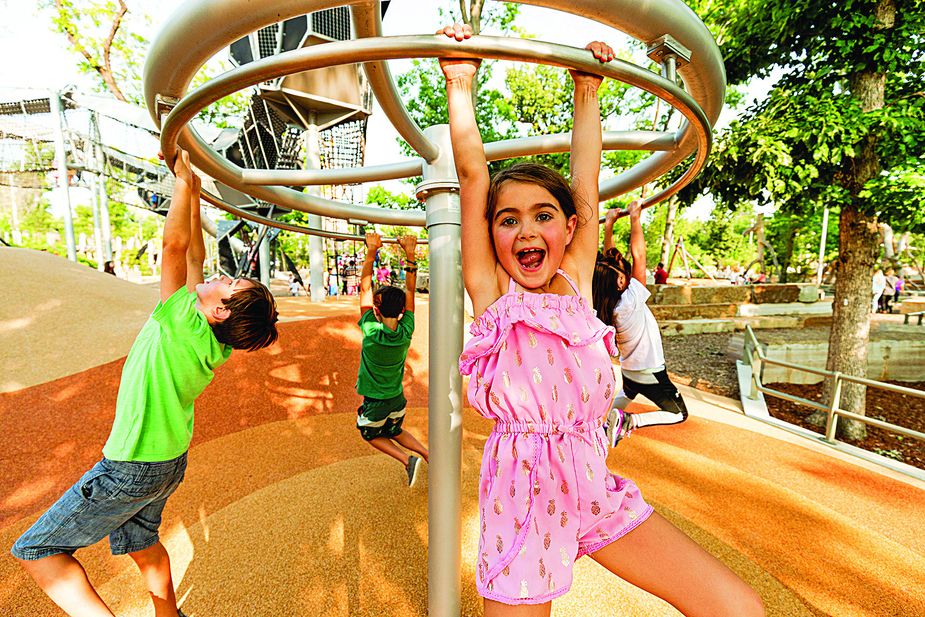 Chapman Adventure Playground is one of the most-popular attractions among many at Gathering Place. Photo by Shane Bevel.
Tulsa artist Eric Sall is a good example of that. He recently has been making use of Gathering Place's skate park, which takes him back to his own skating heyday. Sall, an abstract painter, is planning an event in partnership with the Tulsa Artist Fellowship and Gathering Place for this summer that will involve a skate demo with professional skateboarders-turned-artists and an accompanying exhibition in the Tulsa Arts District.
"They've done a good job here with the visual details," Sall says as he looks at the fish-scale texture of the Boathouse building. "My mind was blown at the expansiveness when we first came here."
Rachel Hayes and her five year-old daughter, Shea, scramble up onto a play structure near the Boathouse. Her nine-year-old son Wyatt approves, too.
The park's pretty good. Even the bathrooms! Wyatt Hayes, age nine
"The park's pretty good. Even the bathrooms!" he says on his way to race marbles down the inclines of Swing Hill.
Possibilities for fun seem endless here. At Gathering Place, the landscape offers a variety of environments in which to become immersed—and all for free. The Boathouse, the roof of which looks like an origami cloud and can be seen from miles away, has a deck with rocking chairs overlooking the park and Peggy's Pond, the Vista restaurant, and artist Mark Dion's semipermanent installation of The Cabinet of Wonder inside.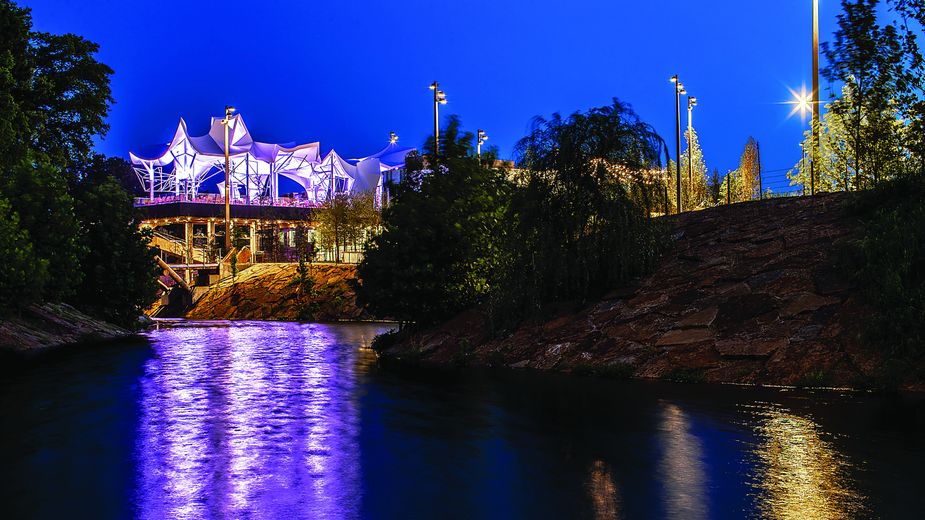 Guests can check out paddleboats, kayaks, and canoes at the OneOK Boathouse. Photo by Shane Bevel
The Cabinet of Wonder is one of the Gathering Place's first site-specific art installations and features curios from around the world—everything from taxidermied animals and vintage hand puppets to books, busts, and skulls. Old toys, aluminum casts of ant colonies, a giant pinecone, miniature sewing machines, postcards, a braid of hair, a Star Wars stormtrooper figurine—the collection offers as much to discover as the park itself.
"We have a field guide who gives more information about the objects, and we have volunteers trained as docents to help people interpret the Cabinet," Hein says. "We also have a teaching collection at the Cabinet that we can use with our audiences to make new arrangements so they can touch and feel things. A lot of kids are interested in the phones, because they aren't used to phones with buttons. Our rotary phone is probably the most interesting object for kids."
Outside, Peggy's Pond winds its way from the Boathouse to Willow Beach, a sandy recreational feature, to the Wetland Gardens and Mist Mountain, an area with water cannons and misters. Connecting the Boathouse to Adventure Playground is King Post Bridge, an A-frame bridge that looks like it might once have crossed a moat to a castle. To the north of the boathouse lies the Great Lawn, where the park kicked off its September 2018 opening with a free concert by The Roots. The Great Lawn is just one of the many hills in the park, all of which were created from 450,000 cubic yards of river silt.
There are more than eighty types of trees and more than four hundred species of plants in the park, many of which are native to Oklahoma. Some of the more easily recognized include redbud, cypress, bur oak, dogwood, bluestem, rosemary, lavender, and Indian Blanket—Oklahoma's official state wildflower.
Driving down Riverside Drive, on which Gathering Place is located, used to mean a smooth commute for downtown workers. But ever since the opening of the park, Riverside feels like a destination, a serpentine street perfect for driving with the windows down, passing through the park's land bridge tunnels, while tall grasses wave from the median.
So much care went into it. It is a true expression of love for Tulsans from the people who gave this to our city. My wife cried the first three times she visited. It is a special place. Tulsa Mayor G.T. Bynum
It looks so overgrown and wild from the street's vantage that, after the park's opening, people joked the area had been closed so long the City of Tulsa forgot to mow. Indian Blanket covers the hills and shoulders alongside the grasses. Tiny red faces haloed in yellow look toward the sun and shine upwards at visitors. If it weren't for the street, visitors might think they'd stumbled onto the Tallgrass Prairie Preserve, that winsome and inspiring landscape of Osage County. Gathering Place can't compete with the prairie's acreage, but it does boast ice cream and beer, banana- and elephant-shaped slides, stone harps and hidden xylophones, story time and concerts, floating pathways, and a mirror maze.
The Mirror Maze in the Sensory Garden. Photo by Melissa Lukenbaugh.
And there are the blue basketball courts, the BMX pump track and skate park filled with kids and adults, Slide Vale—with tall metal slides with shade sails so the slides aren't piping hot in the sun—and Swing Hill, with a variety of swings, bizarre teeter-totters, and hidden seating areas.
It's a see-it-to-believe-it kind of place. Bynum says he was overcome with awe and gratitude the first time he visited.
"The scale of it is remarkable, but the eye for detail in every spot is what stands out," Bynum says. "So much care went into it. It is a true expression of love for Tulsans from the people who gave this to our city. My wife cried the first three times she visited. It is a special place."