Speed eating mac and cheese and other confessions of an Oklahoma dairy fanatic.
9 minutes
Published July 2019
By Megan Rossman | 9 min read
Melt With You
If I had my own personal food pyramid, it would probably be covered in cheese, not unlike a pizza. The first meal I ever cooked for myself was a pot of Kraft Macaroni & Cheese. I had intensely observed my mother prepare it so many times by the age of five that one day after I had been denied, I made it myself while she was off in the house doing something else. Then I hid under the kitchen table and managed to eat about three-quarters of the pot before she discovered me. There was no stopping me.
I still eat plenty of it, although I'm less clandestine in my consumption these days. So, without further ado, here are some of my favorite places in Oklahoma to indulge my love of cheese.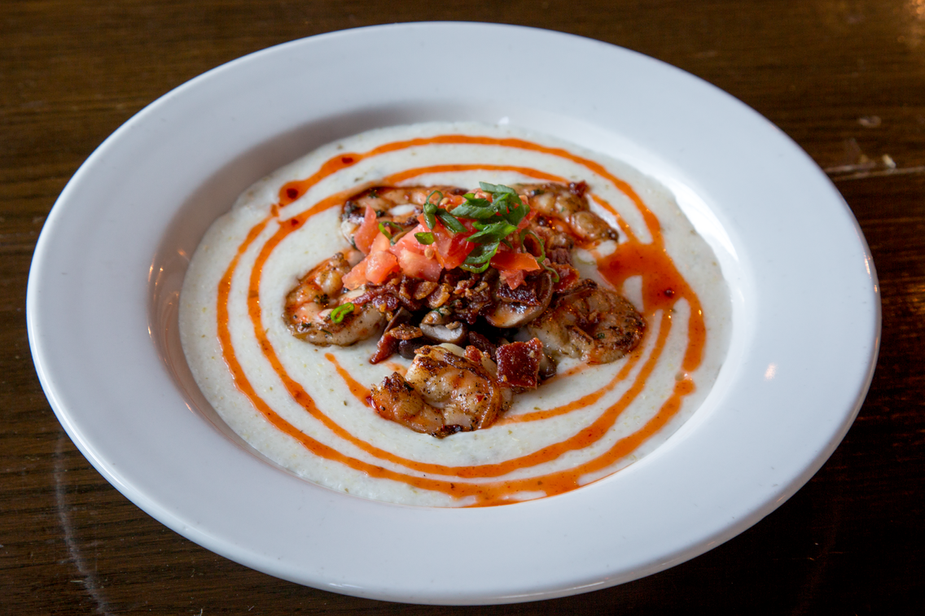 The Shrimp and Grits bowl at Abendigo's Grill & Patio in Hochatown is a thing of beauty. Photo by Lori Duckworth
One of the finest ways to consume massive amounts of dairy is in the form of a classic comfort food: Macaroni and cheese. In Oklahoma City, there are few places whose incarnations of the dish compare to Iron Star Urban BBQ. Paired with a heaping serving of their smoked meats and a vodka-spiked cherry limeade, you're in for a seriously satisfying dinner.
Over in the Plaza District, you'll want to dig into the mac and cheese at The Press, a cozy spot that puts an elegant-but-still-casual spin on its menu of down-home dishes. They offer a few variations here. There's the purist form, just pasta and sauce, or you can get it mixed with chili and served with cornbread or topped with slices of buffalo chicken strips, bleu cheese, ranch sauce, and green onions.
Up in Tulsa, Mother Road Market, a gourmet food court of sorts, is another pit stop for those with the hunger. Bodhi's Bowl specializes in rice bowls, but their 3-Cheese Bodhi Mac topped with fried onions and aged parmesan is a creamy and intensely flavorful addition to their internationally-inspired lineup. I would go as far to say that it was some of the best macaroni and cheese I've eaten in this state. My coworker Karlie reported that the mac and cheese side at Nice Guys Shrimp Shack was well-worth the calories, as well.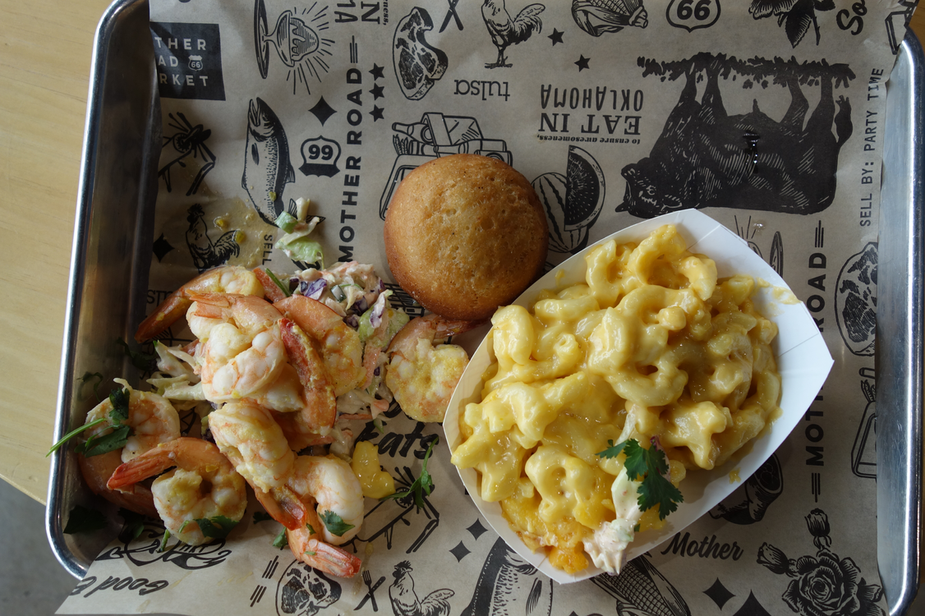 Mac and Cheese from Nice Guys Shrimp Shack at Mother Road Market in Tulsa rounds out a good meal. Photo by Megan Rossman
Of course, cheese is good all on its own, too. And pairing simple slices of it with honey, crackers, fruits, and meats is even better. I can think of no better place in the state for a cheese lover than Forward Foods in Norman. I was devastated when they closed their Oklahoma City location that was within a couple miles of my house, but it's worth a drive. It was at this store that I discovered my love of Fromager d'Affinois, a soft double-cream French cheese that's very much like brie, and is so buttery and rich that I involuntarily close my eyes whenever I eat it. The counter staff is wonderful. They'll cut you samples, make recommendations, and just be generally helpful and lovely. Some people are intimidated by the cheese counter. Don't be, it's your friend.
Another great feature: The store offers classes where guests can sample a variety of cheeses paired with beer or wine, which is a great way to find out what you're really into. Whether it's washed-rind, soft, hard, bleu, or it comes from a goat, sheep, or cow, you can always get what you want at Forward Foods. If they don't have it, they'll order it. One more tip: Don't forget to stop by the olive bar.
Way down yonder in the Hochatown/Broken Bow area, more options for cheese-loving folks await among the coniferous confines of the Hochatown/Broken Bow area. I'm partial to Abendigo's shrimp and grits, a deliciously creamy bed of cheesy hominy topped with succulent blackened shrimp, bacon, and mushrooms.
Down the road, Grateful Head Pizza is a must-stop. There's a lot of mediocre pizza in the world, but this restaurant is shining beacon for all lovers of the 'za. Plus, they serve a variety of beers, including Hoppin' Jalapeno Ale from Beavers Bend Brewery. Given the jalapeno bit, it's suprisingly smooth, but it's got a zing.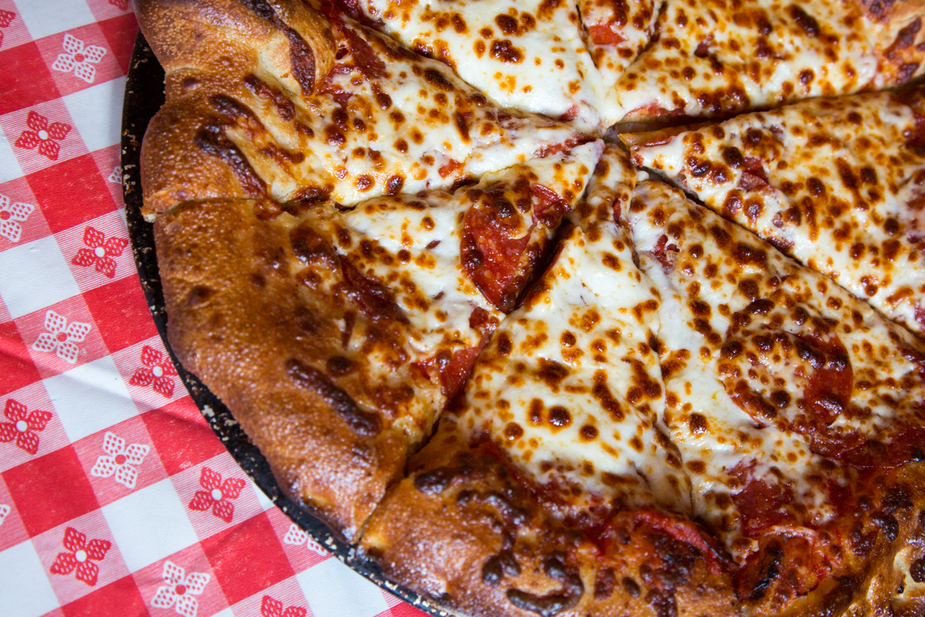 The pepperoni pizza at Grateful Head in Broken Bow is something worth drooling over. Photo by Lori Duckworth
Although I feel like everyone in Oklahoma is already familiar with it, I'd be remiss if I did not mention Lovera's Grocery in Krebs. Just oustide McAlester, this tiny Italian-flaired town is home to several well-loved restaurants and this food store, that specializes in making several kinds of cheese, including goat cheese, Gorgonzola, and Toma. Caciocavera—which they describe as a cross between mozzarella and provolone—is their signature variety. You can get it in its original form, or smoked or spiced. Whatever you opt for will not disappoint. It's a great melting cheese, perfect for homemade pizzas or sandwiches.
When it comes to unexpected treasures, there's a new restaurant in town: Rivière Modern Bánh Mì. Brought to you by the same family that's owned Jimmy's Egg for more than thirty years, this bright, cheerful space in downtown Oklahoma City offers a variety of delicious and inventive sandwiches, as its name implies. In a surprising twist, they also serve some of the best macaroni and cheese you can get in this city. In their version, cavatappi pasta comes in a rich beer cheese fondue with chunks of smoked Chinese sausage. It's the perfect balance of smoky, cheesy goodness and cream. It's downright dreamy.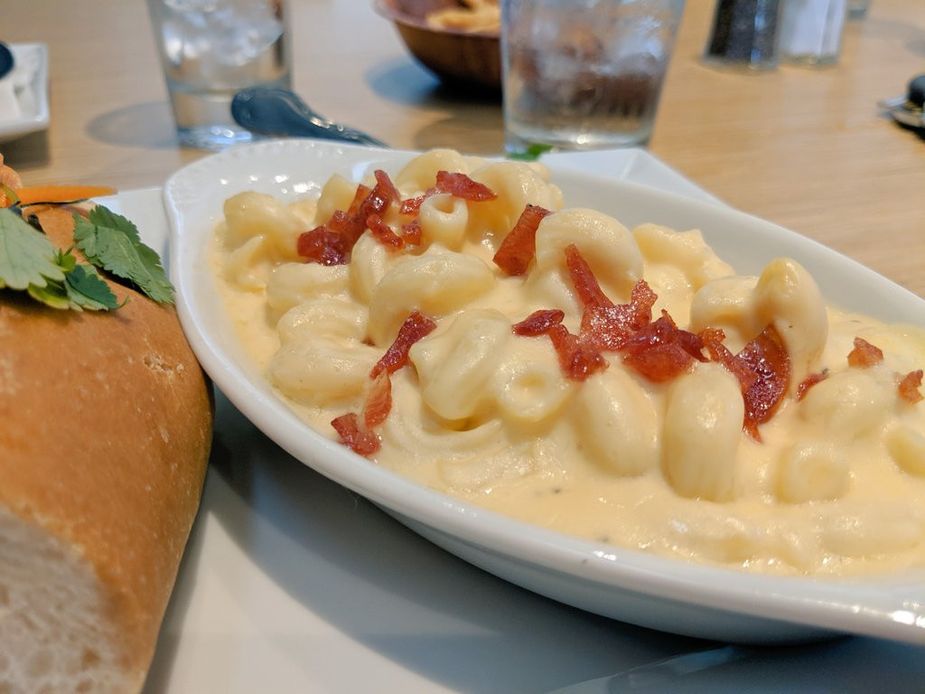 Mac (technically cavatappi) and cheese from the new Rivière Modern Bánh Mì in Oklahoma City. Photo by Greg Elwell.
As you can see, this is in no way a definitive guide to cheese. It's just a small sampling of places that I know and love. It seems most Oklahomans love cheese as much as I do, so the list of restaurants and stores from which to procure its goodness is ever-growing. Feel free to email our team at editorial@TravelOK.com to share your recommendations.
Discover your new favorite restaurant.
You May Like
Sing an opera, listen to a story, learn about history, and so much more during this fun-filled week in Oklahoma.
Sing an opera, listen to a story, learn about history, and so much more during this fun-filled week in Oklahoma.
This Tuesday Trivia question will drive you nuts!
This Tuesday Trivia question will drive you nuts!
"Playing Cowboy" is a new exhibit at the National Cowboy and Western Heritage Museum focused on the explosion of Western-themed...
"Playing Cowboy" is a new exhibit at the National Cowboy and Western Heritage Museum focused on the explosion of Western-themed toys and products for children in the late 1800s through th...