5 minutes
Published February 2020
By Marisa Mohi | Photos by John Jernigan | 5 min read
The word library conjures images of thousands of books, rows of shelves, and bespectacled staff helping patrons find just the right volume.
But the Oklahoma Library for the Blind and Physically Handicapped (OLBPH) is different. Beyond the front desk are hallways that snake through a warren of offices housing librarians, audio book players and cartridges, and a state-of-the-art recording studio.
Navigating this labyrinthine building may seem daunting, but most patrons never will step through the door.
"They call in and talk to the reader advisor and interface through the phone rather than physically coming in here," says Jill Streck, OLBPH's recording studio director. "We have around five thousand patrons statewide, and we're able to serve anybody who lives within the state of Oklahoma."
Each weekday, a mail truck backs up to a loading dock at the library. Cases filled with audio players and cartridges are mailed to patrons. When they're finished, they can mail them back to the library for free thanks to a federal program.
"We handle more than six hundred checkouts per day," says Brian King, one of the library's public information officers.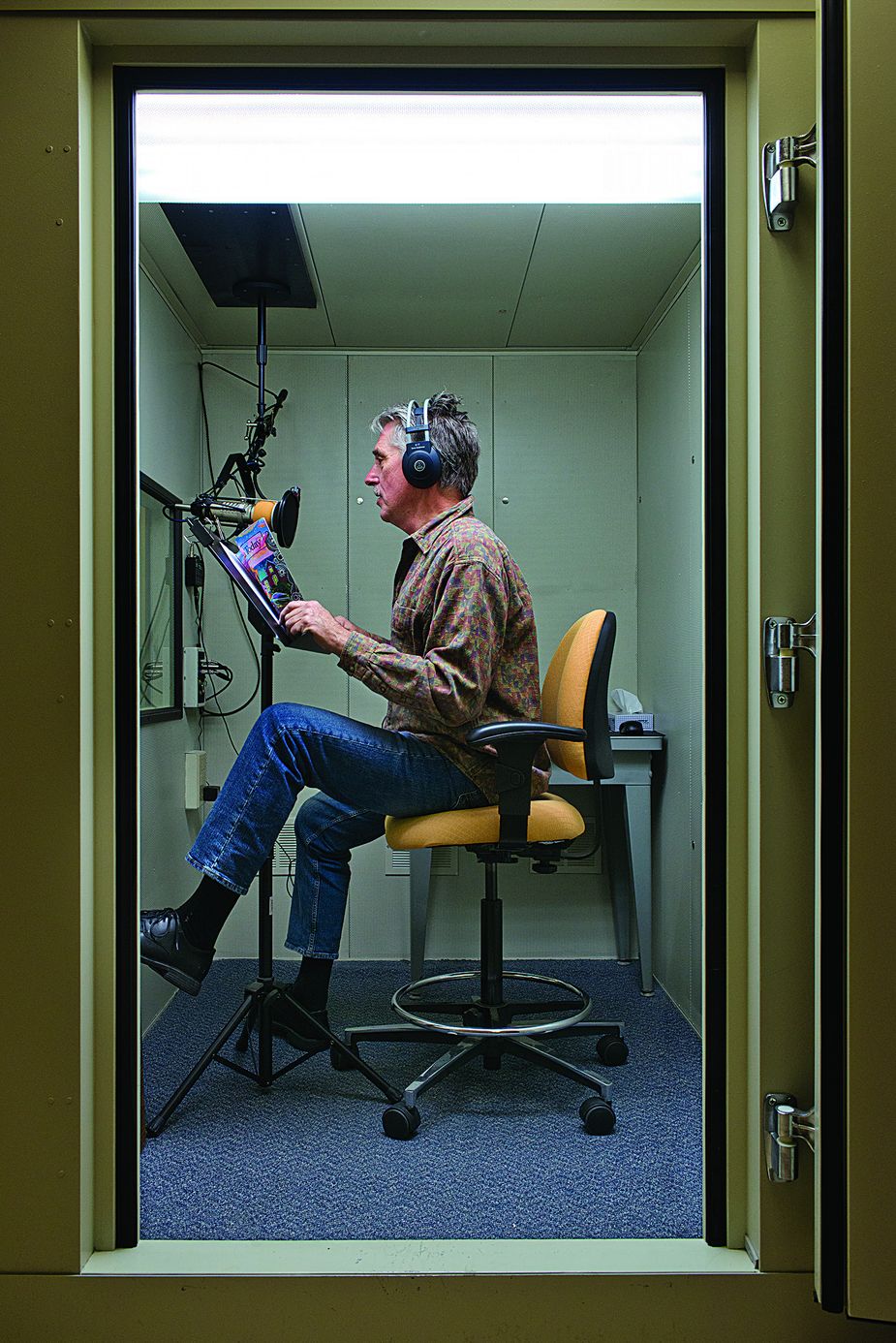 Jon Womastek lends his sonorous voice to many issues of "Oklahoma Today," including the November/December 2019 edition. Photo by John Jernigan.
Audiobooks come loaded on small plastic cartridges that look like the cassette tapes many people grew up with. There is a hole in one side that allows users to loop a finger through so it's easier to handle. On the other end is a USB drive that clicks into the cartridge reader.
The reader itself is a small plastic machine about the size of a clock radio. The buttons on top allow the user to play the audio cartridge or adjust the volume. There also are buttons that allow patrons to skip to the next chapter of a book. While the functionality of the machine is similar to that of an audiobook app on a smart phone, these buttons are more accessible, because users also can push them to hear what each one does.
"A lot of families are trying to do the right thing for their visually disabled family member or senior relative," says King. "They're buying subscriptions to Audible. Well, that's great, but what is the device you play it back on, and how accessible is that?"
For an even easier way to listen to classic and contemporary novels, magazines, newspapers, and more, patrons can download audio files digitally to a cartridge or smart phone via a service called BARD, or Braille and Audio Reading Download.
However, the crown jewel of the organization may be the recording studio—a soundproof booth that houses a microphone, music stand, and chair for the volunteer narrators. While the National Library Service provides them with many of their materials, the studio is where OLBPH records Oklahoma-centric books and magazines—like Oklahoma Today.
Jay Doudna is a part-time contract employee who produces Braille for the Department of Rehabilitation Services and is a lifelong patron of the National Library Service. He encourages avid readers who are losing their vision to try the audio books that the OLBPH has to offer.
"You'd be surprised how, when you start listening, you get caught up in it," he says. "Why do you think so many sighted people are putting CDs and MP3 files in their cars? We've been doing that way before they even thought of it."
For many Oklahomans, the OLBPH isn't just innovative: It's helping them regain something that makes life more fulfilling.