7 minutes
Published July 2023
By Margaret Skay Hartley | 7 min read
For nearly twenty years after its opening in 1948, the Big 10 Ballroom in North Tulsa was the place to be on Friday and Saturday nights.
"The Big 10 was a big deal," says L. Joi McCondichie, remembering her parents and their friends heading out for date night in the '60s. "Everybody was dressed up and decked out. The women had their hair done and their jewelry on, and the men were suited and booted."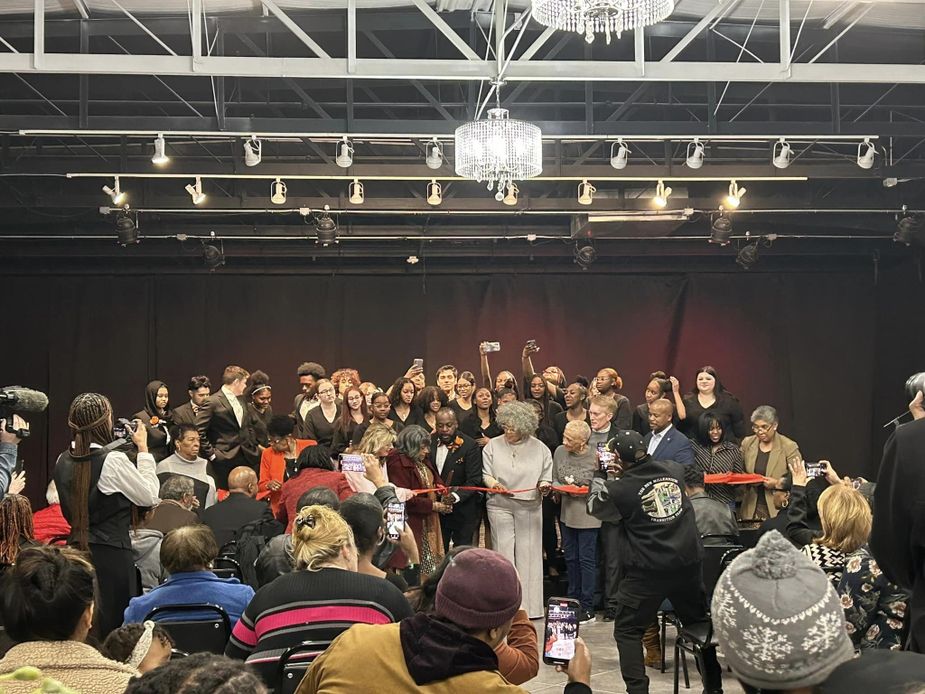 The re-dedication of the Big 10 Ballroom drew in crowds, including U.S. Senator James Lankford. Photo courtesy Big 10 Ballroom
Inside the swanky art deco building, among white leather banquettes and stylish glass block features, the Big 10 offered smooth cocktails, a huge dance floor, and a safe place for black performers playing the so-called Chitlin' Circuit. Giants of soul like Ray Charles, Etta James, Little Richard, Ella Fitzgerald, and Ike and Tina Turner took to the stage every weekend. People hired photographers to capture them in their evening best: Beaded gowns and long gloves or suits and tuxedos were the usual wear. It was hailed the "toniest Negro nightclub this side of Harlem" by the Tulsa Tribune in a 1948 article.
For Andranez Williams-Stephens, the third daughter of Big 10 owner Lonnie Williams, those halcyon days sometimes found her sharing a breakfast table with The Temptations or The Platters, who had performed the night before and slept in one of the family's spare bedrooms. She chuckles as she recalls her adolescent reaction when Count Basie or Fats Domino came for dinner.
"Here we go again, no Friday night football game," she'd say.
Looking back, Williams-Stephens recognizes what an amazing time that really was. As the owner of Big 10 Pool Hall on Greenwood Avenue and Tulsa's second black police officer, her father was a busy man, but along with his business partner and lifelong friend Richard Thompson, he managed to create an iconic venue despite segregation.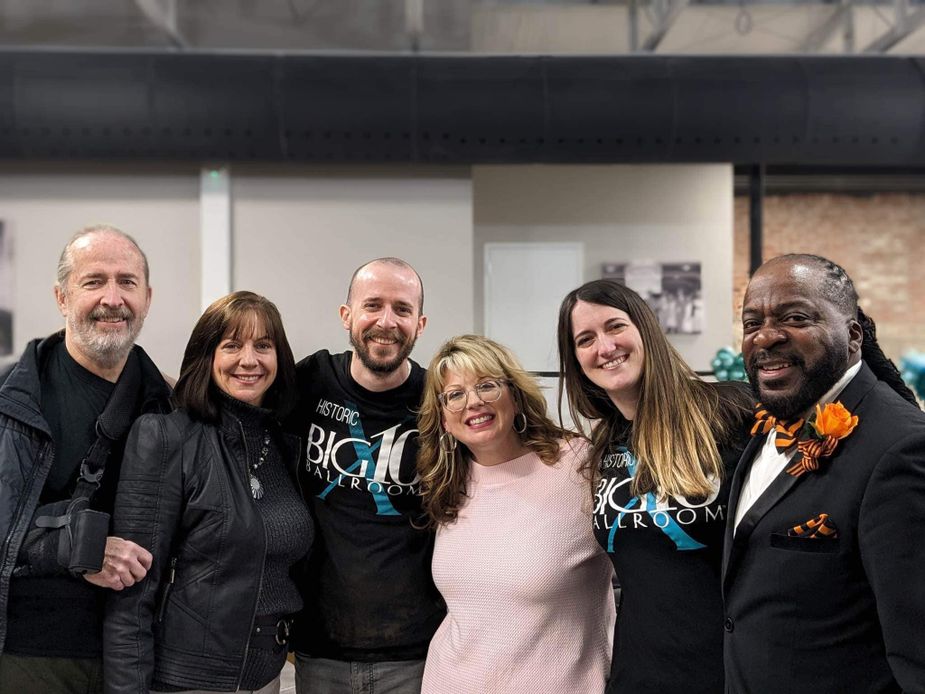 Lester "Doc" Shaw, far right, and supporters at the re-opening of the Big 10 Ballroom. Photo courtesy Big 10 Ballroom
"What a life my father gave us," she says of Lonnie.
However, the music faded in 1966 as performers skyrocketed to fame and became more difficult to book. After a short stint as an overstock warehouse for beauty products, the once-posh gathering place sat empty.
Lester Shaw was a child during the Big 10's heyday, but he kept hearing stories of the Big 10 and its importance to the community throughout his life. As a music educator at Booker T. Washington High School, Shaw regularly drove past the dismal structure on his way to and from work.
Shaw began to look past the collapsed roof and trees growing up through the dance floor. Instead, he saw a piece of history and a place where kids could connect to their past while shaping their future. There would be enough space for recording, photography, and filmmaking studios, and they would be able to act or dance or sing on the same stage as music icons Jackie Wilson, Bo Diddley, and of course, Shaw's favorite, Ray Charles.
After much deliberation, Doc Shaw went all in. He purchased the Big 10 in 2007 and began a fifteen-year slog of fundraising, renovation, and restoration. Finally, the ribbon cutting took place on February 25, 2023, with much fanfare.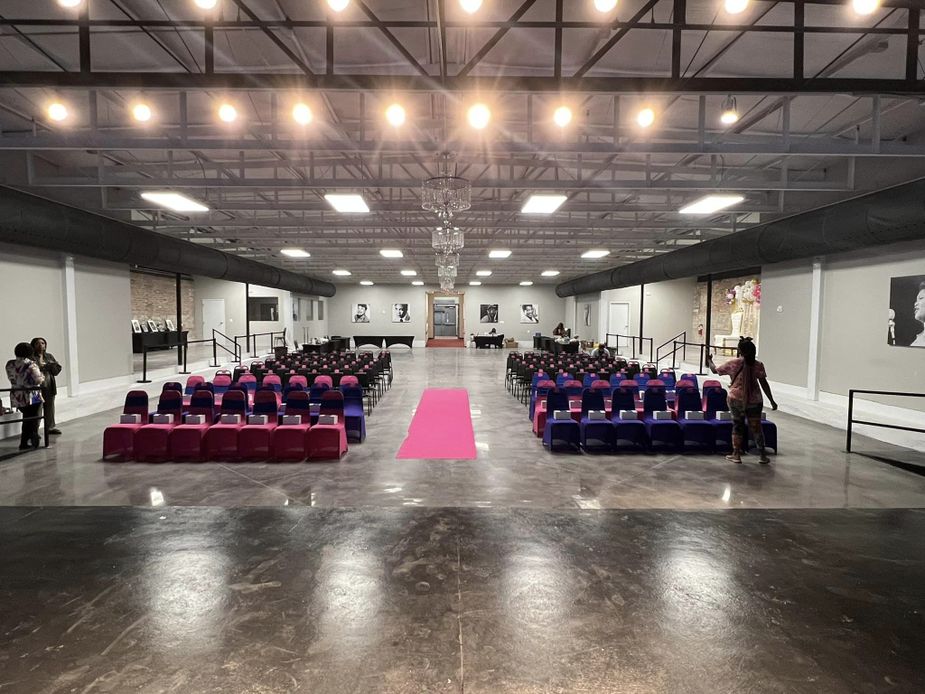 Big 10 Ballroom hosts regular concerts, plays, fundraisers, and youth engagement activities. Photo courtesy Big 10 Ballroom
So after decades of silence, the Big 10 is regaining its voice as a vital venue in North Tulsa, as a new addition to Oklahoma's culture tourism, and most immediately, as a new and bigger home base for Shaw's A Pocket Full of Hope.
Founded in 2000, APFOH has worked with five thousand kids to inspire them through the performing arts. Shaw brings his heart, his education, and his experience as a musician, counselor, and educator to work with the kids of North Tulsa. In addition to providing a positive peer culture for kids, the nonprofit afterschool program has a 100 percent high school graduation rate.
Keeping those kids in mind, Shaw holds fast to preserving as much of the original Big 10 as possible, even though he was advised early on by one potential donor to tear it down and start over. Shaw declined.
"If I did that, the Big 10 wouldn't really be the Big 10 anymore," he says. "I know what it used to be, but the kids need to know and have that historical perspective. It's hard to empower them without one. Vision needs to go both ways."
Judy Clark, another of Lonnie's four daughters, is delighted to see her father's legacy being shared with new generations in Tulsa.
"I am really happy for the simple fact that someone else has connected to a dream that my father had started," she says. "Doc Shaw has the same idea but is focused on serving a different need for the black community."
From showcasing some of the finest black talent to come through the Sooner State to helping create future superstars, Big 10 Ballroom has secured its spot as a pillar of Oklahoma culture.
Big 10 Ballroom and A Pocket Full of Hope
1624 East Apache in Tulsa
(918) 430-1700
apocketfullofhope.com