6 minutes
Published May 2022
By Karlie Ybarra | 6 min read
In Oklahoma, one in six people struggles with food insecurity—more than 650,000 individuals. For those who don't even have the resources to feed themselves, providing for beloved cats or dogs requires painful sacrifices like forgoing medication, digging through the trash, or giving up what little they do have to eat. That's a heavy burden for anyone to bear, but the Pet Food Pantry of Oklahoma City is helping lighten loads and fill food bowls.
"People laugh if you say you're on a fixed income and you don't have enough money, you're going to feed your dog before you feed yourself, but I think I would," says volunteer Vicki Hughes. "And there are so many people who all they have are their pets."
Long-time animal rescuer Kim Pempin would carry dog food around in her car to feed strays whenever she could. But in June 2010, she felt called to do something more. So with the help of her husband Mike, Pempin founded the Pet Food Pantry of Oklahoma City in her garage.
Nearly ten years later, the word pantry is a bit of a misnomer. Today, the organization fills every nook and cranny of a five-thousand-square-foot warehouse in Oklahoma City with blankets, toys, collars, flea medication, bowls, sweaters, and every other item a pet might need. Of course, that also includes a lot of food.
"We go through about eleven thousand pounds each month," says Candace Beaty, the pantry's executive director.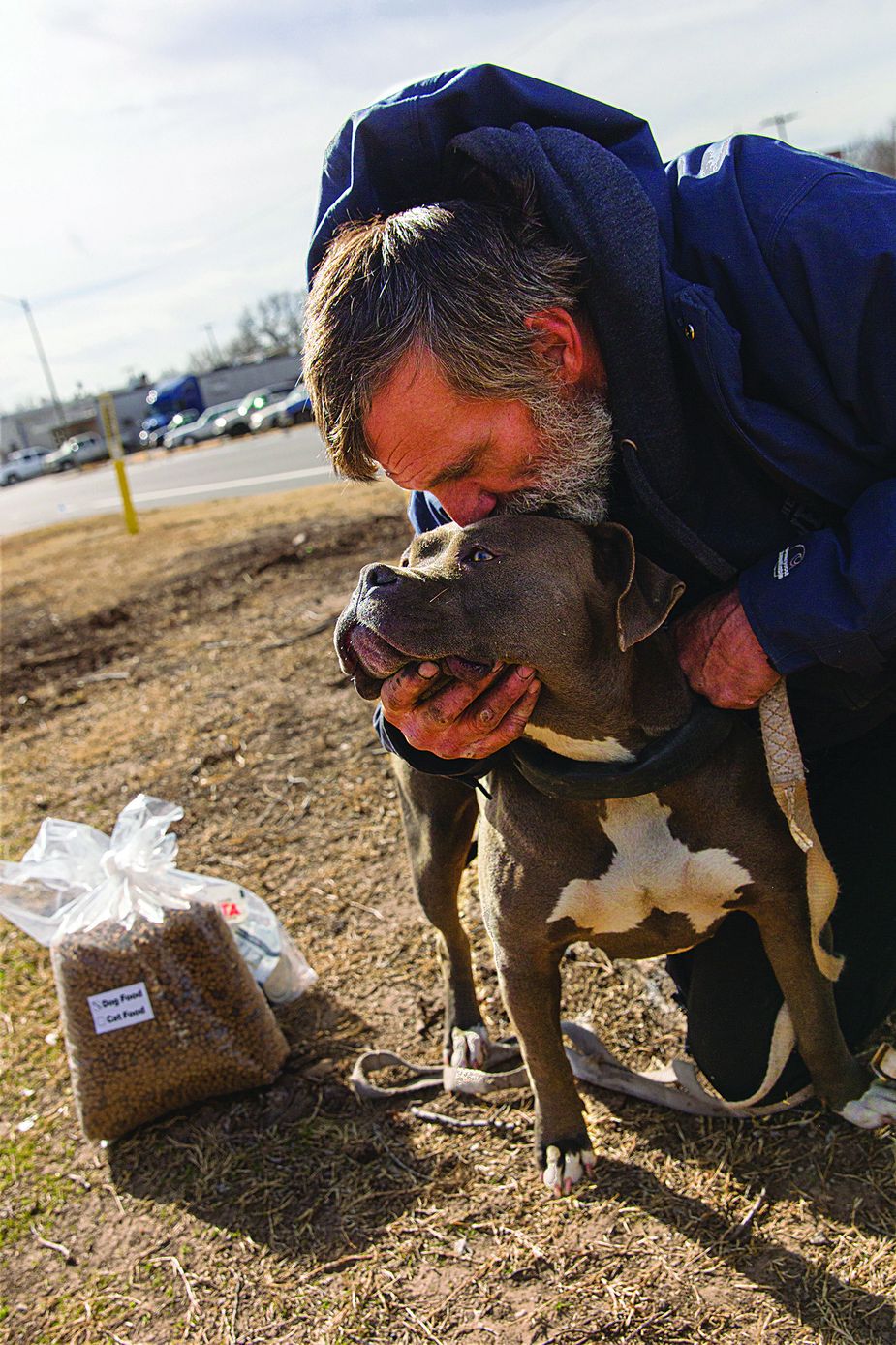 The Pet Food Pantry of Oklahoma City provides nearly 3,000 pounds of dog and cat food at bimonthly homeless outreach events. Photo by Brent Fuchs
Though the organization purchases some of its food wholesale—it's able to get a thousand pounds for just a hundred dollars—the majority is donated by local pet food stores and individuals. Beaty, warehouse manager Norm Chaichankanchang, and about thirty volunteers combine most of the dry food and repackage it into more manageable ten-pound bags for dogs or eight-pound bags for cats. A different team of twenty-six volunteers then delivers some of the bags and necessary supplies to low-income seniors and veterans around the metro, traveling to Bethany, Britton, Del City, Edmond, Midwest City, Moore, Mustang, Norman, Warr Acres, Yukon, and Oklahoma City.
"Our drivers develop a special connection to the clients on their routes," Beaty says. "They both look forward to spending some time catching up, asking about their families, and loving on the animals. I've gotten calls before saying, 'My route driver hasn't shown up yet! They're thirty minutes late!'"
On the second and fourth Wednesdays of each month, the pantry loads a truck for a weekly homeless outreach in southwest Oklahoma City. While many local churches and organizations—including Ice Angels and Love Like Jesus—provide haircuts, clothing, and food for people in need, dozens line up to take care of their animal friends first.
"We give out about 1,200 to 1,300 pounds of food, plus treats, to about 150 people," Chaichankanchang says.
The organization also makes deliveries as needed to domestic violence shelters, where residents sometimes can keep their pets nearby. In some cases, Pet Food Pantry staff have helped individuals find connections or resources so they don't have to choose between staying in an abusive situation or leaving their beloved pets behind.
No matter who they're helping, both Beaty and Chaichankanchang have seen and heard the impact a small bag of food can have on people in need.
"We were at an event in El Reno, giving out food, sweaters, collars, and things like that, and one person said, 'It feels like Christmas,'" Chaichankanchang says.
At one homeless outreach event in December 2019, many animal lovers were more than willing to brave the cold to provide for their four-legged companions.
"I was walking around, talking to people, and telling them to have a nice Christmas, and one man turned around and said, 'I will now because of you guys,'" Beaty says. "To us, it's such a small service, but to them, it's so much more."
To find out more about the Pet Food Pantry of Oklahoma City, learn how to become a volunteer, or to locate one of their more than forty donation sites around the metro area, visit petfoodpantryokc.org.