6 minutes
Published November 2022
By Margaret Skay Hartley | 6 min read
As a gesture of community support, Barbara Walker-Red bought a raffle ticket in 2014. It proved to be her lucky day. There were no big cash winnings—instead, she won a ukulele and a private lesson. But her prize proved to be a game changer.
"My husband and I had just moved to Stillwater, and we didn't know anybody," Red says. "And I had never played a stringed instrument before."
Her lesson with Kami Koontz, the founder of the Stillwater Ukulele Association, got her hooked, and Red, now the owner of five ukes, is a devoted member of SUA and as well as its performance arm, Misspent Ukes.
It's a familiar refrain. Oklahomans young and old are discovering the joy of the ukulele. The Round Barn in Arcadia hosts an annual Ukefest, the American Banjo Museum hosts the monthly OKC ukulele jam session, and the Woody Guthrie Folk Festival in Okemah handed out two hundred ukuleles at its 2022 celebration. Would-be strummers can even check out ukuleles, literally and figuratively, from Stillwater-area libraries thanks to the SUA.
Not that the Okie embrace of the uke is surprising. The instrument, which originated in Portugal but made its way to Hawaii in 1879, has been riding a wave of mainstream popularity in recent years. While that's due in part to musicians like Taylor Swift and Paul McCartney showcasing the four-stringed instrument, Haydon Harris, manager at Daddy O's Music in Stillwater, sees other factors at play.
"It's affordable, simple enough for someone with no music experience to pick up, and there's just an overall positivity about it," says Harris, who saw an uptick in sales during the pandemic. "The enthusiasm for the ukulele is contagious."
As head of the OKC Ukulele Group, Jeff Howard believes part of the instrument's appeal is that it's not intimidating.
"It's lighthearted, and you don't have to be good when you are part of a group," says Howard. "You can still have a lot of fun, and everyone is willing to help each other."
Koontz agrees. Known as Mama Uke to her SUA clan, she recognized the appeal of the uke after purchasing her first one at a Nashville flea market in 2013. She founded the SUA the very next year and sounded the call for aspiring ukeists. Enthusiasts responded and the monthly jams have evolved into joyful ukulele reunions where strumming and singing form the bond. According to Koontz, attendees range from junior high-aged to seventy-five, and beginners are always welcome.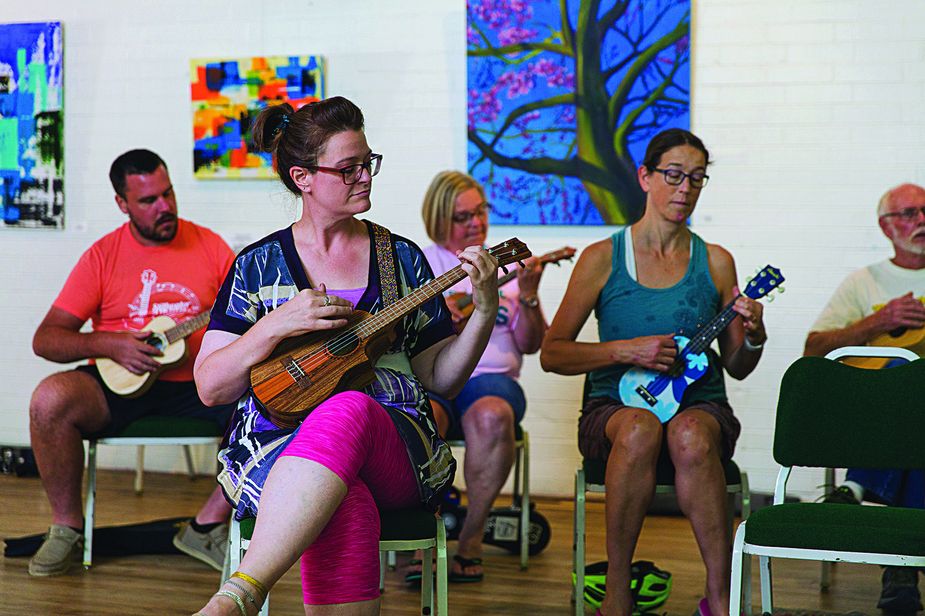 The Stillwater Ukulele Association holds meet-ups at 5:30 p.m. the third Tuesday each month at Modella Art Gallery in Stillwater. Photo by Brent Fuchs
"There's instant gratification with a ukulele. You can learn one or two chords and play a song right away. And then you build on it from there," Koontz says.
While the music players can conjure from the four-stringed wonders ranges from folk to rock to blues—and of course, some traditional Hawaiian tunes—each SUA jam starts with "Stand by Me," which helps underscore the vibe of camaraderie.
With her can-do enthusiasm, Koontz set her sights on spreading that ukulele camaraderie beyond SUA. With a lot of fundraising, two grants, and a partnership with Daddy O's, SUA launched Ukes in Schools in 2015. Since then, 243 instruments have been donated to schools across seven counties, reaching a thousand area students through music programs and SUA workshops.
SUA's companion initiative, Public Ukes, puts instruments into the hands of the curious and the accomplished by installing them in libraries and places like the Aspen Coffee Company in Stillwater and Factory Pizzeria in Perkins.
Ukuleles have even made it to the state capitol, where State Representative Trish Ranson, whose background is in music education, has one on display and has used it to teach a statewide Zoom lesson to music teachers. And they're resonating within communities and among generations. Groups in Oklahoma City and Tulsa meet regularly at festivals, open-mic nights, and senior centers. Red knows the importance of those connections.
"This group is my uke family. I could have a horrible day, and I'm with these people for ten minutes, and it's like I can breathe again," Red says. "It's impossible to play the ukulele and not be happy."
The Stillwater and Oklahoma City ukulele clubs host meetings each month.
stillwaterukuleleassociation.com
facebook.com/groups/okcuke