14 minutes
Published November 2020
By Trisha Bunce | 14 min read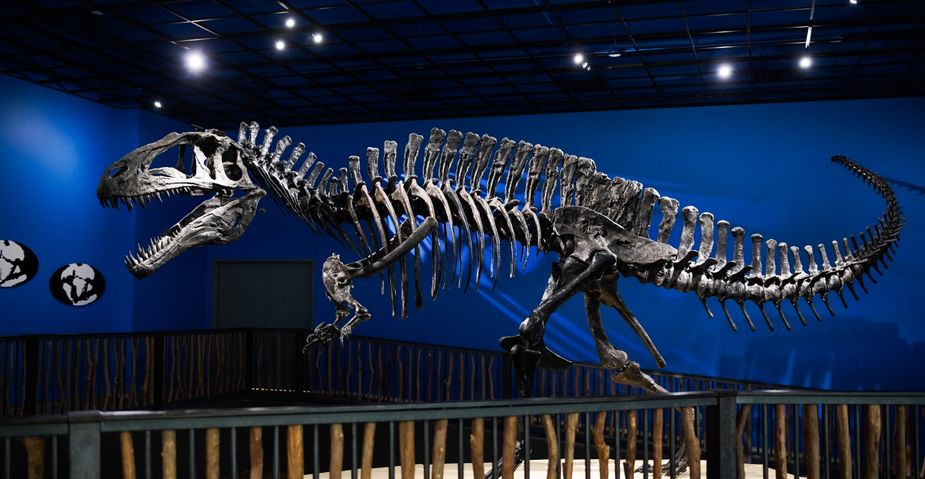 The first specimens of Acrocanthosaurus atokensis—like the one replicated at Idabel's Museum of the Red River—were found near Atoka, leading University of Oklahoma paleontologists to give it the species name atokensis. Like Tyrannosaurus rex, it was a theropod: a large, two-legged predatory dinosaur—among the largest ever discovered, in fact. Photo by Lori Duckworth
Culture has the power to divide, unite, offend, and uplift, but what does it really mean? Is it a raised pinky finger over a fine cup of tea? Is it a set of phrases, slang, and inside knowledge particular to one group or region? Maybe it's ballet tickets or owning an early, hard-to-find album from that famous band everyone loves from before they hit it big. The very word culture encompasses many things—gender and race relations, religion, and politics, to name a few—that can be difficult topics of conversation.
In 1974, McCurtain County lumber magnate Quintus Herron saw culture in a collection of fossils and artifacts from the cradle of the Caddoan Mississippian culture. This region incorporates two main river systems—the Canadian and Arkansas river system to the north and the Red River to the south—and draws together parts of four states: Oklahoma, Arkansas, Louisiana, and Texas.
Civilization came to this area as early as two hundred years before the birth of Christ and by 800 CE had established the cultural roots of what became the extensive Mississippian culture. Archaeological digs in and around this rich earth were discovering almost daily treasures and clues to the past of a people, a region, a nation, and the very bedrock history of the planet.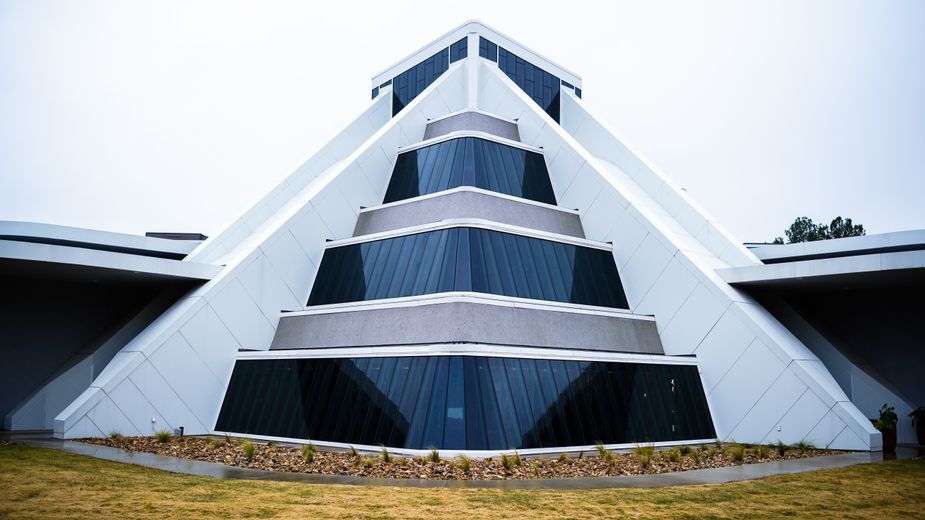 The pyramid addition to the museum was inspired by the Mexican pyramids Temple of the Moon in San Juan Teotihuacán and the Temple of the Magician in Uxmal. Photo by Laci Schwoegler/Retrospec Films
Herron saw these materials taken off to be catalogued, studied, stored, and lost to the area that once held them. His wife Mary described it as a loss of the region's heritage. Driven by a love of community and a desire to preserve that community's earliest cultural roots, the Herrons spearheaded the construction of the Museum of the Red River in Idabel.
The original museum—a 2,200- square-foot building housing 700 objects—opened in April 1975. It now is the largest exhibiting facility in a 150-mile radius and a permanent home to more than 30,000 artifacts, objects, and pieces of art—that's almost one for each of the residents of McCurtain County.
"I came here for a six-month consulting job in 1997, and I never left," says Henry Moy, director of the Museum of the Red River.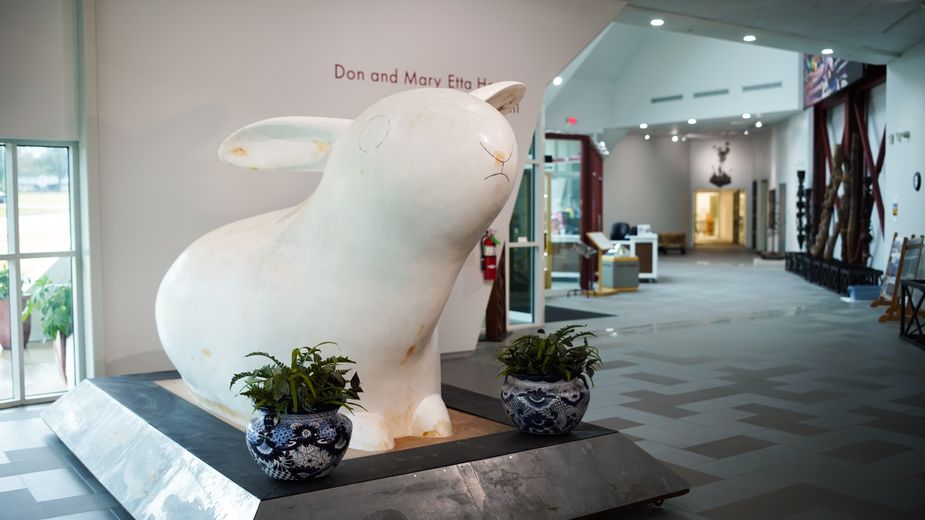 "Elizabeth" by Chris Powell is based on a small Sung Dynasty porcelain rabbit. Photo by Laci Schwoegler/Retrospec Films
Moy's office at the museum is cluttered in the best possible way. Shelves on every wall burst with books, artifacts, and works of art that speak to a wide breadth of knowledge regarding genre and geography. It is a visual and tactile feast.
Moy's original job description centered around the museum's first expansion, which was completed in 1999 and brought the facility to 17,000 square feet. In that time, the museum's mission had grown from regional archaeological field project collections to exhibits that celebrate the arts of Indigenous peoples from North, Central, and South America. The first expansion enabled works from Asia, Africa, and the Pacific Islands to become part of the collection as well, creating a through-line of cultural connectivity to its established offerings.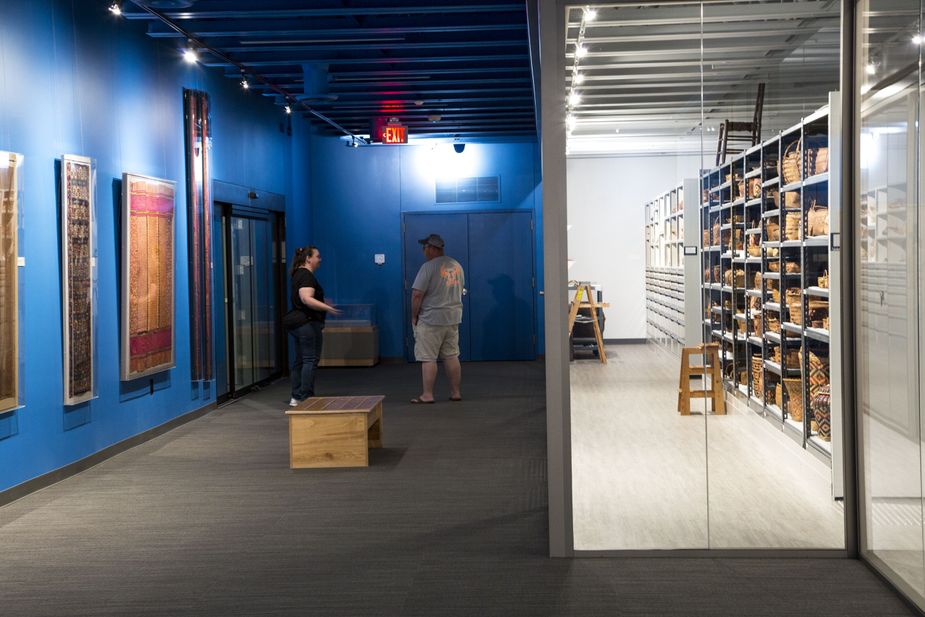 Visitors can view portions of the museum's vault from certain locations within the galleries. Photo by Lori Duckworth
Today, donors from across the country seek out the Museum of the Red River specifically to secure a final home for collections that span a lifetime or even generations of deliberate assemblage. More than nine hundred new acquisitions join the museum's permanent collection from private donor bequests each year. Thanks to these gifts and the staff's considerate curation, the Museum of the Red River now also houses a collection of Amazonian tribal artifacts and modern Southwestern ceramics.
Items not featured in the many galleries of permanent exhibits are stored in a glass-fronted, climate-controlled vault of sorts. Row after row of mechanized shelving hold a literal treasure trove of artifacts and art. Immaculately organized segments highlight such stunning arrays as Cherokee basketry, pre-Columbian portrait vessels, and chinoiserie trinkets that might look at home on the mantel of any eccentric great-uncle but are actually priceless artifacts from many ancient civilizations of the Americas.
What is perhaps the museum's most well-known exhibit found a home here in 2005 with an addition created especially for her display. In 1940, paleontologists found something near Atoka: the fossilized remains of Acrocanthosaurus atokensis, a fearsome, Cretaceous-era predator that now is the state dinosaur of Oklahoma. And in honor of this distinction, the forty-foot-long, fourteen-foot-tall casting of an A. atokensis skeleton discovered in the 1980s in McCurtain County is given place of pride here. The fossil—including the only full skull on public display, with sixty-seven of its sixty-eight teeth intact—towers above visitors beyond the soaring atrium gallery at the entrance.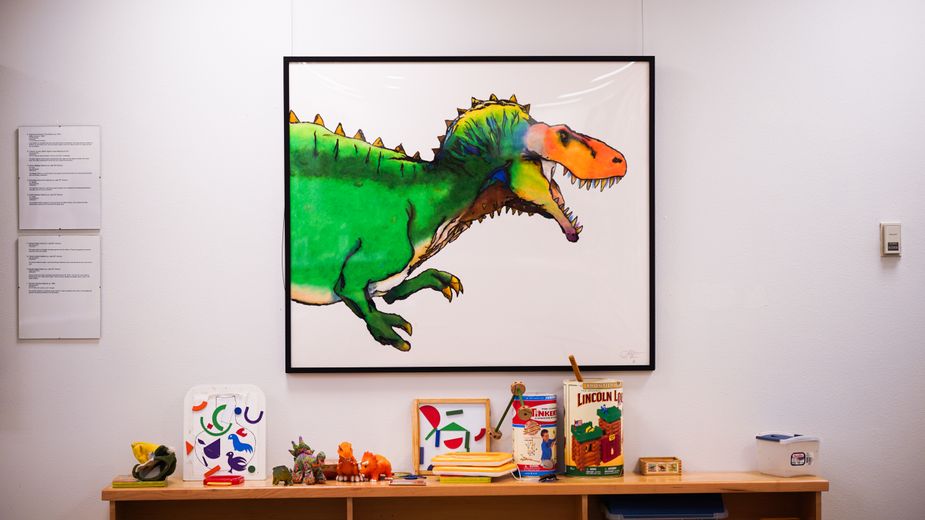 This piece in the Learning Center was created onsite by former artist-in-residence Dan Lenehan of Chicago. Photo by Laci Schwoegler/Retrospec Films
Moy gives the impressive reconstructed skeleton credit for drawing families and school groups from across four states to the museum but says it wasn't an easy sell to the museum's board.
"We had to evaluate our mission as a museum and find a way to incorporate Acrocanthosaurus without changing who we were and what we wanted to be," he says. "We're not a natural history museum; we're a repository of the archaeological ethnography of the Americas and early global civilizations."
Ultimately, however, Quintus and Mary Herron's vision won out.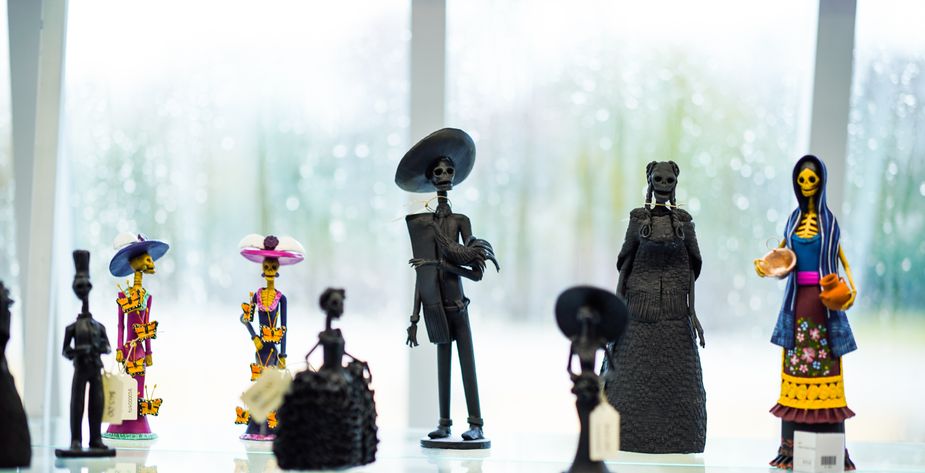 The museum's gift shop includes a selection of Catrina dolls, which traditionally decorate Día de los Muertos altars. Photo by Laci Schwoegler/Retrospec Films
"This discovery was important to the area," says Moy. "It's an example of how deeply connected we are to the story of our planet. Keeping it in the community it came from just seemed like the right thing to do."
Now fresh off a fourth expansion that took the facility to 58,000 square feet, the museum carries the Herrons' legacy of community and culture to a new generation of patrons by meeting them right where they are.
"Any kid whose family goes back a couple of generations around here probably has a cigar box full of arrowheads," Moy says.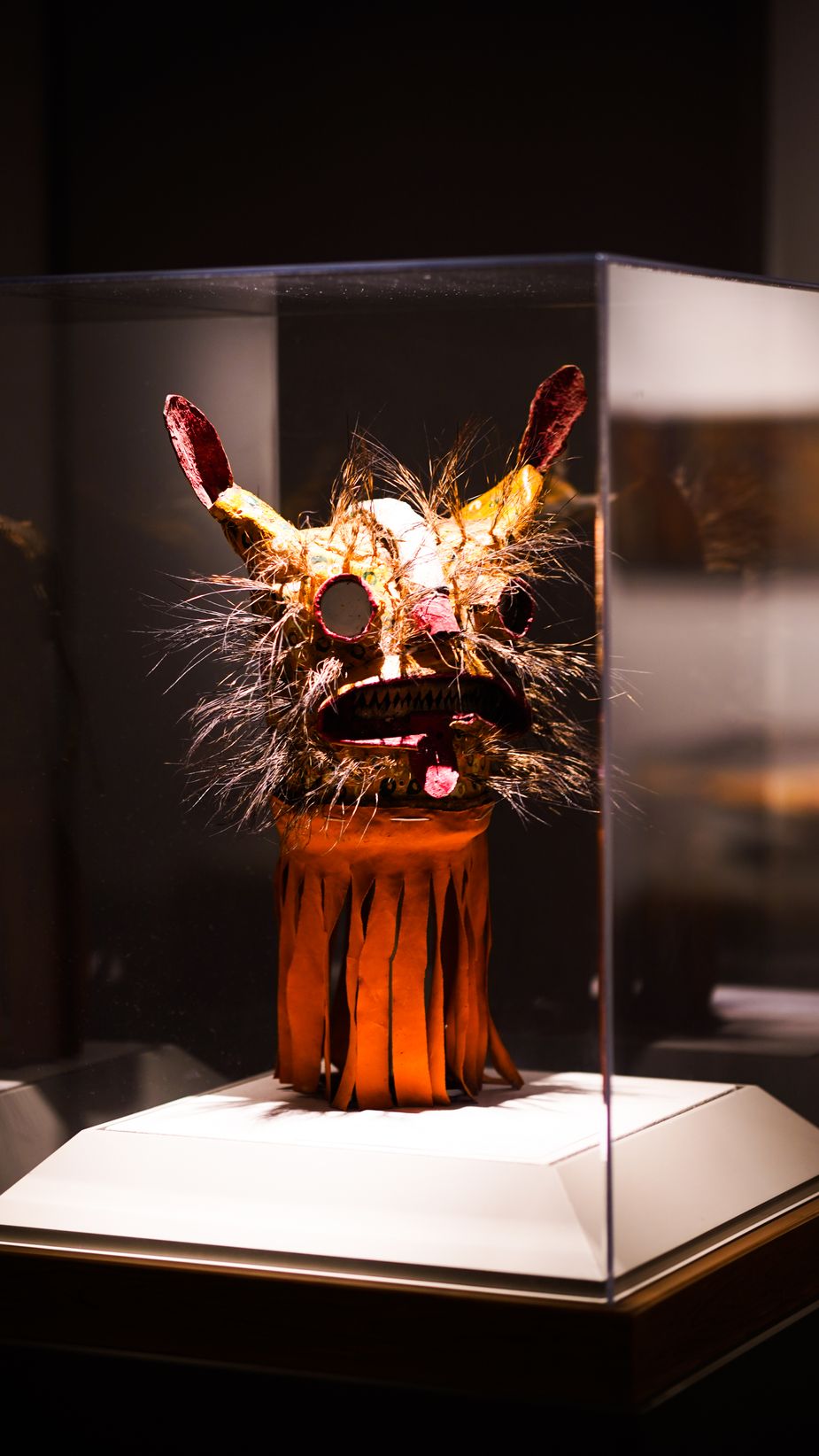 This Nahua "el tigre" mask was made in the Mexican state of Guerrero around 1985 and is worn during festival dances to represent a jaguar character. Photo by Laci Schwoegler/Retrospec Films
Along one wall in the Lifeways Gallery is a row of cabinets with long, slim, labeled drawers that, when opened, reveal rows upon rows of arrowheads that have been divided by visible features—side-notched points, corner-remove points, and base-notched points, to name just a few.
"They can come in here with their collections, pull one out, and ask what kind it is," he says. "We can take a look at their artifacts and say, 'See how yours is notched on the side? Here are some others like yours,' and show them how what they have is part of history."
School groups from the immediate four-state area bring between four and five thousand students to the museum each year, and in spite of recent COVID-19 related closures, free virtual summer camps engaged area children with programs designed around cultural exploration of imperial China for ages eight to twelve and, of course, a dinosaur camp for ages four to seven.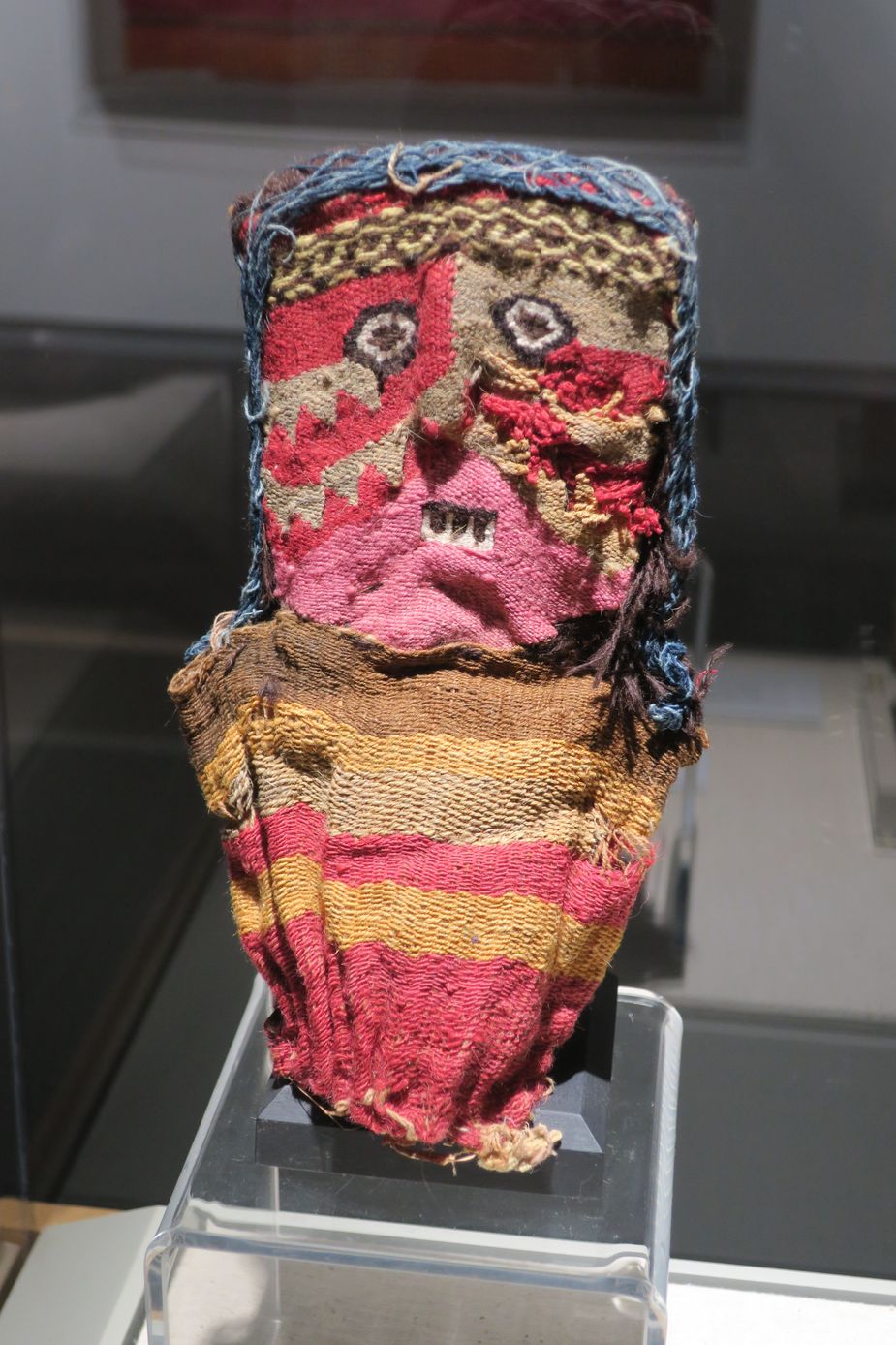 Fabric doll made of cotton and camelid wools from Peru's central coast, circa 1000-1400 (Chancay period) Photo by Megan Rossman
Beyond the utilitarian objects elevated by time to the status of culture, the museum also maintains its own fine art collection and functions as a gallery space for exhibitions by artists from across the community, state, and nation. It is also the final stop on the Seven-States Biennial, an every-two-year exhibition that showcases artists from Oklahoma and its six bordering states. In the alternate year, the museum initiated a biennial exhibition and juried competition for artists eleven to nineteen. This Expressions of Youth exhibit allows young artists to submit two original pieces in any media and was designed with the goal of encouraging artistic opportunities for students from the rural communities near the museum. Throughout the year, the onsite class-room facility sees monthly weekend offerings like the multigenerational "Fun With" and adult classes.
When the most recent expansion was revealed to the public, a Night at the Museum-themed event was planned in conjunction with the local library system. Moy says record crowds showed up.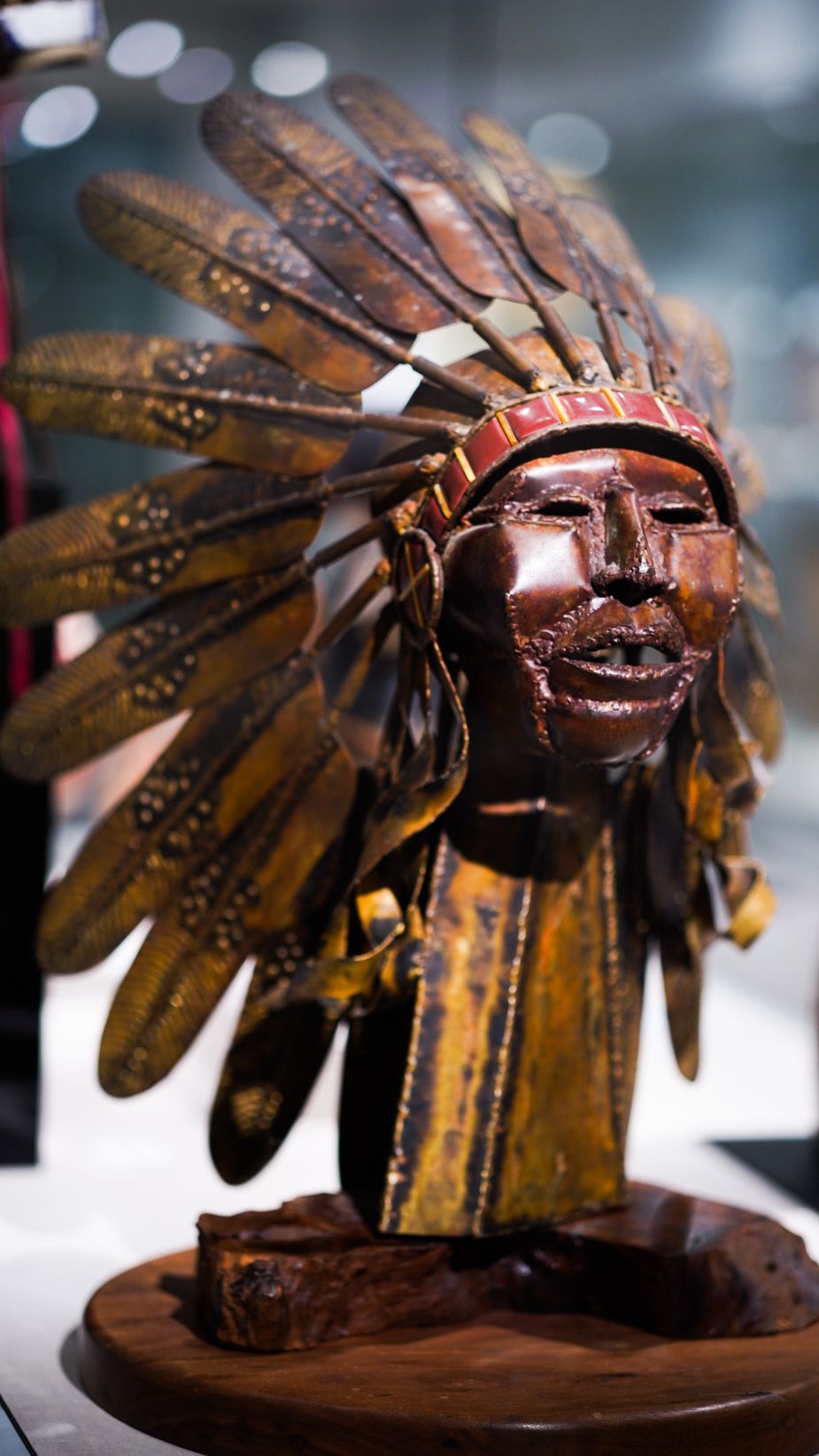 "War Bonnet" by Charles Pratt (Cheyenne/Arapaho), circa 1976 Photo by Laci Schwoegler/Retrospec Films
"When we had a thousand people here, and nobody ran into anything, and nothing got knocked over, I knew we'd planned everything perfectly," he says.
Culture is more than we know and more than we can see. One person's vision can change a community in ways that impact it for generations. Through culture, human beings are connected. Motifs and mediums migrate. The everyday can become art, and everyone can be an artist. Art evolves with us and through us, and the experience is different for everyone.
This inspiration is given form for all entering and leaving the building. In front of the large windows that flood the reception hall with natural light, Raven Kachina, a glass sculpture by Marvin Oliver, catches sunlight and breaks it into prismatic beacons. Oliver's Isleta Pueblo heritage is visible in the kachina doll reference to the Southwest, and his Quinault background provides the inspiration for the totem-like shapes and motifs that recall the influence of the Pacific Northwest. Through one artist, two cultures come together. Through one museum, one world comes together, and Idabel—and all of Oklahoma—are better because of it.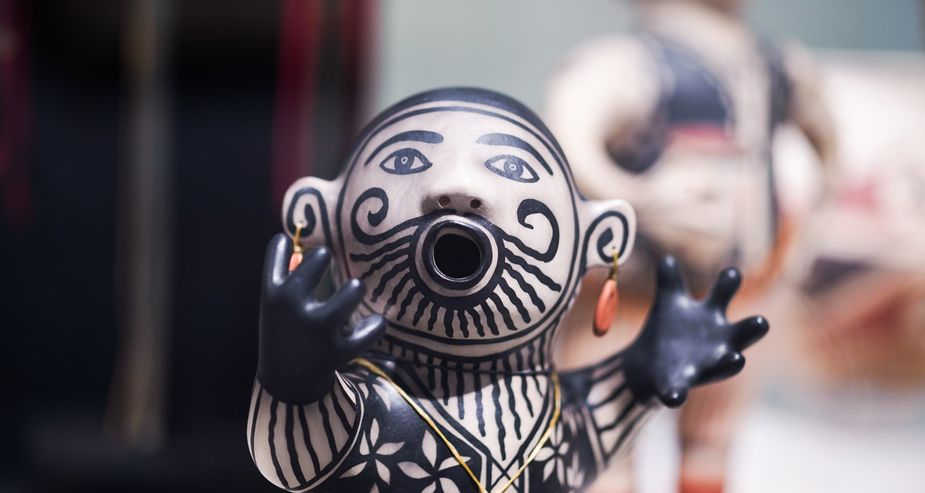 "Opera Singer" by Virgil Ortiz (Cochiti), circa 1990 Photo by Laci Schwoegler/Retrospec Films
Get There
Museum of the Red River, 812 E Lincoln Rd Idabel, OK 74745 or
TravelOK.com