4 minutes
Published May 2019
By Sara Cowan | 4 min read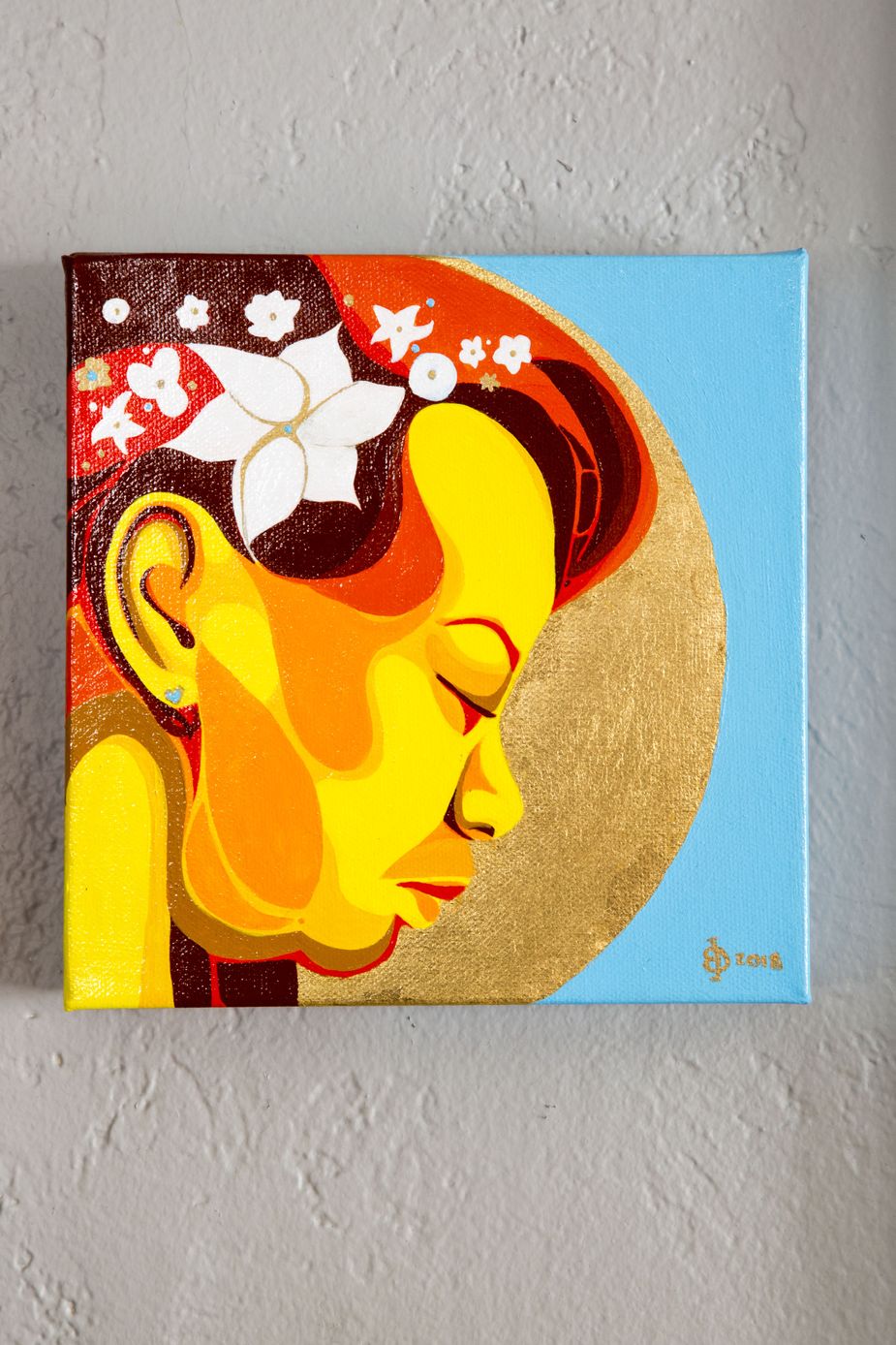 Ebony Iman Dallas weaves family history into vivid images.
Though Ebony Iman Dallas' large acrylic paintings often are vibrant, warm, and joyful, her path to creating a meaningful body of work has been shadowed by loss. Guided by a yearning for connection, her compositions come from a state of seeking that arose out of tragedy.
The Oklahoma City artist always has been driven to learn more about her Somali biological father, who was killed by police in Oklahoma before she was born. Though her mother and his family stayed in touch for a few years, the distance made communication challenging, and they lost contact.
"My whole life, I wanted to know my biological father's family, but I just didn't know how to find them," she says.
She sought help in finding her missing relatives anywhere she could.
"I would write letters to Oprah and Jenny Jones hoping somebody would come up with something, but I never heard back from them," Dallas says.
Though answers didn't come, her biological father and his family never were out of her thoughts. As she studied art at the University of Central Oklahoma in Edmond, her work expressed these recurring themes.
"I did a lot of paintings about my family history when I was learning about my father's family," Dallas says. "I was drawing a lot of pictures of what I thought Africa might be."
After she moved to California to work at an ad agency when she was twenty-three, a chance encounter in a San Francisco nightclub changed her life. She met a man named Hamid who knew her father's family; in fact, he had been asked by her Somali grandmother to look for her in America. Soon after, she began regularly visiting her grandmother and extended family in Hargeisa, Somaliland.
Those trips also inspired Dallas to help artists in the area gain access to resources that have been hard to come by since the Somali Civil War. In March 2010, she founded the Afrikanation Artists Organization based in Hargeisa. The following January, she established a sister organization based in Oklahoma City.
"There were no arts classes or galleries for artists to display their work, because the galleries were destroyed. So our focus has been on education, art supplies, and creating opportunities for artists to showcase their work," she says.
Dallas continues to evolve in her own artistic expression, using new materials and techniques such as fabric, gold leaf, collage, and even human hair. She believes that the pain and loss in her life have led her and her work on a meaningful trajectory.
While creating works for one of her latest series, Through Abahay's Eyes, or Through My Father's Eyes, Dallas took photographs of her biological father, mother, and herself and projected them on her canvas to create paintings of her family together at once.
"I think it all happened the way it was supposed to," Dallas says. "I love all three sides of my family, and I couldn't imagine my life without any of them."
Visit ebonyimandallas.com or afrikanationartists.org to find out more about Ebony Iman Dallas and her nonprofit organizations.