6 minutes
Published June 2022
By Ben Luschen | 6 min read
When Choctaw and Cherokee artist Paul Hacker was growing up, his childhood home always was packed to capacity. His family of six squeezed into the tiny house in south Oklahoma City, and his mother had company over almost every weekend.
"We had a great family, a great neighborhood," Hacker says. "From the corner up there down to I-35 two blocks away, there were probably twenty boys. If you wanted a ball game or whatever, it was a good neighborhood."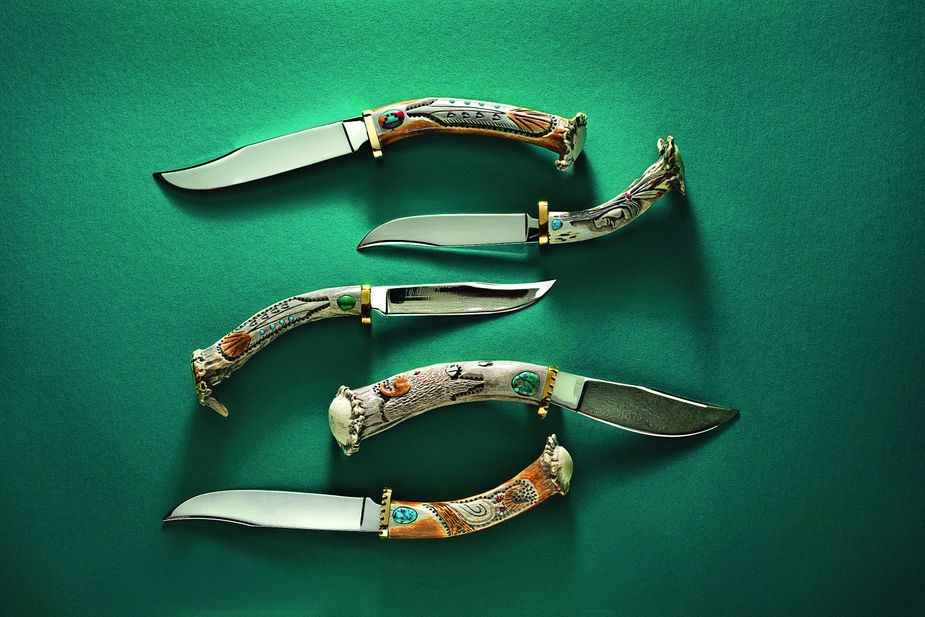 A variety of knives created by Choctaw and Cherokee artist Paul Hacker. Photo by John Jernigan
Today, only Hacker lives in the old family home. Instead of people, the house now overflows with Native American art and relics. Paintings, animal pelts, vintage wares, movie memorabilia, and more cover nearly every inch of the walls and floor. It is a shrine to the Native art world in which Hacker has spent several decades entrenching himself.
Hacker might be best known as a craftsman of artisan knives. Then again, he's recorded eight albums of Native American flute music, selling thousands of copies. Within the last decade, he also has developed a reputation for his ledger art, a style of drawing developed by Plains Indians held in captivity by the United States during the late nineteenth century. In fact, if a style of art ever appeals to Hacker, little prevents him from trying it out for himself.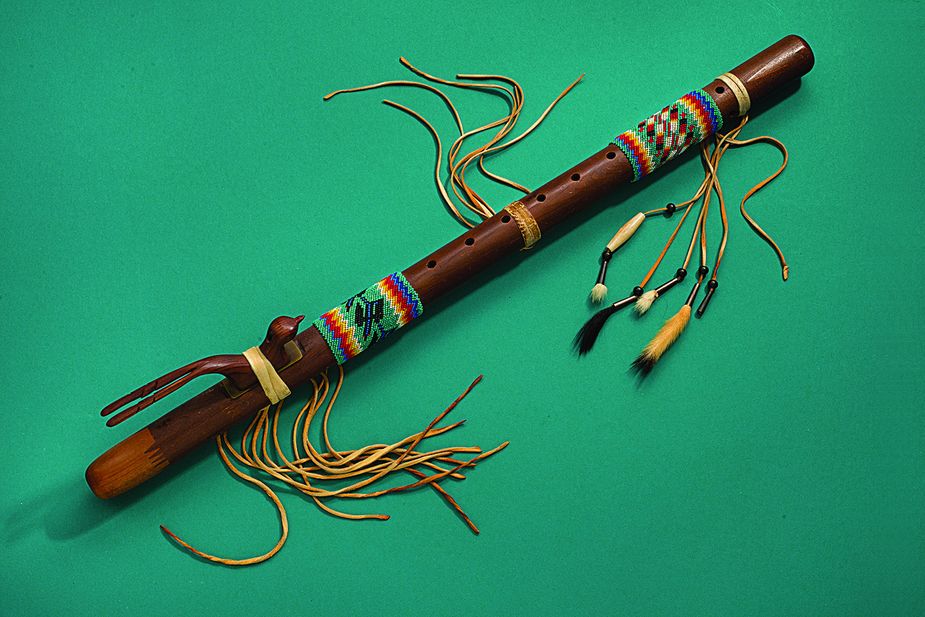 Hacker's art also includes intricately decorated flutes and other media. Photo by John Jernigan
"I just bounce around and it makes art interesting to me," he says. "I get kind of bored with just one thing."
But Hacker spends much of his time crafting knives—he estimates he makes around 300 each year. He sold his first knife more than forty years ago.
"I've done so many of them, I could do them in my sleep," he says.
The mirror-like finish on the blades, as well as the unique design and carving on each handle, can be mesmerizing. Hacker has made knife handles from a variety of materials including ivory, buffalo horn, elk, mule deer, and the jawbones of wolves and grizzly bears. No two handles look the same.
Knives occupy a good deal of Hacker's time, as well as the space inside his small house, but there's much more to see. Among the antiques in the old Hacker home are a stack of thick, leather-bound, hundred-year-old ledger books. The artist's fascination with ledger art first took shape thirty years ago on a tour of Fort Marion in St. Augustine, Florida. Natives who fought back during their forced removal from Oklahoma and surrounding territories were imprisoned at the fort. They would draw scenes of battle and buffalo hunts on the prison walls. Annoyed guards gave them old pieces of ledger paper as a substitute for canvas.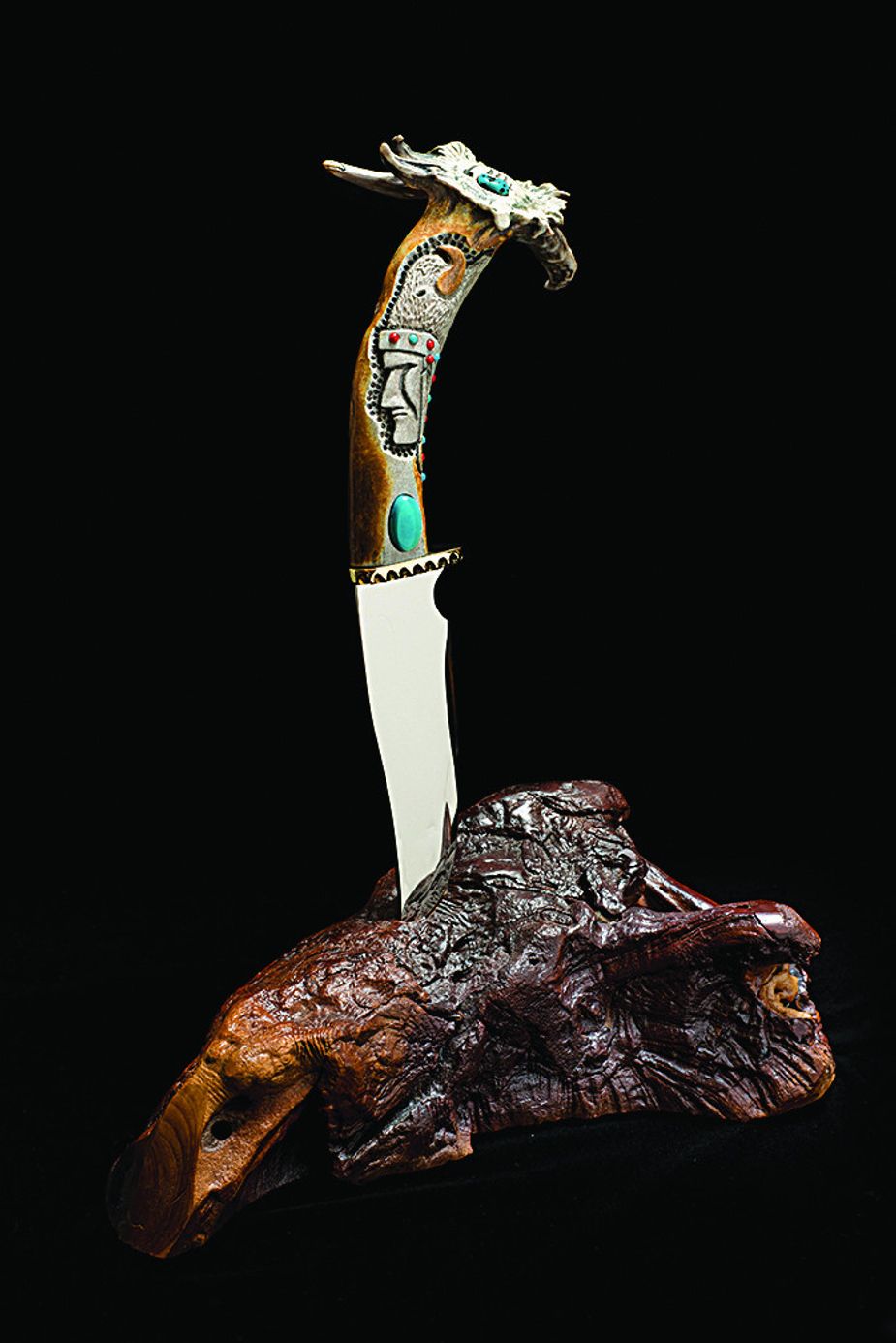 Hacker sold his first knife more than 40 years ago. Photo by John Jernigan
When he returned to Oklahoma City, Hacker bought his first ledger book for about sixteen dollars from a downtown antique store.
"I've probably made $80,000 out of that one book," Hacker says. "It just took off, man."
Hacker's work—be it ledger art, flutes, pottery, or whatever else has struck the artist's fancy lately—can be found across the state, including at the National Cowboy & Western Heritage Museum in Oklahoma City and in several Native American museums and cultural centers, such as the Three Valley Museum in Durant. Hacker exhibits his work in shows across the country, including Oklahoma City's Red Earth Festival.
Though a man of many artistic passions, Hacker's first love is crafting knives. Hacker keeps many in gun cases full of glistening custom steel. Each is a precious piece of art in its own right.
"I like to do the piece and make it really as good as I can make it and give them an artwork that represents me and represents my tribe," he says.
Hacker briefly pauses, his face reflecting off the blade in his hand.
"That's me," he says. "That knife is me."
To learn more about Paul Hacker, visit facebook.com/paulhackerart