Ninety-nine Bullfrogs and Deer on the Wall
5 minutes
Published October 2022
By Becky Carman | 5 min read
One hundred tiny, distinct personalities, ninety-nine of whom went off to live in different homes. But the stinkpot turtle? He stayed with artist Nora Hall, whose Animals of Oklahoma oil painting series captures wildlife large and small—emphasis on the small.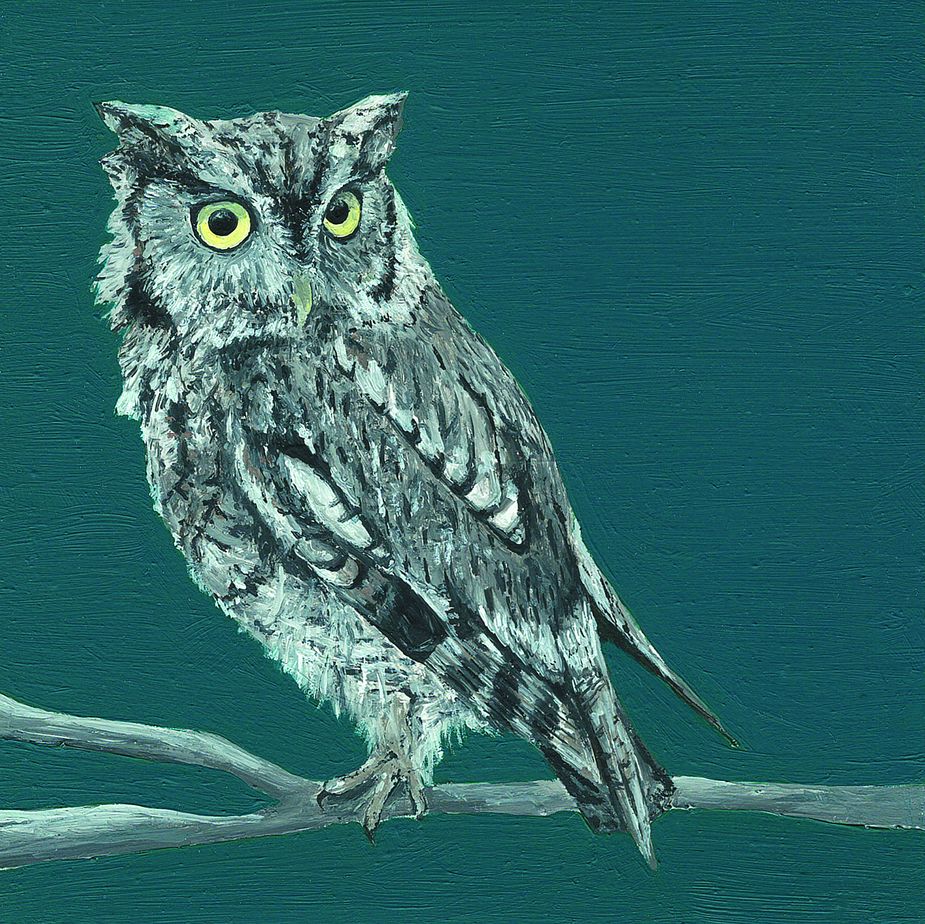 "Eastern Screech Owl" by Nora Hall
The hundred-piece series features six-inch-square oil paintings of a hundred different animals native to Oklahoma. Hall envisioned the project, which she started in October 2018 and finished in November 2021, as a way to challenge herself and build her skill set while also drawing—or painting—attention to Oklahoma's diverse wildlife.
"I researched all animals in Oklahoma and had a huge list of thousands of things, because there's so many, and then, I just started dwindling it down," Hall says. "I knew I needed to put in the really popular ones like bison and the scissortail, but then I also wanted to find some that people are like, 'Wait, does that actually live here?' like mountain lions."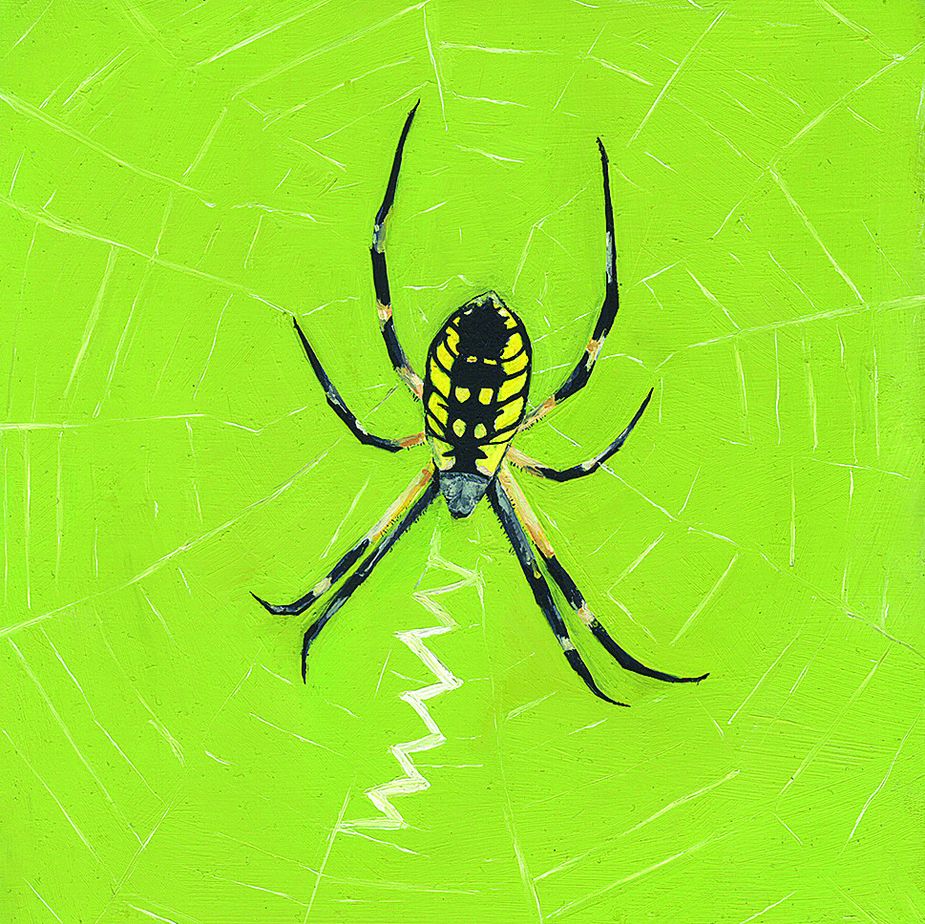 "Garden Orb Spider" by Nora Hall
Each tiny canvas features one Oklahoma creature prominently set over a single, bright color—a departure from what the average viewer might picture when they imagine nature paintings.
"It's totally focused on the animal and nothing else," Hall says. "Color is part of it, but I didn't want the background to detract from the animal itself."
This means the southern flying squirrel is not soaring from tree to tree but instead striking a pose as if to say, "Ta-da!" The timber rattlesnake's face looks a little more perturbed than venomous. The series is a world where ladybugs and mule deer take up equal space. Taken together, the paintings create a statement piece of significant size, and viewed separately, they're charming, accessible portraits of oft-forgotten or unseen wild characters. This may explain why ninety-nine of the paintings sold quickly, and also why Hall's artwork caught the attention of staff members at the Oklahoma Department of Wildlife Conservation.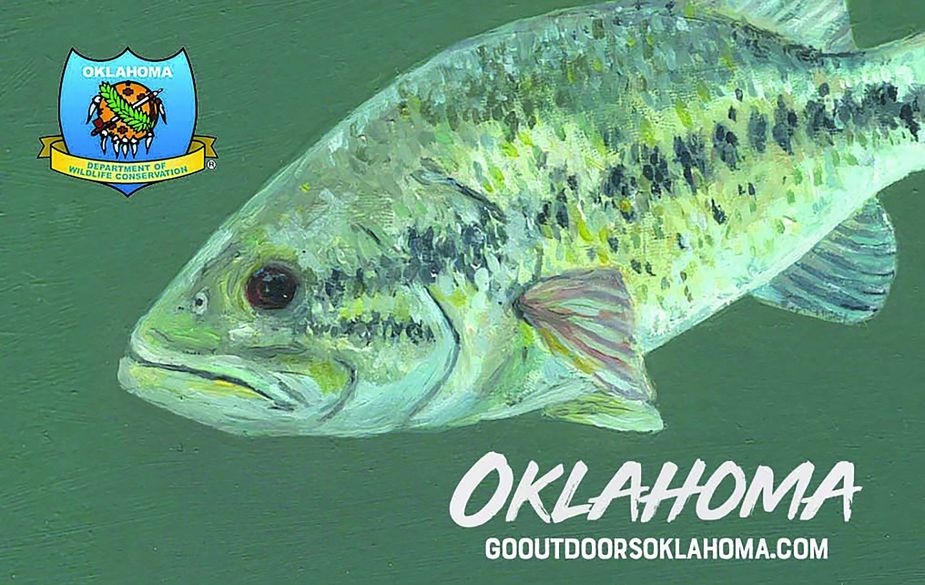 Nora Hall's bass painting on the ODWC license make any wallet a little more glamorous.
"Michael Bergin emailed me and was like, 'Hey, we're starting these hard-card hunting and fishing licenses, and I came across your art online and loved it. I was wondering if we could use the elk,'" Hall says of the ODWC's senior communication and education specialist contacting her in September 2020. "And then they used my bass painting."
Even wildlife enthusiasts who didn't snag a Nora Hall original might still be carrying around one of her portraits in their wallets, and prints and posters of the animals sell regularly via the Oil & Clay Studio Etsy page.
"It's an approachable thing. I wanted to make a big piece but have a lot of people be a part of it," Hall says.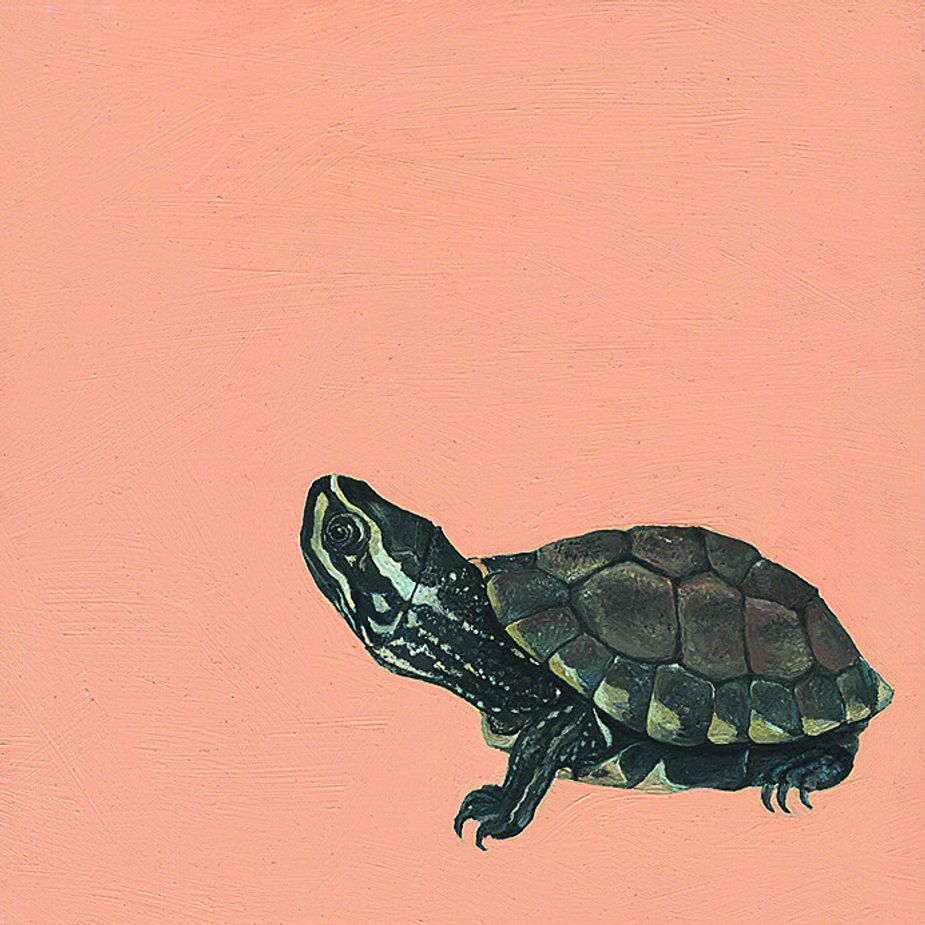 "Stinkpot Turtle" by Nora Hall
This all aligns with Hall's ethos of fine art being for everyone—bullfrogs and chipmunks, sunfish and porcupines are all suitable muses, and no human is too young to get into the mindful practice. A former first-grade teacher, Hall cofounded Norman's Oil & Clay Studio in 2015 with ceramicist Louisa Brewer. Together, they teach students starting at age four.
"Everyone should be doing some kind of art," Hall says.
Prints of the Animals of Oklahoma series are available via Oil & Clay Studio's Etsy store at etsy.com/shop/oilandclaystudio.
Hunters and anglers can purchase a plastic license bearing Hall's bass painting for an extra $5 in addition to the regular licensing fee at wildlifedepartment.com/licensing