5 minutes
Published October 2021
By Hannah Edmondson | 5 min read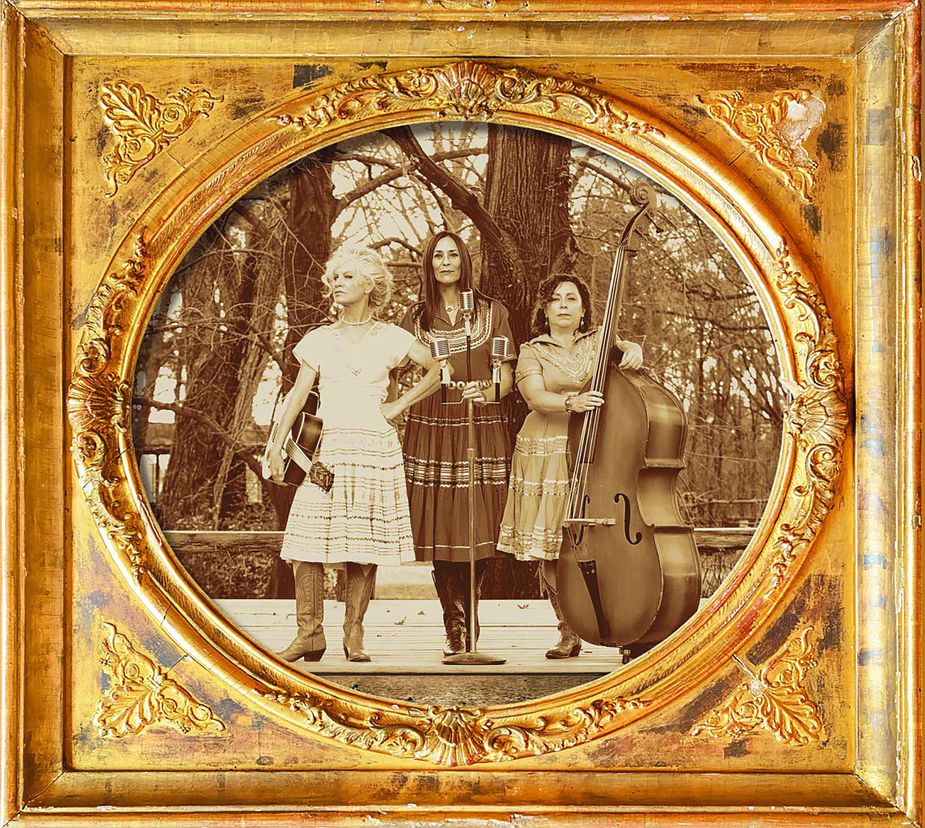 From left: Robin Macy, Monica Taylor, and Lauren White got their band name from a 1941 country song by Cindy Walker.
A pawn shop guitar and time at the farm: It's hardly a coincidence that Monica Taylor's life story reads like lyrics to an old country song. Raised in Perkins on Western swing records and the Sanders Family Bluegrass Festival in McAlester, Taylor's exposure to the classic country canon started early.
"As a little girl, I heard Bob Wills records when I was going to sleep," Taylor says.
In the fourth grade, Taylor's aunt Carlotta Davis gave her a twelve-string guitar. Roughly a decade later, Taylor started writing her own tunes. Her songwriting roots are deeply planted in Red Dirt music—a style born on the outskirts of Stillwater.
Before he formed the Red Dirt Rangers, John Cooper and his friend Danny Pierce inadvertently helped forge a musical movement. Fondly called "The Farm," Cooper's home—which he shared with many musicians—was a welcoming Land Run-era farmhouse for musicians and songwriters to congregate. It was at this two-story home on the edge of town that Taylor witnessed the origins of Red Dirt.
"Everybody brings something to the picking circle, whether it be the Tulsa Sound, bluegrass, gospel, rock-n-roll . . . and everybody gets to take a bit of that melting pot with them," Taylor says.
Taylor cultivated her signature sound in the presence of Red Dirt's forefathers, with greats like Tom Skinner, Jimmy LaFave, and Bob Childers all putting wind in her creative sails. Though she was one of very few women in The Farm's musical fold, Taylor made her graceful voice heard.
"I started singing harmony with all of the folks at The Farm," she says. "I could see early on that they had their brotherhood, but they were all welcoming to me."
Childers and LaFave eventually christened Taylor the Cimarron Songbird, a nickname as flattering as it is fitting.
In 2007, Taylor built a house on the plot of land where she was raised, modeling her home after the barn where she spent much of her childhood. Her down-home abode quickly became a popular venue for local talents and traveling musicians. In 2012, she was commissioned to kickstart a concert series at the Old Church in Perkins. By April of that year, the Cimarron Breeze Concert Series had hosted its first talent: fellow Farm alumnus Jimmy LaFave. Taylor's ease making musical connections not only helped her bolster the Cimarron Breeze lineup but also catalyzed a legendary collaboration.
Maternal instincts brought Taylor and Dixie Chicks cofounder Robin Macy together around 2001, when Macy's mother predicted that the two vocalists would be friends. After the Oklahoma International Bluegrass Festival in Guthrie, Macy invited Taylor over for supper along with Jennifer Pattersen. The Cherokee Maidens, a swingin' bluegrass ensemble, emerged—though Pattersen eventually would be replaced by Lauren "Sis" White, Macy's sister-in-law.
Macy's home is in Kansas, and White resides in Kentucky, but the tristate trio has proven they will travel wherever a good gig may lead. Sycamore Swing, the band featured on all three of the Maidens' studio albums, also accompanies the trio for their live performances. Bandleader Kenny White—brother of Lauren White—fine tunes the group to ensure that each member brings the same caliber of musicianship to each show.
"After months apart, we can walk into a venue after everyone has just flown in or driven in and just begin to play," says Taylor. "It's so much fun."
Taylor has been keeping busy working on her fourth solo album, The Barnhouse Sessions, and playing shows alongside her partner-in-rhyme and life, Travis Fite. The couple also is producing a Red Dirt compilation album, which will feature familiar tunes and a roster of Red Dirt legends.
It seems that Monica Taylor has built a life much like her Perkins barn house: close to her roots and brimming with music.
For more information, visit cimarronbreeze.com or monicataylormusic.com