5 minutes
Published November 2021
By Ben Luschen | 5 min read
Mental health care can be hard to find for many post-9/11 military veterans in Oklahoma and around the country. Picking out a clinic that fits a patient's personalized needs and availability is a challenge in its own right, and that's before navigating the bureaucratic hoops often necessary for enrollment. Any little inconvenience can turn into an obstacle that can prevent a veteran from accessing the care they need and deserve.
"That's not just veterans, that's mental health across America," says Anthony Hassan, CEO and president of Cohen Veterans Network, which is based in the northeastern part of the country and has provided veteran mental health services in the United States since 2016. "We've got a problem in our country accessing quality care, period."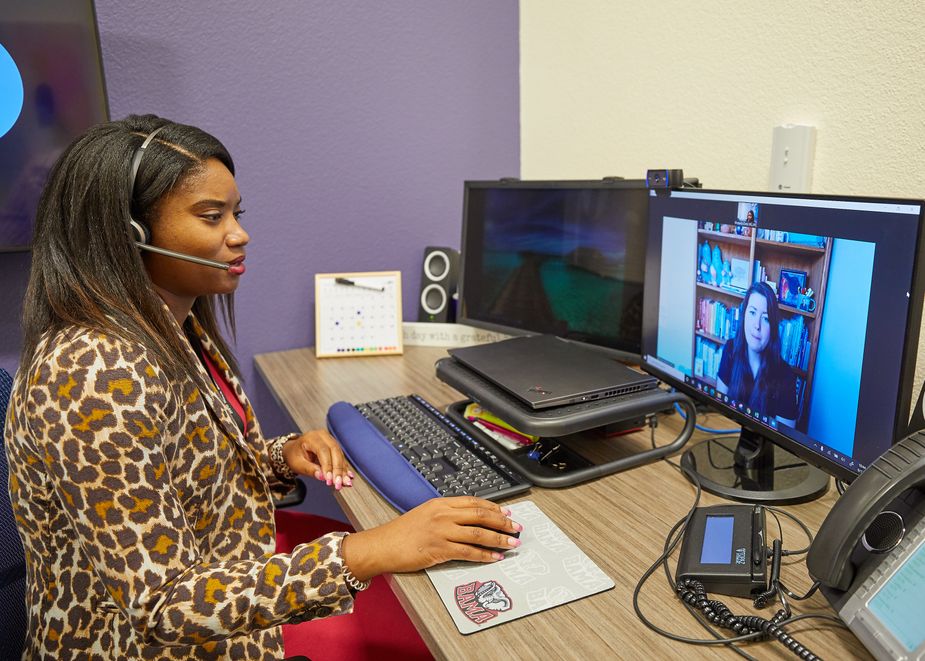 Though The Steven A. Cohen Military Family Clinic at Red Rock is open for in-person visits, patients can still choose remote telehealth appointments. Photo by Mike Mazzo
CVN's new Steven A. Cohen Military Family Clinic at Red Rock in Lawton is geared toward eliminating as many barriers to care as possible. The not-for-profit clinic, which opened for telehealth in October 2020 and in-person visits in May 2021, provides evidence-based practices for veterans and their families, none of whom will be denied treatment because of an inability to pay. In addition to telehealth, CVN also offers transportation to clinics, in-home services, childcare, and many other resource connections.
The Cohen Clinic at Red Rock features multiple counseling offices and a family room. A conference room is set up for group therapies and training sessions. Clinical Director Amista Chambers says the Lawton clinic's case management services link veterans to helpful resources and help them fill out applications for things like college and benefits they might not have known about otherwise.
"I would think that really stands out differently from community health case management," she says. "It really is a different type of case management."
Staff Sergeant Ryan Pitts, a New Hampshire native who attended basic training and advanced individual training at Ft. Sill and departed U.S. Army active service in 2009 after two deployments in Afghanistan, is a CVN representative and spends much of his time encouraging fellow post-9/11 veterans to seek care. One of the most common things he tells vets is that mental health care is not just for them but for those they love as well.
"You're not weak for doing it," Pitts says. "You're showing a tremendous amount of humility and strength by saying, 'This is something I need help with.' We all need help at some point in our lives, and this isn't any different."
Pitts was awarded the Medal of Honor for returning fire on enemy forces following a rocket-propelled grenade attack on the Wanat Vehicle Patrol Base in 2008 during his second deployment in Afghanistan. Despite heavy casualties and his own severe injuries, Pitts held off enemy advancement until reinforcements arrived.
That day haunted Pitts and his friends—even into their civilian lives and perhaps in ways deeper than they were willing to admit. Pitts resisted help at first. Soon, though, he worked up the courage to pick up the phone and make an appointment.
"It felt so heavy," he says. "Each number felt like it took forever; waiting for the phone to ring felt like it took forever. But now I've done it more than once, and it got easier every time, and now I recognize that your mental health, just like your other health, is something that has to be maintained."
The Cohen Veterans Network does not turn away veterans over discharge status or era of service. Hassan says his clinics focus on post-9/11 veterans to get ahead of problems in their early stages, not allowing them to grow into something more.
"We got involved early with this generation of veterans," Hassan says. "We can help them sooner save their lives, save their families, and save their children's futures by staying engaged."
The Steven A. Cohen Military Family Clinic at Red Rock
4202 Southwest Lee Boulevard in Lawton
(580) 771-2662
[red-rock.com/military-family-services](external:http://red-rock.com/military-family-services