6 minutes
Published September 2021
By Megan Rossman | 6 min read
My only regret about ArtNow at Oklahoma Contemporary in Oklahoma City is that I did not see it sooner. This exhibit runs through September 13, so hurry up, do yourself a favor, and feast your eyes on the incredible talents of these twenty-seven Oklahoma artists.
I drift through some exhibits quickly. Twenty minutes and I'm out. This was not one. I lingered here, returning to certain pieces over and over, and left with that engenerized afterglow that comes when you've truly been inspired: "I want to make things, too! I should take an art class! I should use that weekly Michael's craft store coupon to buy canvas! How do I be a metalsmith?!"
And that is why art exists and persists. It moves us—sometimes before we're even aware of it. Sometimes when we don't want it to. At its best, it makes us want to see more, and maybe even do more. Art also speaks for itself way better than I can. So, with that, I present to you below a few of my own personal favorites in ArtNow, although this is by no means inclusive of the diverse array of virtuosity on display. I can't show you the whole thing. Come see for yourself™.
Let's talk about Kyle Larson, who has three oil paintings in the show. A California native, he's now the Director of Visual Arts, Assistant Professor of Art, and Director of Artist-in-Residence Program at Northwestern Oklahoma State University in Alva. As the exhibit catalogue explains, Dream Flight Over (Fire) "reflects Larson's experience of hearing about California's massive wildfires while isolating in rural Oklahoma during the COVID-19 pandemic." Residing in layers, both literal and figurative, the spectre of an alligator emerges from a forest of billowing, hazy colors before tiny onlookers in the foreground.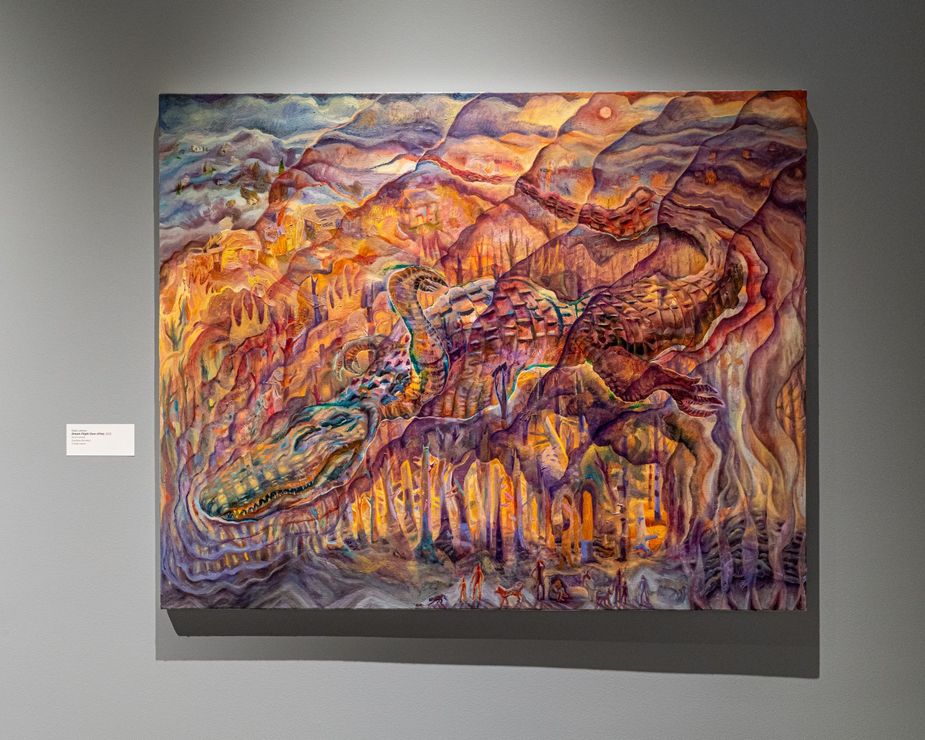 "Dream Flight Over (Fire)" by Kyle Larson
In The Road Home, another murky reptile winds its way throughout a wavy landscape, paving a pathway for the struggling figure referenced in its title.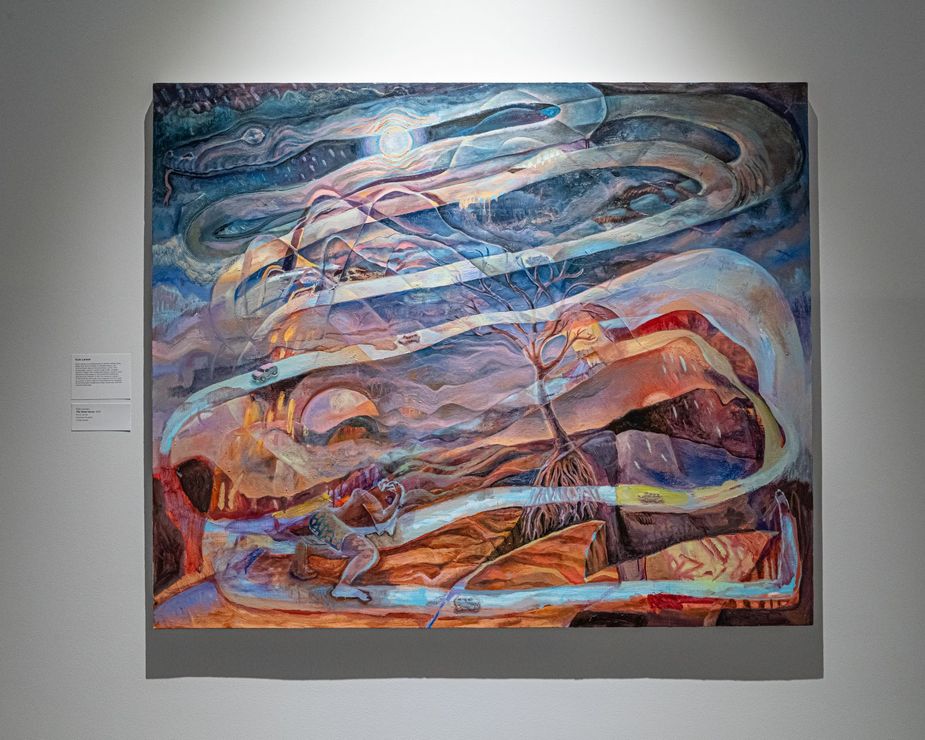 "The Road Home" by Kyle Larson
Laser-cut cascades of paper with ink gold leaf form Sarah Ahmad's Quilting Patterns of Identity installation. It weaves Pakistani quilt designs with those from the Gilcrease Museum in Tulsa and is a nod to the women, particularly immigrant women, who sew their stories and culture into quilts. The show also includes digital prints by Ahmad. In this series that looks at culture, womanhood, and identity, a solitary red-shrouded woman appears in technicolor forest scenes.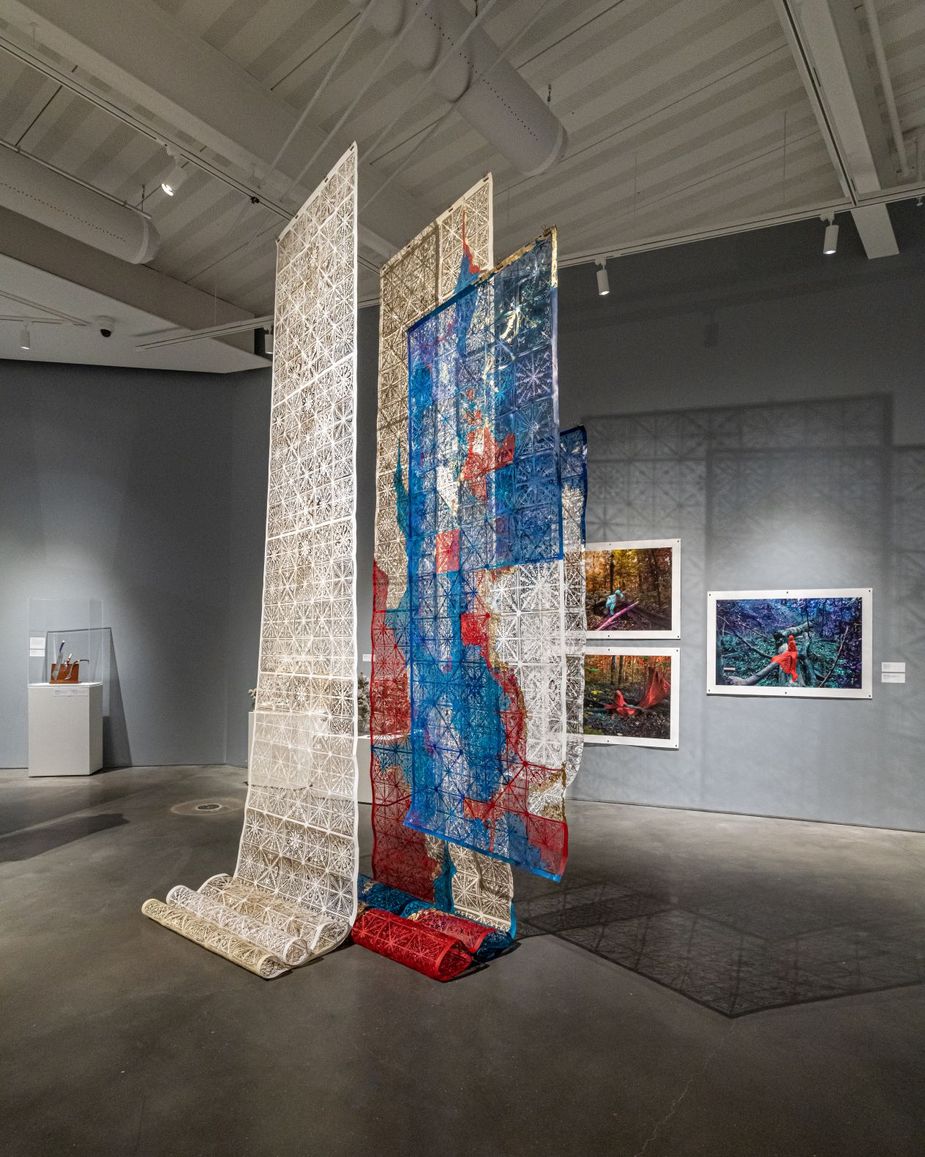 "Quilting Patterns of Identity" by Sarah Ahmad
The four highly textured pieces by Karam were the hardest not to touch. At first glance, I thought these were rugs hanging on the wall, because the loops of sculpted paint in three of the pieces look like a weaving of colorful telephone cords—if you're old enough to remember what telephone cords look like. To create them she pipes layers of acrylic paint and gel onto a canvas through pastry bags. In her fourth piece Arirang, layers of white acrylic are peeled away to reveal a rainbow of stripes underneath.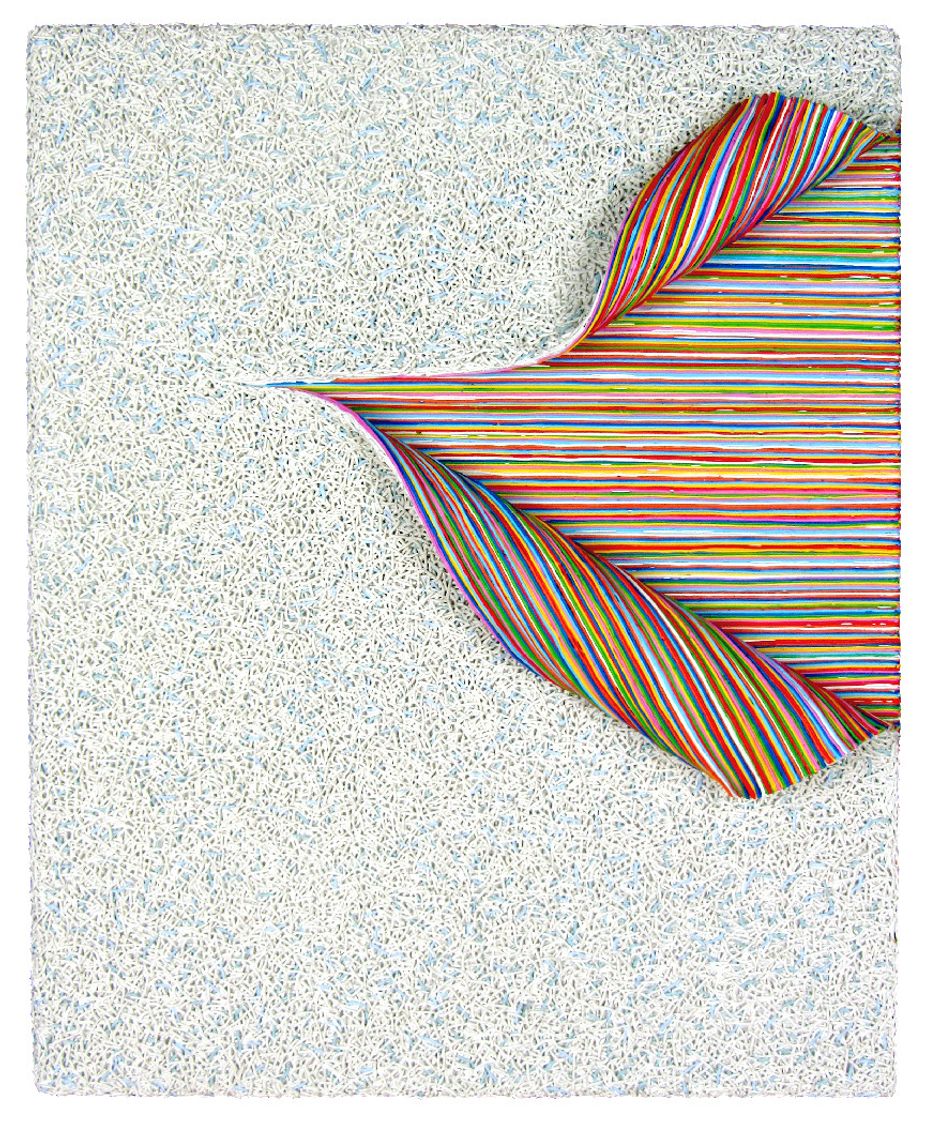 "Arirang" by Karam Cheong
Although Edward Grady is retired as a Langston University art professor and curator at the Black Heritage Center, he continues to paint intricately detailed works—often portraits of black men and women. His combination of vivid colors palettes, patterns, and textures creates a final product that looks strikingly like beadwork in many instances.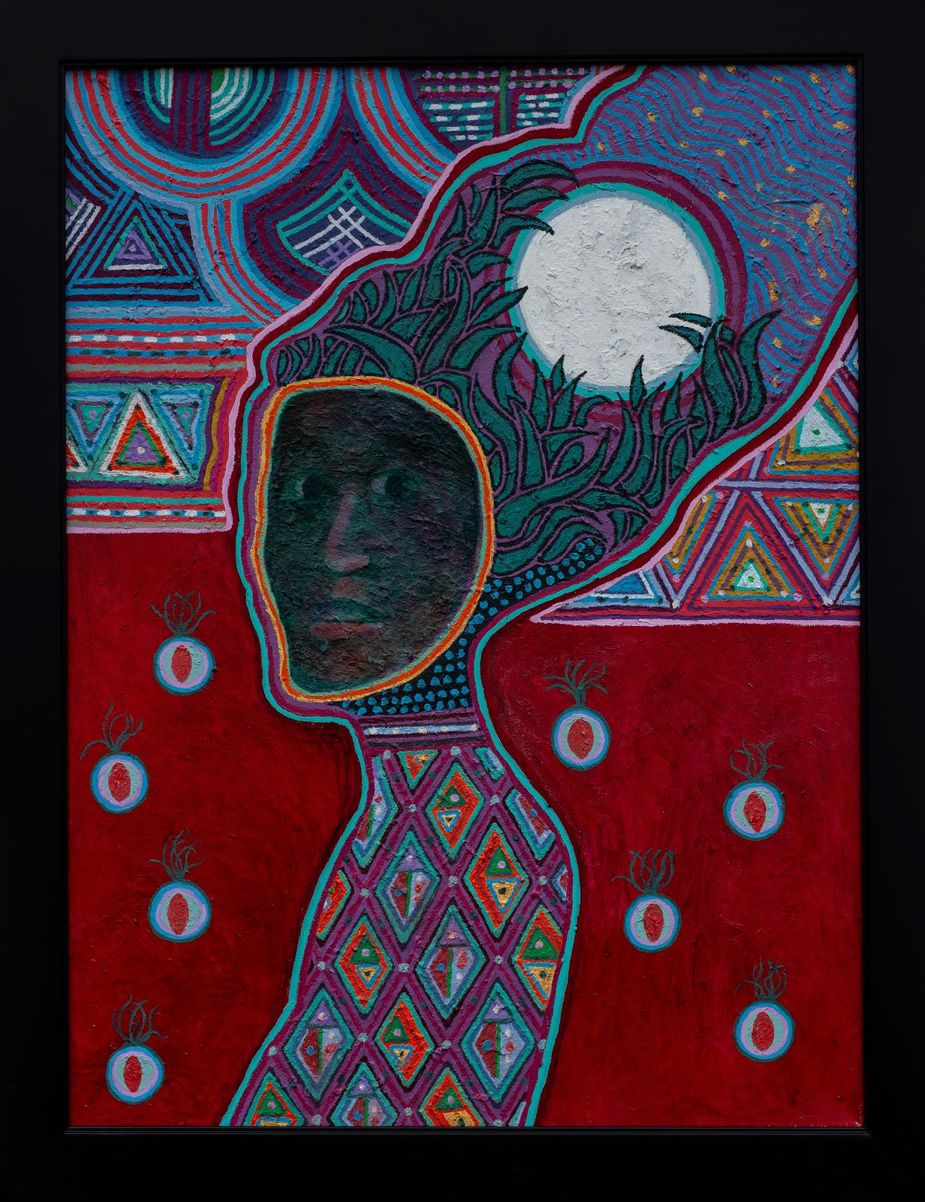 "Midnight" by Edward Grady. Photo by Alexis Austin
The human world intervenes with nature in Carrie Kouts' sculptural pieces. In Dominion, a delicate forest intertwined with telephone poles and cables sprouts from a concrete block. The soot-colored wash of gray over everything brings to mind a post-wildfire scene.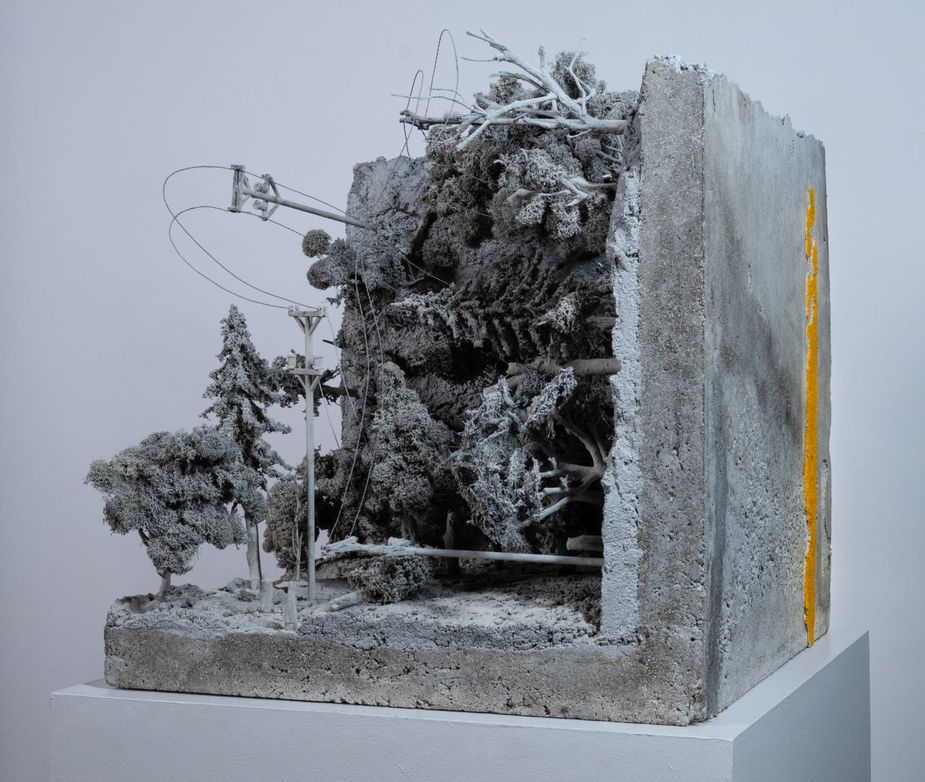 "Dominion" by Carrie Kouts. Photo by Matt Miller
It will be hard to miss Bert Seabourn, the recipient of this year's ArtNow Focus Award, who has a whopping thirteen works in the show. As someone who can't get enough raptors, his acrylic on canvas Red Tail is my favorite.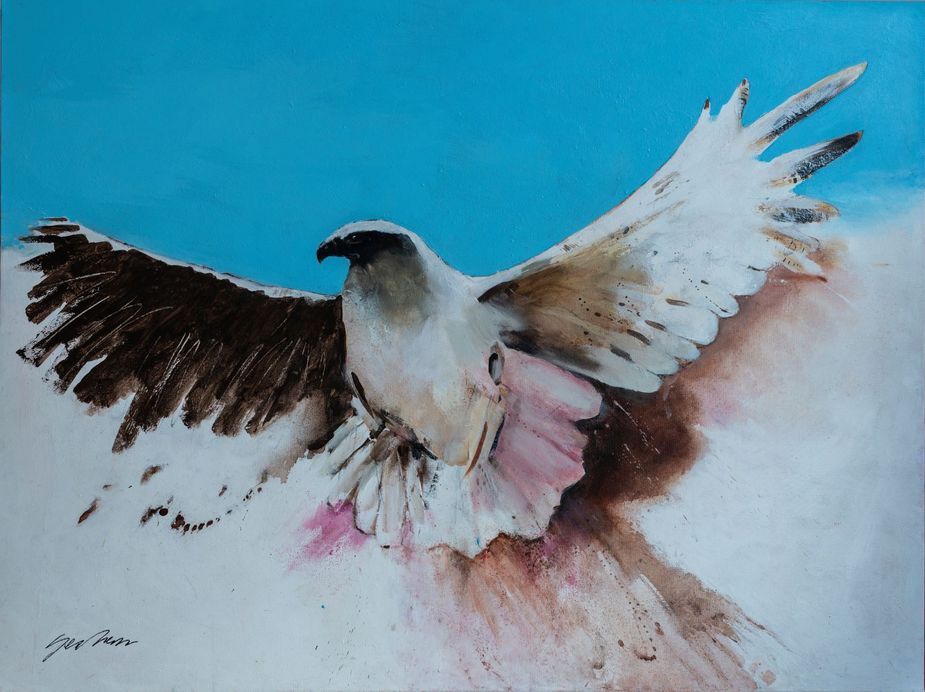 "Red Tail" by Bert Seabourn. Photo by Alexis Austin
As I mentioned already, ArtNow runs through September 13. While you're there, stop in to see Crystal Z. Campbell's light/sound/film installation Flight, which examines the Tulsa Race Massacre. On the third floor, We Believed in the Sun showcases works by Ron Tarver and Ebony Iman Dallas and explores their family roots within Oklahoma and the struggle and history of Black Oklahomans.