6 minutes
Published May 2023
By Jim Logan | 6 min read
The Sooner State holds claim to more Miss Americas, per capita, than any other. While New York has had seven and the Sooner State is tied at six with California, Oklahoma has achieved it with a population of only a fifth and a tenth, respectively, of the other two. However, few queens created more sensation or controversy than our first: Bristow's Norma Smallwood, who won in 1926.
In the Roaring 1920s, the eighteen-year-old sophomore art major at Oklahoma College for Women in Chickasha was a departure from the short-haired flapper look then in vogue—instead, she wore her long, brunette hair in a braided bun, pinned to the side of her face. Adept at riding, swimming, and tennis, she became the pageant's first-ever winner to claim Native American (Cherokee) heritage—though this claim hasn't been definitively proven—and the first to win both evening gown and swimsuit competitions. With her direct, spontaneous answers winning over both audience and judges, her selection proved enormously popular.
"Miss Smallwood is so quiet, poised, and graceful that the judges were mystified by her beauty and charmed by her wonderful smile," reported the Tulsa World.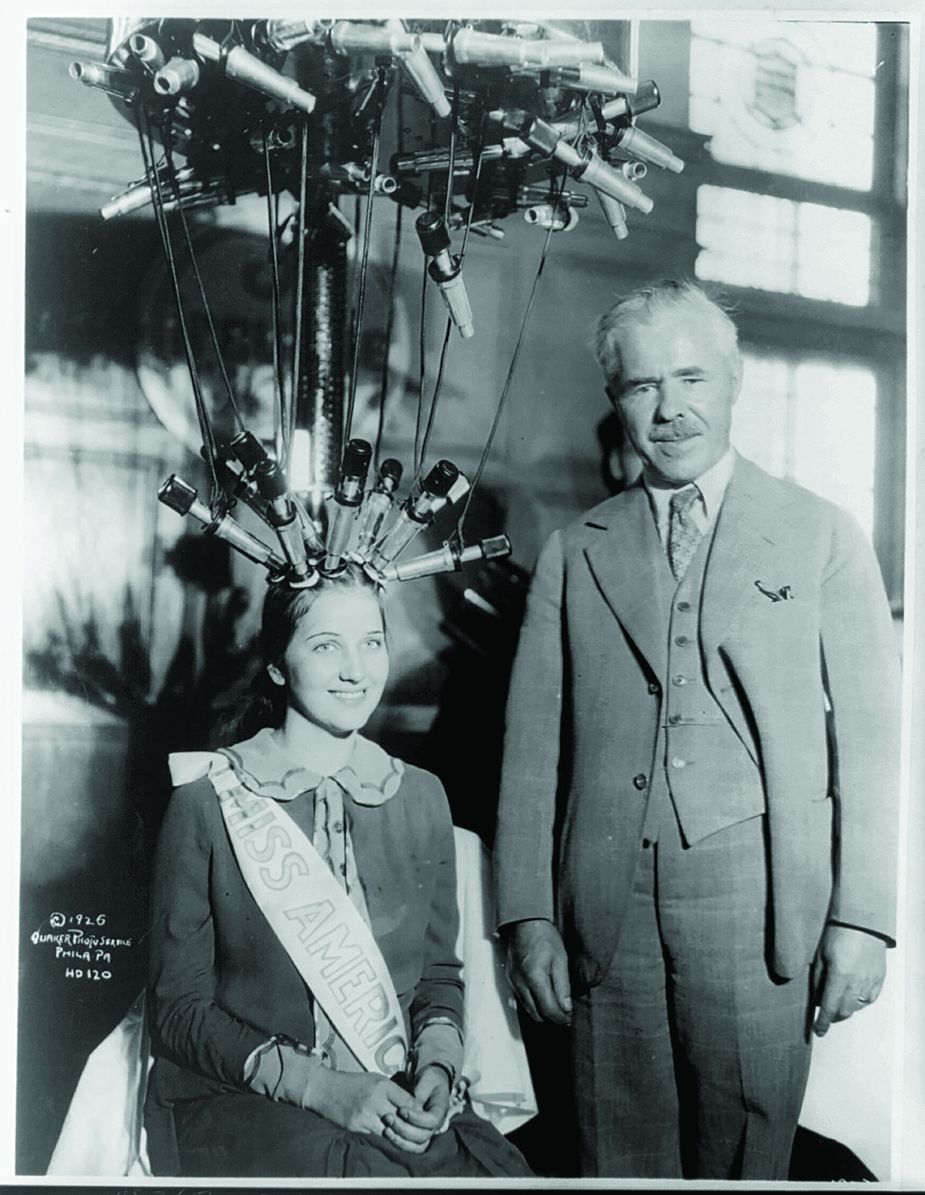 Norma Smallwood tries out Charles Nessler's new permanent wave machine in October of 1926. Photo courtesy Library of Congress
One of those judges, noted artist Haskell Coffin, had nothing but glowing praise for Smallwood.
"Without doubt, Miss Smallwood is the most beautiful girl ever entered in a pageant in Atlantic City, considering her from the point of perfect combination of intelligence, personality, and physical beauty," Coffin said. "This makes her a representative American girl, entirely apart from other girls of this and previous years."
On her return home, a cheering throng of twenty-five thousand greeted her at the railway station. But during her year-long reign as Miss America, a different side of Smallwood began to emerge. Largely regarded as the first financially savvy recipient, she became a poster girl for both Meadows Washing Machines and Westinghouse and left school when offered $1,500 a week to do vaudeville. Her earnings from appearances and endorsements that year exceeded $100,000—more than Babe Ruth or President Calvin Coolidge—something that didn't sit well with the public or pageant officials.
Following a highly publicized romance with the son of a prominent Pittsburgh businessman, Smallwood received more bad press when she requested $600 to attend the next year's pageant to pass on the crown then left early when pageant officials refused. Her public drinking in the company of numerous male admirers and rebellion against conventional female behavior took a toll on her Miss America image but not on her allure.
Oil baron Thomas Gilcrease was a divorced father when he met Smallwood at a Tulsa party a year later. Immediately smitten, he whisked her off to Paris, and, following a whirlwind courtship, presented her with a prenuptial contract and 4.5-carat diamond ring. They were married in September 1928. She was twenty, and he was thirty-eight. They lived for a time in Paris, where she studied French, Spanish, and art. She eventually returned to the Gilcrease mansion in Tulsa, while he spent much time traveling between continents.
A daughter, Des Cygne L'Amour Gilcrease, was born in 1929, and Smallwood's mother moved in shortly thereafter. It was then, according to Thomas, that their "happy and harmonious" marriage began to crumble. Aside from his mother-in-law's presence, Thomas also was not fond of the company his wife kept.
According to the divorce filing, "He charged that defendant had been guilty of improper conduct by carrying on drinking parties at his home, and that she had allowed various men to take liberties with her person, and was guilty of adultery with one Charleton Genet."
Smallwood denied all the accusations, including the affair with Genet, son of a well-known Tulsa businessman. Nevertheless, Thomas filed for divorce in 1933.
Following a year-long court case that attracted national attention, Thomas was awarded custody of his daughter. Initially given $72,000 in alimony on the condition she not remarry, Smallwood opted for $15,000 and married oilman George Bruce.
By all accounts, her later years were comparatively quiet, with little mention of her Miss America days. She became active in charitable causes through her Episcopal Church in Wichita, Kansas, and died in her sleep a few days shy of her fifty-eighth birthday of undisclosed causes in 1966.