18 minutes
Published May 2020
By Ben Luschen | 18 min read
COVID-19 has impacted this year's deadCenter Film Festival. See the end of the story, which first saw print in our May-June 2020 issue, for updated information on this year's virtual festival.
Other than history's most famous Nazarene, there are few who can truly say they've raised the dead. Cacky Poarch and Melissa Scaramucci are two Oklahomans who can claim just that.
Granted, deadCenter Film Festival was only "dead" by name when the two inherited administrative responsibilities from the event's founders in 2003. But the then three-year-old independent film festival was far from the bona fide Oklahoma City institution with a zealous following many now know.
Nowadays, getting into one of the festival's screenings counts as a competitive sport, as newcomers likely will find out for themselves as the film festival celebrates its twentieth anniversary this June across various venues in downtown Oklahoma City. But attracting consistent screening crowds once was a challenge for the fledgling festival.
Against the odds, Poarch and Scaramucci wrapped up deadCenter 2003 as an overall success. After breaking down and cleaning up the night's final screening, they headed to a downtown sushi bar, where an official closing-night party was planned. Poarch did not see anyone on the patio as she approached. The night was still, and it appeared as if everyone had gone home. The women each took a door, fully expecting to see an empty bar. Instead, a room packed with deadCenter filmmakers and patrons turned to greet them. The pair received a raucous hero's welcome—worthy recognition for a completed miracle.
"It makes me want to cry," Poarch says of the memory. "Everyone was so excited about deadCenter and excited about the experience they had."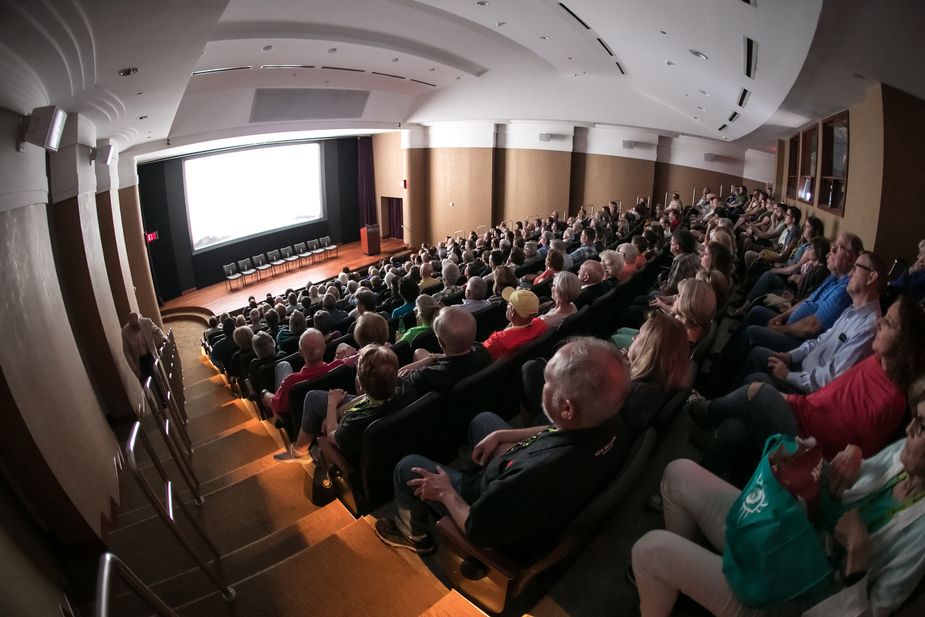 The Oklahoma City Museum of Art was one of more than half a dozen screening venues for the deadCenter Film Festival in downtown Oklahoma City. This year's festival will be virtual. Photo by J. Wiggins
Justan and Jayson Floyd are the kind of brothers who tease and roast one another relentlessly from dawn to dusk. There is not a name in the book one has not already called the other, but the second someone from outside the family raises even a single antagonistic peep against one, you can bet the other is already up in defense. Justan, a director of photography and camera operator thriving in Oklahoma's film industry, first shared his idea for a Sundance-like film festival—but located in the country's "dead-center"—at a Floyd family reunion in 2000. Jayson, the older brother and a teacher by trade, called the idea harebrained—then said he wanted in.
Justan's "deadCenter" moniker now is an asset to the festival. It's marketing gold: bold, distinctive, emotive, a conversation starter. The name carried so much weight that it nearly crushed the festival from its inception. After the first set of posters and flyers were distributed about town, Justan and Jayson got phone calls ranging from concerned to angry. People thought the deadCenter name was morbid and distasteful. Some thought it was a reference to the Oklahoma City bombing.
"I did it because it engaged people, and it created a conversation," Justan says. "And it was legitimately the middle of the United States. I never equated anything bad with it until we put posters up, and people started calling."
Despite the adversity, the Floyds continued without compromise, holding the first deadCenter Film Festival at City Arts Center—now known as Oklahoma Contemporary—at the state fairgrounds.
"We didn't know what to expect," Jayson says. "It was a Ma-and-Pa operation."
The Floyds' mother, Doris, was behind the grill, cooking hot dogs for hungry cinemaphiles. Between fifty and sixty total short films were split into two six-hour chunks shown over two days. There was just one screening room, and there were no breaks or intermissions.
Before the festival, Justan and Jayson figured that they needed to sell 235 tickets to be profitable in their first year. They ended up selling 236.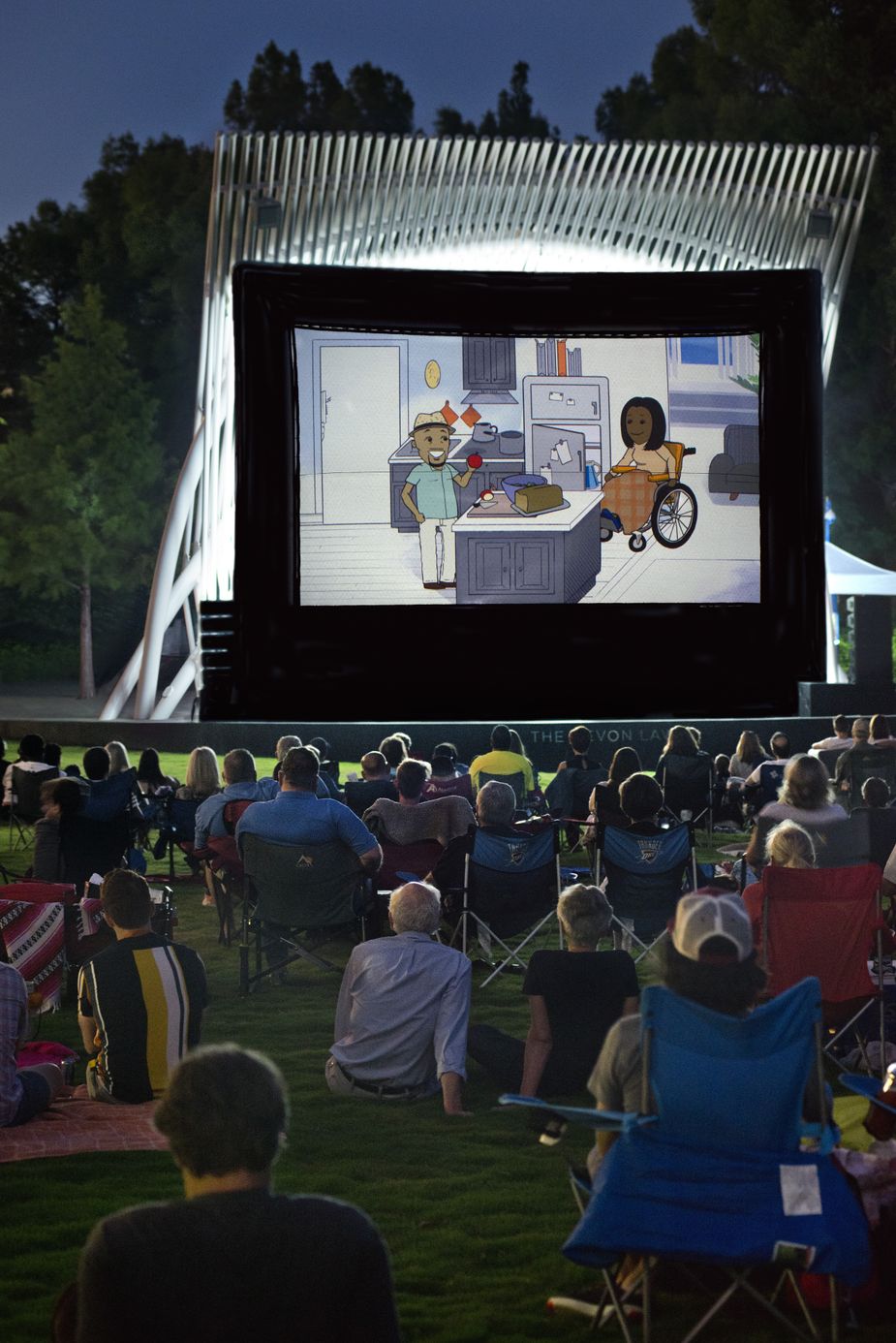 In years past, hundreds of visitors brought lawn chairs, blankets, and coolers for an evening of free films under the stars at the Devon Lawn at Myriad Botanical Gardens. Photo by John Jernigan
"There was just enough spark for us to go, 'Hell yes; we did it!'" Jayson says.
In its second year, deadCenter moved to the University of Central Oklahoma campus in Edmond. The event was decently attended but seemed to lose some momentum from the previous year due to a more localized crowd. Scaramucci, who had attended the first festival but was not aware of the second year of programming until after it was over, reached out to Justan to see if she could assist him in the future.
She remembers meeting in apartments and coffee shops, mapping out what the event should look like. By the third year, the Floyds were happy to pass the festival over to Scaramucci and Poarch. The two women immediately moved the festival from Edmond to downtown Oklahoma City, where it has remained since. The setting has become an integral part of the event's identity.
"It's not like other festivals I've attended, where the films are showing in just one venue or in one theater," says Kim Haywood, former deadCenter director of programming and the organization's first paid employee. "Anywhere you are in downtown Oklahoma City during the festival, you see people walking around with passes. You run into people at restaurants and in bars. During deadCenter, it feels like the entire city is alive with independent film."
Scaramucci, Poarch, and later Haywood worked together to establish deadCenter as a nonprofit, expand programming options, and educate locals—including corporate sponsors—on the concept of independent film. Over time, a trend emerged: Once deadCenter gained a fan, it had them for life. There was an energy and active dialogue around the festival that was unique to the city. That energy, more than anything, was the engine that propelled growth.
"You hope that your business grows 10 percent each year," Poarch says. "We always blew that out of the water every year—always, always, always. But we were small enough so that when people were like, 'Hey, can we try this?' we were like, 'Yeah, sure! Let's try it.'"
From the first deadCenter, which drew a collective audience of more than two hundred, last year's festival attendance of thirty-five thousand shows the organization's incredible growth over two decades. Festival organizers estimate deadCenter had a $5.5 million economic impact in 2019. And though deadCenter has grown into the state's leading force for independent filmmaking, outgoing executive director Lance McDaniel believes the event has never lost touch with the foundational spirit of supporting local filmmakers.
"I think if you look at our programming," he says, "it all comes back to that: How do we help increase the knowledge base of anyone who shows up, and how do we allow filmmakers to interact with each other?"
Film industry panels, networking events, and educational opportunities are a staple in the current schedule. In addition to its yearly festival, deadCenter has been running a statewide public school program for nearly a decade. The organization also highlights burgeoning new film technologies, recently launching an annual program showcasing virtual-reality narrative films. Staying on top of these types of trends is vital in a time when an entire generation is growing up watching movies and television largely on their phones.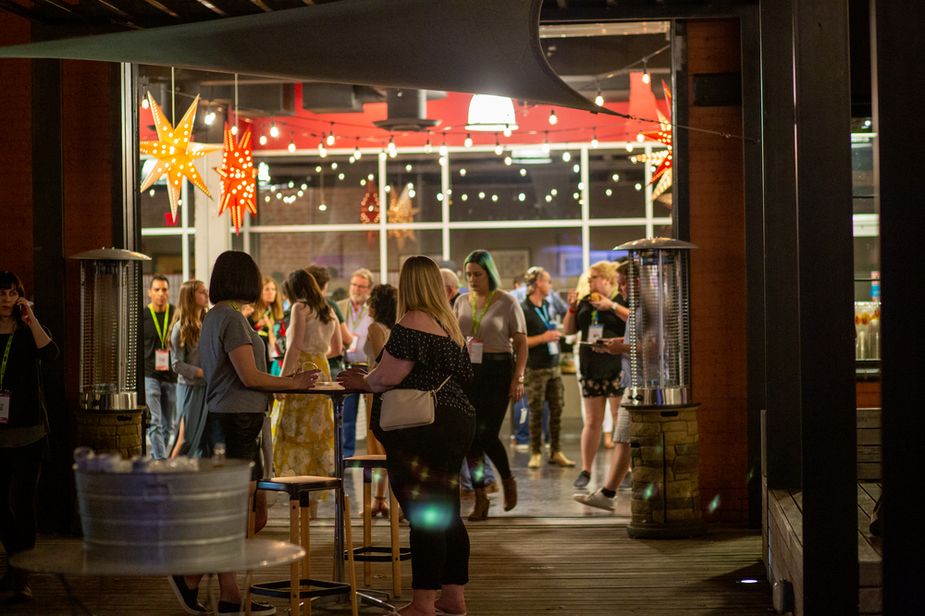 Nightly parties at locations around the city gave festivalgoers the opportunity to network or just kick back and have a good time. This year's virtual event will eschew large gatherings. Photo by Lori Duckworth
Alyx Picard Davis began working with deadCenter as a volunteer in 2006. For seven years, she has been the director of operations and in July 2020 will take over as executive director. She believes the future of deadCenter in the next twenty years is hard to predict—due to technological advances, the future shifts on an almost weekly basis.
"We are a festival, first and foremost, for filmmakers," she says. "They can talk about their films, they can celebrate their films, and that's something filmmakers really want and need, because making a film is hard, and you need some kind of reward at the end of it."
Hollywood productions like Stillwater—starring Matt Damon and releasing in November 2020—and Killers of the Flower Moon, expected to premiere sometime in 2021, have made Oklahoma into a workplace for A-list talent like Damon, Martin Scorcese, Leonardo DiCaprio, and more. According to Tava Maloy Sofsky, director of the Oklahoma Film + Music Office, it is safe to say there has never been a brighter time for film in the state. And in this rush to a golden era, deadCenter has been leading the charge.
"It's an army of ambassadors that believe in film," Maloy Sofsky says of the organization and its staff. "They believe Oklahoma has everything it takes to be this hotbed for filmmaking. They have an international audience that grows every year, and they travel."
The Film + Music Office is tasked with empowering local artists and filmmakers and incentivizing outside productions to film and work in the state through its Oklahoma Film Enhancement Rebate Program. deadCenter often has been a tool for showcasing the tangible impact of a vibrant film community to the state's economy.
"There have been years when deadCenter has been vital to our existence," Maloy Sofsky says.
deadCenter also raises the bar for local talent by providing a highly visible platform and fostering good-natured competition. Laron Chapman, an Oklahoma City filmmaker who won deadCenter's Best Oklahoma Film prize in 2018 for his feature You People, said the festival is the biggest annual highlight on the state film community's calendar.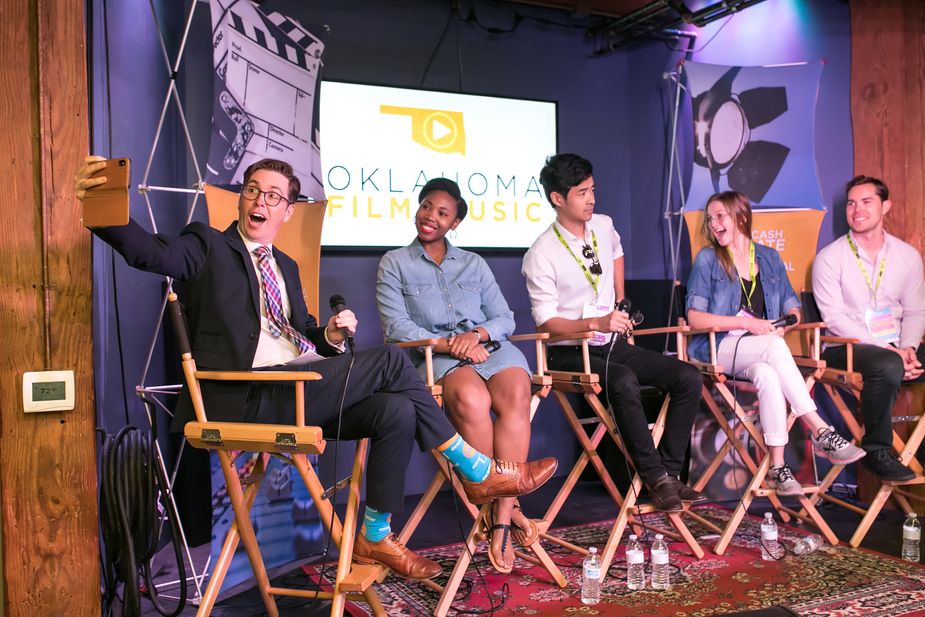 The Oklahoma Film + Music Office hosts a variety of panels on topics like special effects makeup, film distribution, and location scouting. Photo by J. Wiggins
"It serves as both a celebration of our peers' hard work and craft and a space to connect and collaborate with other creatives," he says. "In many ways, it is the pulse of the Oklahoma film scene."
Standing on the stage at Glitter Ball—deadCenter's annual fundraising gala—in January, Jayson Floyd received a Vision Award alongside his brother. They took a moment to absorb the fruits of their labor from two decades prior.
"People don't understand," he says. "This is what we had talked about twenty years ago."
From the stage, Jayson smiled and thanked his mother, who grilled the hot dogs that fed a crowd and, in turn, fed a dream. Justan and his brother willed deadCenter into existence because they felt Oklahoma filmmakers were isolated in an era before social media or streaming platforms.
"As I was standing on stage looking out at the crowd," Justan says, "I had the warmest heart for Oklahoma City in that moment, because it's not a crowd that even remotely had a voice twenty years ago. It felt like something that has always needed to be there."
And now, here at Glitter Ball, there are filmmakers rubbing shoulders with one another and with drag queens, state senators, businesspeople, and the eclectic faces that, through the years, have snowballed into a vibrant community open to film and to each other.
"It is this weird collective of awesome and odd and accepting people," Justan says, "and that to me is amazing."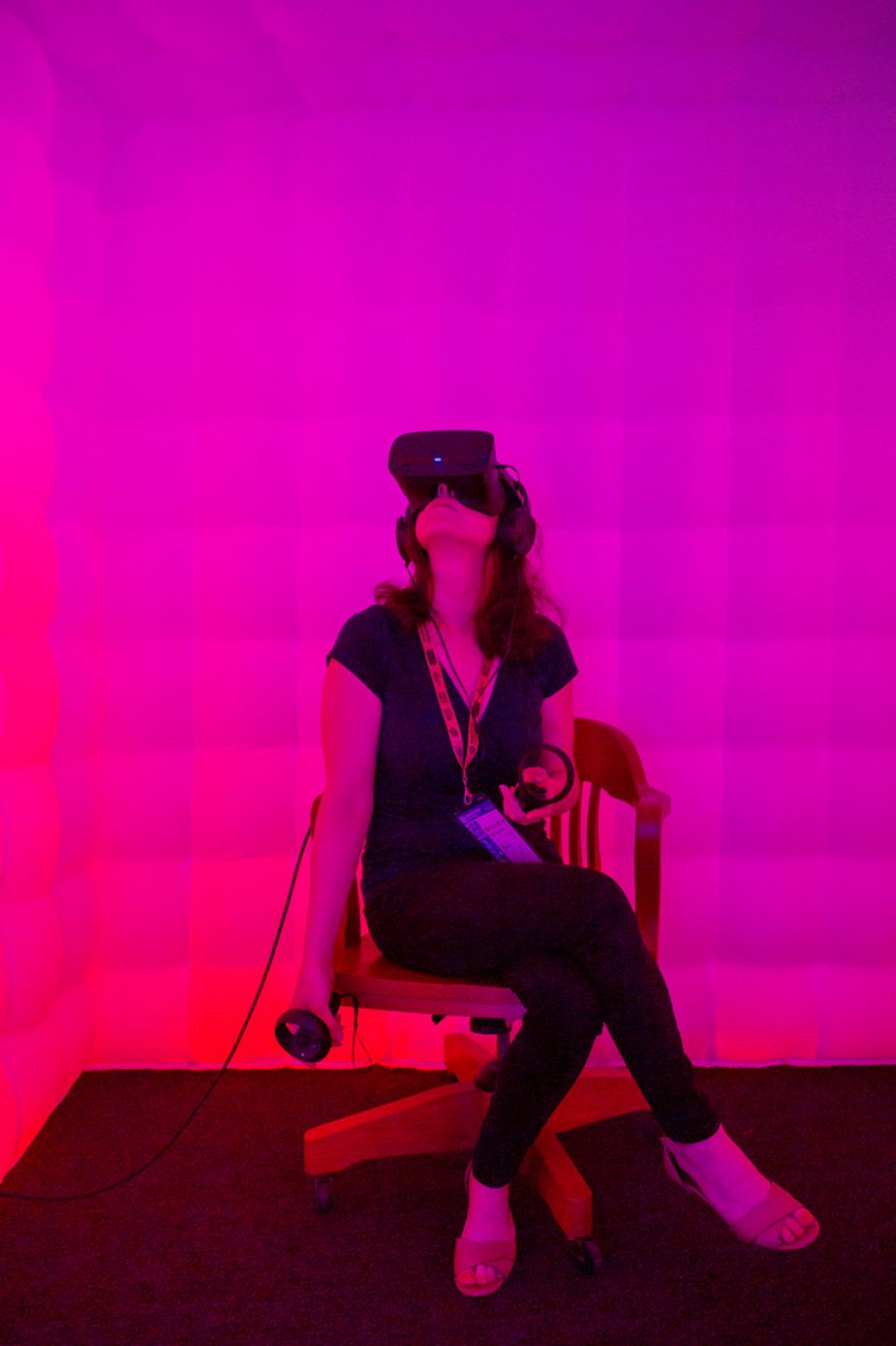 Virtual Cinema@techCenter allows visitors to partake in a variety of virtual reality short films and experiences. Photo by Lori Duckworth
COVID-19 UPDATE:
The coronavirus pandemic plays no favorites, and even deadCenter Film Festival's 20th anniversary celebration is not immune to large-scale changes. For the first time in the event's history, programming and film screenings are going virtual.
deadCenter expanded this year's festival to a 10-day run June 11-21—including a record 140 films, all available for remote streaming. The festival slashed the price of an all-access pass in half, now just $100.
Though the virtual format rules out packed theaters and large parties, McDaniel says moving the festival online comes with some unique advantages. Without time, travel, or prohibitive cost restrictions, deadCenter's usual extensive film panel offerings will become even more robust. The virtual format also opens up viewership worldwide and lets the audience watch films at their convenience, increasing the number of deadCenter movies it is possible to see.
McDaniel is exploring additional programming events that would be social-distancing compliant, such as a pop-up drive-in theater.
"At first [taking deadCenter online] was a little scary," he says, "but now it's like, 'What an amazing time to take everything virtual, because that may be the future for a long time.'"
In addition to celebrating its 20th anniversary, this year's deadCenter is the last year McDaniel is serving as the organization's executive director. A virtual festival is a memorable sendoff, but makes the kind of grand social celebration deadCenter has become known for through the years impossible, at least for now.
"No one loves those parties more than me," McDaniel says, "but I'm not ready to go to a thousand-person party right now, and I don't think most of the world is."
McDaniel recommends following deadCenter on social media to keep updated on the changes to this year's festival.
deadCenter Film Festival is June 11-21, 2020. Schedules, passes, and more information are available at deadcenterfilm.org.