12 minutes
Published May 2023
By Ben Luschen | 12 min read
A blank canvas is intimidating enough for most artists. Now imagine that clean slate is not canvas but marble. The pristine white corridors of the Oklahoma State Capitol, which recently completed a multi-year renovation, merge the building's original neoclassical inspiration with brilliant LED lighting and other conveniences of the touch-screen era. These walls call for a Michelangelo or Caravaggio of their own, but one with an eye for Oklahoma's modern character. Muse, thy name is Lucas Simmons.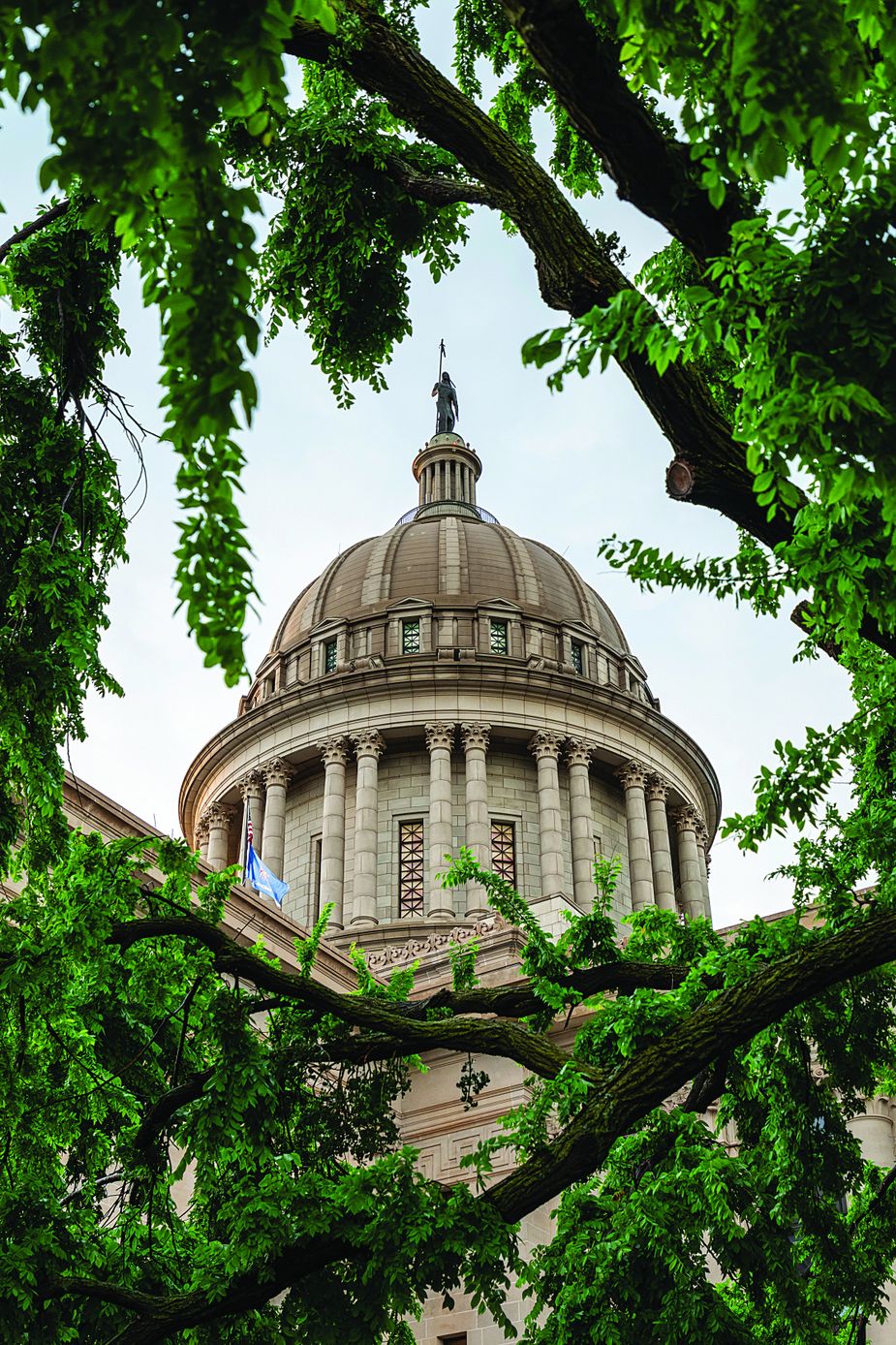 The Oklahoma State Capitol is open to the public most days of the year. Photo courtesy Oklahoma Legislative Service Bureau
Simmons, The artist, part-time Oklahoma Baptist University professor, and Shawnee resident, is installing a suite of murals titled Labor Omnia Vincit—the Latin phrase for labor conquers all things that serves as a state motto—in the Capitol's ground-floor rotunda. The series of paintings, rendered in dramatic, baroque detail, show a strikingly diverse cast of Oklahomans on a confident stroll to work. The message is clear: Okies from every walk of life get the job done. Simmons is installing the mural panels incrementally with the goal of finishing by the end of 2023. But he still can't even believe it's happening.
"It's humbling; I love it," Simmons says. "You definitely feel unworthy when you're in this space."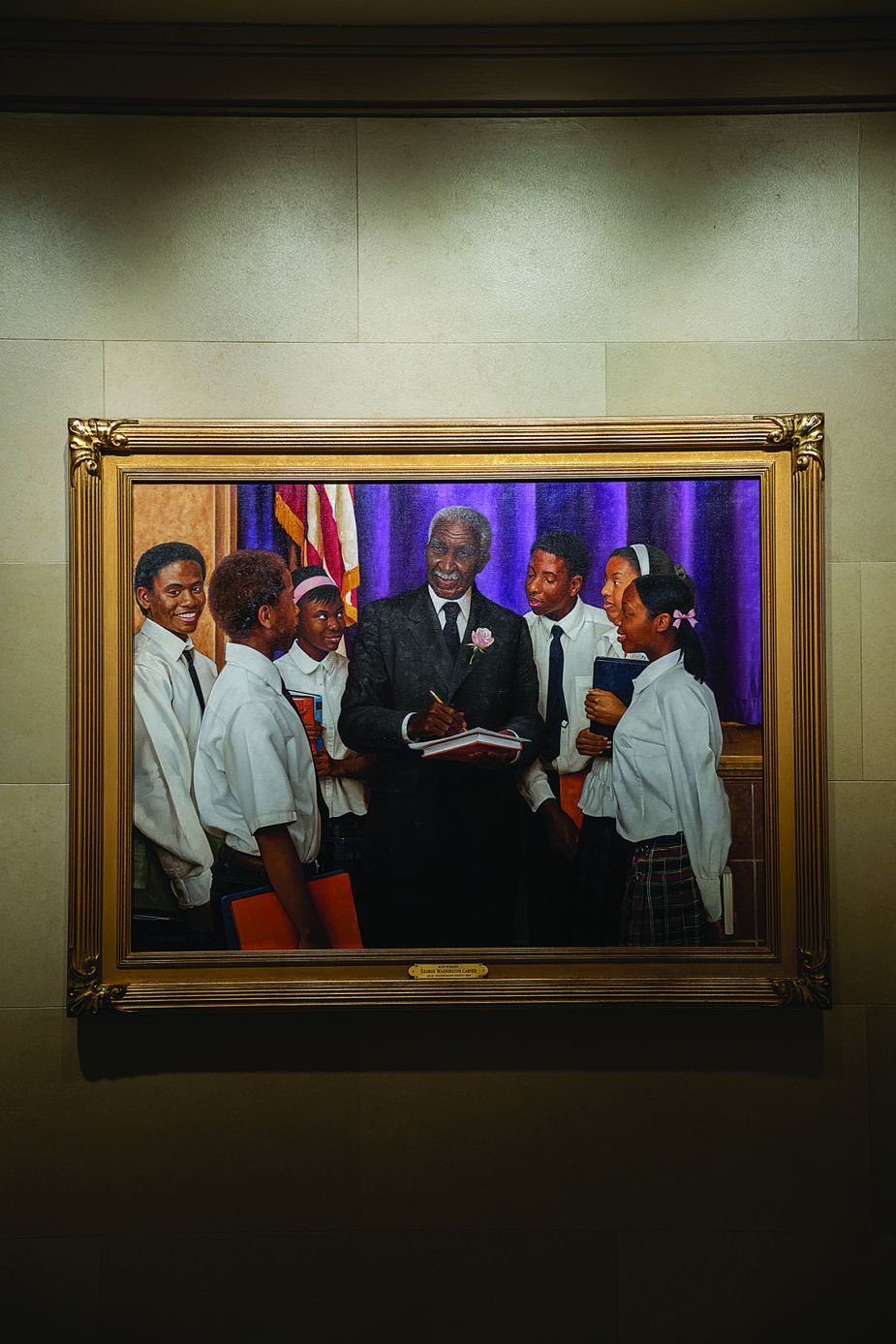 Mike Wimmer's "George Washington Carver" in Tulsa is one of several works honoring black leaders in a first-floor gallery. Photo courtesy Oklahoma Legislative Service Bureau
For years, as various construction projects commenced across the Capitol campus, the building's walls stood bare. But art has returned to the seat of state government. Labor Omnia Vincit is one of twenty-one new works joining this museum-quality art experience that all Oklahomans can proudly enjoy.
The return of art to the Capitol walls is one of the essential final touches of a massive and sorely needed restoration project that first took shape a decade ago. In 2013, Preservation Oklahoma put the building on a list of the state's most endangered places amid reports of mold, leaky passageways, and chunks of concrete and limestone as heavy as five pounds falling from the ceiling. A year later—and a century after the original 1914 groundbreaking—the Oklahoma State Capitol Restoration Project began, fueled largely by more than $245 million in legislatively approved bond issues.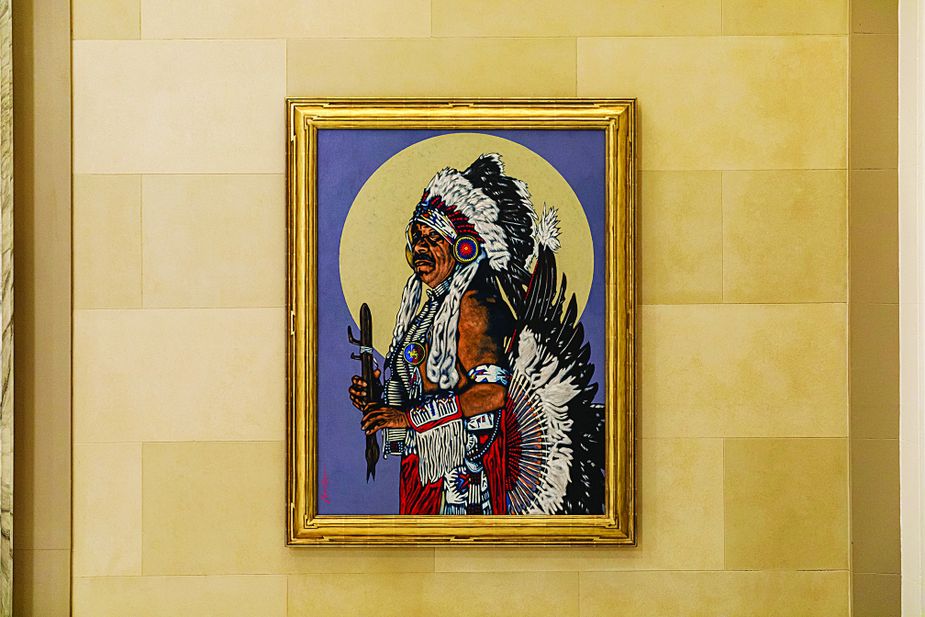 "Doc Tate Nevaquaya" by Nocona Burgess. Photo courtesy Oklahoma Legislative Service Bureau
While construction crews got to work on big-picture fixes, the Oklahoma Arts Council focused on refinements that turn the people's house into the people's home.
Oklahoma law requires all capital improvement projects done by the state to dedicate 1.5 percent of their total budget to on-site public art. For a project as substantial as the Capitol restoration, this presented a unique opportunity to enhance the building's art collection with new commissions. Simmons' mural series is one example of that. Another new mural, Making Her Mark by Sara Scribner—which depicts historic leaders like Shannon Lucid, Opaline Deveraux Wadkins, Wilma Mankiller, and Maxine Horner—officially debuted in February on the second floor above the newly relocated Hall of Governors. Large laser-cut brass-panel installations by Otoe-Missouria, Osage, Pawnee, and Sac and Fox artist Jessica Moore Harjo titled People of the Great Sky: Constellations of the Land is another example.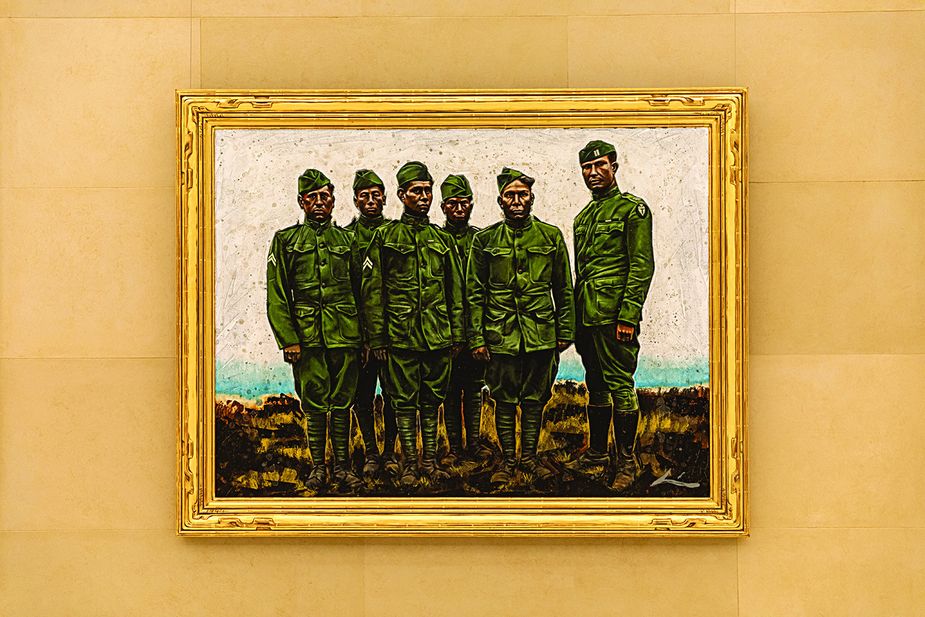 "Anumpa Luma Anumpuli" by Dylan Cavin. Photo courtesy Oklahoma Legislative Service Bureau
"The Capitol is the symbol of the state," says Paul Bruce Meyer, who served as Capitol architect for twenty-five years and now is chairman of the nonprofit Friends of the Capitol. "You want a symbol of your state to present the best image that it can, and not just for outsiders but also to create pride in all those who live here."
Before building restoration could begin, most of the Capitol's paintings and sculptures had to be removed to prevent damage. This was handled by the Oklahoma Arts Council, which used the assignment as an opportunity to take inventory of the collection, carefully inspecting the condition of every piece and chronicling details about what each one depicted.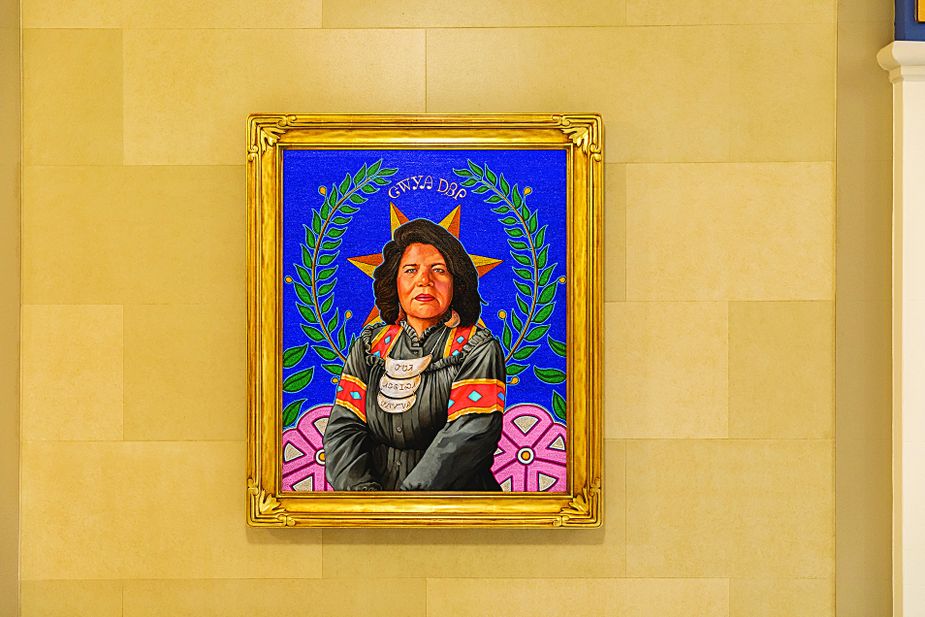 "Chief Wilma Mankiller" by Starr Hardridge. Photo courtesy Oklahoma Legislative Service Bureau
During that inventory, the council identified several gaps in the collection's narrative of Oklahoma's story and legacy—gaps that now have been addressed in several themed areas. For instance, when visitors pass through the security checkpoint at the building's south entrance, they are brought face to face with a life-size replica of The Guardian, the imposing seventeen-foot-tall bronze warrior statue by Enoch Kelly Haney that stands atop the Capitol dome. Not far from that is Spiro: Serpent River, Shelled Stories, Sun-Touched Engravings, a large, colorful mural by Tulsa-based Cherokee, Creek, and Osage artist Yatika Starr Fields. These works are visitors' introduction to a Native and pre-statehood history-themed area, which also will feature Moore Harjo's People of the Great Sky piece.
The first floor honors historic black Oklahomans with photo-realistic commissions featuring George Washington Carver, Ada Lois Sipuel Fisher, Thurgood Marshall, and Amos T. Hall by Muskogee artist Mike Wimmer. New murals depicting the Katz Drug Store sit-in of 1958 and Tulsa's Black Wall Street are coming soon. Outside the Supreme Court chamber on the second floor, guests find the new Hall of Heroes, which pays tribute to the state's military history, including a new commission by Choctaw artist Dylan Cavin titled Anumpa Luma Anumpuli, a stoic portrait of the Choctaw Code Talkers of World War I.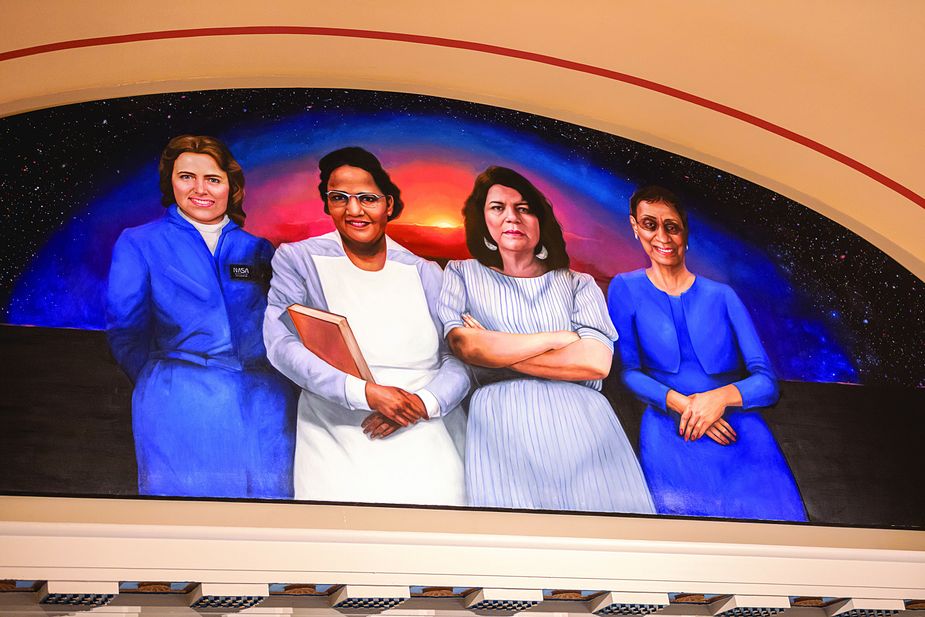 "Making Her Mark" by Sara Scribner honors astronaut Shannon Lucid, trailblazing nurse Opaline Deveraux Wadkins, Chief Wilma Mankiller, and Senator Maxine Horner. Photo courtesy Oklahoma Legislative Service Bureau
Walking through the Capitol's art collection, either on a self-guided stroll or a tour led by a guide from the Capitol's new docent program, the story of the state shines through in exciting new context.
"Hopefully in the next five years, we can get every student across the state to the Capitol to see the renovated building in their lifetime," says Oklahoma Arts Council Executive Director Amber Sharples. "We know that will inspire them to take care of it over the long run if they see it as a young person. We also want to leverage the artwork as an educational tool, which it's always been."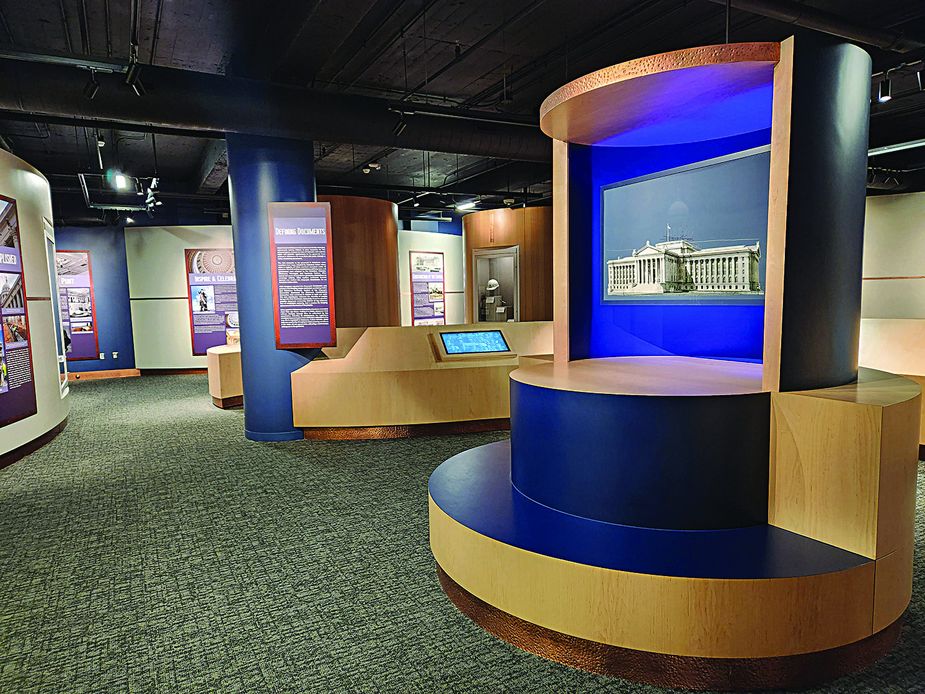 The Oklahoma State Capitol Museum examines the building's history and state government. Photo by Megan Rossman
The Capitol still serves its function as the working seat of state government, but Sharples also wants visitors to think of the restored marble structure as the state's largest free art museum.
"We believe that this is the people's art," she says. "This is our collective collection that represents us."
The majestic crown atop it all is the view from the fourth-floor rotunda. It's been many years since the atrium, one of the Capitol's main gathering areas, has looked quite so ornate. A special restoration crew applied fresh paint to the moldings and other fixtures that make the kaleidoscopic interior dome ceiling pop. Life-size portraits of Oklahoma icons Robert S. Kerr, Sequoyah, Jim Thorpe, and Will Rogers appear to float thanks to custom-made mounts. Jarica Walsh, director of the Art in Public Places program for the Oklahoma Arts Council, says the work was intricate.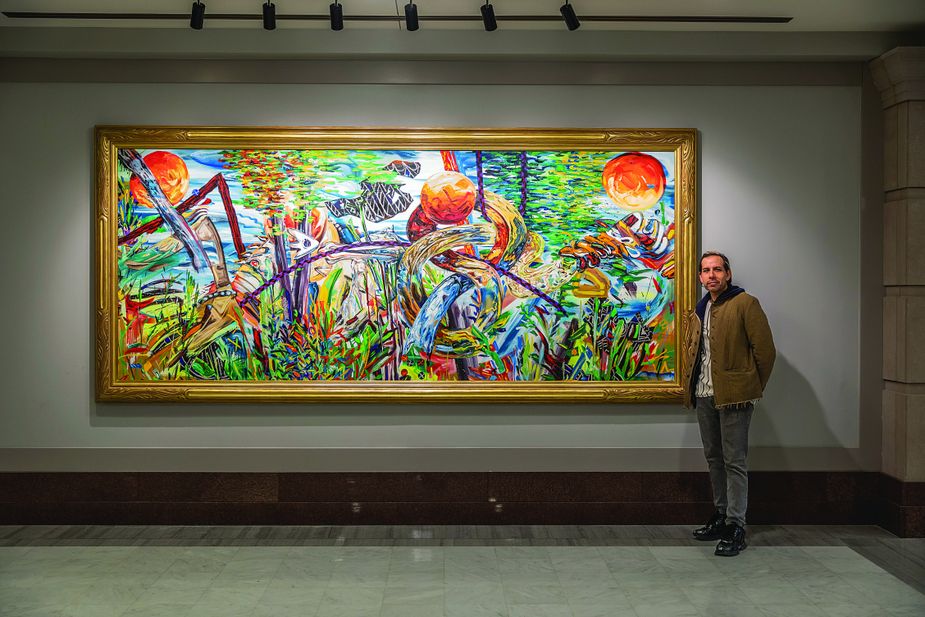 Artist Yatika Starr Fields with his painting "Spiro: Serpent River, Shelled Stories, Sun-Touched Engravings." Photo courtesy Oklahoma Legislative Service Bureau
"The Capitol Restoration Project had to bring in professionals," she says. "The whole place was filled with scaffolding to allow them to stand up there and paint all the details on every little flower."
For a hundred-year-old building that sees thousands of visitors each year and has played as essential a role as any in the state's history, a visit to these restored and beautified confines feels surprisingly new. It's a place as colorful, vibrant, and diverse as the people of Oklahoma.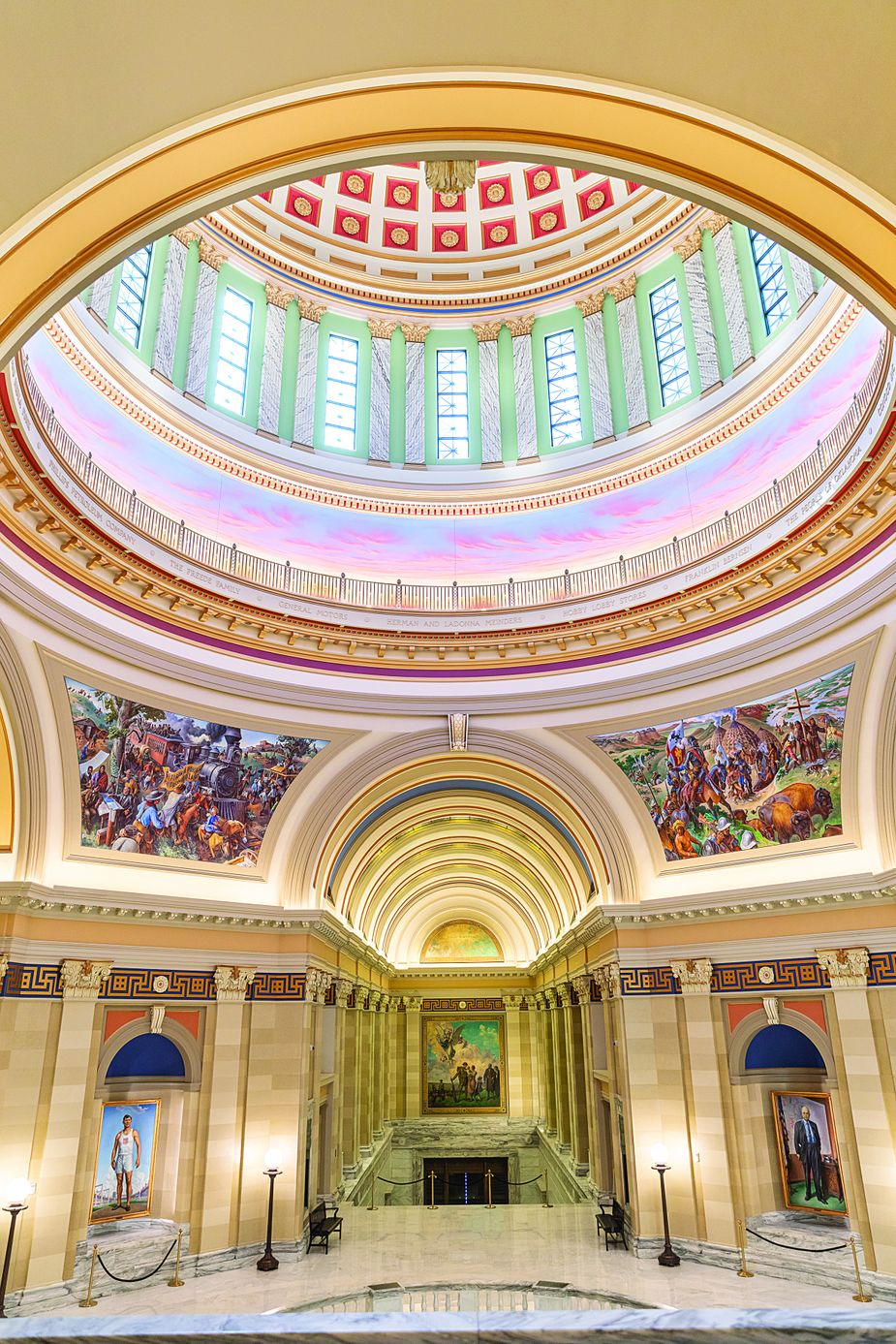 Shawnee artist Lucas Simmons, left, helped install the first piece in his ground-floor mural series "Labor Omnia Vincit" in August 2022. Photo courtesy Oklahoma Legislative Service Bureau](https://d1nyedprbrntd2.cloudfront.net/Capitol%20Gains%20B220825a-31_1.jpg)![The Oklahoma State Capitol dome contains numerous works of art. Photo courtesy Oklahoma Legislative Service Bureau
"I think a lot of people we talked to haven't seen it since they were kids," Walsh says. "It's time to come back and see it again."
Free guided tours of the Oklahoma State Capitol are offered weekdays 9 a.m. to 3 p.m. Groups of fifteen or fewer can meet by The Guardian statue near the visitor entrance at the top of every hour except noon. Groups larger than fifteen can reserve a time by emailing tours@arts.ok.gov.
Get There
Oklahoma State Capitol, 2300 N Lincoln Blvd Oklahoma City, OK 73105 or
TravelOK.com