Behind the Looking Glass, Act I: From the Page to the Stage
10 minutes
Published October 2021
By Karlie Ybarra | 10 min read
The season premiere of the Oklahoma City ballet feels every bit as grand as any Hollywood movie. It's a great opportunity for wearing furs, velvet gowns, outlandish sportscoats, and everything else that doesn't get to leave the closet without a very special occasion. As attendees enter the palatial doors of the Civic Center Music Hall and step onto the lobby's red carpet, it's like leaving the real world behind for a land of glamour and enchantment. Pleasant chatter, a little hushed, flutters about the auditorium as the audience finds their seats, but it's clear from the start everyone is waiting in giddy anticipation of any sign that the show will start soon. As the lights dim, the curtain slowly lifts, and the orchestra roars to life, there's a sense that we've finally arrived in Wonderland, and it's going to be a strange, beautiful, and exciting trip.
Whereas that moment marks the beginning of a journey for the audience, it's a sort of ending for the Oklahoma City Ballet—at least that particular chapter. With choreography, costumes, music, sets, and all the other various moving parts, what does it take to get a show from the page to the stage? To celebrate the organization's fiftieth anniversary season, we're taking a peek Behind the Looking Glass to see how the Oklahoma City Ballet brought Septime Webre's Alice (in Wonderland) to life.

It takes dozens of people on and behind the stage to bring a production like "Alice (in Wonderland)" to life. Photo by Diana Bittle
ACT I: Tending the Garden
Though this is the Oklahoma City Ballet's fiftieth season, it's actually taken a little bit longer than that to build the world-class institution it is today. In 1963, Yvonne Chouteau—one of the five Native American prima ballerinas from Oklahoma who achieved international acclaim in the mid-twentieth century—and her husband Miguel Terekhov of Ballet Russe de Monte Carlo founded the Oklahoma City Civic Ballet. Chouteau served as artistic director for a decade, during which time she worked with fellow Five Moon ballerina Maria Tallchief to audition dancers for the company. Over the ensuing decades, the ballet continued to grow: It added a school and transitioned from a civic company to a semi- and eventually properly professional one. Nearly six decades after it was established, the Oklahoma City Ballet has grown into one of the state's cultural cornerstones: an organization with more than two dozen dancers who can take on some of the most challenging choreography from around the world.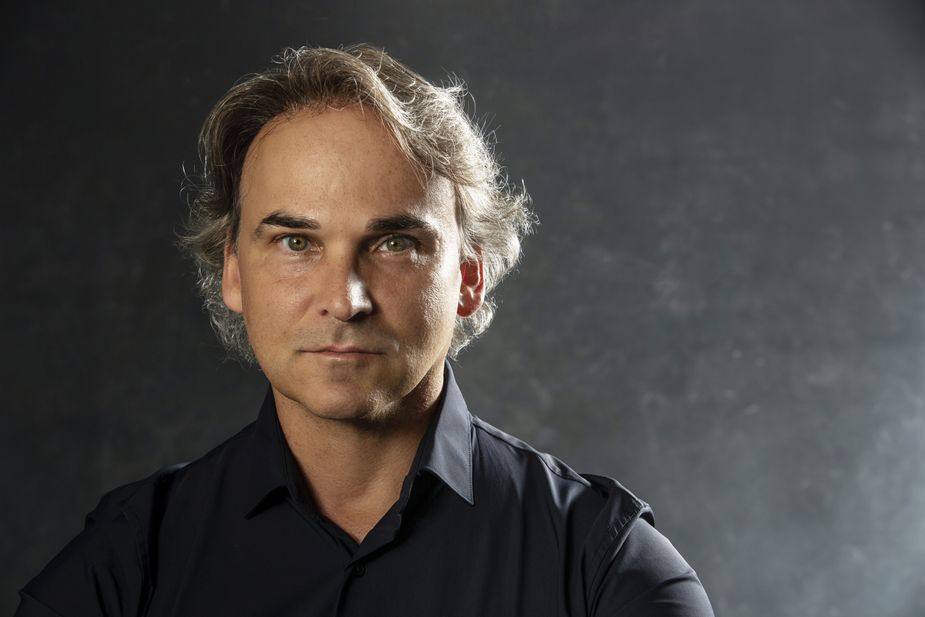 Robert Mills has been artistic director of the Oklahoma City Ballet since 2008. Photo of Shevaun Williams
For the past fourteen years, artistic director Robert Mills has overseen this seemingly exponential growth. In 2008, when Mills was named Oklahoma City Ballet's artistic director, it was the first time the company had pulled from within. And with good reason. As a dance educator, former artistic director for Ballet Nouveau in Colorado, choreographer, and professional dancer of fourteen years, Mills had the talent and the experience needed to take Oklahoma City to new heights. For the first show of the 2021 season, that's true in the literal as well as figurative sense. But to get Tweedledee and Tweedledum to fly a bike through the air above the Civic Center Stage requires years of preparation.
"It's very much like a garden," Mills says. "You can have a beautiful plant that's blooming at one point, and it's the showcase, but over time, things change around it. So that's the starting point: the talents of the dancers."
It would be pointless to produce a show called Alice (in Wonderland) without a strong dancer—or dancers in this case, since the Oklahoma City Ballet has two casts for each piece—who can embody the lithe playfulness of the famous Lewis Carroll heroine. But when it comes time to build the ballet's entire season, there are so many more factors to consider.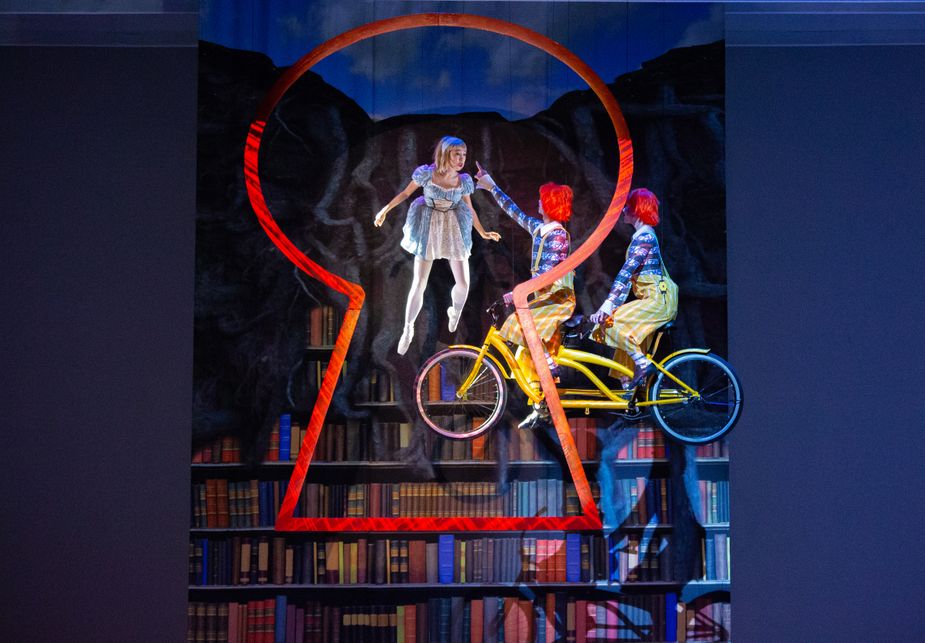 Tweedles Dee and Dum soar through the air with Alice. Photo by Jana Carson
"I look for a show that brings the entire family," Mills says. "Of course, we always have The Nutcracker. Then I like to include a mixed repertory, an evening of three or four works by different choreographers. I also like to have a classical standard, full-length piece. This season, it's Tchaikovsky's Sleeping Beauty, which originated in the Russian Imperial era."
Once the season is finalized, the work on individual productions begins. While Septime Webre—the current artistic director for the Hong Kong Ballet and former artistic director of the Washington Ballet—actually choreographed Alice (in Wonderland) when it premiered in 2012, Mills is responsible for making sure thousands of moving parts are synchronized for Oklahoma City's shows.
The Red Queen terrorizes her deck of cards. Photo by Jana Carson
"It's more than just the steps the dancers are doing," Mills says. "With Alice, Septime worked with scenic designer James Kronzer, costume designer Liz Vandal—who designs costumes for Cirque du Solei—puppet designer Eric Van Wyk, composer Matthew Pierce . . . So it utilized a lot of people's creative talents, which requires a lot of meetings."
Even with a production like Alice, which the Oklahoma City Ballet performed once before in 2018, the last six weeks or so leading up to the premiere are a mad dash to the finish line. Since Mills didn't choreograph the piece, one of Webre's representatives must fly in to teach the dancers their steps. For this particular show, that wasn't until September 19—a mere five weeks before the October 22 curtain call. Rehearsals with individuals and small groups begin in earnest. Costumes arrive shortly thereafter, so balancing fittings around rehearsals can be fairly tricky. And sometimes, the stage crew only has a few days to put together the elaborate sets and props that it takes to transform a plain wooden platform into multiple regions of a magical kingdom.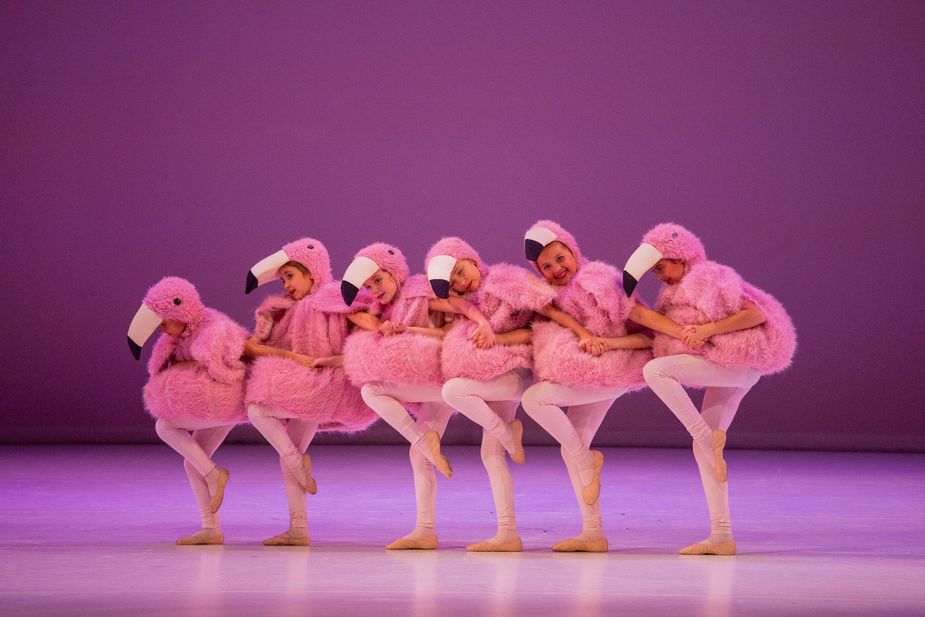 A flock of young flamingoes files across the Civic Center stage. Photo by Jana Carson
"When people arrive at the Civic Center as patrons of the ballet, they have no idea how fast a production has been turned around and put on stage," Mills says. "Sometimes, we invite press and donors to dress rehearsal on Thursday, and we've not done anything in regard to loading the production on the stage until that Monday. The dancers don't even begin rehearsal on the stage until Tuesday. And then you have multiple casts . . . Tuesday and Wednesday are all they get before they appear before an audience."
The velvet curtain rises, revealing a full house of patrons ready to see a world-class show. Dancers have only performed the ballet from beginning to end on this hallowed stage a few times. The pressure to be perfect is intense, but these professionals have to rise above their anxiety and perform as if they feel no fear. But how?
Check back next week for Act II: The Flowers Come to Life.
Ready to get tickets for Alice (in Wonderland)? Click here.
Get There
Civic Center Music Hall, 201 N Walker Ave Oklahoma City, OK 73102 or
TravelOK.com