15 minutes
Published February 2020
By Becky Carman | 15 min read
Factory Obscura opened its current location on Northwest Ninth Street and Broadway Avenue in March 2019. Photo by John Jernigan
Late in the first decade of the millennium, a strip of Northwest Ninth Street between North Broadway Avenue and the railroad tracks in Oklahoma City's Automobile Alley started to come alive. First, there was a celebrated Tex-Mex restaurant, Iguana Mexican Grill. Inventive burgers at S&B Burger Joint and handmade goods at Cargo Room popped up across the street. When the Flaming Lips moved into a warehouse here in 2012 and branded it The Womb, they painted the building in fantastical style that attracted passersby to stop and explore.
In just a few years, "the street that urban renewal missed"—as Steve Mason, principal of property owners Mason Realty Investors puts it—had become a cultural attraction. Mason's raison d'être is rehabilitating at-risk historic buildings and pairing those spaces with a bit of gambling. Many of his fifty-five tenants, including everyone operating on this stretch of Ninth, are small businesses and individuals.
"We have to like them as people, and we have to like their concept," Mason says. "Pretty simple."
Mason's bets are backed by research showing consumers prefer experiences rather than purchases, but his instincts have been ahead of that curve anyhow.
"When I started, I thought, 'I just renovate old buildings,'" Mason says. "A couple of years ago, I figured out that what I'm really doing is placemaking—helping contribute to areas for you to have a positive experience in."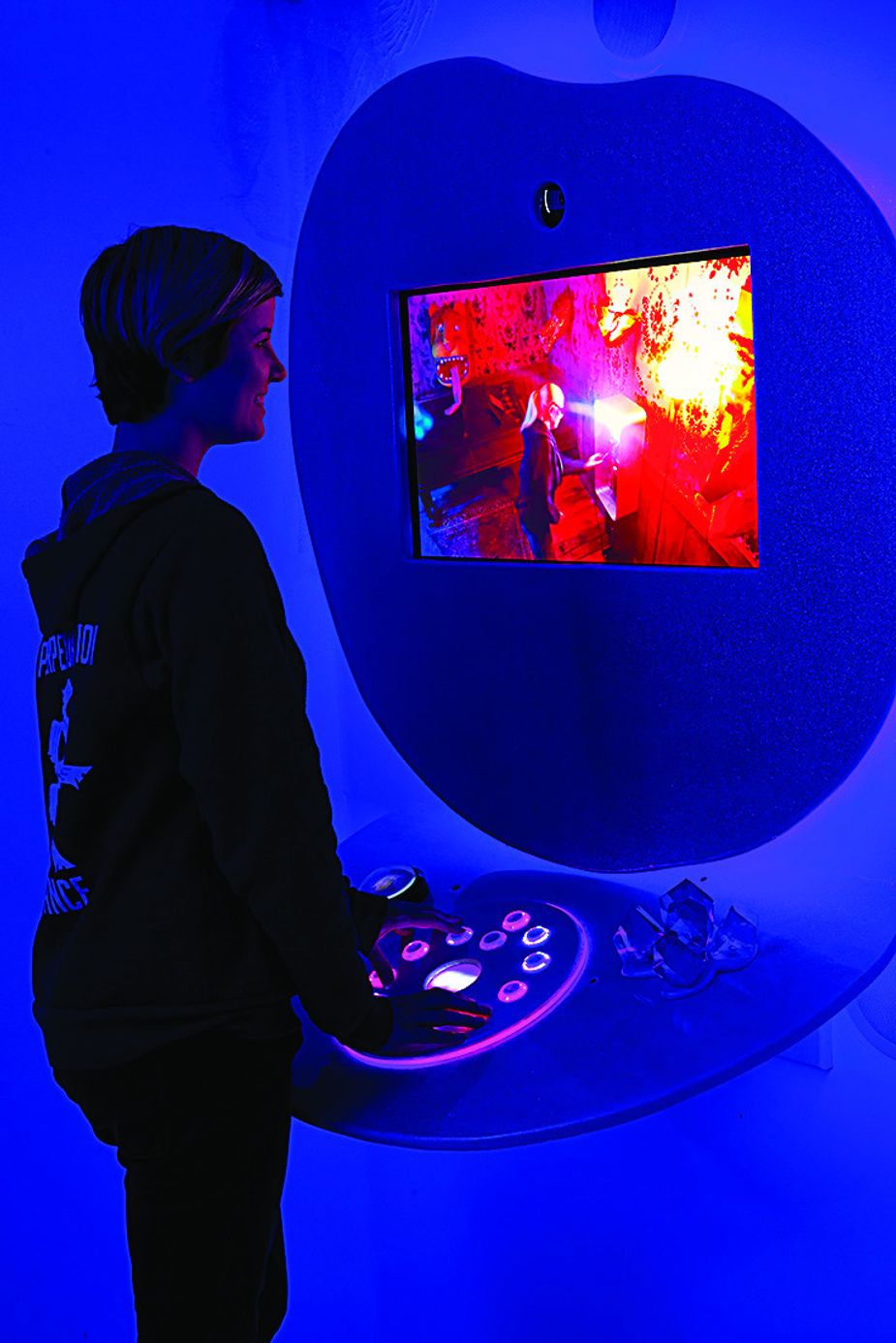 With Mix-Tape, Factory Obscura continues to focus on bringing immersive art experiences to the public. Photo by John Jernigan.
Enter Factory Obscura, an artist collective doing its own form of placemaking with large, interactive art installations constructed by local creatives. It opened its first temporary exhibition, Shift, in Current Studio at Northwest Twelfth and Penn in the fall of 2017 and its second, Beyond, in a former tire shop near the Oklahoma River in 2018. In spring 2019, Factory Obscura opened a new permanent space in The Womb.
"This space came along at just the right time," says Kelsey Karper, Factory Obscura cofounder and director of logistical creativity. "The Lips needed to move but wanted to maintain the creative spirit of what has happened in this building, and Steve really wanted to maintain that aspect as well."
Factory Obscura's presence in the building began with The King's Mouth, an immersive, Flaming Lips-designed sculpture and soundscape that also had exhibited at Meow Wolf in Santa Fe, New Mexico. Following on its heels was Factory Obscura's first permanent installation, Mix-Tape, which opened in September 2019. At Mix-Tape, a six-thousand-foot dreamscape of interactive sculpture, visitors are invited to climb on, sing to, hug, lie down in, and slide down art pieces meant to evoke the emotions involved in making a music mix for a loved one. Permeating the installation is the pure, childlike joy of being in a room where everything is larger than life. The wonder of a pastel cave is filled with secret nooks, ever-changing clouds, and the thrill of finding hidden artwork where maybe nobody else before had thought to look.
Like the temporary exhibitions before it, Mix-Tape is an utterly unique experience. And where word of mouth attracted large crowds before the move, the prominence of the location has pushed the boundaries of that curiosity.
"We have a lot of people who know who we are, but we also have a lot of people who don't," Karper says. "It being an iconic building, as well as being in a central space, helped us capture a new group of visitors."
Factory Obscura's traffic has increased activity on the strip, both from art enthusiasts visiting the surrounding establishments and neighboring businesses creating their own events and attractions in response—not to mention Flaming Lips fans from all over the world who stop to see the iconic building.
"The Womb was always a draw, but now, it seems to have become even more of a picture-taking spot," says Ron Natale, director of operations at S&B's Burger Joints, whose Ninth Street location has created custom cocktails to complement Factory Obscura exhibits in the past. "The increased traffic has absolutely helped increase our business."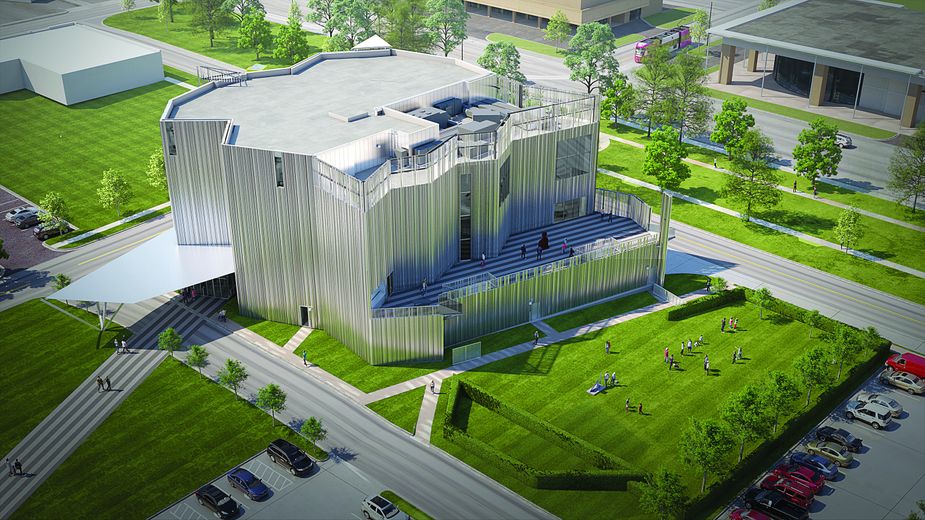 Oklahoma Contemporary's new 54,000 square-foot home opens in March. Photo by Oklahoma Contemporary.
Two blocks north at Eleventh Street and Broadway, Oklahoma Contemporary will open a new campus in March after being housed at Oklahoma State Fair Park since 1989. The new 4.6-acre lot includes a sculpture garden, educational facilities, and a jaw-dropping, fifty-four-thousand-square-foot building nicknamed Folding Light by its architect, Rand Elliott, due to a metal façade that will reflect the Oklahoma sky.
During construction, Oklahoma Contemporary officed onsite in a temporary tower of bright yellow storage containers and programmed the adjacent Campbell Art Park. Artist Erwin Redl's recent Whiteout installation included 550 suspended LED bulbs moving and interacting with their surroundings.
"We heard from a lot of people who, from their car, had an art experience as they drove by Whiteout," says Lori Brooks, Oklahoma Contemporary's director of communications. "You don't even have to stop for us to open the door to conversations about art."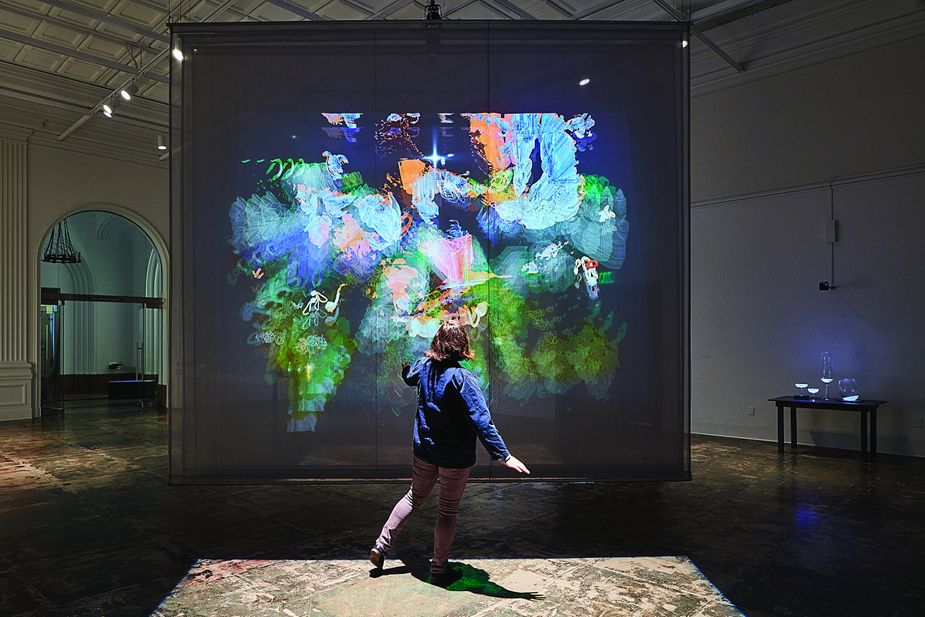 Oklahoma Contemporary's inaugural exhibition—Bright Golden Haze—focuses on light as a medium and includes Camille Utterback's Entangled installation. Photo by JKA Photography.
Both Factory Obscura's works and Oklahoma Contemporary's programming—which focuses on living artists—are expanding definitions of what art is and who is meant to participate in it. Neither visitors nor employees must have experience in the traditional arts, and this core tenet aids these organizations' integration into their new neighborhood.
"One of our institutional values is radical hospitality," says Jeremiah Matthews Davis, artistic director for Oklahoma Contemporary. "We want to make sure when people hear about us and come in the door, they feel they're welcome here."
Similarly, Factory Obscura's mission statement touts radical inclusivity, a principle that started with the artist team and extends to everyone.
"We wanted to be a place where artists of all disciplines and backgrounds could come," says Tammy Greenman, Factory Obscura cofounder and director of strategic creativity. "There are folks who, in the larger community, might not have access to these sorts of jobs due to whatever it is that would put a barrier up to that, so we started to be intentional about making sure we held space for them. We have found that to be a wonderful thing for us."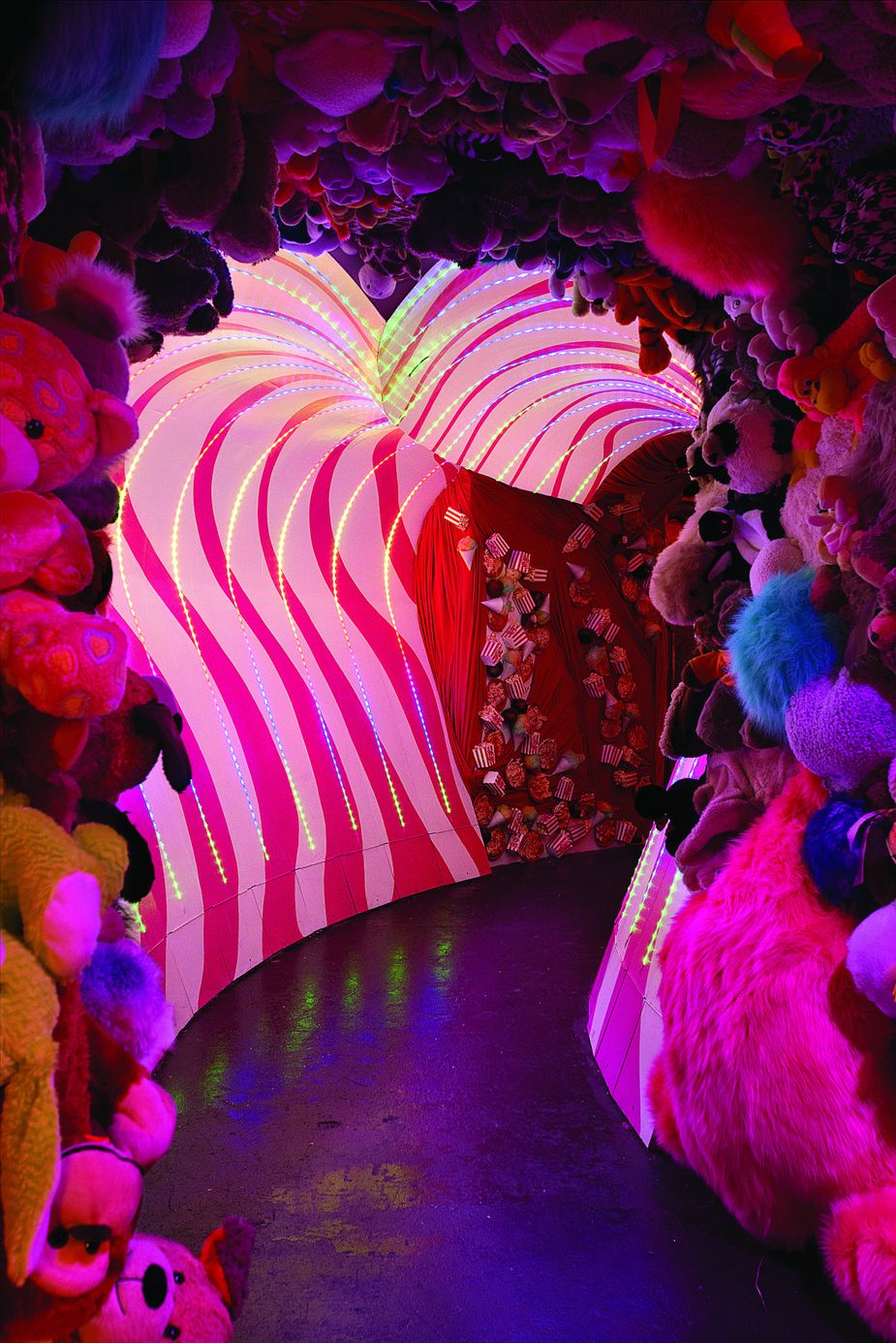 A hundred thirty-six stuffed animals line one of the winding whimsical hallways at Mix-Tape. The group relies on many donated items to create its installations. Photo by John Jernigan.
Inclusivity and accessibility are intertwined. At Factory Obscura, Mix-Tape was built so visitors with physical or sensory limitations can enjoy the experience. Oklahoma Contemporary's inaugural exhibition Bright Golden Haze includes a broad range of artwork, with each unique piece destined to resonate in a different way. Leo Villareal's Star Ceiling invites viewers to become part of a cosmic landscape, while Camille Utterback's Entanglements, a large two-sided screen, changes according to the physical movements of its viewers, making anyone seeing it a critical part of the work itself. Perhaps most poignantly, Tavares Strachan's neon installation for the exhibit says, simply and aptly, "I belong here."
"We understand the world through light, those of us who have sight, and even not: Light is warmth, so you can feel light, even if you can't see it," says Eddie Walker, executive director of Oklahoma Contemporary. "Some of the works are multi-perceptual, so you're not just engaging with it with your eyes."
Outside of staffing and even the art itself, inclusivity is a two-way street. Factory Obscura and Oklahoma Contemporary have large presences in the community and will continue to reshape Automobile Alley, which was undergoing renewal long before they moved in. Respecting the neighborhood dynamic while changing it is a challenge for which contemporary art is uniquely suited.
"It's important for people to see themselves in the work that we present," Davis says. "For us to be able to achieve our goals as an organization, it's really rooted in a community, and that's inspired by the people who live here and travel here."
Though a breadth of artistic styles may mean most visitors feel welcome, new development can lead to longtime residents being priced out of their locations, as has happened in other cultural hubs.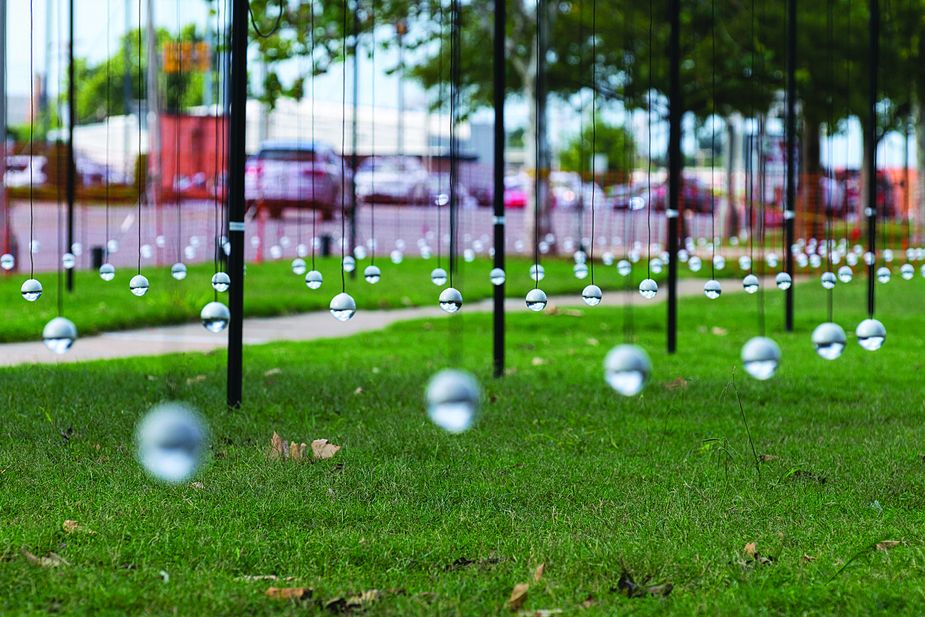 Whiteout by Erwin Rendl featured 550 LED bulbs at Campbell Art Park on the Oklahoma Contemporary campus from October 2018 to March 2019. Photo by Oklahoma Contemporary.
"That's the pattern. Places are abandoned, there are empty warehouses, and then artists and chefs move in," Davis says. "Cool stuff starts happening, and then young professionals want to go experience the cool stuff. Then the investment dollars follow, and all of a sudden, no one can afford to live there."
Oklahoma City's low cost of living helps, as does the fact that the area is largely commercial, not residential. Oklahoma Contemporary has researched the economies of changing neighborhoods and found early indications that cultural institutions may actually help slow gentrification. Meanwhile, Mason Realty Investors has welcomed tenants who would not otherwise have the credit to open up shop in Automobile Alley.
"It's possible this plot of land would have just stayed as a blank spot in the downtown map," Davis says. "People can see the benefits of what culture and buzz and activity can do for a community. It helps bring people together."
Oklahoma Contemporary's initiatives to bring more people together include always-free arts programming, a volunteer program, and partnerships like art installations at the Downtown Library. Factory Obscura also is furthering its community outreach, including plans for a mobile experience to visit groups unable to travel for financial or logistical reasons. Both buildings are located along streetcar stops, allowing further access and potentially igniting collaborative events across the neighborhood—a feature of the arts community here that is uniquely Oklahoman.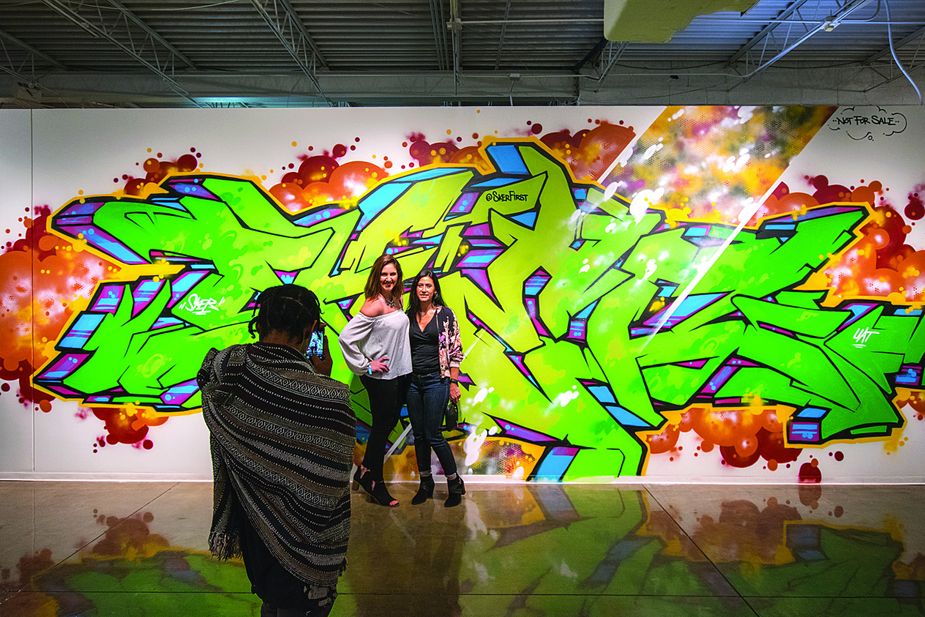 The 2017 exhibit Not For Sale: Graffiti Culture in Oklahoma highlighted works from ten artists around the state. Photo by Oklahoma Contemporary.
"One of the great aspects of Oklahoma City's arts community is that we really do get along," Walker says. "We share what works, what doesn't. We care about everyone's success, and that is key to our community's growth."
Where there was a patch of land, there is soon to be a Bright Golden Haze on the meadow. A once-blighted row of houses is home to a Technicolor arts facility surrounded by local businesses. The public's past support of Oklahoma City's MAPS projects has proven that Oklahoma City is willing to invest in quality of life, and visionary planning on the part of the Automobile Alley Association, whose members include Mason and Elliott, means the way the arts are helping shape this neighborhood will result in good things for all.
"A lot of markets are very competitive, and individual arts organizations don't see another organization as a potential partner. That attitude is completely inverted here," Davis says. "There's a lot of collaboration and partnership. That's unique about Oklahoma City, and I think it's one of the reasons why we've seen all of this development. People are going to work together to make some extraordinary things happen."
Factory Obscura
25 Northwest Ninth Street in Oklahoma City
factoryobscura.com
Oklahoma Contemporary
Opening March 13 at Northwest Eleventh Street and Broadway Avenue. Bright Golden Haze will close August 10.
(405) 951-0000
oklahomacontemporary.org