A More Beautiful Day in the Neighborhood
5 minutes
Published March 2022
By Caleb Freeman | 5 min read
Real, lasting change often begins with small, incremental shifts in thinking and action. Launched in Oklahoma County in July 2020, the Yard by Yard Community Resiliency Project encourages residents to take simple steps in their daily lives to improve water and soil quality and protect plants and wildlife—and therefore the overall environmental beauty of the state.
Sponsored by partnerships with the Oklahoma Conservation Commission, the Oklahoma Association of Conservation Districts, and the Friends of Blue Thumb—a nonprofit that supports water quality monitoring efforts around the state—Yard by Yard recognizes homeowners who engage in urban conservation efforts like growing native plants, composting, having a vegetable or rain garden, and not using pesticides. Kevin Mink, an urban soil health specialist with the Oklahoma County Conservation District, spearheaded the project. A former specialist with the Georgia-based nonprofit Trees Atlanta, he relocated to Oklahoma in 2019. With the onset of the COVID-19 pandemic, he began thinking of ways to safely promote urban conservation efforts while people were stuck at home.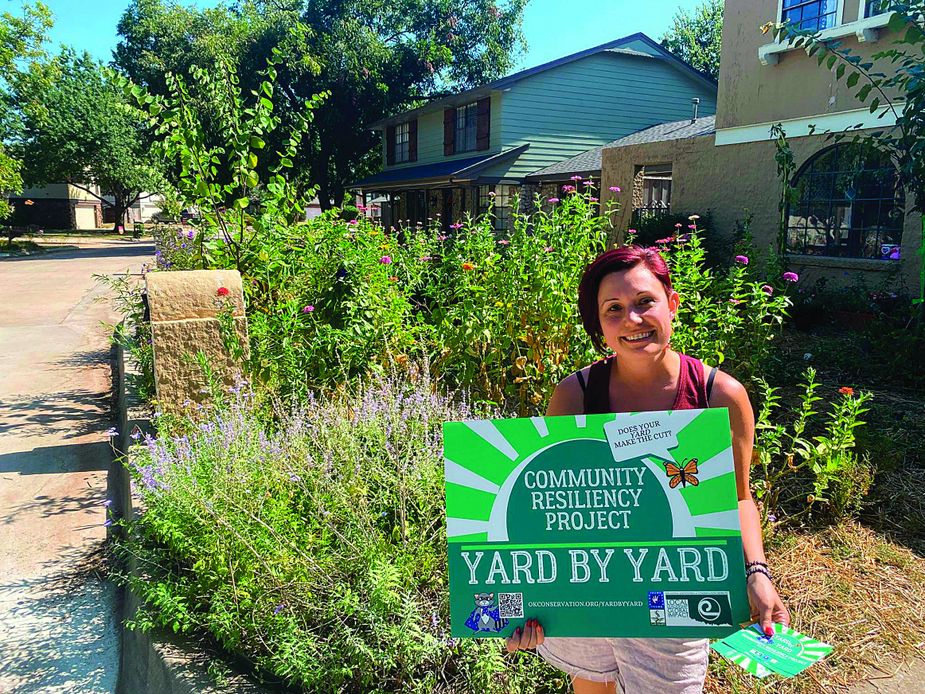 Yard by Yard-certified homeowners—like Kristen Amon of Oklahoma City, here—receive signs, wildflower seed packets, and recognition on Facebook. Photo courtesy Yard by Yard
"We couldn't host any sort of in-person education events," Mink says. "So I asked, 'How are we going to educate people and interact with them about conservation when we can't meet in big groups?'"
After sharing videos online of his work with composting and hügelkultur-—making raised garden beds filled with rotten wood-—Mink noticed a burgeoning interest in at-home conservation practices. He developed the idea for a certification program to recognize earth-friendly yard maintenance practices in Oklahoma City and shared his idea with a small group of local conservationists.
Cheryl Cheadle, volunteer coordinator for the Blue Thumb Water Quality Education Program, was part of this group. A career conservationist and native of Henryetta, Cheadle joined the initiative and helped bring it to Tulsa County in August 2020.
"We are hoping to organically grow this because of people saying, 'Yes, I can do that, and I want to be involved,'" she says.
Yard by Yard volunteers work closely with local conservation districts—governmental subdivisions that promote the sustainable use of local resources. Conservation Districts were developed across the nation in the 1930s in response to the Dust Bowl, which ravaged the plains of Oklahoma. As of 2021, ten conservation districts throughout Oklahoma adopted the program. Cheadle says there are plans to bring ten more aboard in 2022.
"We're giving people food for thought: There is a new and better way to do it," she says. "There is a way to add a whole lot more interesting elements to your yard, and there is a way to think differently about who is your neighbor. Yes, your neighbor is the guy down the street and the guy across the street. Your neighbor is also that box turtle, and your neighbor is that hummingbird, and your neighbor is that monarch butterfly."
For example, by avoiding non-organic herbicides and pesticides, Mink says residents help ensure that potentially harmful chemicals do not enter local waterways, impacting not only wildlife but also community health and resources.
While there are many benefits to making your slice of earth more friendly toward every creature, Cheadle says that some of the simple pleasures can also be the most rewarding.
"You're going to enjoy the birds that visit your trees, and you're going to know that you did something good for the environment," she says.
Residents interested in learning more about the Yard by Yard Project can visit okconservation.org/yardbyyard or facebook.com/yardbyyardoklahoma.