6 minutes
Published October 2021
By Whitney Bryen | Photos by Brent Fuchs | 6 min read
Buffaloaf is a hearty, earthy dish that highlights the protein-rich meat of an animal that, for many Native American tribes, represents resilience and strength. Bison—or buffalo, which is one in the same when it comes to cooking—is a staple in many kitchens, including Potawatomi chef Loretta Barrett Oden's. It's sweeter than beef, leaner than turkey, and dense with Native history.
"I've been working with buffalo for so long that I can tell what kind of grass they're feeding on," says Barrett Oden. "It's subtle, but there is a hint of grass flavor. And where the buffalo thrive, the land thrives along with it. It's one of those beautiful synergies that Mother Earth comes up with."
Historically, bison have sustained nomadic people by providing food, clothing, shelter, and tools. Today, they're helping future generations flourish as Oklahoma's Cheyenne and Arapaho Tribes break ground on the next phase of their bison program.
For the last four decades, the tribes have worked to bring bison back to the prairie and revive the land that sustains them. It started in 1980 with a gift of twenty-nine bison on 1,200 acres and has grown to nearly five hundred head across nine thousand acres, including a large ranch in Concho near the tribes' headquarters. They're also fixing erosion, restoring native grasslands, and otherwise revitalizing land in Colony, about eighty miles west of Oklahoma City, where the newest herd will roam at Seger Ranch—named for John Homer Seger, who opened an agricultural boarding school for Cheyenne-Arapaho Indians on the site in 1871.
"We believe that life is cyclical," says Nathan Hart, executive director for the Cheyenne and Arapaho Department of Business. "Once, the land was a hub of operations for the tribes, and then it was leased land, but now, we're taking it back over and moving our operations there."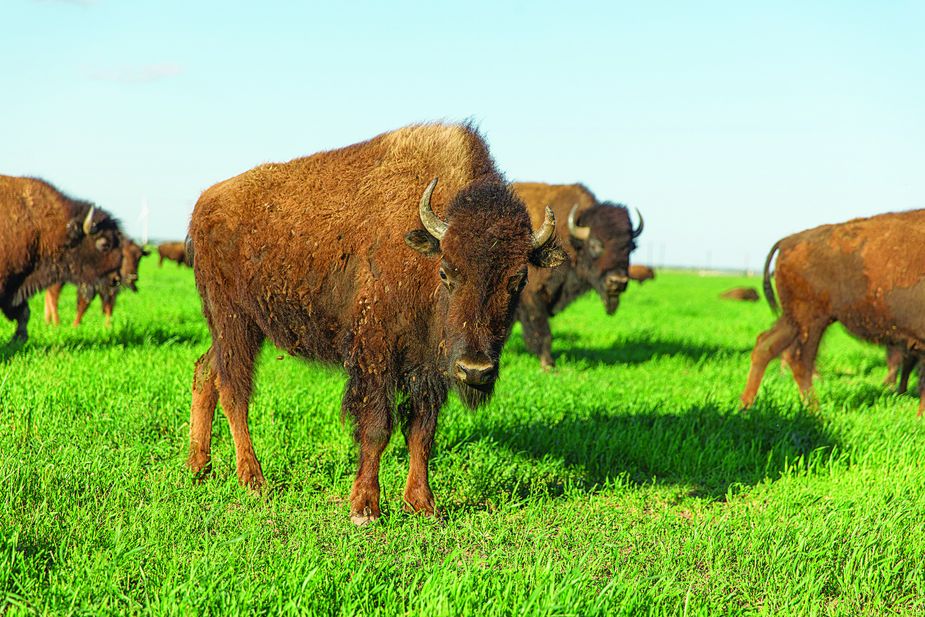 Bison grazing lands actually can help fight climate change, as properly maintained grasslands trap carbon and redistribute it into the soil. Photo by Brent Fuchs
Hart says about a hundred bison will live on the ranch, which will help populate the tribes' private label that will be available at some retail outlets and restaurants this summer or early fall. An elder once described the land as "black with bison," inspiring the label's name, Black Prairie Bison. Hart says the secret to the pure-bred, grass-fed premium meat that the label describes is in the soil, which is why the Seger Ranch operation is focused first on preparing the land.
"Healthy soil produces quality forage, and that forage produces healthier animals," Hart says. "If we take care of the soil, then everything else takes care of itself."
From the ground they roam to the way in which they are processed after slaughter, every detail of the animals' lives and deaths contribute to the flavor and texture of a premium final product. Now the tribes are preparing to close the circle as they break ground on their own processing plant later this year. They slowly have taken control of every aspect of its farm-to-table meat, and the processing plant is the final step to true ownership, Hart says.
The plant, which is part of a larger industrial park in Concho, will process mostly bison from other ranchers and cattlemen that will be sold in more than fifty stores, providing an economic boost for the tribes.
"In history, bison has always provided for us, and at one time, our bison herd was nearly extinct," Hart says. "It took a lot of effort to grow that back up, but we want to be a part of that, so we're taking care of the animal now too. It always comes back to that cycle of life."
In similar fashion, Oklahoma City resident Barrett Oden says her dishes are meant to honor the life of the animal and the people it sustains down to each and every ingredient. Her famous buffaloaf—often made with meat from the Cheyenne and Arapaho Tribes—is carefully constructed with the purity of the meat in mind. Rather than adding bread crumbs, as with traditional meatloaves, Barrett Oden uses quinoa and sage to add texture and accent the grassy flavor of her much-loved buffaloaf.
"Mother Earth put those creatures there for a good reason," Barrett Oden says. "And I'm really excited to get the chance to turn them into beautiful dishes."
The Cheyenne and Arapaho Tribes' Black Prairie Bison will be available for purchase at many Oklahoma grocery stores later this year. Until then, diners can try some at The Rez Restaurant inside Lucky Star Casino at Concho.
Get There
Lucky Star Casino Concho, 7777 N Hwy 81 Concho, OK 73022 or
TravelOK.com