16 minutes
Published October 2021
By Karlie Ybarra | 16 min read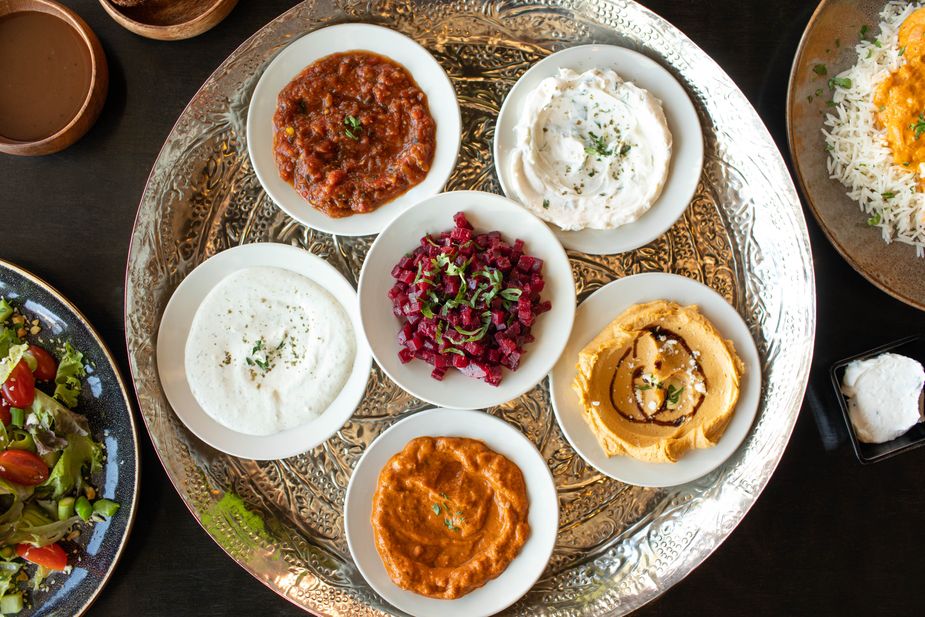 In Tulsa, Laffa Medi-Eastern Restaurant & Bar serves a variety of vegetarian-friendly cuisine. The Mezze Medley features a choice of salads, laffa and Greek pita breads, and savory dips. Photo by Valerie Wei-Haas
Nearly forty years ago, Mary Bernt, owner of Veggies Health Food Center & Café in Ardmore, noticed something alarming: Her children's health was suffering, and it got worse the more animal-based foods they consumed. The family tried vegetarianism. That wasn't enough, however, so they soon cut out animal products. Dairy, eggs, and gelatin all had to go.
"When we did that, their health issues disappeared," Bernt says.
Today, about 5 percent of Americans identify as vegan or vegetarian. There isn't much data on the subject from the 1980s, when Bernt's family made the switch, but it's safe to say that number was probably lower. There have always been certain groups who abstain from various animal products for health, religious, or financial reasons, but at the time, a wholly plant-based diet was considered fairly radical.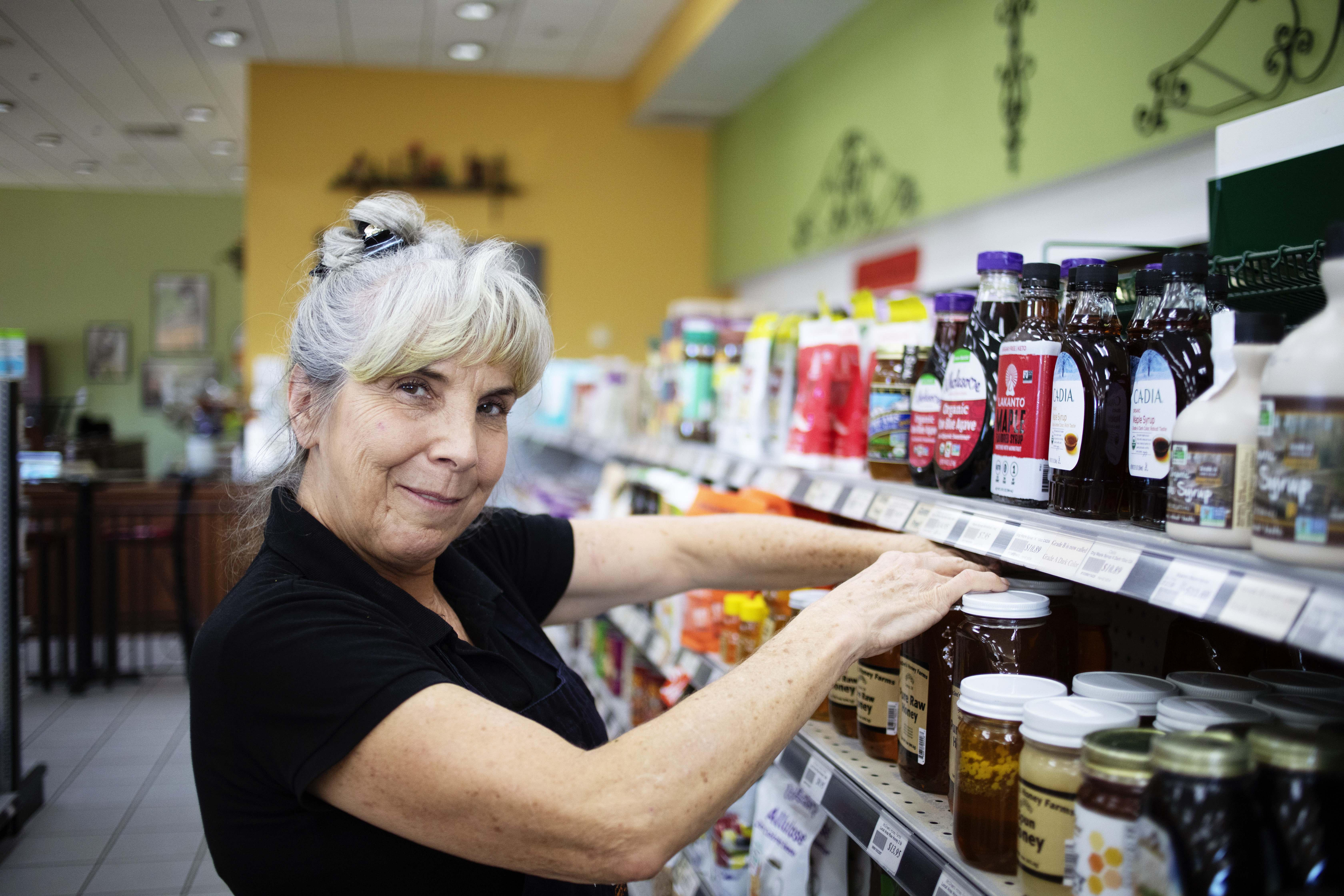 "Our son was in public school in a special education class, which was actually one of the things that drove us to take the final plunge into becoming completely plant-based," Bernt says. "The school's initial response was, 'What are you feeding him?' They sent the school nutritionist to find out why I had taken these steps. They really frowned upon it. I had to convince them I knew what I was doing."
As Bernt taught herself everything she could about nutrition and how to cook vegan meals her family would enjoy, she witnessed positive changes in her children.
"I got called into a meeting with the team at school, the same ones who had diagnosed my son as learning disabled, because he had such a significant turnaround over the summer," she says. "They were all scratching their heads, but they came to the conclusion that I had done something so significant that he started to learn."
Fresh local produce makes for a superior salad bar at Veggies Health Food Center & Café in Ardmore. Pizza, stir-fry, and daily specials round out the health-conscious options. Photo by Jamie Smith/Oak Tree Photography
The school came around, eventually requiring parents bringing snacks to eschew sugary treats for fruits and vegetables. But there were still challenges. Grocery stores weren't stocked with soy milk or Beyond hamburger patties. Customers couldn't order nutritional yeast or flax seeds online. And dining out usually meant consuming a plate of sides while everyone else feasted on meat and cheese.
Though Oklahoma is the heart of cattle country, the vegetarian landscape here has gone from black and white to Technicolor. It wasn't an instantaneous transformation like in The Wizard of Oz, but over the last few decades, Sooner State restaurateurs have introduced meat-free dishes into their menus that are every bit as satisfying as their animal-based counterparts.
As the co-owner of Sunnyside Diner and the 'S' in S&B's Burger Joint, Shannon Roper's life is inextricably linked with meat, but when his daughter decided to become a vegan, he took it in stride.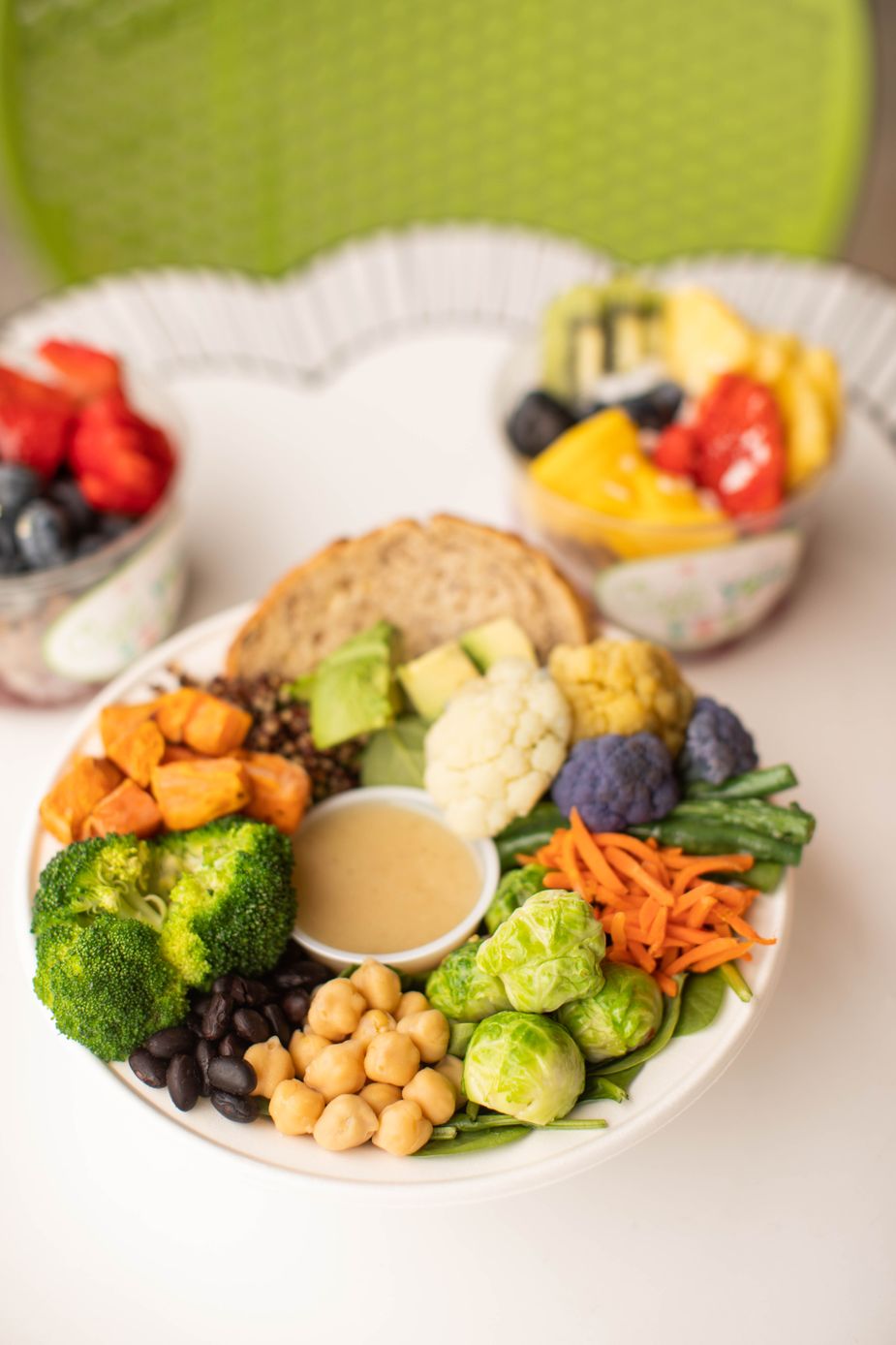 The Buddha Bowl at Café Yum in Tulsa pairs an assortment of vegetables, quinoa, beans, and chickpeas with a sensible dousing of champagne vinaigrette. Photo by Valerie Wei-Haas
"We cooked for her, but we got tired of cooking two meals, so we all started eating more plant-based," Roper says. "We realized there was a niche for that, so we tried it at the restaurants."
Dressed in peanut butter, fried onions, cumin aioli, or even mac and cheese, S&B's burgers with veggie or Impossible patties were a hit, offering all the richness of a burger without the guilt. Not to be outdone, Sunnyside has its own meatless menu. The best-selling Tofu Scramble is as delightful to the eyes as the stomach, with red and green peppers, mushrooms, onions, spinach, soy cheese, tofu, and avocado. And the chilaquiles are crispy, spicy, and topped with vegan chorizo. Roper and his team also have started testing vegan biscuits with green chili cream gravy and a poutine with mushroom gravy, vegan cheese, and tofu at their south Oklahoma City location.
While Sunnyside is a relative newcomer to the Oklahoma City vegetarian scene, Sala Thai has catered to that clientele for more than twenty-five years. In fact, many drivers might have spotted the restaurant's giant "Vegetarians Welcome" sign along Northwest Twenty-third Street near Oklahoma City University. According to Jordan Walker, who handles front-of-house operations, about half of Sala's customers are vegans or vegetarians.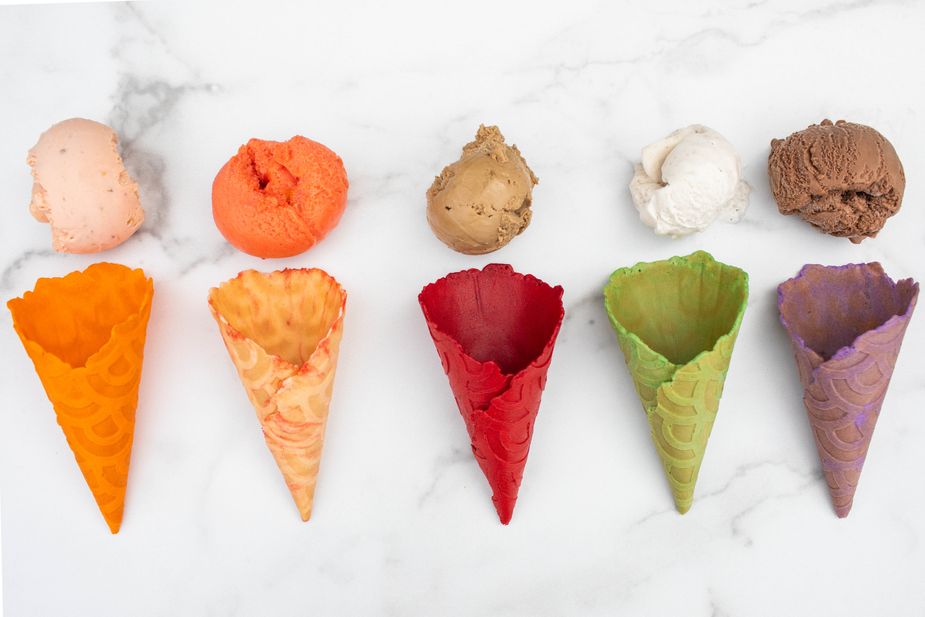 Gelato at Café Yum proves healthy isn't boring. Photo by Valerie Wei-Haas
With an emphasis on vegetables and rice, Thai food generally is vegetarian-friendly. Curries—like Sala's bright and piquant green and red varieties—often are made with a base of coconut milk, curry paste, fresh herbs, and veggies such as eggplant, bamboo shoots, and peppers. The papaya salad delivers a flavorful wallop thanks to a mixture of papaya, tomatoes, garlic, chili, peanut, and lime. Diners can ask for the pad Thai sans egg and still get a fix of sweet-and-sour. Most of Sala's dishes are available with tofu in lieu of meat, though the abundance of flavors and textures from sauces and vegetables makes it unnecessary. Vegans should watch out for less-than-obvious animal-based ingredients like fish sauce, however. Since Walker takes most of the orders, she's always happy to help customers get what they need.
"I don't label myself as vegan, but since I've started working here, I don't order anything with meat," she says. "I really like talking to people, taking the time to tell them which dishes are best for them."
On the other side of the world, Miranda Kaiser fell in love with another type of cuisine renowned for its vivacious flavors and plentiful fruits and vegetables. Decades ago, Kaiser left her native England for Israel. She soon discovered that her new home was filled with expatriates like her. In fact, she met her future husband there: a Tulsan and Israeli Defense Forces soldier named Philip Kaiser. As much as the people, Miranda was enamored with the food these travelers brought with them.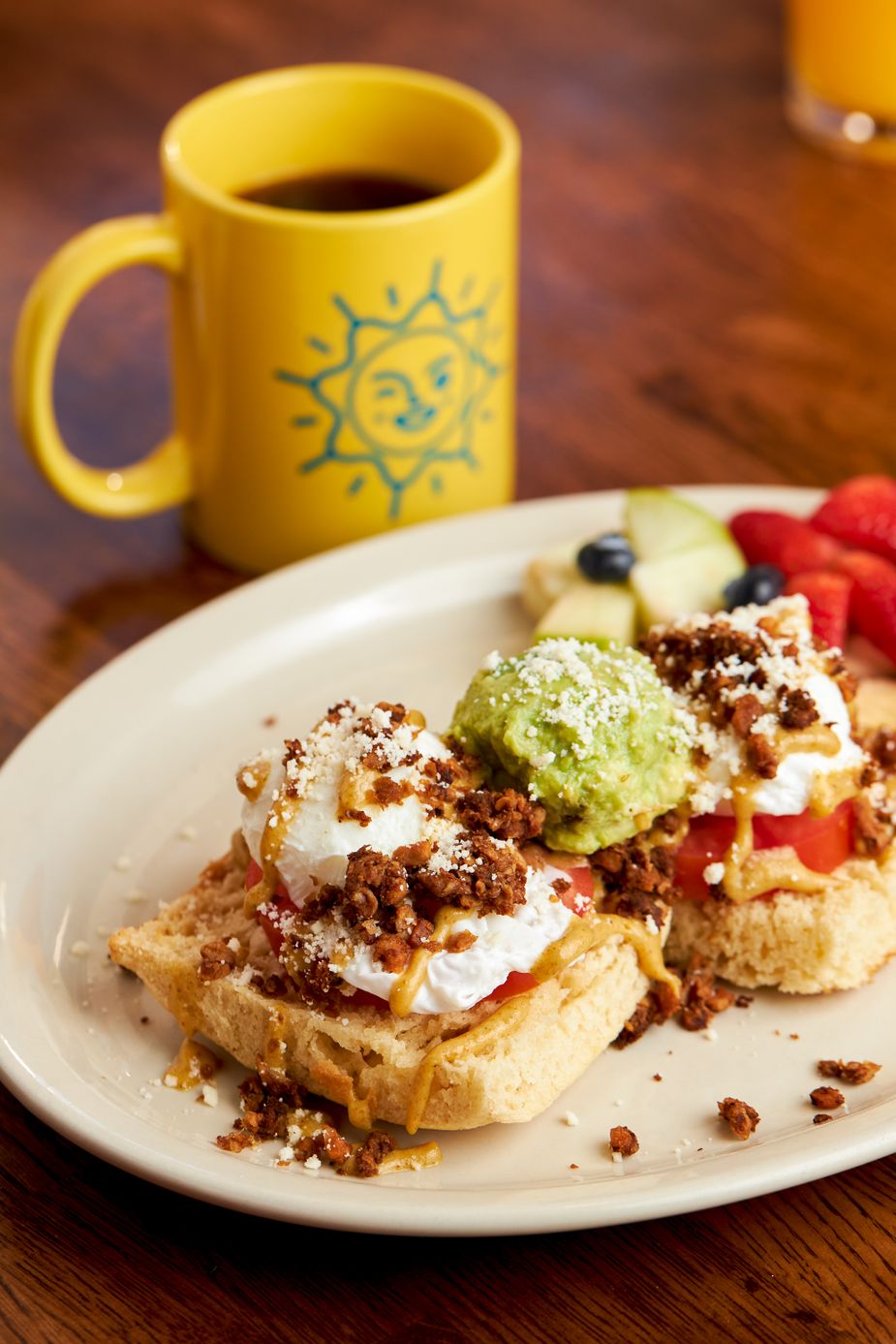 As is the case with most dishes at Sunnyside Diner, diners can substitute vegetarian ingredients in the Green Chili and Chorizo Benedict. Photo by Brandon Smith/Dwelling Table
"They're going out and discovering new foods, coming back to Israel, and figuring out how to tweak this and fix that," she says. "Maybe you've got your grandmother's food, but you've tweaked it a little, because you spent six months in Thailand. It's such a mishmash of old cultures and new discoveries, which is why our food is so fun, innovative, and vibrant."
After they got married in the early 1990s, the Kaisers opened a bar and café in Jerusalem. Eventually, they returned to Philip's hometown and broke into the restaurant scene. Cosmo Café came first, but it was when they opened Laffa Medi-Eastern Restaurant & Bar in 2013 that Miranda introduced Oklahoma to the wonders of Israeli cuisine.
Laffa's menu can be a little intimidating at first. Though its name might sound like something a Klingon would order at Quark's Bar, Laffa's khadu only tastes out of this world. It is based on an Afghani curry and made with butternut squash, yellow squash, turnips, and Brussels sprouts and served with buttered rice, lemony mint salad, and garlic labneh. The Laffa shakshuka isn't an ancient incantation but a bewitching concoction of eggs, feta, fresh parsley, and cilantro in a sultry tomato, red pepper, and spinach sauce. Kaiser also offers her take on familiar favorites, like the Street Falafel with sweet potato fries and a grilled cheese on naan.
On the other side of Tulsa, Café Yum is bowling over vegetarians with a fresh take on takeout. Customers can grab a diverse selection of coffee drinks, wraps, sandwiches, and salads, but the most delicious and nutritious meals might be the never-boring bowls.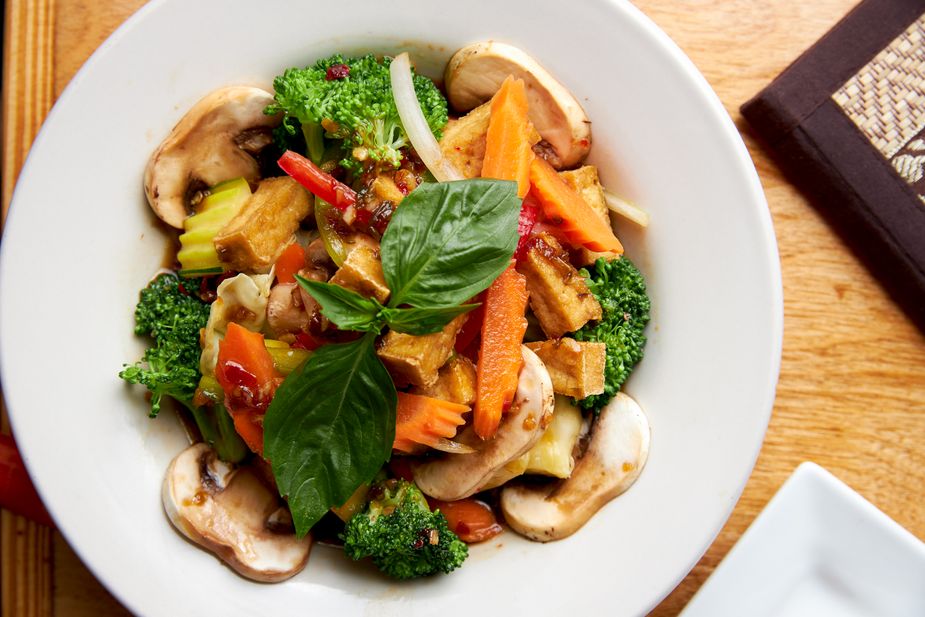 Sala Thai is a longtime go-to for Oklahoma City vegetarians, who favor dishes such as stir-fry mixed vegetables with tofu, here. Photo by Brandon Smith/Dwelling Table
"My favorite is the Salad Stuffed Sweet Potato bowl," says Brittany Charles, who owns and operates Café Yum with her mother Tracy. "You've got your hot sweet potato, and that's filled with chickpeas, sunflower sprouts, quinoa, avocado, and red cabbage and finished with a champagne vinaigrette. It's just so pretty."
Tracy and Brittany pack every bowl with wholesome, unexpected ingredients including hummus, roasted broccoli, goji berries, kale, and hemp hearts, but they take care of customers' sweeter cravings as well. In November, they added Himalayan salted caramel gelato made with cashew milk, strawberry almond crisp ice cream using coconut milk, and more frozen vegan treats to the menu. They even make their own vegan waffle cones in flavors like peppermint and ginger.
Outside the metros, vegetarian cuisine is a little harder to come by. Restaurants must prove they are truly remarkable to survive. Farmhouse Fresh Coffee & Deli in Enid is a perfect test case. When Paulette Rink first opened her little café in 2018, customers were incredulous. They liked the idea of fresh produce—Rink incorporates what she grows for her nearby Rowdy Stickhorse Market into everything she makes—but they weren't sure about some of the combinations.
"The first year, people asked, 'Pumpkin butter? On a sandwich? Really?'" Rink says. "But now, most of my regulars just come in and say 'Oh, just give it to me."
The menu changes daily, but it always includes a vegan or vegetarian soup—tomato basil Hungarian mushroom is a popular one—a vegetarian sandwich like a gourmet grilled cheese, a vegan breakfast burrito, and a veggie quiche. All are so satisfying, diners don't even miss the meat.
Now, customers from all over western Oklahoma drive or call in daily for vegetarian offerings, and they trust Rink enough to try just about anything.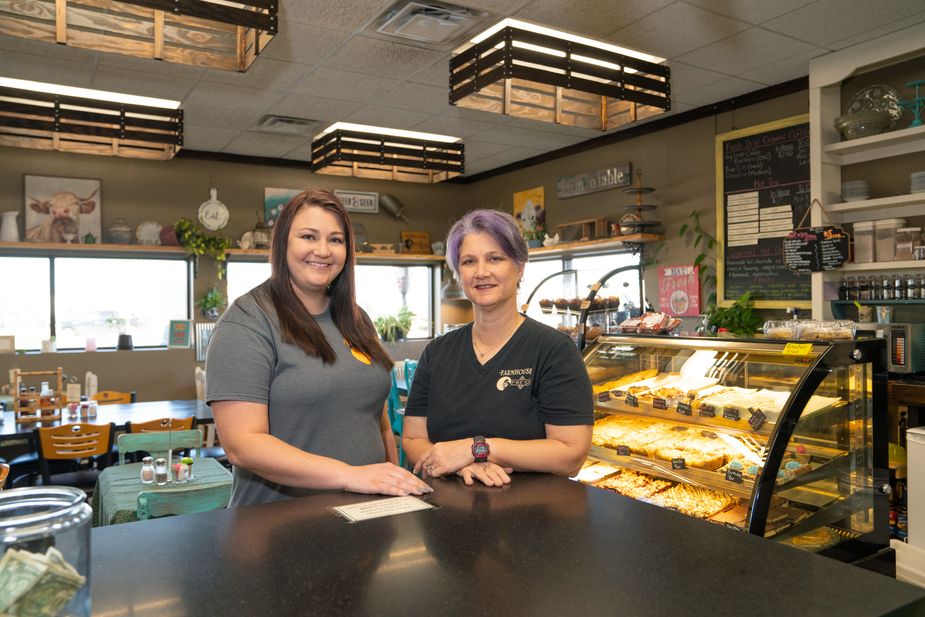 Paulette Rink, with daughter Bailey, opened Farmhouse Fresh in Enid with the goal of providing healthy and delicious dishes. Photo by Dawn Muncy
Trust is something Veggies Health Food Center & Café diners know about too. Mary Bernt is the owner and is an infinite font of vegan knowledge. Her vegan cooking classes are wildly popular, and her cookbooks—I Love Veggies and The Best of Veggies & Co.—inspire home chefs daily.
More than anything, Ardmore residents devour Bernt's food knowing they're going to get something as healthy as it is tasty. Veggies' salad bar is stocked with eighteen fresh-cut veggies, mostly from nearby Better Together and Lessonbrook farms, and six homemade salad dressings. Customers can use these ingredients to customize their own gourmet Haystack taco salad or order a puttanesca pizza on cauliflower crust. Daily features might include the Stunning Stir-Fry, spinach enchiladas with green chili faux-cheese sauce, BBQ Save the Chicken sandwich, and blueberry crisp for dessert. Whatever she makes, Bernt's food has caught the attention of vegans and carnivores alike.
"One day, there were three trucks in the parking lot with bumper stickers that said, 'The West wasn't won on salad,'" she says.
It's impossible to imagine an Oklahoma in which chicken-fried steak is replaced with chicken-fried tofu in the state meal. Luckily, no one wants to take meat completely off the table. Bernt and other restaurateurs are simply making plant-based eating a little easier and bringing more color to Oklahomans' plates.
Get There
Veggies Health Food Store & Vegetarian Restaurant, 1202 Brookview Dr Ardmore, OK 73401 or
TravelOK.com
Get There
S&B's Burger Joint, 5929 N May Ave Oklahoma City, OK 73112 or
TravelOK.com
Get There
Sunnyside Diner, 916 NW 6th St Oklahoma City, OK 73106 or
TravelOK.com
Get There
Sala Thai, 1614 NW 23rd St Oklahoma City, OK 73106 or
TravelOK.com
Get There
Laffa Medi-Eastern Restaurant & Bar, 111 N Main St Tulsa, OK 74103 or
TravelOK.com
Get There
Farmhouse Fresh, 717 S Hoover Enid, OK 73703 or
TravelOK.com