5 minutes
Published January 2023
By Megan Rossman | 5 min read
Salad is one of the kitchen's unexpected enigmas. Toss lettuce, fruit and vegetables, crunchy bits, dressing, and maybe some cheese in a bowl. Sounds easy enough, but rarely does it taste as harmoniously flavorful as that twenty-dollar salad you splurged on for lunch.
There are no hard rules for salads, but there are loose, basic formulas you can follow to build your own potpourri of earthly, edible delights. The National Restaurant Association identifies four key components: a base, body, garnishes, and dressing. The base is generally lettuce topped with a body of main ingredients such as proteins, fruits, and vegetables. Using fresh fruit and vegetables is critical. In winter and early spring, hardy greens like arugula, kale, and Swiss chard form a readily available foundation along with seasonal goodies like squash, sweet potatoes, pears, and oranges. Cheeses, nuts, croutons, and other garnishes top it off, followed by the dressing.
Look to that fancy restaurant salad for inspiration in your own kitchen.
"If possible, use lots of variety in color and flavor—crunchy, sweet, bitter, salty, creamy, bright," advises Heather Paul, who co-owns A Good Egg Dining Group in Oklahoma City, which includes more than nine eateries around the metro area.
One of her current favorites on her own menu is the Italian Kale Salad at Cheever's Café—an ample helping of the namesake green blended with white balsamic vinaigrette, bread crumbs, crushed pistachio, white cheddar, Fuji apples, and grapes.
As Paul says, leaves are a traditional base-—but not a requirement.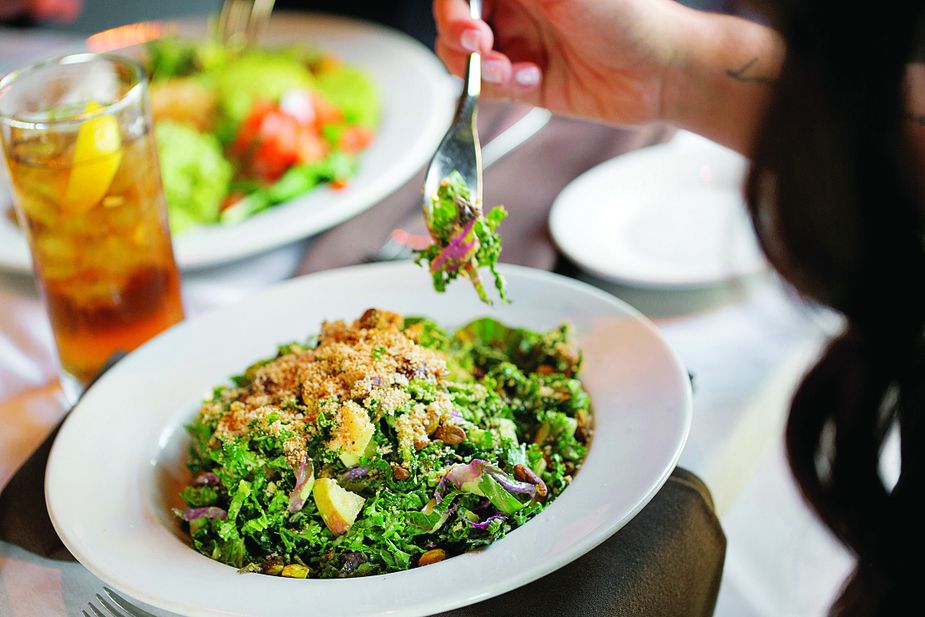 A blend of sweet and savory flavors and contrasting textures makes the Italian Kale Salad at Cheever's Café a mouthful of fun. Photo by Choate House
"Salads can be comprised of so many ingredients besides lettuces," she says.
Cheevers' quinoa salad—with chile-lime corn, avocado, pico de gallo, almonds, goat cheese, red quinoa, and garlic vinaigrette—is a delicious case in point.
Meanwhile in Tulsa, Juniper's salad offerings also go beyond the greenery, with bases that range from grilled pears or vegetables to roasted chickpeas.
Justin Thompson, owner and proprietor chef of the Justin Thompson Restaurant Group, which operates Juniper and other Tulsa favorites like Freya and Prhyme Steakhouse, is a man who certainly knows how to prepare an awe-inspiring salad.
"Use foods that you love; it's as simple as that," he says. "Great salads should have healthy, fresh ingredients and utilize as many of the senses as possible to avoid getting bored. I try to incorporate at least two different greens, preferably one hearty like kale or frisée, and one tender green like baby spinach or green leaf lettuce. In the summer, I like using romaine and iceberg for their high water content and refreshing crunch. After the greens, I think about what other textures I want to incorporate, like nuts, or a soft cheese, croutons, or seeds. Lastly, a good vinaigrette or dressing should complement the other ingredients and provide some sweetness, some tart, and some body."
Myles McClanahan, the company's corporate chef, advises simply having a good time with the process. Of course, he also stresses dressing as a key factor. Using too much dressing is a rookie mistake that can result in a soggy mess.
"Remember, you can always add more later, but you can't take it back," he says.
If you have a good dressing, you're more likely to have a better overall creation. Most home chefs will get tastier results, he says, if they ditch the bottle and stick with a homemade brew. McClanahan uses a three-to-one ratio of three parts oil to one part vinegar and spikes it with honey, spices, herbs, and whatever else might impart a zesty zing.
"You can make a salad out of pretty much anything," he says. "Just have fun with it. If you're not having fun, you're not doing it right."
Ingredients
⅓ cup apple cider vinegar
½ Tbsp. Dijon
2 tsp. honey
2 Tbsp. apple cider juice
1 cup canola or vegetable oil
Directions
Combine all ingredients except oil in a blender and mix.
While the blender is still on, slowly drizzle in oil to emulsify.
Salt and pepper to taste.
A Good Egg Dining Group
(405) 652-1182
goodeggdining.com
Cheever's Café
2409 North Hudson Avenue in Oklahoma City
(405) 525-7007
cheeverscafe.com
Justin Thompson Restaurant Group
(918) 779-6333
jtrgroup.com