7 minutes
Published May 2022
By Ben Luschen | 7 min read
For Chef Jeff Chanchaleune, it all began with sticky rice. As is the case for most Laotians, no family meal was complete without it. A handheld, malleable ball of the gummy and glutinous grain was more than tasty: It was the vessel by which a bevy of bold, savory, and invariably spicy dishes could be plucked, scooped, and swiped in a near endless set of combinations. Sticky rice literally held together their meals and figuratively bound a family's heritage.
A step into Oklahoma City's Ma Der Lao Kitchen is a step into Chanchaleune's childhood home—or a close enough approximation, at least. A 1990s hip-hop and R&B playlist, followable on Spotify and curated by the head chef himself to replicate the soundtrack of his millennial youth, greets guests as they take their seats. Behind the counter, the same family recipes for laab (the national dish of Laos), chili dips, and spicy steamed catfish are prepared to be shared at tables. The most notable differences are the tables and chairs themselves. As is Laotian custom, Chanchaleune's family ate while seated on the floor around a table about six inches off the ground.
Chanchaleune is most known as the chef and co-owner of Gorō Ramen, founded in Oklahoma City's Plaza District in 2016 but now located in a larger space in the Paseo Arts District. After the move in September 2020, Chanchaleune opened Tori Tori! Fried Chicken Shop—a fast-casual take on Japanese fried chicken—in the former Gorō space. Though the chef liked the concept, he could not shake the urge to start on a true passion project. Chanchaleune had always dreamed of introducing Oklahomans to the food that raised him. A year after opening Tori Tori!, he officially converted the space into Ma Der.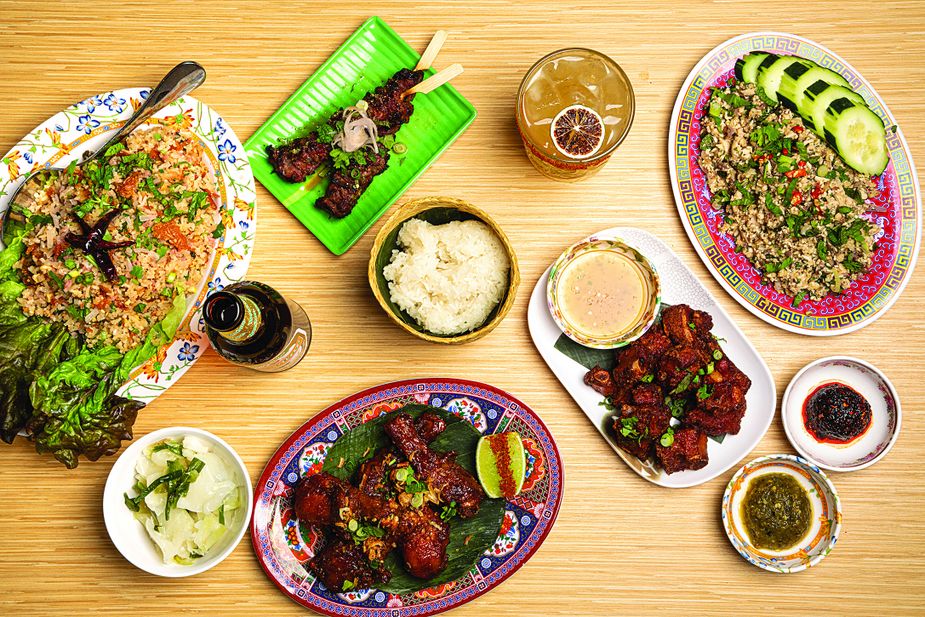 Ranging from $2 to $13, Ma Der Lao Kitchen's menu items are priced so customers can enjoy several dishes. Photo by Lori Duckworth
"I knew I wanted to do a Lao restaurant," he says. "I didn't know how, where, or what it would be, but it has always been in the back of my head. There were no Lao restaurants, and I wanted it to exist. I also wanted to do it before my parents pass and I'm cooking from memory."
The traditional cuisine of Laos often is overlooked in the United States in favor of those from the bordering nations of Vietnam and Thailand. The phrase ma der is the Laotian equivalent of "come eat" and is Chanchaleune's invitation to those who want to learn more about the country's social food culture.
Though a trained gourmet chef, Chanchaleune specifically sought to replicate the nostalgic homestyle recipes of his mother and other family members when developing the Ma Der menu. He observed and cooked alongside them as they prepared childhood favorites like nam khao—a crispy and crunchy seasoned rice salad with pork sausage, green onions, ground chili, and lime served with fragrant herbs and lettuce—and laab gai, an aromatic chicken salad packed with spice and served with cucumber slices.
On-the-bone fried pork spare ribs or cheun muu are a delight as well, but nearly as essential to Laotian dinners as sticky rice are the jaew chili dips that can enhance any bite or even stand alone. Ma Der offers both roasted sweet and charred green varieties. Chili peppers frequently are used in Laotian cooking and pickling practices, and Chanchaleune's mother consistently prepared meals at a very high spice level by American tastes.
Aside from the food itself, the Ma Der concept might be different from what some expect. Dishes are ordered to be shared among a group. Though there is no one correct way to eat Laotian food, Chanchaleune encourages patrons to eat with their hands by pinching off a portion of sticky rice and using it to nab their own ideal bite. Additionally, while the food is served family style, Ma Der's aim is to be more of a hip and social dining destination than a traditional mom-and-pop. The restaurant is open until 11 p.m. on Fridays and Saturdays, and guests are welcome to grab a seat at the bar for a Laotian-inspired cocktail or a glass of Beerlao, rice lager that is the Laotian national beer being served for the first time in Oklahoma.
While there might be pressure for a chef to adjust a cuisine for a new, wider audience, Chanchaleune is instead inviting the masses to join in on his family's food traditions with no holds barred. The end result represents a pride of heritage that the chef wants and his family demands.
"My dad's family, they're all on the West Coast in Oregon," Chanchaleune says. "They're like, 'You better make it real Lao and not Thai Lao. Don't make it too Americanized.' And I can't. This is the first time a lot of Oklahomans are having Lao food, and there is no way I am going to dumb it down. I think of Lao food as unapologetic. That's the way it is, and I believe in it."
Get There
Ma Der Lao Kitchen, 1634 Blackwelder Ave Oklahoma City, OK 73106 or
TravelOK.com