12 minutes
Published March 2020
By Karlie Ybarra | 12 min read
On September 26, Oklahoma Today teamed up with the Made in Oklahoma Coalition and the Oklahoma State Fair for the Oklahoma Pride Cooking Contest. The following recipes, featuring made-in-Oklahoma products, beat out more than fifty other starters, main courses, and sweets. Bon appétit!
Appetizers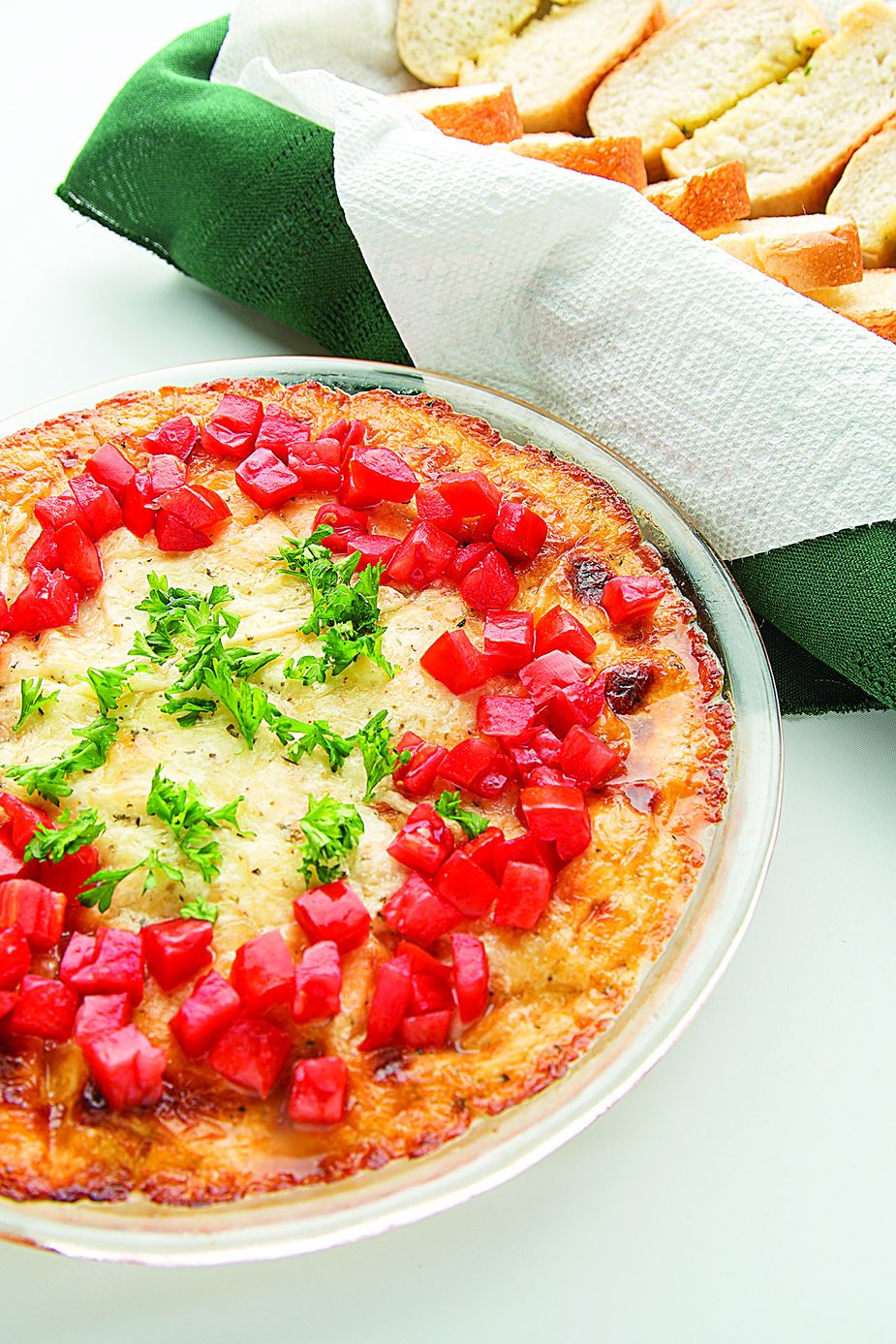 Smoked Mozzarella Fonduta by Linda Gronewaller. Photo by Lori Duckworth.
Smoked Mozzarella Fonduta
By Linda Gronewaller of Chandler
1 cup Braum's sour cream
8 ounces smoked mozzarella cheese, shredded
8 ounces Braum's provolone cheese, shredded
½ cup Parmesan cheese, finely grated
1 tsp. Italian seasoning
Pinch red pepper flakes
1 Roma tomato, diced
1 Tbsp. fresh parsley, chopped
1 loaf Braum's Italian bread, sliced
Preheat oven to 450 degrees. Combine sour cream, all 3 cheeses, Italian seasoning, and red pepper flakes in a large bowl. Spray 1.5- quart casserole dish or pie plate with nonstick spray. Pour the mixture into the prepared dish. Bake for 15 minutes until the mixture is melted and bubbly. If you want the top extra brown, broil for an additional 2 to 3 minutes. Garnish with diced tomatoes and parsley. Bake bread slices for 5 minutes then serve immediately with dip.
Sausage Chili Cups
By Melissa McLaughlin of Oklahoma City
¾ cup multigrain tortilla chips, crushed
cup oats
1 cup Shawnee Best all purpose flour
¼ tsp. baking soda
¼ tsp. salt
½ cup plus 2 Tbsp. unsalted butter, melted
¼ cup ice water
8 oz. Schwab's original hot links, cut into chunks
1 Tbsp. olive oil
3 Tbsp. dried onion
½ tsp. cumin
½ tsp. chili powder
1 10-oz. can Rotel, drained
¼ cup Braum's Muenster cheese, shredded
¼ cup Braum's cheddar cheese, shredded
For crust, preheat oven to 375 degrees. Combine first 7 ingredients well and mix into a dough. Press into cupcake tins and bake for 10 minutes.
For filling, mix all remaining ingredients well and add to cupcake tins. Bake an additional 15 minutes.
Cowboy Confetti
By Michelle Robertson of Norman
3 Mountain View jalapeño cheddar smoked sausage links
7 slices Braum's bacon, each slice cut into 3 sections
1 cup Head Country barbecue sauce
½ cup Head Country hickory smoked barbecue sauce
1 oz. olive oil cooking spray
Preheat oven to 400 degrees. Slice each sausage link into equal, round pieces. Wrap with bacon. Secure with a toothpick. Spray a 9-by-11-inch baking dish with nonstick spray. Bake for 5 minutes. Mix the sauces together and pour over pieces. Return to oven and bake for 20 minutes.
Main Dishes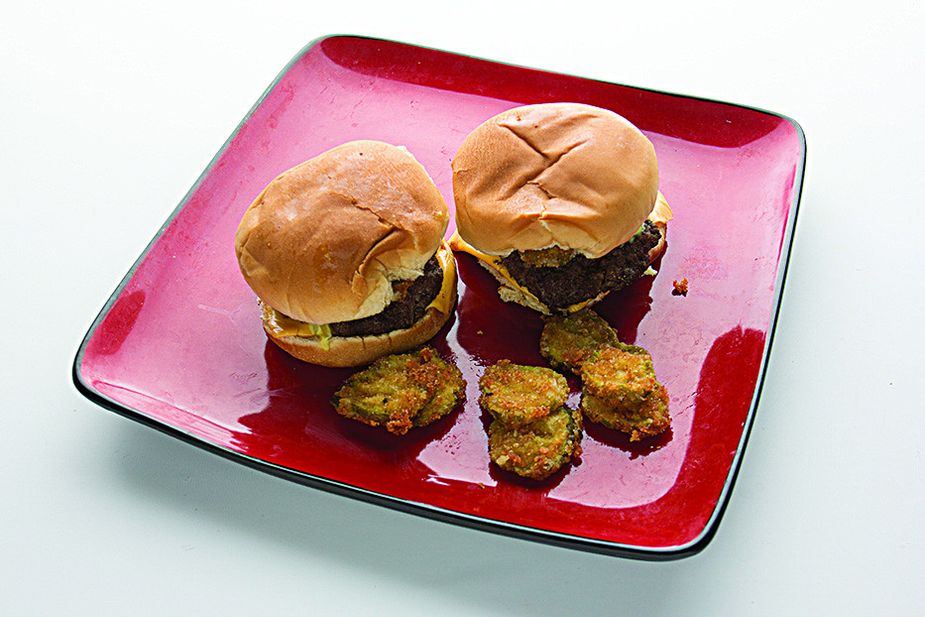 A Heck of a Dill Burger by Jane Ozment. Photo by Lacey Elaine Dillard
A Heck of a Dill Burger
By Jane Ozment of Purcell
½ cup bread crumbs
2 tsp. Daddy Hinkle's spicy pepper seasoning, divided
1 cup vegetable oil
1 large Braum's egg, beaten
20 slices Braum's hamburger dill pickles
¼ cup mayonnaise
1 Tbsp. Griffin's mustard
½ cup Red Hot Mamma's Ragin' Relish, divided
1 pound Braum's lean ground beef
4 slices Braum's American cheese
4 small hamburger buns
In a small bowl, combine bread crumbs and 1 tsp. seasoning. Place beaten egg in another bowl. Heat oil in medium skillet over medium heat. Dry pickles with paper towel. Dip one at a time into egg, then coat with crumb mixture. Fry in hot oil until golden brown on each side, turning once. Set aside on paper towels.
In a small bowl, combine mayonnaise, mustard, and ¼ cup relish. Refrigerate.
Oil grill and preheat to medium-high. Gently mix together beef with remaining relish. Shape into 4 patties. Place on preheated grill. Sprinkle with remaining seasoning. Grill for 5 minutes on each side or until cooked to 160 degrees. Place a slice of cheese on each patty. Warm buns on grill. Place burger cheese side down on bottom bun. Place 5 pickle slices on each burger. Spread top bun with dressing.
Tomato Basil Soup with Grilled Cheese Croutons
By Holly Cole of Norman
1 32-oz. jar Scaffetta's Tomato Basil Soup
8 oz. low sodium beef stock
8 oz. low sodium chicken stock
1 small onion, diced
3 cloves garlic, diced
6 oz. tomato paste
Dash Worcestershire sauce
Dash red wine vinegar
Dash cayenne pepper
1 tsp. crushed red pepper
1 cup fresh basil, chopped
4 Crest English muffins, sliced
3 Tbsp. Braum's unsalted butter
2 slices Braum's American cheese
1 cup Watonga Cheese Factory sharp cheddar, shredded
¼ cup smoked Gouda cheese, shredded
4 Tbsp. mayonnaise
2 Tbsp. olive oil
In a large stock pot, sauté onions, garlic, and crushed red pepper in olive oil until soft. Add tomato basil soup, spices, stocks, tomato paste, and vinegar. Simmer covered for 15 minutes. Add chopped basil and simmer for 5 minutes. Turn off heat and purée with an immersion blender until smooth. Heat on low for 5 to 10 minutes and taste. Adjust salt if needed.
For croutons, melt butter in a nonstick skillet. Spread mayonnaise on all sides of bread. Place one slice in skillet and top with cheeses. Top with another slice of bread and cook on both sides until golden and crisp. Cut into squares and float in soup.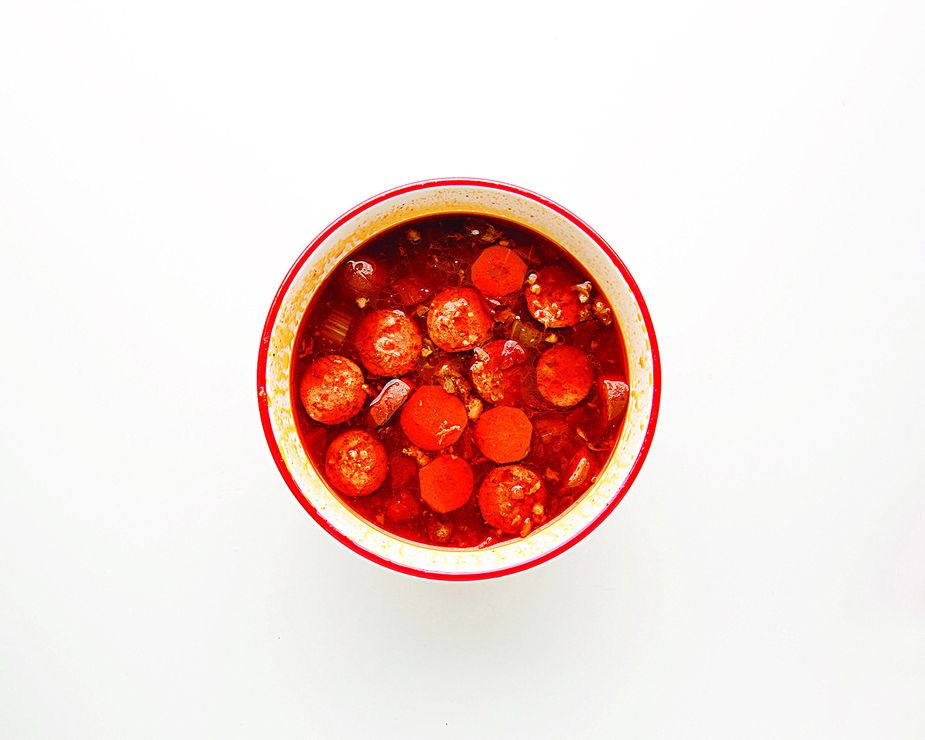 Smoked Sausage and Beef Stew with Vegetables by Carolyn Doyle. Photo by Lori Duckworth.
Smoked Sausage and Beef Stew with Vegetables
By Carolyn Doyle of Wayne
1¼ pound Bar-S smoked sausage, sliced thin
2½ pounds boneless beef chuck roast
1 32-oz. can beef broth
2 cups Shawnee Best all purpose flour
1 large onion, chopped
4 large potatoes, peeled and chopped small
2 large carrots, peeled and sliced thin
1 cup Maria Rae's salsa
3 Tbsp. Head Country barbecue sauce
1 10-oz. can Rotel
1 can ranch-style beans
2 Tbsp. ground chili powder
1 Tbsp. ground cumin
1 tsp. salt
1 tsp. ground black pepper
8 Tbsp. vegetable oil
Roll beef in flour and then brown in skillet with oil. Put beef in a Crock-Pot and pour in beef broth. Add onion and cook on low overnight. Slice sausage and add to Crock-Pot. Add vegetables. Cook until vegetables are tender, at least 4 hours on high. Add the rest of ingredients to Crock-Pot and cook on low for several hours.
Desserts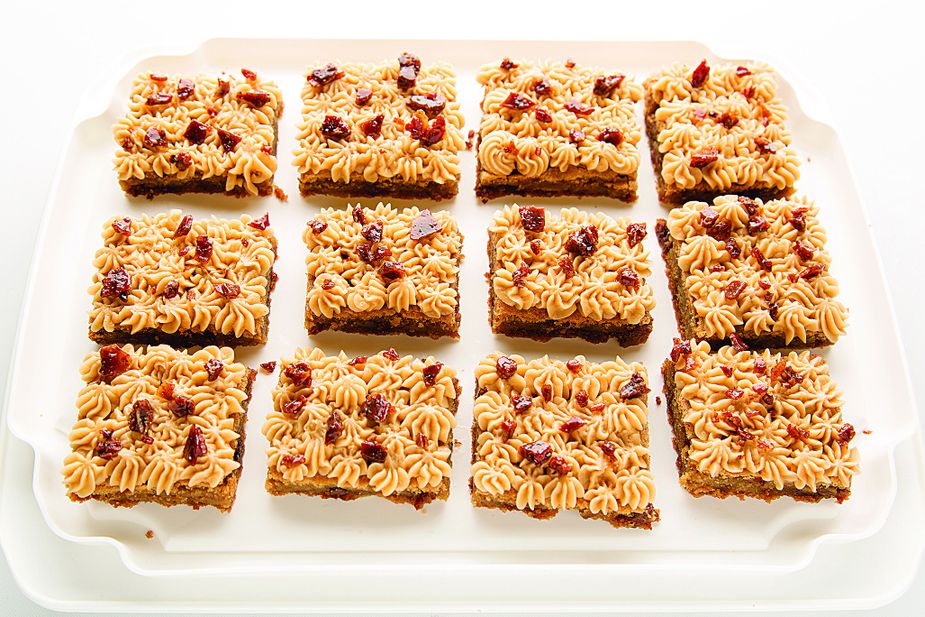 Candied Bacon Blondies by Amanda Warren Marshall. Photo by Lori Duckworth.
Candied Bacon Blondies
By Amanda Warren Marshall of Moore
¼ cup brown sugar, packed
2 Tbsp. apple cider vinegar
4 Tbsp. Griffin's syrup
Fresh cracked black pepper to taste
1 pound J.C. Potter hickory smoked bacon
1½ cup brown sugar, packed
1½ stick Braum's unsalted butter
1 Tbsp. cooled, rendered bacon fat
1 tsp. vanilla extract
2 large eggs
2 cups Shawnee Best all purpose flour
¾ tsp. baking soda
½ tsp. salt
2 sticks Braum's unsalted butter
¾ cup powdered sugar
½ cup real maple syrup
½ cup Griffin's syrup
2 tsp. vanilla extract
¼ tsp. salt
For candied bacon, cook bacon until crisp. Cool and drain on paper towels. Crumble. In a skillet, mix ¼ cup brown sugar, vinegar, 4 Tbsp. Griffin's syrup, and pepper. Add bacon crumbles. Cook over medium-high heat until boiling, stirring constantly. Cook 5 to 7 minutes until hard crack stage is reached. Pour onto parchment paper to cool. Break into small pieces.
For blondies, preheat oven to 350 degrees. Cream 1½ sticks butter, bacon fat, and 1½ cups brown sugar together. Fold in eggs and 1 tsp. vanilla. In a separate bowl, mix flour, ½ tsp. salt, and baking soda. Fold dry ingredients into creamed butter and sugar. Fold in candied bacon crumbles, reserving some for topping. Spread mixture onto a 9-by-13-inch pan lined with parchment paper. Bake for 25 to 30 minutes, or until toothpick comes out clean. Remove from pan and allow to cool completely.
For icing, cream remaining butter and sugar. Slowly add remaining syrups, vanilla, and salt. Frost blondies and top with remaining candied bacon bits.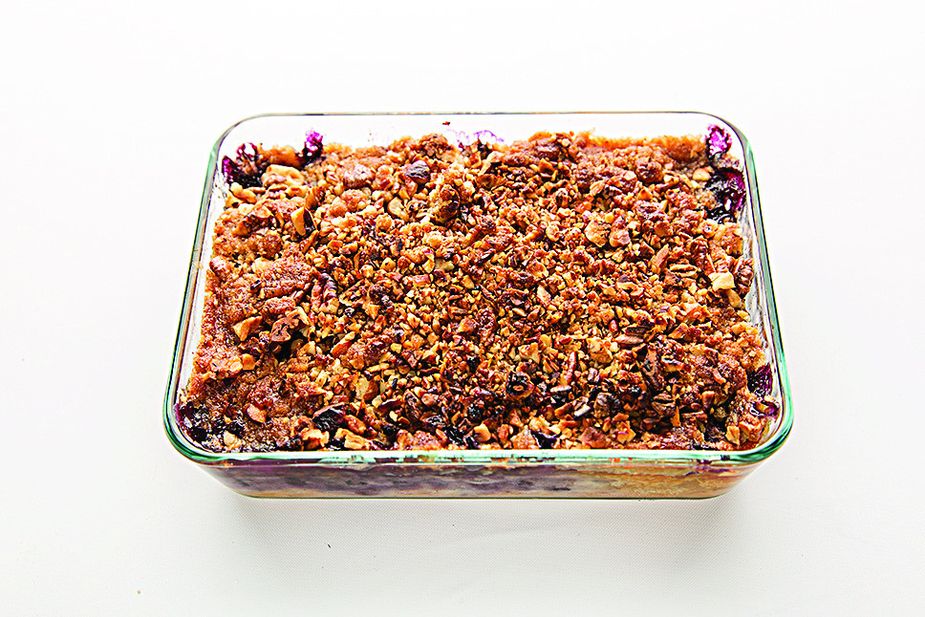 Banana Blueberry Oatmeal Bake by Jesica Cannon. Photo by Lori Duckworth.
Banana Blueberry Oatmeal Bake
By Jesica Cannon of Oklahoma City
1½ cup Hiland milk
cup Cole's honey
1 tsp. vanilla extract
½ tsp. cinnamon
tsp. salt
1¼ cup old-fashioned oats
2 bananas, sliced
1 cup blueberries
¼ cup brown sugar, packed
2 Tbsp. Shawnee Best all purpose flour
2 Tbsp. butter, softened
½ cup pecans, chopped
Preheat oven to 350 degrees. In a bowl, whisk milk, honey, vanilla, cinnamon, and salt until blended. Stir in oats. Arrange banana slices in a single layer in a greased baking pan. Top with blueberries. Pour oatmeal mixture over the top, spreading evenly. Bake 25 to 30 minutes or until set. Remove from oven and preheat broiler.
For topping, mix brown sugar, flour, and butter in a small bowl with a fork until crumbly. Stir in pecans. Sprinkle mixture over oatmeal and broil 7 to 8 inches from heat for 2 to 3 minutes or until lightly browned.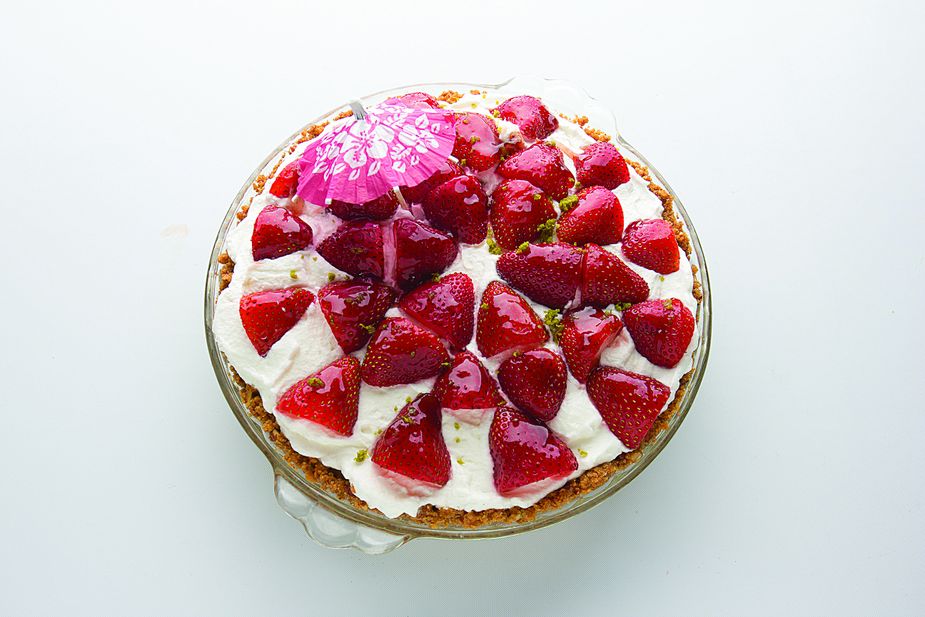 Lime and Strawberry Daiquiri Pie by Jane Ozment. Photo by Lacey Elaine Dillard.
Lime and Strawberry Daiquiri Pie
By Jane Ozment of Purcell
1½ cup graham cracker crumbs
½ cup Valley View native pecans, chopped
3 Tbsp. sugar
6 Tbsp. Hiland unsalted butter
3 large Braum's eggs
1 14-oz. can sweetened condensed milk
6 limes, juiced
1 tsp. lime zest
1 tsp. imitation rum extract
1 cup Hiland heavy cream
¼ cup sugar
1 cup strawberries, sliced in half
¼ cup Griffin's strawberry preserves, melted
Additional lime zest to taste
For crust, preheat oven to 325 degrees. Combine graham cracker crumbs, pecans, 3 Tbsp. sugar, and butter. Stir until moistened. Press into bottom and sides of a 9-inch pie pan. Bake 8 to 10 minutes until golden. Remove and cool.
For filling, combine eggs, milk, lime zest and juice, and rum extract in a large bowl. Whisk until well-blended. Pour into cooled pie crust. Bake 35 to 40 minutes or until firm. Remove and cool completely. Refrigerate for several hours or overnight.
For topping, whip heavy cream and remaining sugar together on high speed until peaks form. Spoon onto chilled pie. Arrange strawberries on top of whipped cream. Brush with melted preserves. Top with additional lime zest if desired.