Power-Up Your Weekend with these Oklahoma brunch spots
18 minutes
Published May 2019
By Karlie Ybarra | 18 min read
Brunch is more than a meal. It's an opportunity to eat indulgently, drink heartily, and laugh loudly with the ones you love. Also, cocktails!
Brunch is a delicious and extravagant affair at Smoke in Tulsa. Pictured here are the restaurant's avocado toast, smoked brisket burrito, and smoked salmon scramble. Photo by Valerie Wei-Haas
The table gives a little groan as servers bring plate after plate of delicacies: biscuits drenched in cream gravy and runny eggs; waffles topped with majestic peaks of whipped topping; golden omelets eclipsing the plates on which they're served. As the dining party sips mimosas and digs into the sweet and savory bounty before them, they aren't just satisfying their hunger. They're enjoying a little slice of culinary rebellion dipped in batter, fried to perfection, and sprinkled with powdered sugar. Brunch is more than just breakfast with cocktails or an early lunch with eggs (and also cocktails): It's a declaration against overstuffed schedules, impersonal digital interactions, and the annexation of carbohydrates. In Oklahoma, it's also really, really tasty.
The idea of brunch certainly isn't a modern invention. The term first appeared in a magazine article in England before the turn of the twentieth century.
"Brunch is cheerful, sociable, and inciting," Guy Beringer wrote in Hunter's Weekly in 1895. "It is talk-compelling. It puts you in a good temper, it makes you satisfied with yourself and your fellow beings, it sweeps away the worries and cobwebs of the week."
It was in the years following World War II, during which millions of women entered the workforce for the first time, when Americans began seeking respite on Sunday mornings, that brunch started to catch on. But it took a while to reach the center of the country. When Bruce Rinehart opened Rococo on Pennsylvania Avenue fifteen years ago, Oklahomans didn't have many brunch options aside from hotels and chains.
"There was only a handful of independent restaurants in Oklahoma City doing brunch at the time, like Cheever's and La Baguette," Rinehart says.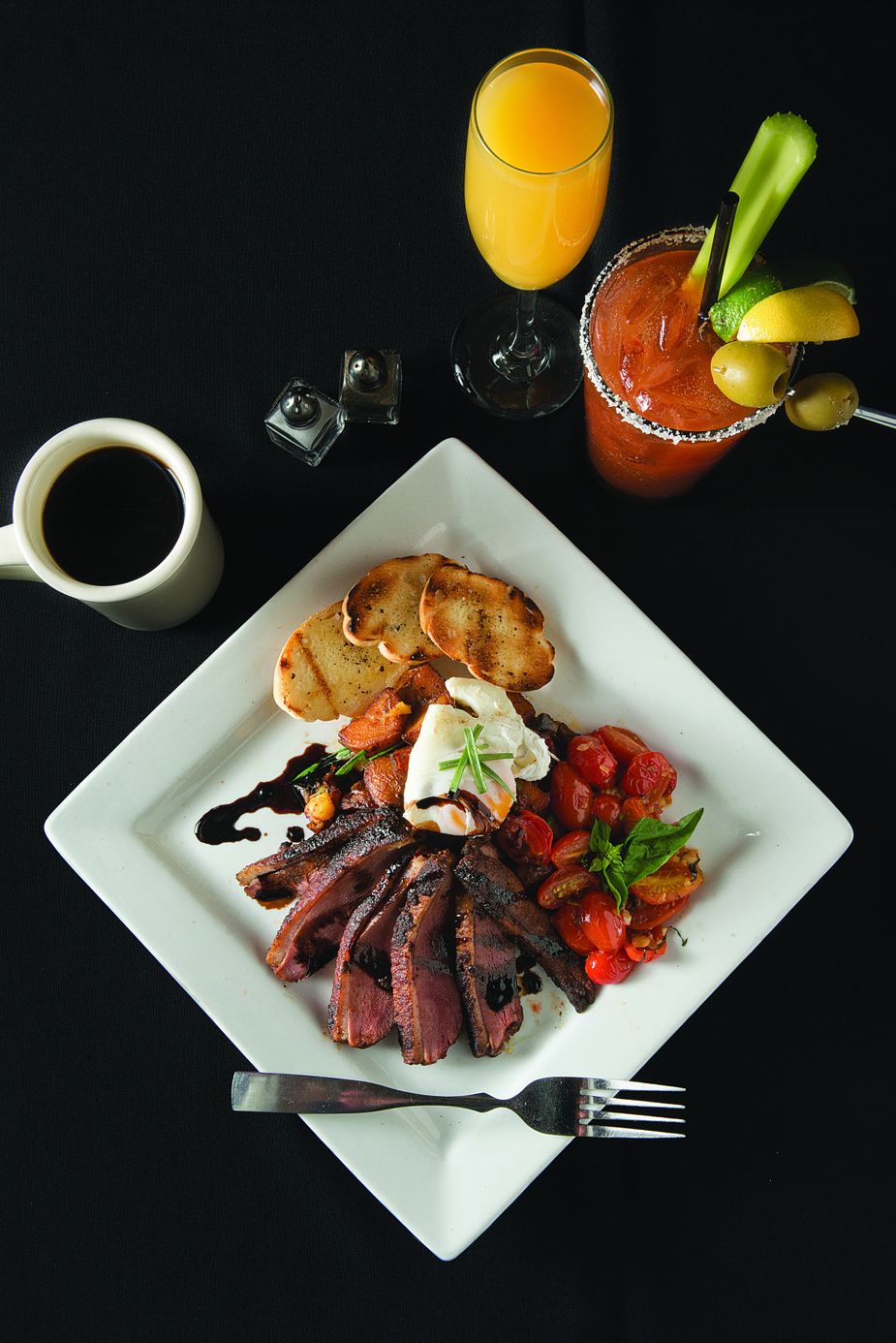 Duck pastrami is an item you won't find on many brunch menus, but Rococo Northpark in Oklahoma City offers a variety of inventive and filling weekend specials. Photo by John Jernigan
It's no wonder Rococo's brunch menu became an instant hit. The selection may have changed slightly over the years, but Rinehart and fellow chef and owner Jason Bustamante served brunch staples that were anything but basic from the beginning.
"At the core of it, you have to be able to make a great hollandaise," Rinehart says. "It can't come from a box."
Even treasured dishes like smoked salmon or Rococo's famous crab cakes—which are delightfully more crab than cake—are made richer thanks to a generous pour of Rinehart's made-from-scratch hollandaise. If they want a classic brunch experience, diners can take a seat next to the fireplace, enjoy live music, and order French crêpes with seasonal berries and whipped cream, fried chicken and waffles, or pork belly and eggs with seasonal jam while sipping three-dollar mimosas all afternoon. But Rococo also offers a little culinary detour for the adventurous.
"Some friends of ours visited a place in New York called Resto, and they had a dish called The Belgian Hangover," Rinehart says. "I asked if they wanted me to make something similar, and they were thrilled. It's toasted garlic, spicy capicola, confetti vegetables, a little white wine, and chicken broth. Then we float some gruyere in there and add linguini and a couple sunny eggs. It's awesome."
For those who don't want to commit to one or two dishes, Rococo's Northpark Mall location offers a monthly pop-up version of their beloved Cruise Line buffet brunch.
"There are stations all over the restaurant; it's a blast," Rinehart says. "There are carving stations, omelet stations, fresh seafood, a waffle station, a station for biscuits and gravy—and it's all fresh."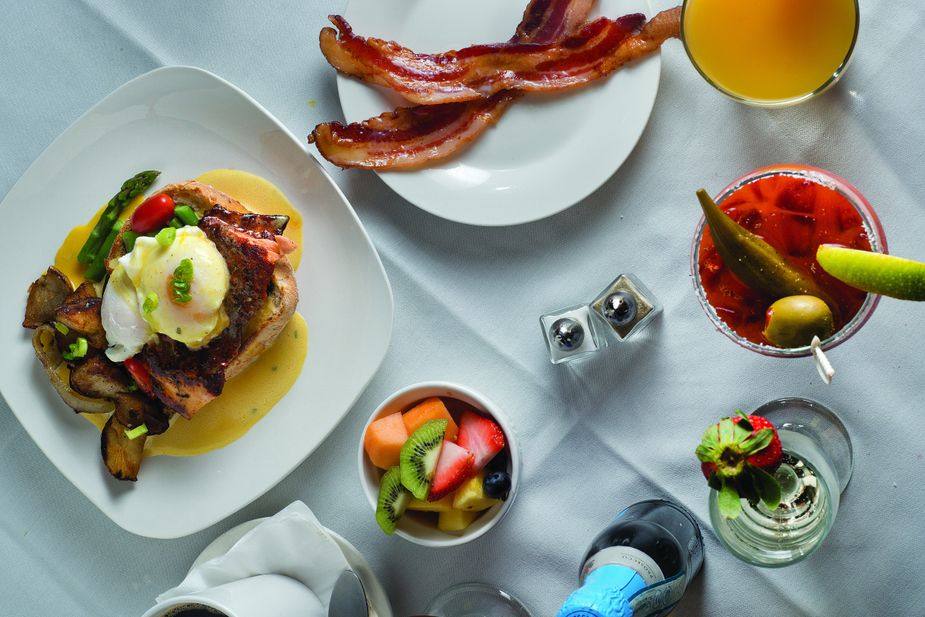 At Fancy That in Norman, six varieties of eggs benedict pair perfectly with cocktails and eleven sides to choose from. Photo by John Jernigan
While there are no set-in-stone rules for brunch, indulgence may be the core guiding principle. Erik Reynolds, owner and executive chef at Smoke Woodfire Grill in Tulsa and in Owasso, created his menu around that idea.
"I designed my brunch after what I would like to eat at two o'clock in the morning when the bars were closed when I was younger," he says. "I'm not a small portions kind of guy."
It's a good thing the oversized leather booths at Smoke are comfortable, because once diners slide in, they should expect to be there for a while. Not because the service is slow—waiters dressed in black are as friendly and speedy as one could hope—but because no matter what they order, they're going to get a lot of it.
"We do a sixteen-ounce bone-in ham steak from Prairie Creek Farms," Reynolds says. "We actually have to pile the potatoes and eggs on top of the steak, because it's so big."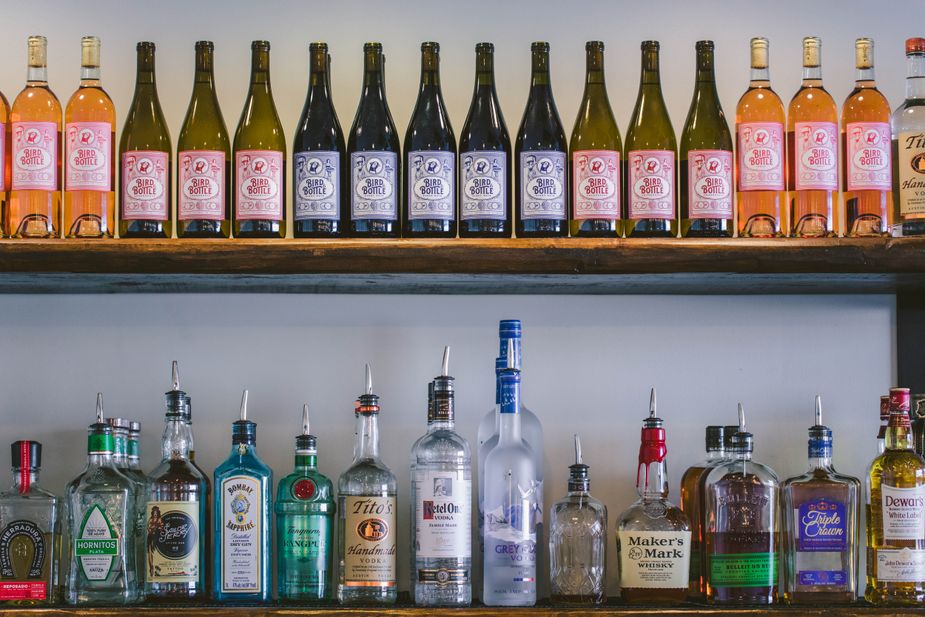 Booze is a brunch-time staple at most restaurants, and Bramble Breakfast & Bar in Tulsa and Jenks is no exception. Photo by Valerie Wei-Haas
Smoke's tender alternative to the chicken-fried steak is no runt either.
"I want that chicken-fried pork tenderloin to be as big as the plate," Reynolds says. "When they bring out a piece of meat that big, it just makes you happy inside."
Pork green chili poutine, brioche bread pudding French toast, and even a side of thick, hand-cut chicken-fried bacon will probably require a to-go box or two. Unless you have a little help from your friends.
The large portions and cadre of options on brunch menus require teamwork. Luckily, brunch is a social affair.
When Jessica Nichols moved to Tulsa in 2016, she was looking for a way to make new friends, so she turned to the networking site MeetUp.
"I wanted to meet other people who wanted to go out, do new things, explore Tulsa, and of course go to brunch," she says. "Brunch is a great time to sip coffee or cocktails and spend time getting to know people or catching up."
In January 2017, she started the Tulsa Girls' Brunch Club. More than two years later, the group now numbers more than 350 locals and plans events for members a few times a month.
In Oklahoma City, Phi Nguyen and her friend Lauren Dennison had been informally navigating the growing food scene for years before they founded Take a Bite OK on Facebook to record their findings, share with a select group of members—typically friends of friends who must answer certain questions in order to join—and plan meals. While TABOK isn't centered around brunch, they have enjoyed craft cotton candy at the Unicorn Brunch at The Other Room, pancake flights at Neighborhood Jam, dim sum at Fung's Kitchen, and other specialties around the city. But for Nguyen, brunch isn't just about what's on the menu.
"It's a kind of social phenomenon," she says. "It's an experience. It's not just what are you going to eat, but what are you going to wear, who are you going to see, what are you going to drink."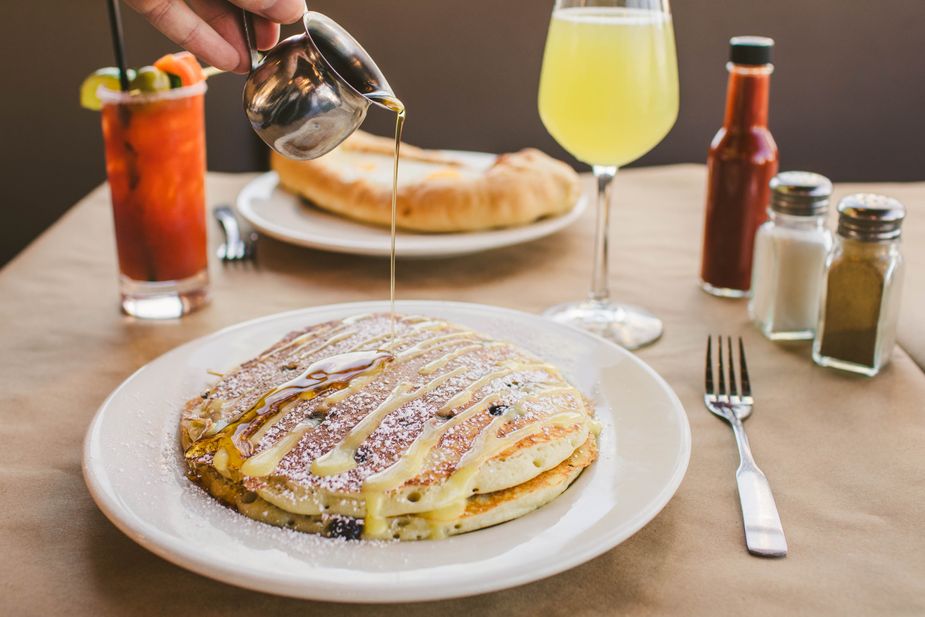 Blueberry and lemon curd pancakes at Bramble in Tulsa. Photo by Valerie Wei-Haas
As with any worthwhile experience, brunch also can involve a great deal of planning. Many hot spots require either a reservation or a long wait, especially for large parties. This can be particularly frustrating on an empty stomach. Furthermore, for those who don't work the typical Monday-through-Friday shift, weekends are not the time for a long, leisurely midday meal. But Oklahoma's brunch boom has led restaurateurs to get creative with everything from ingredients to schedules.
Bramble Breakfast & Bar in Tulsa and Jenks is one of the new kids in town, but that doesn't mean they have to follow the rules. Beneath industrial-chic chandeliers, servers sling Nothing Com-PEARS to You mimosas, white cheddar pancakes with jalapeño maple syrup, and more unique brunch items every day.
"Brunch is a vibe," says Johnna Hayes, operating partner of 3 Sirens Restaurant Group, which owns Bramble. "It's whatever time of whatever day when you let loose, overeat, and drink, typically with friends. We want people to leave here with full bellies and lots of laughs."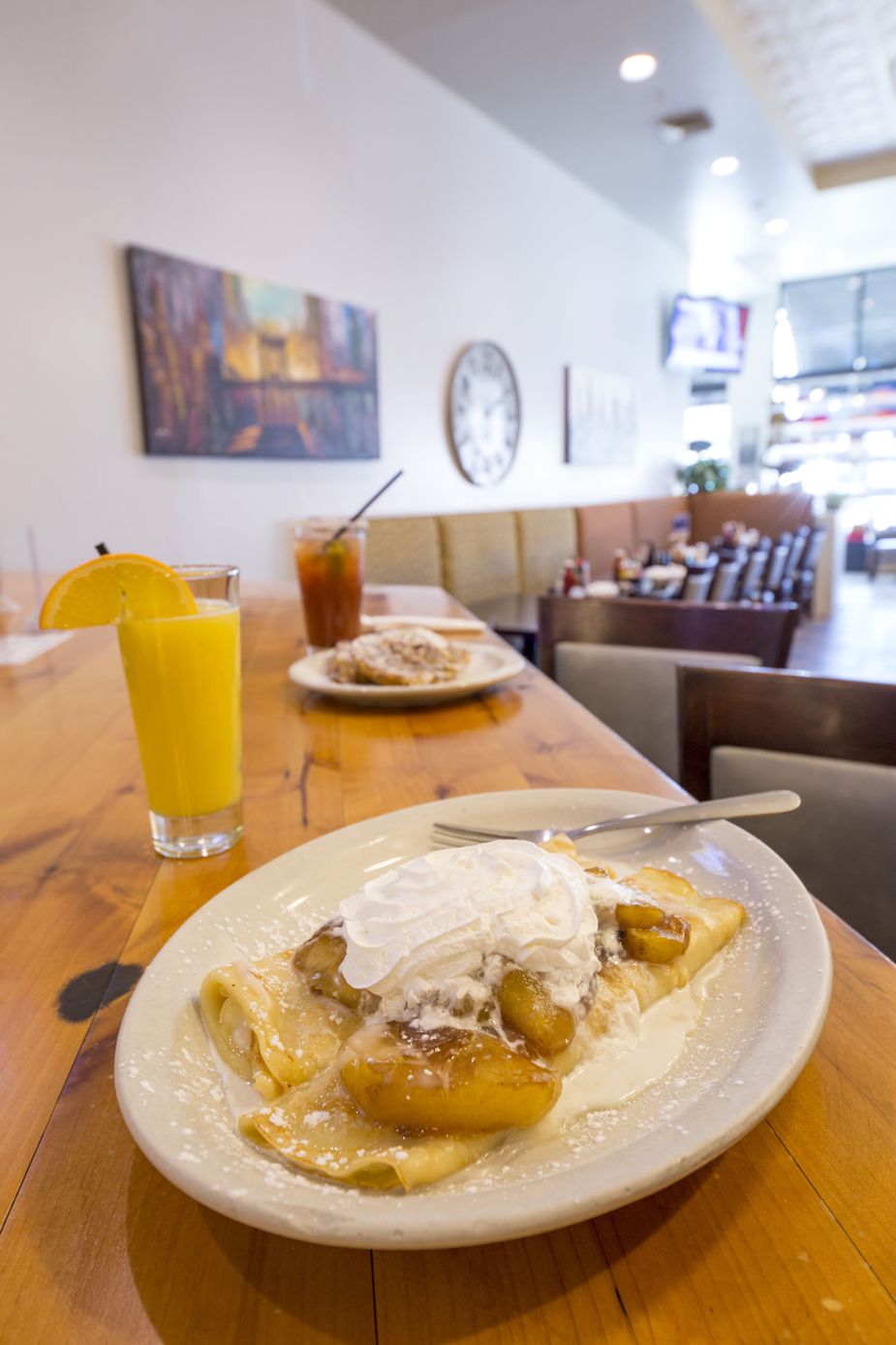 Fire-roasted apple crêpes at Granny's in Stillwater. Photo by Lori Duckworth
At Granny's Kitchen in Stillwater, owner Mohammad Mahmoud treats his customers like family, so if they want a glass of Iron Monk beer with their steak and eggs on a Tuesday morning, that's what they should get.
"When you come to eat at Granny's, it's more like home than a restaurant," he says. "We know the customers by name, and they know us by name. Many come at the same time every week, and if they don't show up, we call and check on them."
Granny's puts out elaborate bloody mary and mimosa bars on the weekends. But they also serve a full beer, wine, and cocktail menu throughout the week along with cheeky home-style delights like the Nasty Granny—a sixteen-ounce chicken-fried steak, two biscuits, and tater tots covered in gravy with bacon, sausage, ham, green peppers, and cheese.
As the restaurant's name indicates, Fancy That in Norman is a little less like visiting family and a little more like dining at a European café, except that it's available six days a week without a plane ticket. The hodgepodge of mismatched furniture and décor may seem thrown together, but owner and chef Tom Slatt creates some seriously good food with just six kitchen burners.
Whether it's the Louisiana-Style Breakfast Po' Boy with spicy ham served on a crispy baguette, Grand Marnier stuffed French toast, or Campari tomato and spinach benedict with spicy Sriracha hollandaise, every plate at Fancy That is a thing of Technicolor beauty. When customers order a tangerine mimosa or an Irish coffee finished with a verdant splash of crème de menthe, they actually can taste a rainbow.
"It's an art for me," he says. "You eat with your eyes first."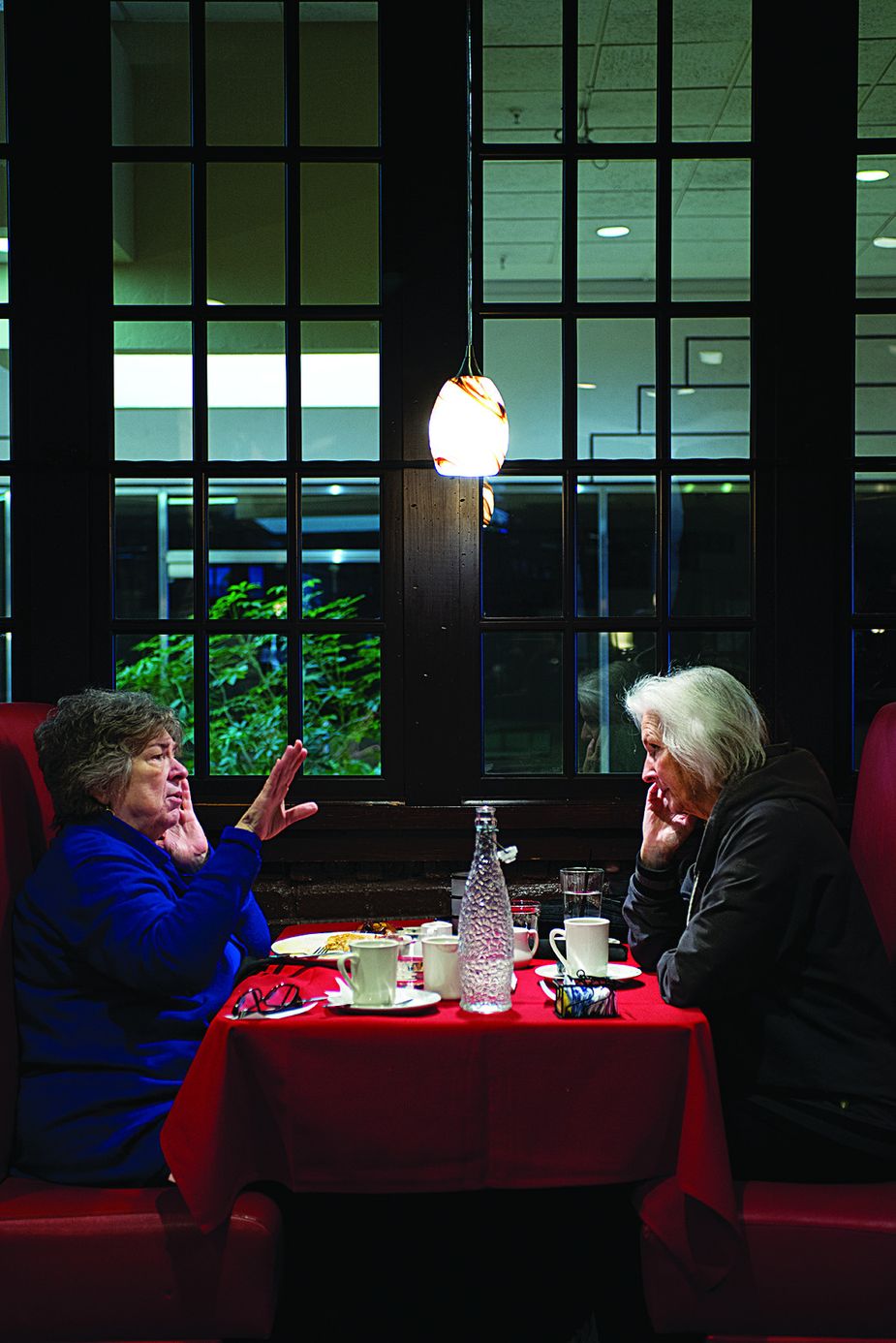 Rococo's Northpark location in Oklahoma City. Photo by John Jernigan
As co-founder of the Take a Bite OK supper club, Phi Nguyen can appreciate an artful plate no matter the day or time. But she also acknowledges that part of brunch's appeal is that it's a weekly event.
"One of the things I really enjoy about brunch culture here is limited availability," she says. "It can require some planning, so it's something to look forward to for the entire week."
For nine years, getting a table at Picasso Cafe for brunch has required a bit of planning, unless diners are fine with hanging out in the bar for a while. Even with the adjacent Other Room offering the same menu and an extra thirty-two seats, this mainstay of Oklahoma City's Paseo Arts District is packed every Sunday.
"What makes brunch so special is that for one shift—six hours—every week, we completely rewrite our menu," says Shaun Fiaccone, president and owner of Humankind Hospitality Group, which owns and operates Picasso.
Humankind executive chef Ryan Parrott whips up generous portions of inventive comfort food that's either plant-based or can be made vegetarian with a simple tweak by request. In the sun-dappled dining room or on Picasso's popular outdoor patio, plates of chicken-fried portobello mushroom drenched in vegan gravy; jalapeño cheddar grits with shrimp and chipotle honey butter; and bananas foster waffles crowned with dulce de leche whipped cream cozy up to full or soon-to-be-refilled champagne and bloody mary glasses.
"Walking in on Sundays, you see tables all over with champagne bottles—sometimes more than one," Parrott says. "It's really a carefree attitude. 'We worked all week and now it's time to chill and break bread together.'"
At Picasso, diners can break bread together as long as they please. Extra time with friends, extra food, extra laughs: Brunch is more than the sum of its parts.
"There's a quote from the first season of The Simpsons," Fiaccone says. "Marge is invited to brunch by a French dude, and she asks, 'What's brunch?' He says, 'It's not quite breakfast, it's not quite lunch, but it comes with a slice of cantaloupe.'"
While society often says "less is more," brunch raises a glass and proudly declares "more is more." Cheers!
Rococo
Rococo Penn serves brunch 11 a.m. to 3 p.m. Sunday. 2824 North Pennsylvania Avenue in Oklahoma City, (405) 528-2824. Rococo Northpark serves brunch 11 a.m. to 3 p.m. Saturday and 10 a.m. to 3 p.m. Sunday. 12252 North May Avenue, (405) 212-4177 or loverococo.com.
Picasso Café
Serves brunch 10 a.m. to 3 p.m. Sunday. 3009 Paseo Drive in Oklahoma City, (405) 602-2002 or www.picassoonpaseo.com.
Bramble Breakfast & Bar
Is open seven days a week, 8 a.m. to 3 p.m. 400 Riverwalk Terrace in Jenks, (918) 528-3054 and 1302 East Sixth Street in Tulsa, (539) 664-5635 
or bramblebartulsa.com.
Smoke Woodfire Grill
Serves brunch 10 a.m. to 3 p.m. Saturday and Sunday. 1542 East Fifteenth Street in Tulsa, (918) 949-4440, and 201 South Main Street in Owasso, (918) 401-4343 or smokewoodfiregrill.com.
Granny's Kitchen
Serves breakfast 6 to 11 a.m. Monday through Friday and brunch 6 a.m. to 3 p.m. Saturday and Sunday. 1006 South Main Street in Stillwater, (405) 743-1299 or grannyskitchenstillwater.com.
Fancy That
Serves breakfast 8 to 11 a.m. Tuesday through Friday and brunch 8 a.m. to 2:15 p.m Saturday and Sunday. 215 East Main Street in Norman, (405) 307-0541 or fancythat.us.