5 minutes
Published January 2023
By Merritt Wakefield | 5 min read
Oklahomans are known for their hospitality, but a recently opened Tulsa-based restaurant inspired by Scandinavian culture is redefining warmth and charm.
Freya, the latest concept from the Justin Thompson Restaurant Group— joining the likes of Juniper and Pryhme Steakhouse—is a cozy eatery located in the Brookside neighborhood. The restaurant has tabletops made from recycled paper and features natural wood shelves throughout, each one bedecked with plants, fresh florals, and stylish books and figurines. Flickering candles and linen napkins adorn every table, encouraging guests to settle in from the chill outside. The name itself is meant to evoke the softer side of Scandinavian culture.
Founded on the principle of hygge, a Danish idea centered around cultivating well-being and celebrating simple pleasures, Freya invites diners to slow down and open up to the possibilities offered by its chefs, bartenders, and other staff. Clad in crisp aprons and utility denim, servers greet guests with rye rolls and salted butter and announce to each guest, "Welcome to Freya. I'll be taking care of you." But the soft, nutty bread and warm greeting are just the beginning.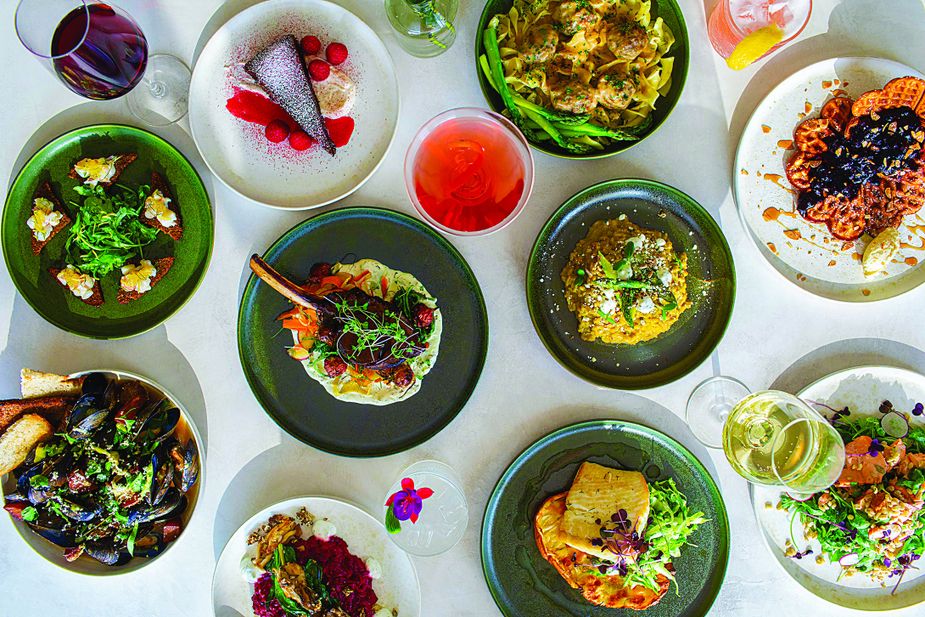 Cod cakes, beetroot risotto, and smoked duck are among the cornucopia of vibrant flavors at Freya in Tulsa. Photo by Valerie Wei-Haas
With torske kugler, gravlax, and Arctic char available, the menu has a variety of hearty, satisfying dishes unlike anything else offered across the state.
"Our initial menu was developed by Justin and our corporate chef," says manager Ashlin Gustin. "And then Tiffany Taylor, our former chef de cuisine, and Kelsey Ihm, our former sous chef and now chef de cuisine, came on and tweaked the recipes to feature a modern twist on traditional Nordic cooking methods."
Garnishes throughout the menu include dill, parsley, capers, and radishes. Pickled, fermented, and smoked items pepper the menu in a palatable homage to Scandinavian fare.
For diners eager to try something new but who may feel intimidated by unusual offerings like elk chops, Gustin suggests the meatballs. Prepared with mashed potatoes, caramelized onion, seasonal vegetables, pickled cucumber, and lingonberry, the meaty orbs are a filling, homey meal that also can be made vegan.
"Something we've heard from several guests since we opened is that Freya makes them nostalgic for home," says general manager Jessica Tucker. "Even if you don't have memories of your grandma making you meatballs, dining with us can still evoke that sense of familiar comfort."
The beverage programming is just as deliberate and indulgent as the rest of the menu, with options ranging from zero-proof mocktails to sparkling sangria bejeweled with bright citrus and pear.
"Our bottle list is focused on cool climate and environmentally conscious producers," says Gustin. "It's been fun to showcase those, especially during our multicourse wine dinners."
Like the rest of the menu, the desserts change with the seasons and can include flavors such as cardamom, honey, and macerated berries. Swedish cheesecake, honey-baked pears, and buckwheat spongecake are but a few of the delicious offerings.
Additionally, from 2 to 4 p.m. Monday through Saturday, guests can partake in fika, a custom akin to high tea that encourages making time to sit with a friend or network with a peer over coffee. Though the kitchen isn't open, customers can order pastries.
From the bustling sidewalk outside Freya, passersby can spot diners celebrating birthdays with balloons and bouquets, colleagues clinking sparkling glasses at the bar, and couples sharing cups of soup on a late-night date. The ambient chatter and soft amber light spilling out from the floor-to-ceiling windows beckons them in, inviting them to delight—leisurely, with intention—in the Nordic provisions that await.