5 minutes
Published October 2021
By Ayanna Najuma | Photos by Lori Duckworth | 5 min read
Jerk chicken, rice and peas, oxtails, plantains, and callaloo: For a menu with these exotic options, foodies might believe they have to get out their passports. But there is no need to travel to Jamaica, Trinidad, or other parts of the West Indies to enjoy delicious food like this. At Carican Flavors in Oklahoma City, owners Sharon and Michael McMillan serve a sensational Caribbean experience, minus the sand.
When the couple—who were originally from Trinidad—moved from New York City to Oklahoma City twenty years ago, it was not their goal to have a restaurant. Neither had experience in the food industry, but they realized they could combine their business knowledge with their enthusiasm for West Indian culture to bring delicious and nutritious Caribbean food to Oklahomans.
Sharon's parents, Agatha and Cuthbert Ferdinand, moved with them from New York, and the whole family dove into the effort headfirst. Cuthbert oversaw the renovation and landscaping, while Agatha helped design and develop the menu and helped with the cooking.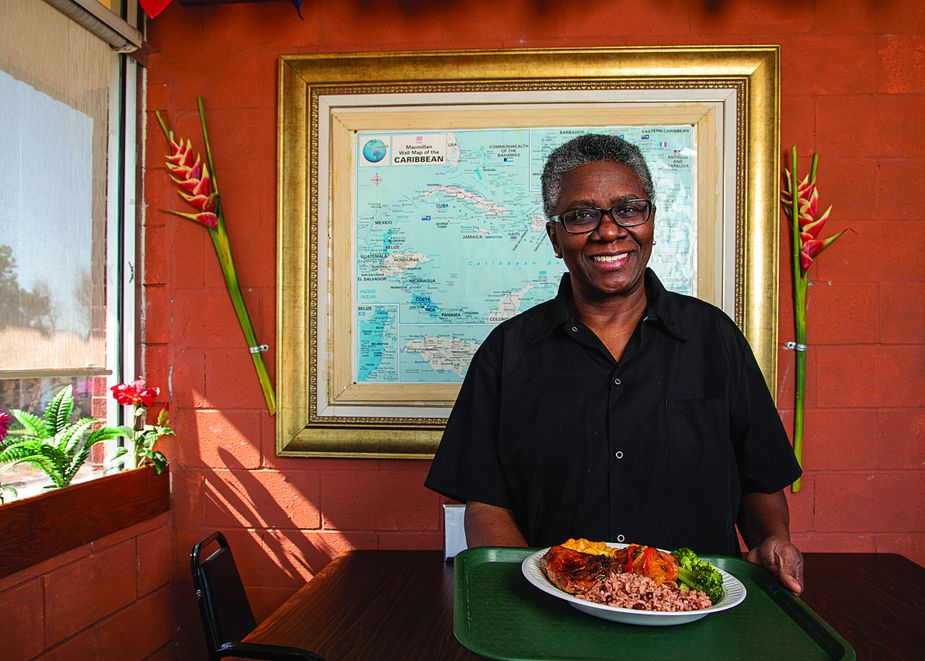 Sharon McMillan serves all of her featured entrées—goat, lamb, oxtail, and chicken—either curried or jerk-style with two sides like mac and cheese and red beans and rice. Photo by Lori Duckworth
"I am not a professionally trained chef," Sharon says. "I learned how to cook from my mom and grandmother. Mom was a great cook and loved to entertain when she lived in New York City. I learned about creating a warm and comfortable environment from her."
When they opened Carican Flavors in August 2005, the McMillans offered a small menu featuring jerk and curry chicken, oxtails, and beef stew. They also served American vegetables like black-eyed peas, green beans, and cabbage cooked with a combination of ginger, cinnamon, turmeric, bay leaves, thyme, nutmeg, parsley, cilantro, green onions, and lots of garlic. In the Caribbean, this fresh blend of herbs and spices is called "green seasoning." Agatha grows many of these same herbs in her garden in the spring and summer. Everything that comes from the kitchen at Carican Flavors is treated with care. Nothing comes from a can or package. Meats are prepped each night and vegetables cooked each morning, and even the Caribbean-spiced cornbread is made from scratch.
"At Carican Flavors, I prepare everything merely by taste, without the use of measuring cups or even a recipe but made with a lot of love," says Sharon.
No one was sure how Oklahoma City would react to the unique tastes of the islands, but it was an instant success.
"We had no idea the community would embrace this cuisine the way they did," says Sharon. "The Oklahoma City Black Chamber of Commerce was a godsend when we decided to open the restaurant, and the leadership from the director of the chamber made all the difference in the world in making the grand opening a success. Before I knew it, politicians were scheduling their campaign events with us."
Whether they are thirsty for community engagement or actually thirsty, customers will find something that satisfies.
The menu always includes mango strawberry and pineapple mango smoothies as well as fresh apple, orange, and seven other types of juice. For a refreshing summertime treat, patrons can order a cold glass of watermelon juice—no sugar or water added.
Additives and preservatives are decidedly not found on the menu. The entire McMillan family is committed to healthy eating. Carican Flavors has been designated as a Certified Healthy Restaurant by the Oklahoma State Department of Health. But that doesn't mean Carican customers need to check their cravings at the door. Peach cobbler or pound cake with cinnamon or vanilla ice cream are a perfect end to a little vacation of a meal.
Get There
Carican Flavors, 2701 N Martin Luther King Ave Oklahoma City, OK 73111 or
TravelOK.com