13 minutes
Published June 2022
By Trisha Bunce | 13 min read
In the first quarter of the twentieth century, approximately sixty thousand people immigrated from Lebanon to the United States. Many remained in the larger port cities of the Northeast, but a few made their way to Oklahoma and settled in and around Creek County.
In 1900, Joseph and Fannie Abraham's son, Louis, was born in Bristow. By 1924, members of several Lebanese families numbered among the town's most prominent citizens. Thanks in part to this influx of new residents, by 1930, Bristow's population stood at nearly seven thousand. Those were the boom days. The buildings that make up Main Street still bear the names of its Lebanese pillars: Abraham, Elias, Slyman, Mike . . . yes, Mike. When immigrants came to the United States in those days, their difficult-to-pronounce-and/or-spell surnames often were Americanized, shortened, or changed entirely by immigration officers and clerks—or by the immigrants themselves, hoping to fit a little more easily into their new home.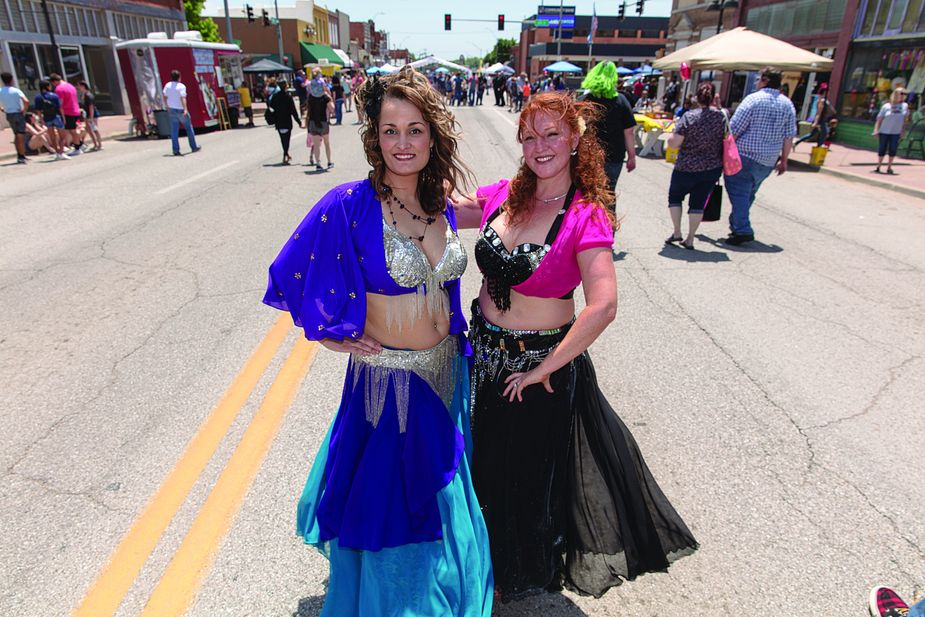 The Bristow Tabouleh Fest is an annual tradition dating back to 2004. Along with sampling signature local foods, visitors can enjoy a variety of vendors, musicians, and other entertainment. Photo by Brent Fuchs
Nearby communities like Drumright and Depew also were home to Lebanese families, and as time went by, Josephs married Slymans and Nessers, Shamases married Mikes, and together, they built and ran mercantiles, a nursing home, a candy factory, and multiple restaurants that served the community of Bristow and beyond. One of these restaurants, the Hamburger King, owned by George Macsas, was known far and wide for its burgers and served as a regular stop for Bob Wills and His Texas Playboys, who would come in for dinner every week on their drive between Tulsa and Texas. Another restaurant owner, Eddie Nesser, put his five children through college selling fifteen-cent hamburgers at Eddie's Coffee Shop. At Lyons Cafe, Opal Abraham Lyons was known for her banana blueberry pie. In the morning, patrons would stop by and claim their piece in the front display case. Spoken-for portions would be turned to face the back of the case, and when all the slices were facing backwards, you knew you were too late to get dessert that day.
Bristow and its Main Street have changed over the years. The population currently stands at a little more than four thousand. Lyons Cafe's Main Street storefront now is home to Superior Buds. The train depot that once provided passenger and freight service to the Frisco Lines now serves as headquarters for the Bristow Historical Society, and just up the street, a brick building engraved with the names Abraham, Mike, Slyman, and the year 1923 provides gathering space for a nondenominational congregation.
One thing that hasn't changed in Bristow is its desire to celebrate its Lebanese roots. Every year on the second Saturday in May, this town is home to the Bristow Tabouleh Fest. A day-long celebration of food, community, and small-town charm, Tabouleh Fest was named the Best Food Festival in Oklahoma by National Geographic in 2016. Prior to festival day, a citywide pageant crowns Miss Tabouleh, her Main Street queendom consisting of a seven-block stretch populated with vendor booths, belly dancers, camel rides, and a green space dedicated to live music and Oklahoma wines. Children busy themselves with chalk-art contests in the plaza and up-close time with community fire, police, and sanitation vehicles and members of the Creek Nation Light Horse Patrol.
Above all else, Tabouleh Fest means food—specifically tabouleh, tabouli, tabouly, taboli, tabbouleh, tabbouli . . . the list of accepted spellings goes on. Every food vendor up and down Main Street has their own version. The Altar Society of St. Joseph Catholic Church—which counts many of Bristow's early Lebanese families among its founders, sustainers, and members—sells dry tabbouleh mix; containers of ready-to-eat tabbouleh, hummus, cabbage rolls, and Lebanese Maamoul cookies; and copies of the church cookbook that includes recipes for every dish.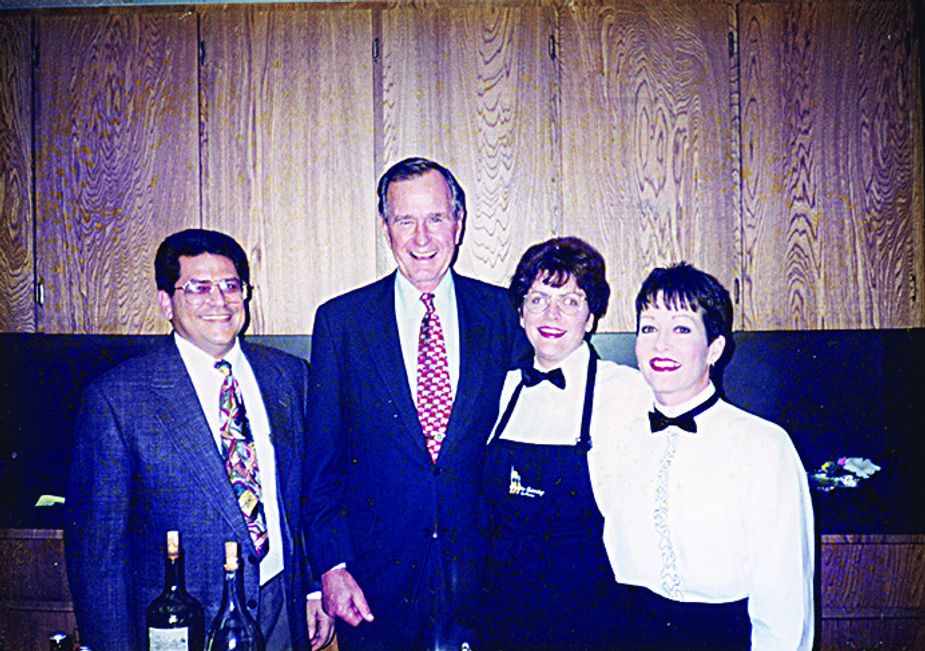 Tex Slyman, President George H.W. Bush, Melissa Chapman, and Leslie Holler. Photo courtesy the Slyman family
If you step inside Joseph Abraham's building on Main Street, you will find yourself in Route 66 Artisans on Main, a craft and antique mall that sells locally packaged tabbouleh mix and barbecue sauces. If dessert is more your thing, look for the juniors of Bristow High School: Their baklava booth raises money each year for upcoming senior class activities. A block away, in the Community Bank parking lot, former Bristow Vice Mayor Ed "Tex" Slyman and his team from Freddie's Bar-B-Que and Steak House offer the tabouly, houmas—both are Tex's preferred spellings—and cabbage rolls that his Sapulpa restaurant is known for.
In a recorded interview from the archives of the Bristow Historical Society, Tex's great-aunt Badoun Slyman and his mother Nellie—a Joseph from Drumright who married a Slyman from Bristow—speak about the early days of the Lebanese community here. Nellie tells of gatherings she remembered from her childhood when Lebanese families from across the area would come together to socialize, reminisce, and share food.
"We don't have enough people here to do anything like that anymore," she says in the interview, describing the local Lebanese community as it was in 1979.
But her son's work would change that. Tex speaks of a word in many Middle Eastern languages, meze, which refers to a style of dining that incorporates multiple small plates brought out in courses. Meze goes beyond just a meal; it encourages community as diners linger over the table and savor small bites and long conversations. The community reunions of Nellie's childhood were built around meze, and Tex invokes the concept when he speaks of his commitment to sharing traditional Lebanese foods at Freddie's.
"Part of our tradition is hosting with food," he says. "The older I get, the more I want to go back to what I started with. I'm serving the grandkids and great-grandkids of my first customers now. That's tradition."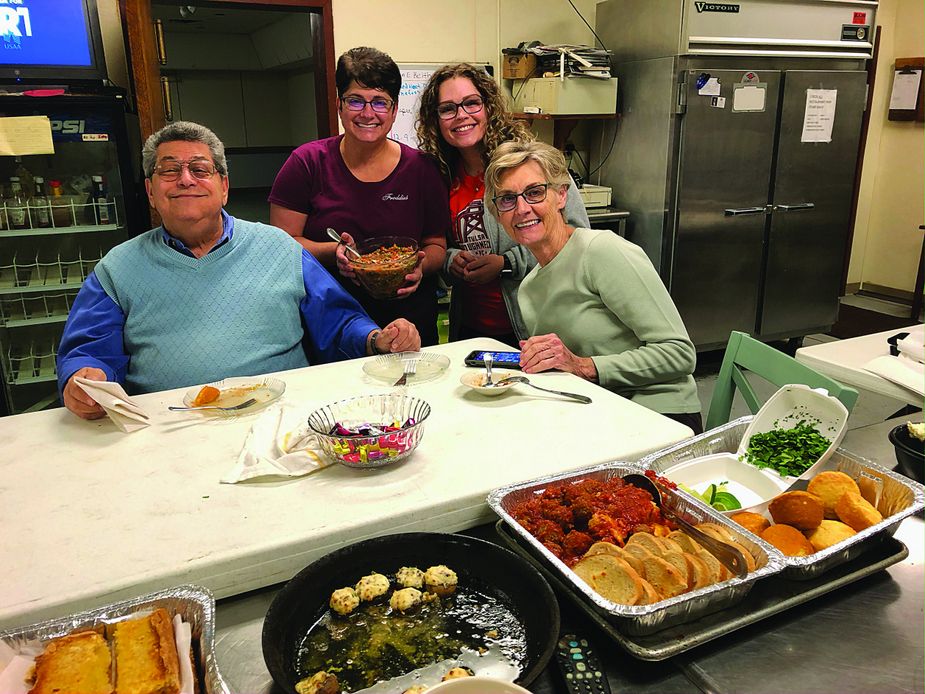 The Slyman family—Ed, Dava, Kady, and Sherian—enjoy a meal in the Freddie's Bar-B-Que & Steak House kitchen. Photo by Brent Fuchs
This tradition goes back to the 1950s and highlights the interconnectedness of the Lebanese community in Creek County. Brothers Jamil Elias and Eddy Elias Sr. of Bristow took meze to Tulsa in the form of Jamil's and the now-closed Eddy's, steak houses that incorporated Lebanese hospitality and signature dishes into that most Oklahoma of commodities: meat. Tyrone Elias soon opened a Jamil's location in Oklahoma City, and this family of restaurants served as both roots and branches of the Oklahoma Lebanese dining tree.
Prior to the Elias family's ventures, in the early 1950s, an Abraham family in-law named Pierre Saab opened Pierre's Supper Club, a nightclub in Tulsa that hosted the likes of Ella Fitzgerald and served meze as bar snacks—patrons enjoyed small plates of tabbouleh, hummus, cabbage rolls, and smoked bologna along with the music. The popularity of these dishes and of Pierre's style of hospitality planted the seeds of the Lebanese steak house, and when Pierre's closed in the late 1950s, Saab went to work at Jamil's as a maître d'.
Soon, a young Tex Slyman joined the Jamil's family. Then a college student at Central State University in Edmond, Tex would hitchhike from Edmond to Bristow every Saturday. In Bristow, he would borrow his sister's car, drive to Tulsa, work the Saturday night shift at Jamil's, and head back to Edmond on Sunday to get ready for Monday classes. When he graduated in 1966, the young Tex began teaching at Byrd Junior High School in Tulsa, but in 1972, he took a leave of absence from teaching and used his restaurant knowledge to help his uncle, Fred Joseph, expand the small restaurant he ran out of the back of his oil field grocery store in Drumright. The original Freddie's grew from fifty-six lunch seats for oil patch workers to a restaurant seating more than 150, and Tex soon found himself taking over and running operations until the building burned down in 1977.
Today, the resurrected Freddie's overlooks Route 66 and Interstate 44 from its new home in Sapulpa. Tex knew he wanted to stay in Creek County, and Freddie's soon became the restaurant of choice for visiting executives and managers from Getty, Standard, and every other international oil company with operations in the area.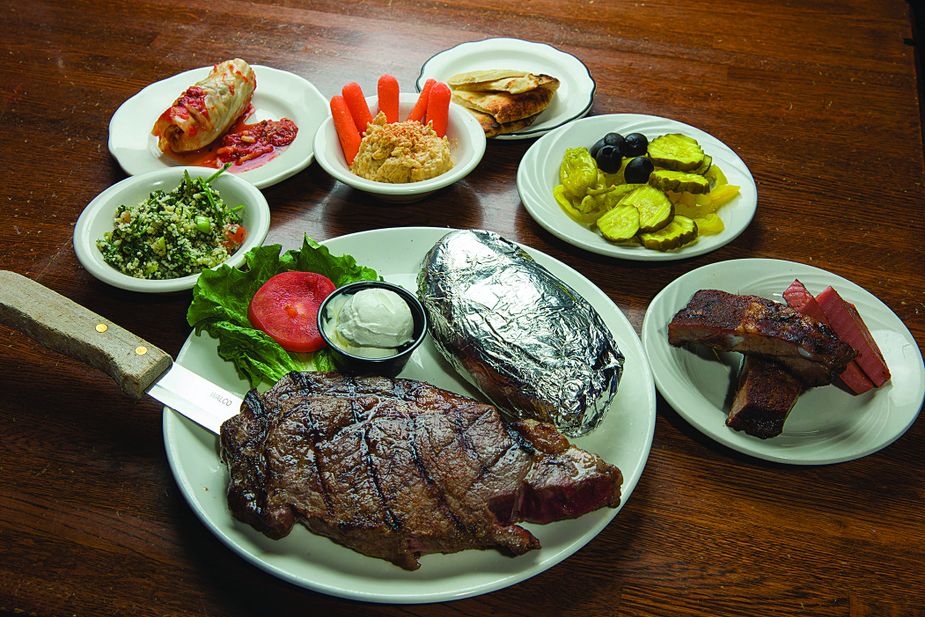 Jamil's Steakhouse in Oklahoma City is well-known for its meats and traditional Lebanese appetizers and sides. Photo by Brent Fuchs
"More wells were drilled on my napkins than any other place in Oklahoma," Tex recalls with a laugh.
As for Pierre, his original recipes live on at Freddie's. Tex consulted Pierre on his tabouly, houmas, and cabbage rolls almost fifty years ago, and the recipes haven't changed since. They remain staples of both the Bristow Tabouleh Fest—which Tex helped found with other Bristow business leaders almost two decades ago—and the Freddie's menu. In addition to the core dishes from the picnic blankets of Nellie Slyman's childhood and the cocktail tables of Pierre's, Freddie's includes a full steak house menu. The chicken-fried steak tastes like it came straight from your great-grandma's cast-iron skillet, and there's not a better cabbage roll in a thousand-mile radius.
Yes, even after all these years, Oklahoma still finds ways to surprise. A small town built by Lebanese immigrants grows a veritable family tree of local restaurants conceived around and committed to the tenets of Middle Eastern hospitality.
Those who make the trip to Bristow to experience Tabouleh Fest this year, who walk Bristow's Main Street on the second Saturday in May, will get the chance to try a new dish, step into charming local businesses, say hello to vendors along the sidewalks. But if you go, don't forget to look up at the buildings and see the names of the families who built this little corner of Oklahoma.
Ingredients
1 cup cracked bulgur wheat (Try Bishop Brothers Taboli Bulgur Wheat available at grocery and specialty stores or at bishoptaboli.com.)
2½ cups parsley, finely chopped (The secret to the tabouly served at Freddie's Steak House is to hand pick the parsley leaves before chopping. This ensures that you won't have any stems and the bitterness that can accompany them.)
½ cup onion, finely chopped (Like, fine. Chop it fine, and then chop it some more.)
2 cups tomatoes, finely chopped (To keep your tabouly from becoming too wet, core and seed your tomatoes before chopping, and use the best tomatoes you can find.)
1 Tbsp. mint, finely chopped (optional)
1 tsp. salt
½ tsp. black pepper
½ - ¾ cup lemon juice (Fresh, please—it's a sad commentary on the state of home cooking that I feel like I need to specify this.)
¾ cup olive oil
Directions
Don't soak the bulgur wheat. Rinse and drain your wheat.
Add all the ingredients to one bowl and mix well.
Cover, and let it sit in the refrigerator overnight. Let those flavors really become friends and start little flavor families. Tabouly can be kept in the refrigerator for several days.
Tex Slyman also advises against adding cucumber, as some recipes state.
"If anything in your tabouly is going to go bad, it's going to be that cucumber," he says. "I just don't use it."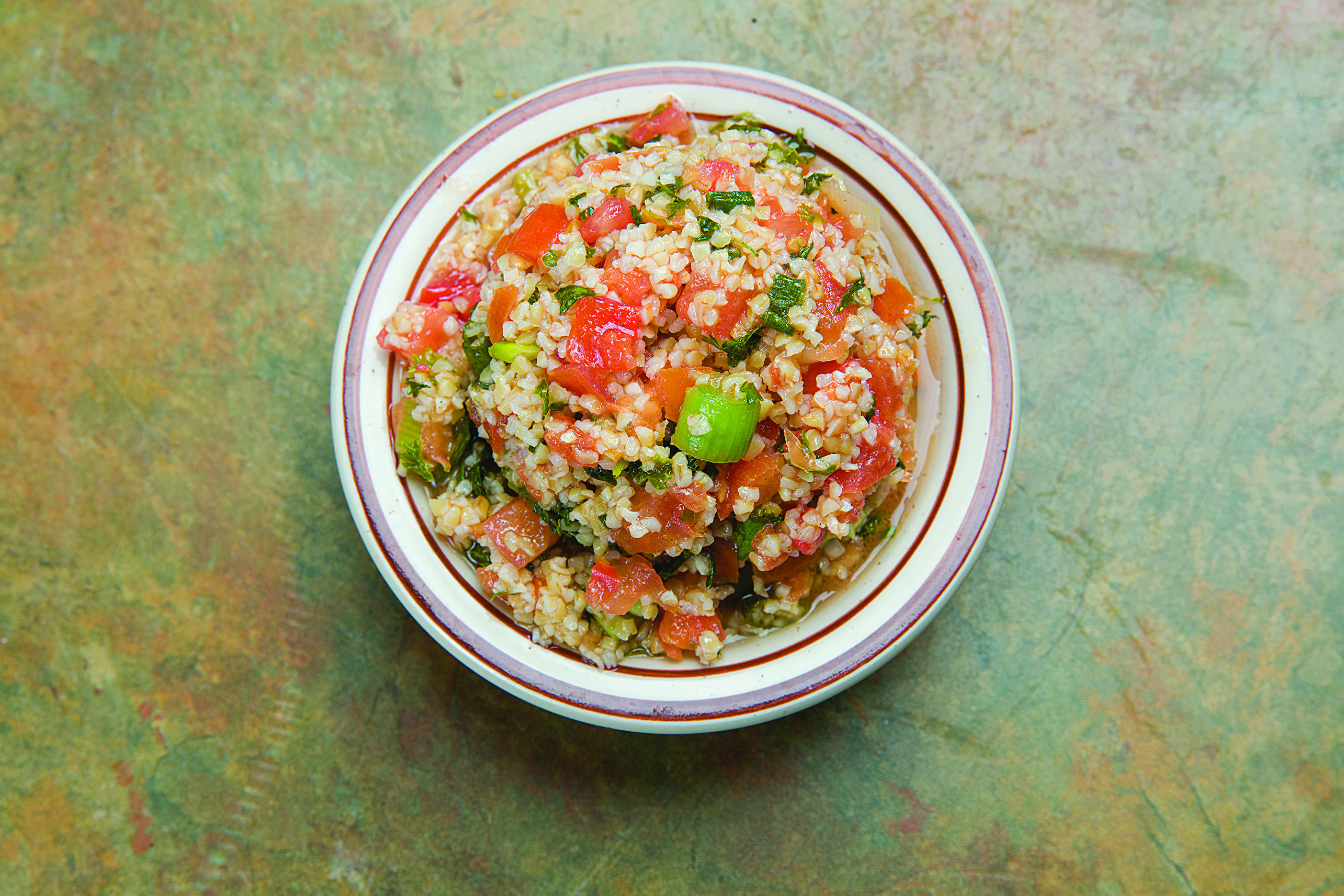 Get There
Freddie's BBQ and Steakhouse, 1425 New Sapulpa Rd Sapulpa, OK 74067 or
TravelOK.com
Get There
Joseph's Fine Foods, 54580 W Hwy 16 Drumright, OK 74030 or
TravelOK.com
Get There
Naifeh's Deli & Grill, 600 E Main Cushing, OK 74023 or
TravelOK.com
Get There
Freddie Paul's Steakhouse, 1707 E 6th Ave Stillwater, OK 74074 or
TravelOK.com
Get There
Jamil's Restaurant, 3823 E 51st Tulsa, OK 74105 or
TravelOK.com
Get There
Jamil's Steakhouse, 4910 N Lincoln Blvd Oklahoma City, OK 73105 or
TravelOK.com