5 minutes
Published February 2022
By Whitney Bryen | 5 min read
At first glance, Scissortail Steading looks like a typical pig farm. On the fifteen-acre plot of land northeast of Stillwater, swine of all sizes roll in the mud on a warm, sunny day. Young pigs rush to the fence snorting as workers walk by with lunch. And week-old, curly-tailed piglets feed at their mother's teats as the sows lay docile in their pens. But it doesn't take long to see what sets the farm apart.
The pigs are mostly black. They have long, narrow snouts reminiscent of anteaters and little to no hair. And the farmer in charge of the operation is a young woman, Paige Dowdy, who is about half the age of the average American farmer, a report by the U.S. Department of Agriculture shows. In fact, Scissortail Steading in Glencoe is the only farm in the state, and one of few nationwide, raising Iberico pork.
The black-footed Iberico hog is famous for its premium, marbled meat, which, until recently, was exclusive to the Iberian Peninsula. In 2014, a Texas farm was the first to import the Spanish breed to the United States. Few others have done so since due to the high cost, strict protocols for livestock imports, and hesitation from the Spanish government and farmers to sell their prized pork to foreign producers.
Scissortail Steading began in December 2019 with twenty-eight pigs imported from Alentejo in Portugal. After nearly two years of breeding, the farm now houses about 330 of the rare hogs.
At the helm of this distinctive operation is twenty-six-year-old Dowdy. She got her first show pigs when she was only eight years old.
"That started a new passion for me," Dowdy says. "And that was it."
Dowdy, who received a degree in animal science from Oklahoma State University, was a star agriculture student in Skiatook, where she graduated high school.
"What's so great about Paige is her work ethic and determination," says Cody Nieman, Dowdy's high school agriculture teacher. "Sometimes, with younger students, they hesitate, because it's a lot of hard work. But Paige wanted to be the best. She had the drive."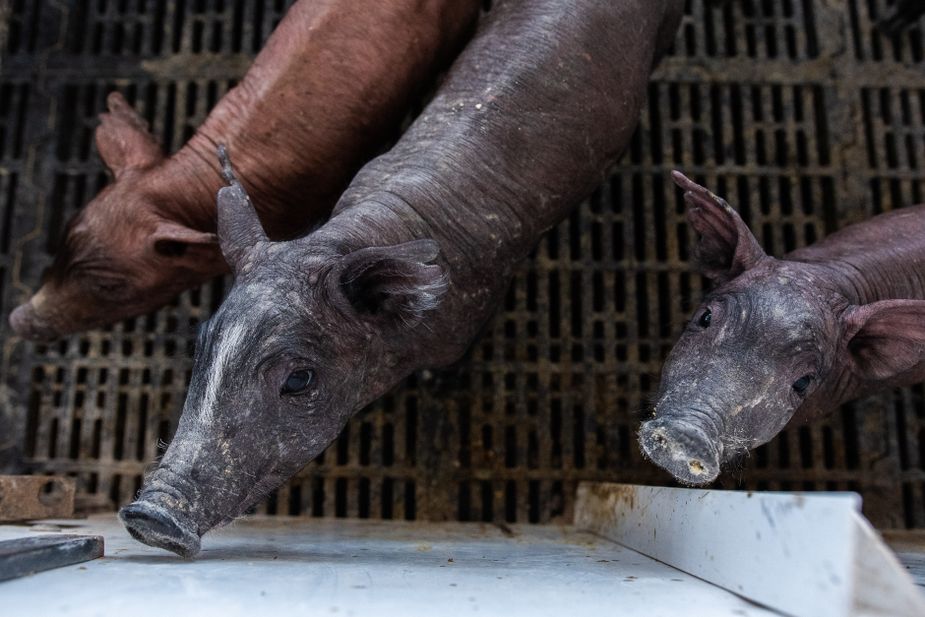 Scissortail Steading in Morrison is the only facility in Oklahoma to raise Iberico hogs. Photo by Whitney Bryen
Nieman, whose first year teaching coincided with Dowdy's first year at Skiatook High School, remains one of her first calls for a second opinion. But now, Nieman also is learning from Dowdy.
"I actually just called her yesterday," Nieman says. "I had a question about a show pig, and I called her. We're constantly talking to each other about things that are coming up."
As the owner, operator, manager, head researcher, problem-solver, and face of Scissortail Steading, Dowdy's work ethic remains the foundation on which she succeeds. And she's always on the clock, so to speak. After getting married, Dowdy says her beach honeymoon included daily check-ins with her staff—two Oklahoma State University students who are eager to learn from Dowdy's rare operation.
"This is a 24/7 job," Dowdy says. "I knew that going into it. But I want to be successful, and that means pouring everything I've got into this thing to make it work, to make it better."
Dowdy's garage contains two large freezers and two traveling freezers filled with cuts ready to be sold at local farmers markets—including Edmond, the Rose District in Broken Arrow, and Dallas—and online. She hopes to supply restaurants soon as well.
She sells cuts ranging from jowl, which tastes and cooks like bacon, to more traditional ones like chops and belly.
Domesticated pigs are white meat, but Iberico hogs are red meat in color and taste. But they're not gamey like elk or venison. The meat is heavily marbled, like a ribeye, giving it a rich flavor.
"People know about Wagyu beef, and we're trying to educate them in the same way about Iberico," Dowdy says. "This isn't like any pork you've ever tasted. And we have a rare opportunity to introduce people to this right here in Oklahoma."