Grills, Gills, and Thrills
6 minutes
Published July 2023
By Eric Howerton | 6 min read
Oklahoma and cattle go hand in hand—or hand in hoof—like gravy on meatloaf or cheese on a burger. But Oklahoma and lobster? Do these two ever go hand in . . . claw?
Despite being landlocked on all sides, Oklahoma restaurants now offer some of the best seafood in the country, much of it flown in daily or throughout the week from docks hours away. One such oasis in the shade, reeling in patrons from across the state, is The Vintage Steakhouse, a unique, fanciful, and homey surf-and-turf eatery in Morrison.
Overseen by portraits in classic frames; twisted iron rods creeping through concrete ceiling beams; and glimmering, oversized chandeliers, The Vintage Steakhouse dining room—open Wednesday through Saturday by reservation only—fills quickly with locals and out-of-towners who've caught wind of the restaurant's upscale niche.
Stuffed jumbo shrimp, flame-kissed salmon, and "grilled and chilled" shrimp cocktails swim across the menu and sizzle through the air on server's trays. Succulent sirloins, rib-eyes, and bacon-wrapped filets mignons are trotted out to tables under the eager eyes of watchful diners. But the lobster tail—grilled to perfection, split, and bursting from its crimson shell—is the pearl of the menu.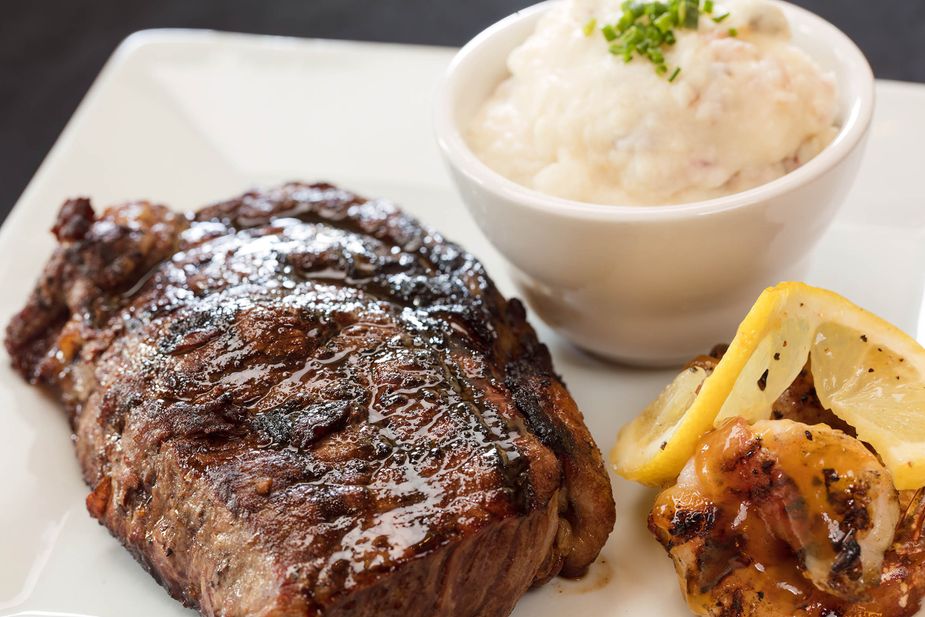 Reservations are required for a scrumptious evening at The Vintage Steakhouse. Photo by Brent Fuchs
"People come from all over the world," says Brittany Rupp, owner of The Vintage Steakhouse, noting the reputation her cold-water lobster has been generating.
The lobster here is uncommonly soft and velvety. While monitoring a lobster's internal temperature to prevent the proteins from binding too tightly would alone be enough to satisfy most diners, Rupp has a trick up her sleeve that elevates a Vintage lobster to a class of its own. Whereas most chefs boil a lobster before serving, every crustacean—and every other protein served here, for that matter—is cooked over open flame.
"We are the only restaurant in the state of Oklahoma grilling steaks over charcoal indoors," Rupp adds. "And nothing can mimic what we do with the rubs."
While indoor smokers might be the standard for barbecue purists and pit masters, they are a rarity in upscale restaurants. Rupp and her staff cook on two Tulsa-made Hasty Bake signature series grills. With coal chambers that can be raised and lowered much like a salamander broiler, Hasty Bake ovens afford chefs more control over the proximity and intensity of the flame. Steaks come out wall-to-wall red, diabolically seared, and with just enough smoke to evoke a campfire. The lobster jumps off the grill steaming with brine, uplifted with spice, and boasting a texture so pliant it makes boiled shellfish seem rubbery by comparison.
Rupp and her co-owner and husband Kyle opened the steakhouse in September 2022, honoring a family legacy of bringing satisfying fare to the masses. When she was younger, Brittany's parents owned and operated The Vintage House in Burlington from 2008 to 2018, along with The Vintage Inn Bed and Breakfast. When the time was right, Brittany and Kyle recruited her brothers Justin Clark and Colten Craft to help with renovations. With decades of industry expertise and a commitment to reviving the family brand, The Vintage Steakhouse opened to the fanfare of local residents and to those who remembered The Vintage House and Brittany's mother Lori Kraft's excellent baking and pastry skills.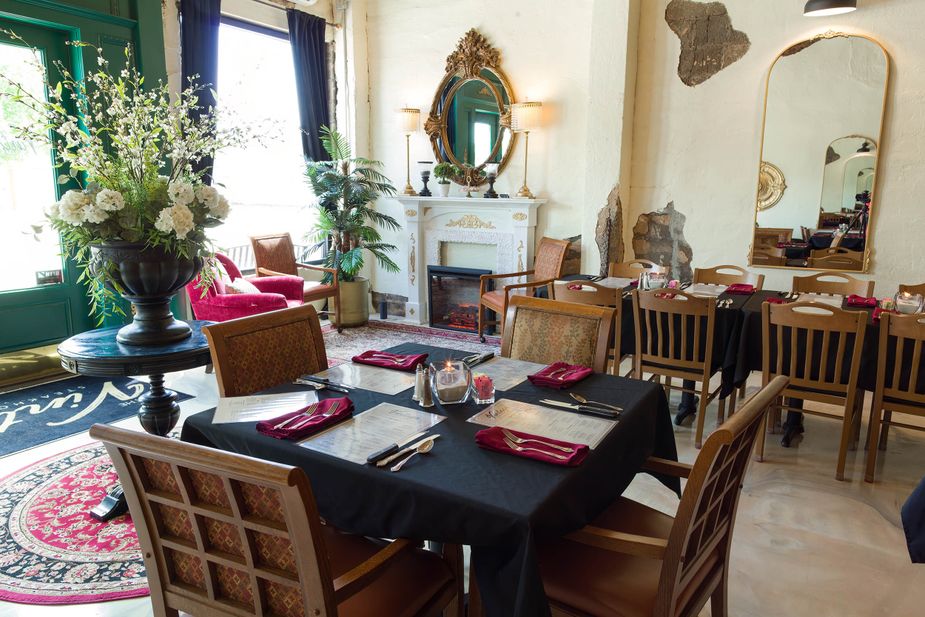 The Vintage Steakhouse serves perfectly grilled steaks and seafood starting at 5 p.m. Wednesday through Saturday. Photo by Brent Fuchs
The location the Rupps chose for The Vintage Steakhouse also has a storied history. Set on the same block as the Morrison City Hall and across the street from the post office and the railway, the Vintage building previously functioned as a woodshop, then an indoor batting cage operation, and in the late 1970s and early '80s was home to one of the largest illegal gambling halls in Oklahoma.
Today, however, there's no gambling at The Vintage Steakhouse, just safe bets. With comforting and classy Victorian decor, superlative preparation of temperamental meats, and timeless sides like garlic mashed potatoes, fried mushrooms, cheesy potato soup, and grilled vegetables, The Vintage Steakhouse is a jackpot of flavor waiting to be claimed.
Get There
Vintage Steakhouse, 318 Woolsey Ave Morrison, OK 73061 or
TravelOK.com