4 minutes
Published July 2020
By Whitney Bryen | 4 min read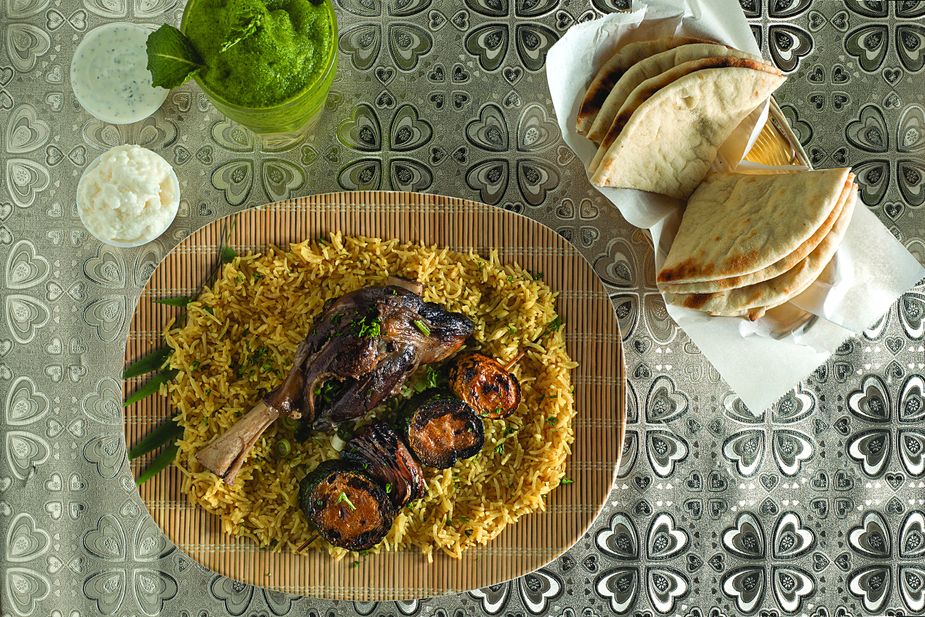 Frozen mint lemonade is a perfect accompaniment to the lamb shank with grilled vegetables at Jerusalem. Photo by John Jernigan
Jerusalem Mediterranean Cuisine is discreetly situated in a nondescript Edmond strip mall, but inside, tables radiate warmth and color as plate after beautiful plate arrives to the delight of hungry patrons. Owner Suhad Aladass—Sue for short—weaves between the kitchen staff ensuring every dish looks, smells, and feels exactly as it does on her dinner table. She lifts a spoonful of the tabouleh to check for excess oil, sprinkles a dash of cinnamon on a warm plate of mojaderah, and inhales the scent of chicken shawarma (or shawerma as it's called on the menu) coming off the grill. To Aladass, these are not only traditional Mediterranean meals; they are personal. And her care is evident in every bite.
"We work honestly," she says. "We work hard. We make everything from scratch: the mojaderah, lentil soup, cabbage rolls, and rice. And I personally add the marinades every morning."
Aladass, her husband, and two of their sons moved to the United States in 2014 from Jordan, where she worked as a civil engineer. Much of her family remains in the Middle East, but she wanted to build a life in a place where she didn't have to worry so much.
"It is not safe there anymore," Aladass says. "It's sad. But that's it."
With her husband working as a petroleum engineer and two sons studying mechanical engineering at the University of Oklahoma, she decided to use the cooking skills she learned from her mother and grandmother to open the restaurant in 2016. Her twenty-something sons Khalid and Omar Jawabreh work in the kitchen on weekends, but she works them as hard as anyone else on staff.
"This is her place," Khalid says. "She really does everything, and she really loves making her recipes for people."
On any given night, diners of all ages occupy the dozen small tables. No one looks at the walls much anyway, because they're too focused on the colorful dishes in front of them. Aside from the family plate that feeds eight, nothing is more than sixteen dollars. At fifteen dollars, the lamb kabobs don't require a splurge. Even more budget-friendly and equally filling are the sandwiches made with tender, juicy meats—chicken, lamb, and beef—and wrapped in warm pita bread. But many customers create their own decadent buffets from the side, salad, and appetizer menus.
Cumin, cardamom, turmeric, cinnamon, garlic, and lentil seeds flavor most dishes. Spices leave striking tones of yellow and deep red along the edges of the hummus and decorate the lesser-known but equally delicious baba ghanouj, a smokier, eggplant-based relative of the popular chickpea dish. Warm and crispy falafel is perfected by Aladass' creamy tahini sauce. Mojaderah—or steamed rice with brown lentils and caramelized onions—is one of her specialties rivaled only by hashwa, a rich rice dish with ground beef, pine nuts, and almonds. The tabouleh offers a light reprieve, acts as a bit of a palate cleanser, and is made with fresh mint, parsley, tomato, and lemon juice. Chicken in any form is a winner with Aladass' homemade marinade and tender cuts.
"If you haven't tried it before, I'd say you're missing out," Khalid says. "It's made with love. I think that's all you need to know."
Get There
Jerusalem Mediterranean Cuisine, 38 E 15th St Edmond, OK 73013 or
TravelOK.com