20 minutes
Published January 2020
By Karlie Ybarra | 20 min read
From gourmet desserts to down-home entrées, Oklahoma chefs proved they know their way around the kitchen yet again during our third Oklahoma Today Oklahoma Pride Cooking Contest at the Oklahoma State Fair in 2017.
Appetizers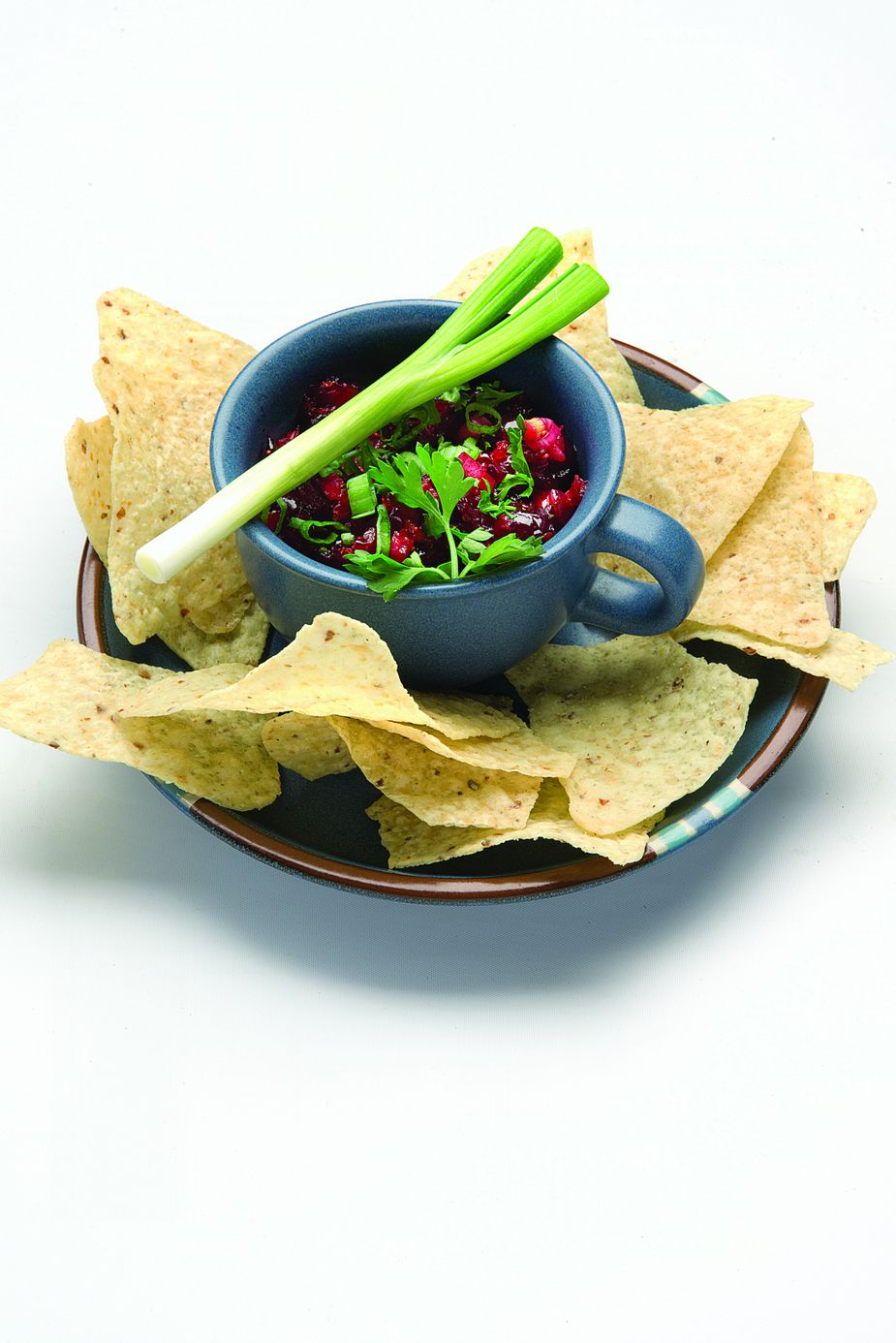 Kimberly Stipe of Bethany won best in show in 2016, and this year, her Not Hot Cranberry Salsa earned her first place in the appetizer category.
Not Hot Cranberry Salsa
By Kimberly Stipe
10 oz. fresh or frozen cranberries, thawed 
and chopped
2 Tbsp. red onion, minced
¼ cup jalapeños, minced and seeded
2 Tbsp. red bell pepper, minced
8 sliced green onions
⅔ cup sugar
1½ Tbsp. olive oil
2 Tbsp. parsley, chopped
¼ tsp. salt
Mix all ingredients. Refrigerate overnight. Serve with tortilla chips or crackers.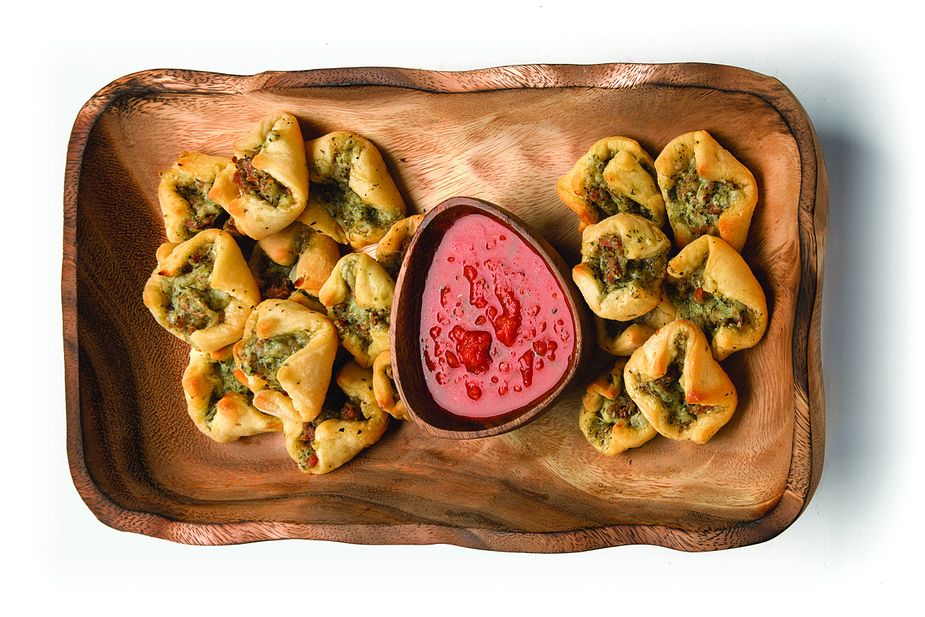 Michelle Robertson of Norman earned second place in the appetizer category for her Little Italy's Pesto & Sausage Bites. Photo by John Jernigan.
Little Italy's Pesto & Sausage Bites
By Michelle Robertson
3 oz. cream cheese
3-4 Tbsp. prepared pesto
1 cup Braum's shredded mozzarella cheese
1 cup Braum's shredded Italian cheese
¼ cup shredded Parmesan cheese
½ cup onion, chopped
1 Tbsp. olive oil
2 cloves garlic, minced
3 tsp. Lovera's Italian seasoning
2 packages crescent rolls
16 oz. Lovera's Italian sausage, casing removed and crumbled
3 Tbsp. white flour
1 cup Lovera's pasta sauce
Preheat oven to 375 degrees. Heat olive oil in skillet, add onion, and sauté until soft. Then add garlic and sauté for 3 more minutes. In a bowl, mix cream cheese and pesto, add mozzarella, Italian cheese blend, Parmesan, sausage, and 2 tsp. of Italian seasoning.
Remove crescent rolls from packet. Pinch together the seams. Make one pass over the dough with a rolling pin. Using a pizza cutter, make two horizontal cuts and three vertical cuts to make small square pieces of dough. Fill each dough piece with the sausage and cheese mixture, and pinch the dough up on all four corners. Repeat with the remaining squares.
Place on cooking sheet covered with parchment paper and sprinkle with remaining 1 tsp. of Italian seasoning. Bake at 375 degrees for 11-13 minutes. Serve warm with pasta sauce on the side for dipping.
Bacon Cheese Dip
By Jane Ozment
2 8-oz. packages cream cheese
4 cups Crest shredded cheddar cheese
1 cup Braum's half and half
2 tsp. Worcestershire sauce
1 Tbsp. Pepper Creek Farms ranch dip mix
½ tsp. red pepper flakes
1 tsp. Griffin's prepared mustard
16 slices Braum's bacon, cooked and crumbled
Place all ingredients except bacon in a 1½-quart slow cooker. Cook on low for 1-2 hours, stirring occasionally until cheese is melted. Right before serving, stir in bacon. Serve with crackers or chips.
Bacon Hot Pepper Cups
By Jessica Cannon
6 hot peppers
1 block cream cheese
18 slices Blue & Gold bacon
2 Tbsp. Hiland butter
Chop the hot peppers. Melt the butter in a skillet and sauté the peppers until soft. Mix the peppers and cream cheese in a bowl.
Cut a slice of bacon into two pieces to form an X and place in a mini muffin tin. Top with a Tbsp. of the cream cheese mixture, and fold the four edges of the bacon over the top. Repeat to fill the tin.
Maple Bacon Coffee Deviled Eggs
By Traci Thomas
12 Braum's eggs, hard boiled and peeled
⅔ cup avocado oil mayonnaise
3 tsp. Neighbors coffee, ground fine
2 tsp. brown sugar
2 Tbsp. Griffin's pancake syrup
½ cup Braum's thick sliced bacon, cooked and crumbled
Vanilla extract (optional)
Slice fresh boiled eggs in half lengthwise. Scoop out yolk centers and place in food processor. Reserve whites to fill. Add the avocado oil mayonnaise, brown sugar, syrup, ½ the bacon crumbles, and 2½ tbsp. of ground coffee. Add optional vanilla. Mix until smooth and creamy. Spoon yolk mixture into a pastry piping bag with a star tip.
Place a small bacon crumble on the bottom of every egg white piece. Pipe in the egg yolk mixture. Garnish with small crumbles of bacon and dust with remaining coffee.
Main Dishes
Old-Fashioned Chicken and Dumplings
By Traci Thomas
4 whole chicken breasts, trimmed
2 quarts chicken broth
2 cups Shawnee Mills all-purpose flour
½ tsp. baking powder
2 Tbsp. Hiland salted butter
1 cup Hiland 2 percent milk
2 Tbsp. olive oil
Salt and pepper
Drizzle chicken breasts with olive oil, sprinkle with salt and pepper, and bake at 350 degrees for one hour or until tender. Bring broth to a boil on the stove and add salt and pepper to taste. Combine flour and baking powder in a bowl. Cut in butter and blend until crumbly. Add in ⅓ cup of the milk and mix until a soft dough forms. Turn out dough on a well-floured surface and roll out to ¼ inch thick. Slice dumplings into one-inch by two-inch strips. Drop dumplings into boiling broth, trying to keep them separated until they submerge. Continue boiling for three to five minutes. Turn down heat to low and simmer for thirty minutes, stirring constantly to prevent sticking or scorching. Shred chicken and add to pot halfway through cooking. Add the rest of the milk and stir until gravy thickens.
Southwest Tamale Chicken Pot Pie
By Carolyn Doyle
2 tsp. vegetable oil
1 cup onion, chopped
1 lb. cooked chicken breast, chopped
1 Tbsp. ground cumin
½ tsp. chili powder
1 tsp. salt
2 small jalapeño peppers, seeded and chopped, plus one more for garnish
1 11-oz. can Mexican corn, drained
1 10-oz. can diced tomatoes
1 8-oz. can tomato sauce
2 packages Shawnee Mills corn muffin mix
1 cup Braum's shredded Monterey Jack and cheddar cheese
½ cup Maria Rae's salsa
1 cup Ranch-style beans
3-4 slices of lime for garnish
cooking spray
Preheat oven to 400 degrees. Heat a large skillet with a little oil over medium-high heat. Add onion, sauté three minutes, add chicken, cook 3 more minutes. Stir in cumin, chili powder, ½ teaspoon salt, and jalapeño peppers. Add corn, salsa, beans, tomatoes, and tomato sauce. Bring to a boil, reduce heat, and simmer 8 minutes, stirring often. Spray baking dish with cooking spray, then add chicken mixture. Set aside. Prepare the corn muffin mix according to the package. Spoon over the top of the chicken and vegetables, then sprinkle with cheese. Bake for 15-20 minutes or until topping is light golden color and cooked through. Garnish with lime slices and jalapeño.
Screaming Jalapeño Cheese Grits & Shrimp
By Michelle Robertson
½ cup dry quick grits
⅓ cup onion, chopped
3 cloves garlic, minced
2 Tbsp. jalapeño, chopped (approximately one pepper, seeds and veins removed)
¼ cup red pepper, chopped
2¼ cups water
1 Tbsp. olive oil
1 cup Braum's shredded cheddar cheese
1 cup Buffalo hot cheddar cheese, shredded
4 Tbsp. Small Town Spice Mild Pepper Butter
8 extra-large raw shrimp, peeled and deveined
1 Tbsp. Daddy Hinkle's Low Sodium Onion & Garlic seasoning
1 Tbsp. prepared Southwest rub (Ms. Dash's recommended)
2 oz. cream cheese
1 tsp. smoked paprika
Marinate shrimp in bowl with 2 Tbsp. pepper butter, Daddy Hinkle's seasoning, and Southwest rub. Store in refrigerator. Heat olive oil in sauce pan, add onion, chopped jalapeño, and red pepper, and sauté until soft, or about 5 minutes. Add garlic and sauté 2-3 minutes longer. To this mixture, add the water and bring to a boil. Add dry grits, reduce, cover, and cook for about 10-12 minutes, stirring occasionally to avoid sticking to the pan. Stir in cheddar cheese, cream cheese, Buffalo hot cheese, and the remaining 2 Tbsp. of pepper butter.
Heat grill to medium high. Grill shrimp for 3-4 minutes per side. Extra large shrimp can go straight on the grill, but skewer smaller shrimp first. Serve immediately with cheese grits and sprinkle with smoked paprika.
Beef Tamale Casserole
By Amanda Warren Marshall
1 package Shawnee Mills yellow butter cornbread mix
⅔ cup Braum's milk
1 large Braum's egg
3 Tbsp. canola oil
3-4 Tbsp. flour
8 oz. tomato sauce
1 cup water
½ tsp. garlic salt
¼ tsp. onion powder
¼ tsp. ground cumin
1 lb. ground beef
3 cloves garlic, crushed
1-2 Tbsp. Worcestershire sauce
1-3 tsp. garlic salt
6 oz. Braum's cheddar cheese
1½ Tbsp. chili powder
Fresh parsley (optional)
Brown beef with garlic, Worcestershire, and 1-3 tsp. of garlic salt. Cook oil and flour until browned. Add tomato sauce, water, and remaining seasonings. Stir over medium heat until slightly thickened. Mix cornbread mix, egg, and milk according to package. Mix ground beef and sauce, pour into 8x8 glass pan. Place cornbread mix on top. Top with cheese. Bake at 400 degrees for 20-30 minutes or until cornbread is set and cheese is browned. Top with optional parsley.
Sausage and Mushroom Creamy Shepherd's Pie
By Jennifer Howeth
16 oz. Lovera's tomato-basil sausage
2 Tbsp. Hiland unsalted butter
1 medium onion, chopped
1 cup parsnips, chopped
1 cup carrots, chopped
1 Tbsp. Lovera's Parmesan Salad & Pasta Blend seasoning
1 Tbsp. garlic, minced
8 oz. J-M fresh sliced baby portabella mushrooms
1½ cups chicken stock
2 Tbsp. cornstarch
1 cup Hiland heavy whipping cream
3-4 cups mashed potatoes
1½ cups Lovera's Italian Herb Caciocavera cheese, grated
Salt and pepper to taste
Grill sausage until cooked through. Cool and slice on a bias. Heat oven to 400 degrees. In a large skillet over medium heat, sauté onions, parsnips, and carrots for 8-10 minutes. Add seasoning blend, garlic, and mushrooms. Sauté another 5 minutes. Add chicken stock and cook until carrots are just tender. Salt and pepper to taste. Mix cornstarch and cream together and add to vegetable mixture and cook until liquid gets slightly thicker. Remove from heat and stir sliced sausages into mixture. Fill 9x12 casserole dish with mixture and top with potatoes. Bake for 30-40 minutes or until bubbly. Top with cheese and place under broiler to melt. Serve with crusty bread.
Desserts
Peach Rose Cheesecake
By Madison Ingram
200 grams Graham crackers, crumbled
65 grams Braum's unsalted butter, melted
400 grams cream cheese, room temperature
400 milliliters Braum's whipping cream
80 grams sugar
¼ cup lemon juice
½ tsp. vanilla extract
5 Tbsp. Garden Club peach jam
2 tsp. powdered gelatin
2½ Tbsp. water
800 grams canned peach halves, thinly sliced
1 cup syrup from canned peaches
3 tsp. powdered gelatin
½ cup water
For the crust, mix together the melted butter and crumbled Graham crackers, then press the mixture into the bottom of an 8-inch springform pan. Refrigerate while making the filling.
For the filling, beat cream cheese in a bowl with an electric mixer until smooth. Add sugar. Then add the whipping cream, lemon juice, vanilla extract, and peach jam and mix until smooth. Mix together 2 tsp. gelatin and 2½ Tbsp. water in a small bowl and microwave for 30 seconds or until warm. Add the gelatin and mix together until incorporated. Pour into the pan and return to the fridge until set, at least 3 hours.
For the peach rose, begin from the outside of the cake and work toward the middle, slightly overlapping each peach slice to create a rose.
To make the jelly topping, pour the peach syrup into a small pot over medium heat. In a bowl, combine the remaining gelatin and ½ cup water and mix together. Warm in microwave about 30 seconds. Add to the pot and mix well. Allow the mixture to cool for 1-2 minutes, then gently pour the jelly onto the top of the cheesecake.
Return the cheesecake to the fridge and chill until the jelly has set, or about 90 minutes. Run a sharp knife around the edges of the cake, then release the sides of the pan and carefully slide off the cake.
Pecan Pie Oklahoma-style with bourbon whipped cream
by Linda Gronewaller
½ cup white sugar
½ cup Griffin's light corn syrup
1½ tsp. vanilla extract
2 large eggs
⅛ tsp. salt
1 Tbsp. Shawnee Mills all-purpose flour
2 Tbsp. Braum's unsalted butter, melted
2½ cups Oklahoma pecans, broken
2½ cups Shawnee Mills all-purpose flour
1 Tbsp. sugar
¾ tsp. salt
1 cup Braum's unsalted butter
6 Tbsp. ice water
1 cup Braum's heavy whipping cream
⅓ cup powdered sugar, sifted
2 Tbsp. bourbon
To prepare the pie crust, mix 2½ cups flour, 1 Tbsp. sugar, and ¾ tsp. salt. Add 1 cup butter until the mixture is coarse crumbs. Gradually blend in ice water. Divide into two halves, wrap in plastic, and chill for at least two hours. Roll out one crust. Reserve other crust for future use.
Preheat oven to 300 degrees. Mix all remaining ingredients except eggs. Beat eggs and add to mixture. Pour into unbaked pie crust. Bake for 40 minutes, then turn oven up to 350 degrees and bake 15-20 more minutes. Cool completely before cutting and topping with whipped cream.
To make the bourbon whipped cream, beat the cream until it begins to stiffen. While beating, sprinkle in the powdered sugar. Sprinkle in the bourbon. Continue beating the cream until stiff but still soft and fluffy.
Pecan Sandies with caramel drizzle and bacon bits
By Holly Cole
1 cup Pawnee pecans, coarsely chopped
4 slices Braum's bacon, fried crisp and crumbled
2 cups Shawnee Mills all-purpose flour
2 sticks Braum's unsalted butter, room temperature
½ tsp. salt
1 tsp. vanilla extract
⅓ cup sugar
½ tsp. coarse sea salt
¼ cup Braum's caramel sauce
Using an electric mixer in a medium bowl, beat butter with sugar and ½ tsp. salt until light and fluffy, about 3 minutes. Add vanilla and flour and beat, scraping the sides until the dough just comes together. Add pecans and two strips of bacon and beat until just mixed into the dough. Divide the dough in half. Roll out halves on two cookie sheets lined with parchment paper. Refrigerate dough for 4 hours. Preheat oven to 350 degrees. Cut cookies into desired shape and bake for 10-12 minutes on parchment paper lined cookie sheet. Cool completely on a rack. Once cool, drizzle cookies with caramel sauce, then sprinkle with sea salt and remaining bacon.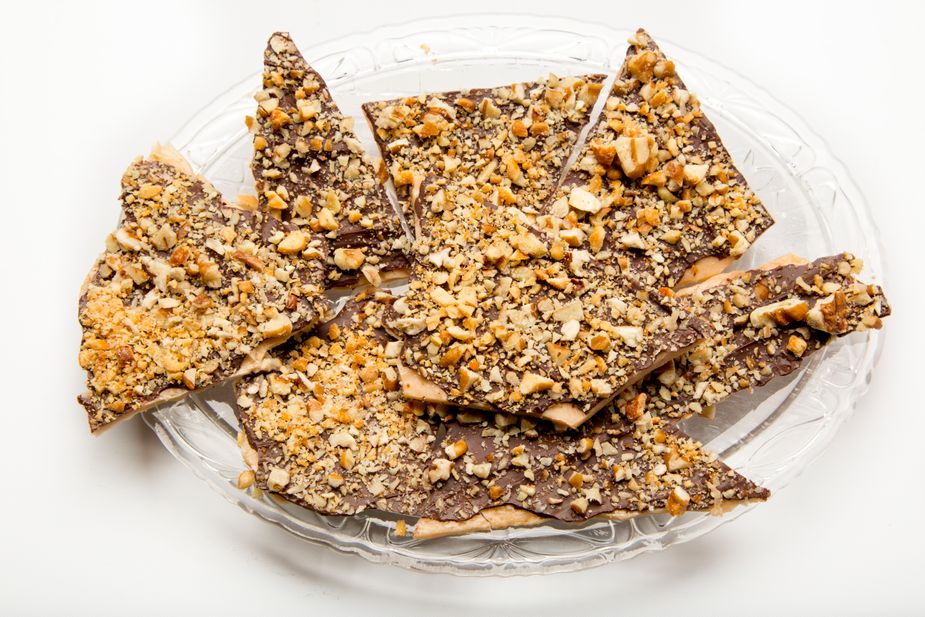 Lacy Amen's Terrific Toffee has a great deal of flavor for using relatively simple ingredients. Photo by Lori Duckworth.
Terrific Toffee
By Lacy Amen
1½ tsp. Hiland butter
1 cup Hiland butter
1 cup semisweet chocolate chips
1 cup milk chocolate chips
1 cup sugar
3 Tbsp. Ozarka water
1 cup Luther pecans
1 cup Lasley peanuts
Butter a large baking sheet with 1½ tsp. butter and set aside. Combine chocolate chips and set aside. In a heavy saucepan, combine the sugar, water, and remaining butter. Cook and stir over medium heat until the candy thermometer reaches 290 degrees. Remove from heat and immediately pour onto the prepared baking sheet. Sprinkle with chocolate chips. Spread with a knife when melted. Top with nuts. Cool and break into 2-inch pieces.
Pumpkin Spice Cheesecake
By Traci Thomas
3 8-oz. packages cream cheese, softened
1 15-oz. can pumpkin purée
4 large Braum's eggs
¾ cup sugar
½ cup brown sugar
¼ cup Hiland sour cream
2 tsp. pure vanilla extract
2 Tbsp. Hiland 2 percent milk
¼ tsp. Kosher salt
2 Tbsp. Shawnee Mills all-purpose flour
24 Cinnamon Bun Oreo cookies
18 original Oreo cookies
¾ cup Hiland butter
¼ cup semisweet chocolate chips, melted
¼ cup caramels, melted
½ tsp. pumpkin pie spice
Place cinnamon cookies in a food processor and grind until fine crumb. Add 6 Tbsp. butter and mix until well incorporated. Press into a 9-inch springform pan, pushing some of the crumbs up around the sides. Repeat with chocolate cookies, add the remaining butter, and press on top of the first crust.
Whip cream cheese in a stand mixer until smooth and creamy. Add pumpkin, eggs, sugars, sour cream, vanilla, milk, and pumpkin pie spice. Whip until all ingredients are blended and smooth. Pour filling on top of crust. Wrap bottom of pan in two layers of aluminum foil. Fill a large pan with water and bake cheesecake in hot water bath for 15 minutes. Turn oven down to 250 degrees and bake for an additional hour. When time is up, turn off oven and allow cheesecake to complete cooking, which should take about 2 hours. Remove from oven and cool for 5 hours or longer. Remove from pan. Drizzle with melted chocolate chips and caramel. Refrigerate until ready to serve.