Confections with Conscience
6 minutes
Published January 2022
By Dyrinda Tyson | 6 min read
If chocolate had a finest moment, it would undoubtedly be Valentine's Day. Those heart-shaped boxes are found just about everywhere in January and February. But that may belie the fact that chocolate often has ingredients that aren't so good for the human heart, literally speaking.
For a take on this feel-good treat that won't make the body feel bad, Good Girl Chocolate checks off a lot of modern boxes. It's entirely plant-based, gluten-free, soy-free, and non-GMO made with fair-trade, single-origin, organic ingredients. But in taste, it's indulgently rich and delicious.
Good Girl Chocolate offers a healthier alternative to drugstore candy without sacrificing the cute packaging. Photo by Valerio Costilla
Good Girl Chocolate, says founder Tabatha Carr, is about eating cleaner.
"Clean eating to me means whole-foods eating," she says. "It means better eating. It means taking out what your body tends to be intolerant of—some of us are intolerant to gluten, for example, and some of us are intolerant to soy."
But it's also about flavor-—tapping into abilities Carr comes by naturally.
"I definitely got my cooking skills from my grandmother and my mother," she says. "Both of them grew up in the South, and I'm sorry—the South, they just cook differently. They both taught me how to cook."
When it comes to Good Girl's flavor, it starts with the cocoa bean.
"Growing up, we didn't use kits. We just didn't go out and buy meal kits," Carr says. "So when it came to making chocolate from scratch, I'm not using the cocoa powder but using the bean instead. It was kind of a no-brainer."
What led Carr to make chocolate from scratch was a lifetime of health issues and weight struggles, starting with blood pressure medication in her teens and later blood sugar and hormone imbalances. A decade in a relatively sedentary corporate career didn't help. After training as a naturopath, though, she used what she learned to shift to a raw and plant-based diet. She ultimately shed eighty pounds and was able to get her health back under control. She didn't lose her sweet tooth in the process, but sampling desserts at a local vegan restaurant showed her what could be. She began experimenting at home, stirring raw chocolate on her stovetop. The learning curve didn't faze her.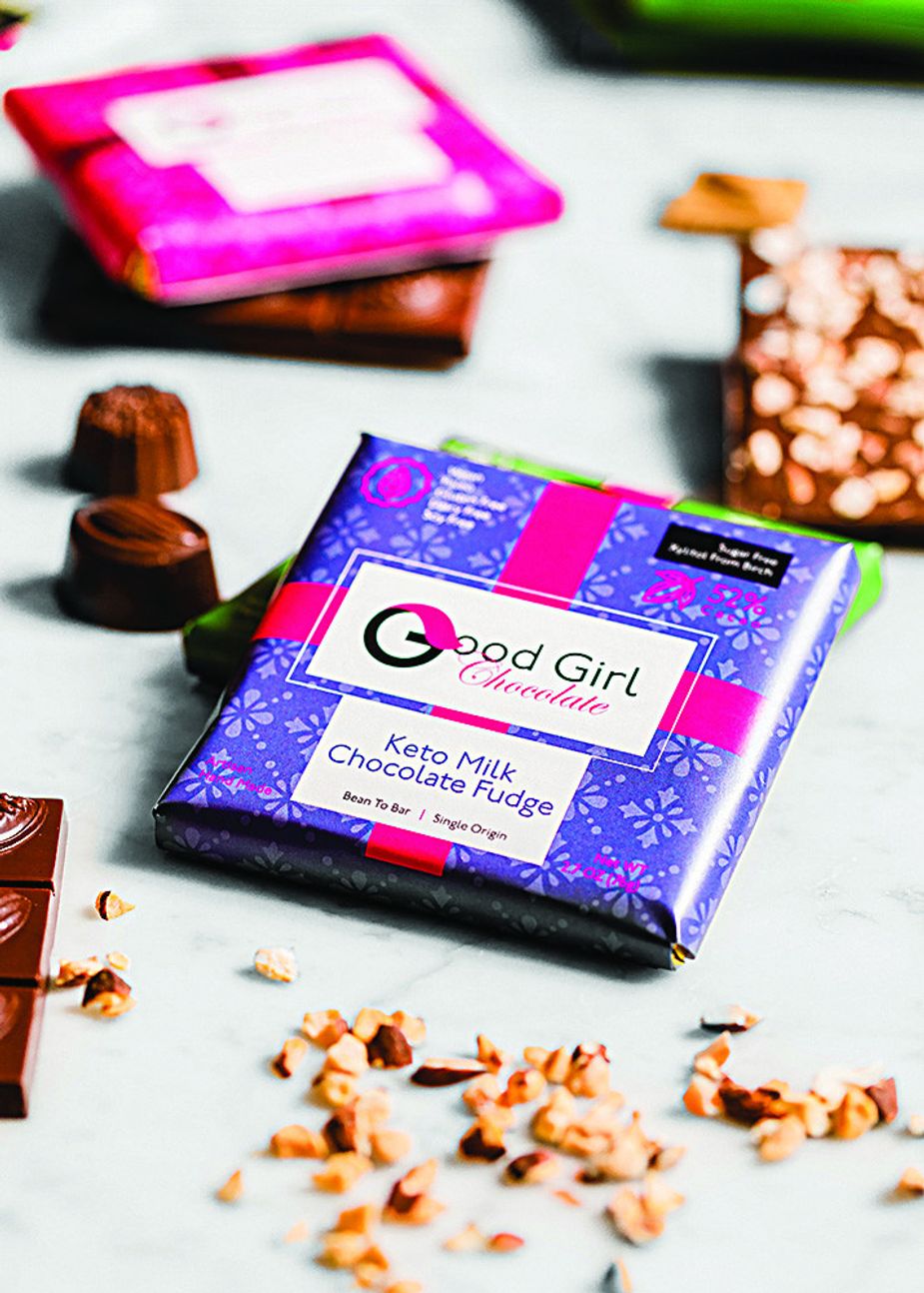 The sugar substitute in the Keto Milk Chocolate Fudge bars is derived from the wood of birch trees. Photo by Valerio Costilla
"I just love to cook," Carr says. "I have never ever in my life, as far as I can recall, said, 'This is hard,' when it comes to cooking or when it comes to baking. It's just always been something I enjoy. I think it's just a part of my DNA because of my grandmother. She baked for people her entire life."
The chocolate line that emerged from those experiments not only reflects Carr's taste but her attention to detail. She sources the best cocoa beans she can find and roasts them herself in an intense, multi-day process. She also roasts the nuts before they go into the pecan fudge. Virgin coconut oil and coconut sugar offer sweetness and richness. And calling the line Good Girl Chocolate may be a mission statement of sorts—customers can indulge and still be healthy.
Carr has been selling her concoctions online since 2018, spurred along by a grant from Beyoncé's BeyGood Foundation in 2020. Her creations have been included among the gifts at the Grammys and the Oscars. And in July 2021, she opened her first physical location, a bright, pink-and-black space in Penn Square Mall in Oklahoma City. She now makes the chocolate on site there. The day the store opened, she found a surprise waiting for her—her first customer, who drove in from Blanchard after seeing a TV news story about the store.
"He was standing at the door waiting on us to open," Carr recalls, "and he gave us our first dollar."
Carr has plans to continue expanding her chocolate empire, but it remains a very personal endeavor, the result of her own struggles.
"It is 100 percent my testimony," she says. "If I hadn't have gone through the weight challenges, the challenges with blood sugar, or the hormonal challenges, I probably wouldn't have a clean chocolate company."
She laughs and adds, "There's no telling what I'd be doing."