18 minutes
Published May 2020
By Greg Elwell | Photos by Lori Duckworth | 18 min read
Everywhere Justin Nicholas goes, people want to watch him eat a hamburger. Nicholas does not have a particularly interesting mouth. His teeth are regulation size and shape. His lips are standard issue. His cheeks, for the record, are not transparent. Watching him eat anything should not be an event.
But when it comes to hamburgers, Nicholas—or Nic, as the signs on his restaurants, Nic's Grill and Nic's Place Diner & Lounge, call him—is acknowledged as one of the most skilled craftsmen in the field. He's name-dropped by celebrities extolling his virtues on late-night TV shows, was visited by Guy Fieri's Diners, Drive-Ins, and Dives, and he's even inadvertently developed a catchphrase based on his truncated order-taking style: "Cheese 'n everything?" So when he travels, everyone who knows him wants to see how their local version of "the best burger" stacks up in his estimation.
"The problem is, the very best burgers in most places just don't compare to what we have here," Nicholas says.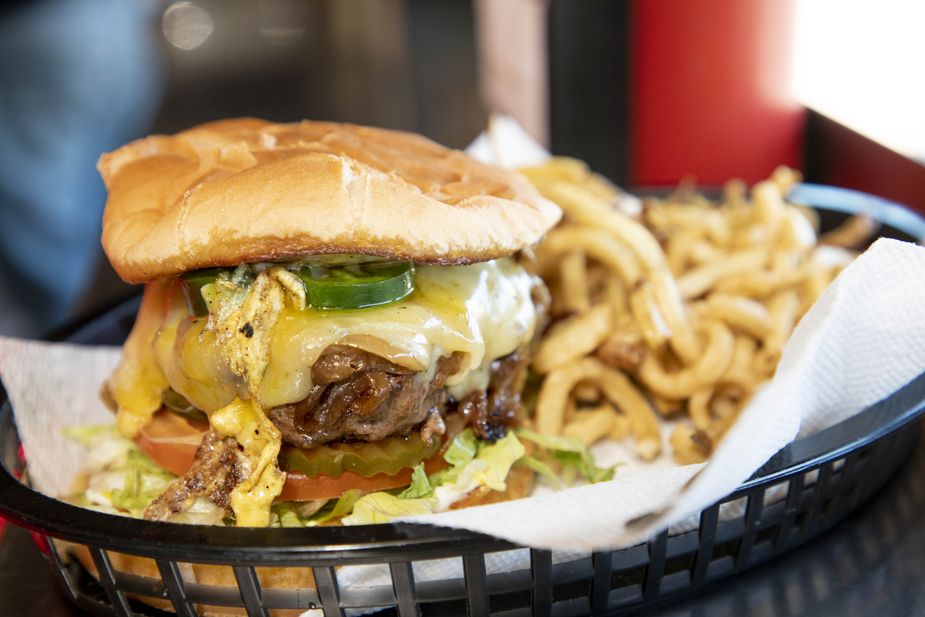 If you're eating at the famous Nic's Grill in Oklahoma City, be prepared to get a to-go box—and plenty of napkins. Photo by Lori Duckworth
And by here, he means the whole state.
In his opinion, Oklahoma has not perfected the hamburger—as if such a thing could be done. But the state has taken this humble dish to new heights, stretched it in imaginative ways, and created a culture in which asking, "Do you want a burger?" is more than a question of taste—it's a philosophical conundrum.
The history of the hamburger is convoluted, contentious, and far too involved for a single magazine story to adequately cover, but there are some basic truths to lay out.
Hamburg, Germany, is ostensibly the birthplace of the dish—except it isn't. It is where the Hamburg steak was born—a patty of high-quality minced beef mixed with onion and garlic, seasoned, and seared. It was considered a delicacy—and a pricey one at that. When German immigrants came to the United States, some of them opened restaurants that showcased this gourmet dish from their homeland.
Who first put one of those steaks between two pieces of bread is a bit of trivia lost to the greasy mists of time, but thank goodness for their work, because it kickstarted the transformation of a regional German specialty into the American culinary powerhouse that is the modern hamburger industrial complex.
In Oklahoma, the burger is so deeply ingrained in our culture that simply searching hamburger and Oklahoma City on Yelp brings up seventy pages of results listing 654 different restaurants offering the dish or some variation of it. From humble fast food drive-through burgers starting around a buck to a twenty-five-dollar version at La Baguette Bistro that includes foie gras, Lovera's Toma cheese, fig preserves in Port wine, and truffle fries, the only limit on hamburgers in this state is imagination.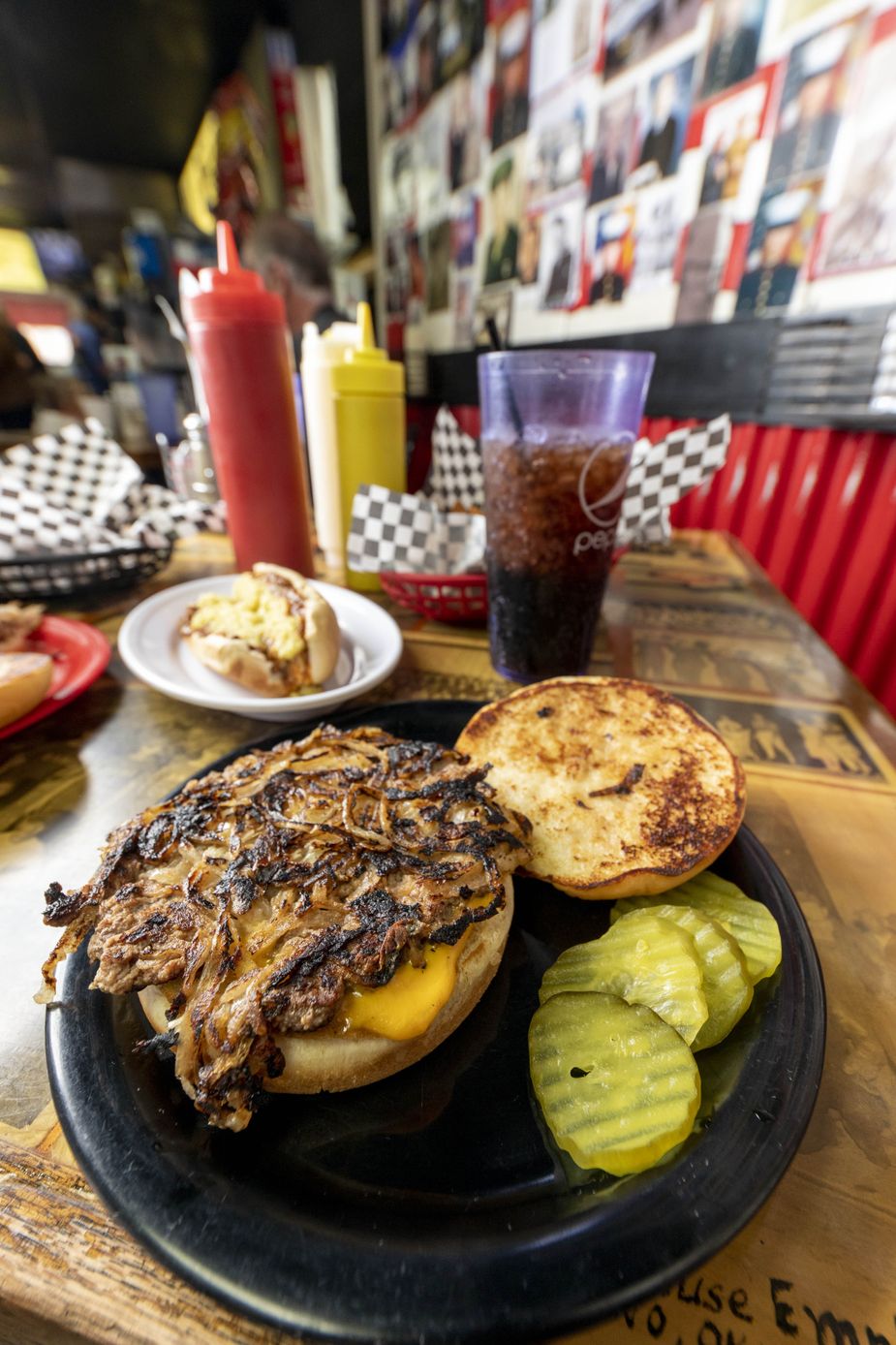 Located on Route 66, Sid's Diner in El Reno is a cozy place to dig into some of the state's best onion burgers, chili-covered coneys, crisp fries and tots, and tasty shakes. Photo by Lori Duckworth
Nicholas prefers what he calls a boring burger, though the lines outside Nic's Grill prove boring is subjective. Using a proprietary blend of beef and fat, Nic's burgers are not formed as much as they are gently nudged into coherence.
"When you're talking ground meat, it's about the temperature, it's about the grind, it's about the touch," he says. "Are you packing the burgers or being ginger with them? If you push that protein into the fat too hard, the fat won't melt. We just scoop it and form it. If you're going to touch it with the spatula, you gently press it once. You have to love the product, not abuse it."
Though steaks get much of the beefy glory, Nicholas says it's far easier to cook a ribeye or a sirloin to temperature on a flat-top grill than it is to make a great burger. The consistency of the steak is already set, but keeping the texture right on a burger—especially the thick and juicy ones served at his restaurants—is a feat requiring patience and experience.
Watching the griddle from the counter seats at Nic's Grill is like taking in a carefully choreographed burger ballet. The meat is gingerly lifted from its tray and gently set against the sizzling steel, where it remains untouched until it's roughly 40 percent cooked through. With the same care, it's flipped and placed again, where it will wait its turn to be crowned with a slice of American cheese. All around the burger's placid existence, the cook is toasting buns, grilling jalapeños, basting a tower of melting sautéed onions with butter, and dunking big baskets of curly fries into bubbling vats of oil.
"I make them more like they did in the '50s," he says. "That's what earned us lines out the door before the TV cameras ever showed up. A classic can be boring and still be great."
If Nic's makes a 1950s-style burger, then owner Marty Hall is producing an even older variety at his famous Sid's Diner in El Reno.
Fried onion burgers are sometimes called "Depression burgers," as they were a product of the Great Depression, when short-order cooks stretched their meager supplies of beef with thinly sliced onions. Long after that financial crisis was resolved, the appeal of the sweet-and-savory caramelized onions fused with hamburger meat remained. Today, it draws travelers along Route 66 to El Reno to try the real thing at Sid's, Robert's Grill, and Johnnie's Hamburgers & Coneys.
The treatment of the ingredients is far less merciful on these flat-top griddles, as balls of seasoned ground beef are pressed firmly into an already-cooking pile of onions, mingling the juiciness of the burgers with the moisture of the onions at a critical juncture. Some of the onions, especially those trapped inside the meat, stay almost raw—a pungent bite hidden away for diners. Those on the far edges continue to cook, some softening to a sweet creaminess and others going beyond cooked into a crispy char.
Onion burgers are served simply, with or without cheese, on a small white bun with a slice of pickle and a smear of mustard, wrapped in wax paper, and ready to go. In a pinch, a single burger will do, but it's not uncommon to see diners order two or three along with another El Reno favorite, the slaw dog, and an order of fries.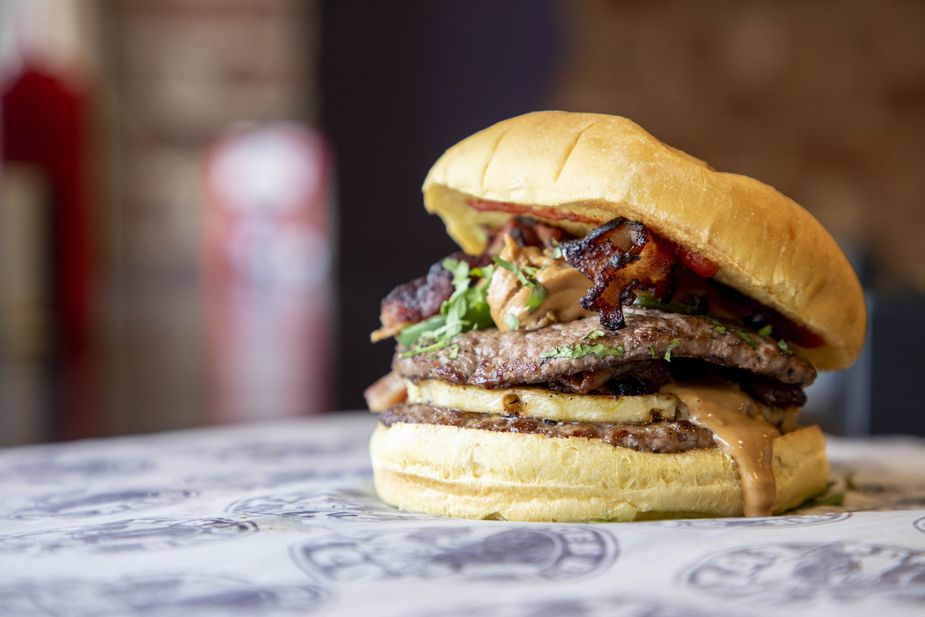 The Peanut Butter & Bacon Burger at Fat Guys Burger Bar is a self-explanatory delicious mess of a meal. Photo by Lori Duckworth
In a way, fried onion burgers are a hybrid of the straightforward "classic" burger and the modern toppings burger, which piles a variety of ingredients on top of the beef patty. At Fat Guy's Burger Bar, with locations in Tulsa and Broken Arrow—and a new one on the way at the Tulsa International Airport—diners can find standard cheeseburgers with the usual crush of tomato, pickle, onion, and lettuce, but once they hit the Specialty Burgers section of the menu, all bets are off.
The Fat & Juicy inverts the usual cheeseburger formula, stuffing American or blue cheese inside the burger patties for an explosive bite—so much so that the menu includes a warning to customers. Other burgers include such diverse toppings as fried pickles, pulled pork, grilled pepperoni, or smoked bologna, to name a few.
But the Peanut Butter & Bacon burger might be the most outrageous, giving diners a pair of juicy patties stacked high with crispy bacon and covered with peanut butter. The heat of the beef and bacon moves the peanut butter further along the continuum toward liquid, coating the meat, bun, and, if you're not careful, your hands.
General manager R.C. Cline says the Thai-inspired Peanut Butter & Bacon burger, which packs an already big sandwich with pineapple, jalapeños, Sriracha, and cilantro, is a big draw for locals. But it's not just the size of the dishes or the novelty of the ingredients that made Fat Guy's a hit. For a decade, they've approached the humble hamburger with a chef's eye.
"That's why we get buns baked especially for us," he says. "That's why we get our beef—Tulsa beef—ground fresh daily. We use as many local ingredients as we can."
It's a personal touch you can taste, and the appeal is not lost on customers. When the food is good, it cuts through everything else.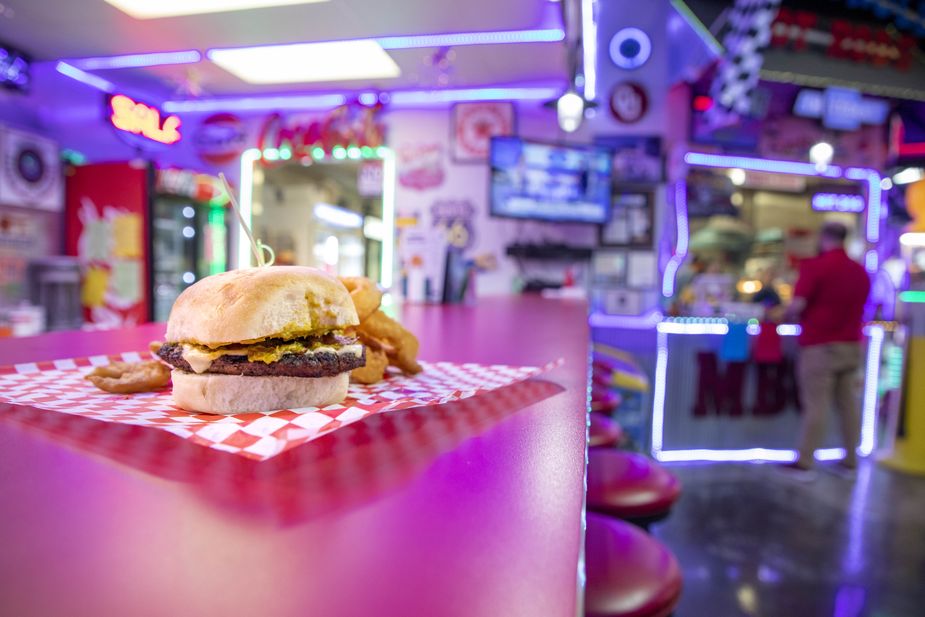 Friendly customer service and good food are the winning ingredients for success at McKenzie's Burger Garage in Lawton. Photo by Lori Duckworth
At McKenzie's Burger Garage in Lawton, housed in an old auto shop and slightly hidden from the main road, owner Les McKenzie says burgers with toppings help keep customers coming back to try new flavors, but it's the core ingredients of the dish—a special blend of beef and buns that are tender and surprisingly gluten-free—that make the burgers great.
Just as his father and grandfather took their time to do things right when the building was his family's automotive shop, McKenzie says attention to detail makes sure each burger that goes out looks as good as it tastes.
"It has to look good," he says. "Everybody is competing on price, and we try to keep it affordable, but we can't be beat on the taste, the looks, or the customer service."
Aaron Whiteman, who is stationed at nearby Fort Sill, says the care McKenzie puts into his burgers is evident.
"Everything is fresh and juicy. It's quality food," the Colorado native says in between bites. "I wish they had a place like this back home."
Burgers come in 5.3- or eight-ounce sizes, and toppings run from mild—guacamole, bacon, salsa—to wild. The Flaming Fuel burger wasn't hot enough for some customers, McKenzie says, so in addition to the ghost pepper cheese and onions, he swapped out poblano peppers for slices of raw habanero. The fruitiness of the peppers is a nice complement to the rest of the burger. McKenzie also includes a ramekin of his Nitro Sauce—a blend of habanero peppers, several sauces, chilies, and Valentina hot sauce. Whatever joy customers taste quickly is consumed by a rush of heat best quenched with a homemade chocolate milkshake.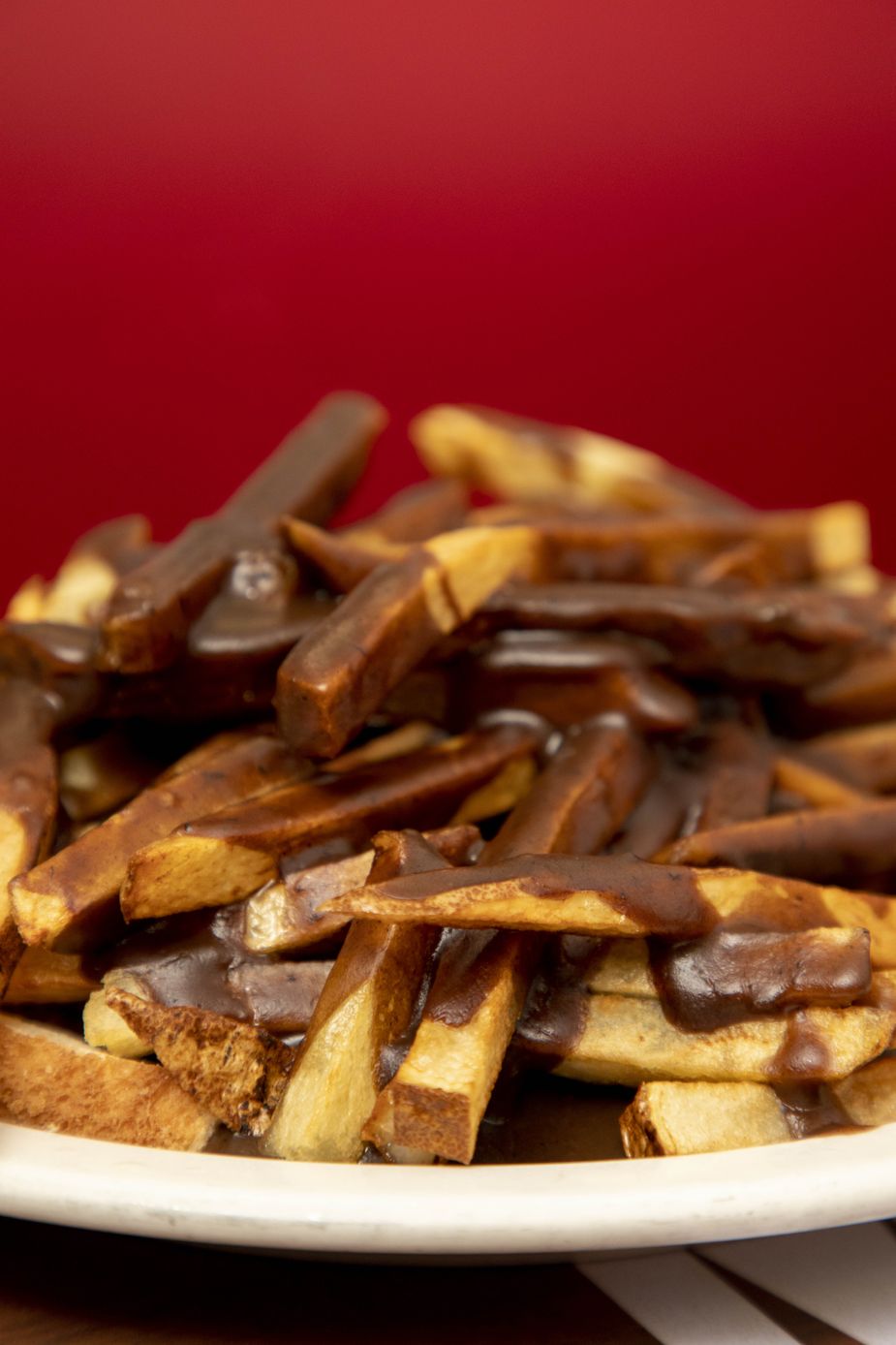 There is indeed a burger hiding under the gravy-drenched pile of fries at Murphy's Steak House in Bartlesville. The Hot Hamburger is the restaurant's most famous menu item. Photo by Lori Duckworth
There's a different kind of heat on order in Bartlesville. The menu at Murphy's Steak House is chockablock with classic preparations of massive steaks, satisfying sandwiches, and homemade chili. But few items carry the same nostalgic weight as the open-faced Hot Hamburger.
Atop a slab of toast lays a half pound of beautifully grilled hamburger and a handful of hand-cut french fries followed by a drenching ladle of brown gravy. Other burgers in the state might be messy, but this dish makes no bones about it: You will need a knife and fork to eat it.
The Hot Hamburger is Murphy's claim to fame, says assistant manager BrySun Artherton, but that hasn't stopped other restaurants from trying to claim some fame as well.
"Some restaurants have tried to copy it, but it's not the same," he says. "People come in and tell us they tried it here or there, but nothing beats the original."
Occasionally, visitors from out of town will order cold gravy to go—sometimes as much as a gallon—to make their own Hot Hamburgers at home. While it doesn't quite capture the magic of Murphy's, when you've got the craving, you take what you can get.
"The best thing about it is the gravy," Artherton says. "Our homemade gravy is made with beef broth, and it's so rich. But you can also customize them, adding cheese if you want, or grilled onions, jalapeños, or mushrooms. I don't know a whole lot of people who don't enjoy a Hot Hamburger."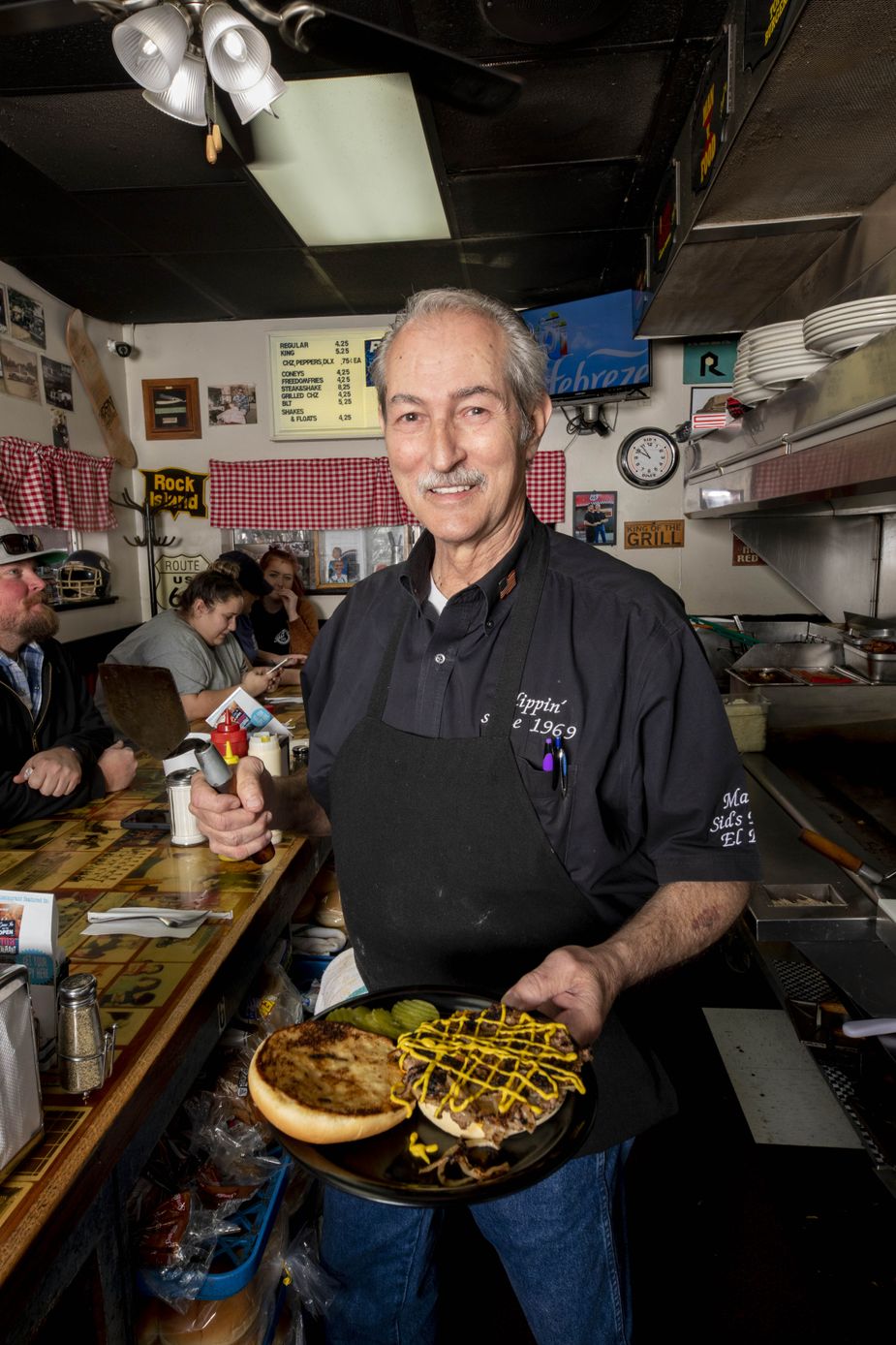 Marty Hall opened Sid's Diner in 1989 and named it in honor of his late father—the eponymous Sid—with whom he had planned to run the business before his death. Photo by Lori Duckworth
Even on a slow day, the restaurant usually gets about three hundred orders. It's rare to go in the kitchen and not see hamburger patties on the grill, he says. All the hand-cut fries, along with baked and mashed potatoes, have Murphy's running through three hundred pounds of spuds daily.
It would be hubris, pure and simple, to claim that Oklahoma's hamburger scene could be summed up in one short story. Anyone at these restaurants would tell you the same. Because no one wants their best burger to be behind them. It's an endless quest for improvement and innovation, one new chefs are embarking on daily, and the spoils go to those of us lucky enough to eat them.
Get There
Nic's Grill, 1201 N Penn Ave Oklahoma City, OK 73107 or
TravelOK.com
Get There
Nic's Place Diner & Lounge, 1116 N Robinson Ave Oklahoma City, OK 73103 or
TravelOK.com
Get There
Sid's Diner, 300 S Choctaw Ave El Reno, OK 73036 or
TravelOK.com
Get There
Fat Guy's Burger Bar, 7945 S Memorial Dr Tulsa, OK 74133 or
TravelOK.com
Get There
Murphy's Steak House, 1625 SW Frank Phillips Blvd Bartlesville, OK 74003 or
TravelOK.com