Ranger Things: Sergeant Wade Spencer proves there's no such thing as a typical day for a park ranger
9 minutes
Published July 2019
By Greg Elwell | 9 min read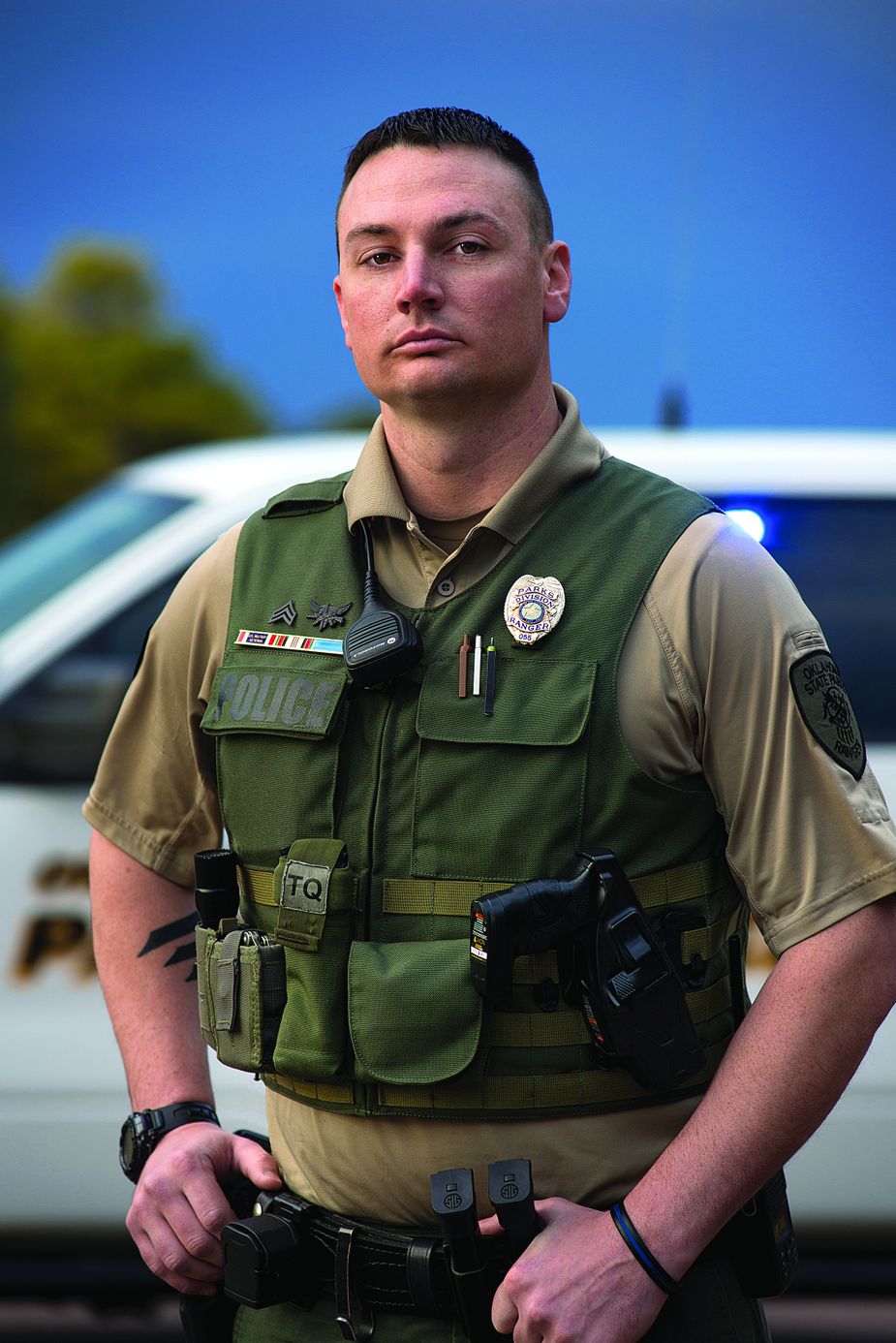 Sergeant Wade Spencer at Fort Cobb State Park.
RANGER THINGS
Marie Kondo would lose her mind inside Sergeant Wade Spencer's pickup.
The 2018 Oklahoma State Park Ranger of the Year lugs a heavy-duty tablet on which he writes reports and keeps track of fellow law enforcement officers, an AR-15 variant patrol rifle, radar, flashlight, tactical team gear, department-issued SIG Sauer P320 handgun and TASER, blood-testing kits, maps of the park, public announcement system, binoculars, restraints, and stuffed animals for children, among other items.
But the packed cabin of his Ford F-150 is a far cry from his last job as a case manager at Lawton Correctional Facility. Much of his life there was confined to a small concrete-walled room without windows.
"I spent eight hours a day in that prison. The inmates would say, 'At least you get to go home,' but I told them that just meant I'd have to voluntarily come back the next day." Sergeant Wade Spencer
Since he was hired as a ranger in October 2016, Spencer's days mostly are spent in the wide-open spaces of Fort Cobb State Park, a nearly 1,900-acre haven for wildlife lovers, golfers, campers, hunters, and anybody looking to get away for a while. His job satisfaction is way up, but that doesn't mean it's all fun and games. (Though there are some fun and games.)
Q: Did you train specifically to become a park ranger?
A: I've been training for this job my entire life, even though I didn't set out to be a park ranger from the start. I started in law enforcement in 2007 in Wilburton before I joined the Army Reserves and moved to Stillwater. I was a military police officer there before I got into corrections. Then I was deployed to Afghanistan, training Afghan nationals to become police officers, until I was injured while on foot patrol in Kandahar. When I came back, I worked in Louisiana, then in Lawton, where I got my bachelor's degree in criminal justice. That's when I came across this job. Being a park ranger meshed all my previous work experience with my passion for the outdoors.
Q: How does that passion affect your job?
A: I care a lot about the environment. I'm a longtime hiker, backpacker, skier—you name it—so I'm thinking about the next generation. I don't want this land taken away or destroyed before others get an opportunity to experience it. There's no more land to be made, and humans tend to destroy everything if we're not thinking about it, so I take that part of the job seriously. Overuse is a big problem. The north end of the park is open for hunting, but sometimes that spills into illegal hunting on the south end. I spend time curtailing that, checking fishing licenses, and keeping an eye out for the hog population. Wild hogs are a bit of a problem. They tear up the golf course, and they hit neighboring farms. I've killed three this year so far.
Q: What does wild hog taste like?
A: It's kind of like a cross between a pig and a deer. It's more gamey than most pork, but I like it.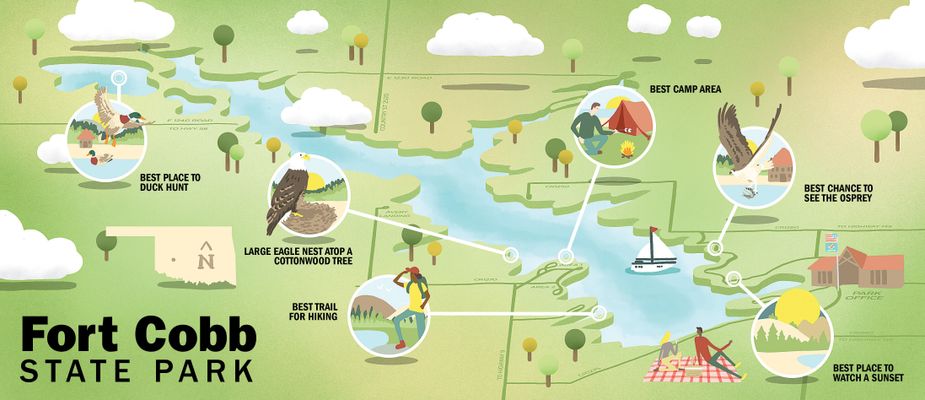 Get the inside scoop on the best spots to visit in Fort Cobb State Park, straight from the park ranger.
Q: Do you handle wild pig problems outside the park, too?
A: I do more than that. The law enforcement community out here has each other's backs. When a call comes in, if I'm five minutes away, and the county sheriff's closest deputy is twenty minutes away, I'll take care of it. That's what officers are supposed to do. Being seen is the biggest thing you can do. The presence of law enforcement is a big deterrent. Traffic stops, for instance. The park doesn't make any money on traffic stops. That all goes to a general fund. But a traffic stop or a ticket, those are reminders that cost you money. It's an attention-getter. It wakes you up to the fact that you're driving around a state park where people are walking and kids are playing. There are so many facets to the job. Some days, you're helping a lady who is stuck in an RV or helping respond to a house fire. Some days, you go from a shots fired call to comforting a scared child.
Q: Have you had to deal with death on the job?
A: Unfortunately, yes. In 2017, I worked three separate drownings in the same week. There were two kids and an adult. One was a four-year-old. Oklahoma Highway Patrol handles the water, but when something like that happens, it's all hands on deck. Everything you can think of that a law enforcement officer does, we have to do here. I even go out on calls with the Caddo County special response team when they need me. People may come here from the city to get away, but they bring their problems with them. If domestic abuse is happening at home, it can happen here. If someone would assault someone in their hometown, they might assault someone at a state park. Ninety percent of people who come are here to have a good time and are happy to see you. When you're a cop in the city, almost everybody you meet is having the worst day of their lives. That takes a toll on you. On the other hand, here, we do youth hunts a few times a year to manage the waterfowl and doe populations.
Q: It sounds like you're busy all the time.
A: Starting in spring, we start getting full. We have three hundred RV sites and about one hundred and fifty tent sites as well as cabins for rent. On holiday weekends especially, we're totally full. But in the off season, usually starting in November, we spend a lot of time in training. I'm the TASER instructor for the agency, but I also take classes on hostage situations, learn about human trafficking, and teach CPR in the western region. Most officers get about twenty-five hours of CLEET training a year. I had one hundred and forty-three hours last year. This job encompasses so much, but it also provides you training to deal with almost anything. I still take joy in the little things, even when it's busy. It's hard to look out at a sunset on Fort Cobb Lake and not pause to enjoy it.
Get There:
Fort Cobb State Park 27022 Copperhead Rd Fort Cobb, OK 73038 or
TravelOK.com